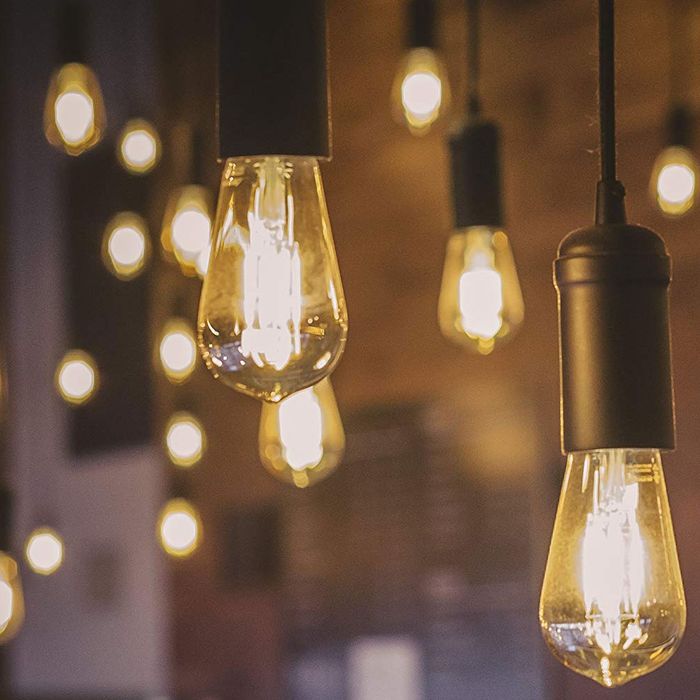 Photo: Courtesy of the Retailer
Here at the Strategist, we like to think of ourselves as crazy (in the good way) about the stuff we buy, but as much as we'd like to, we can't try everything. Which is why we have People's Choice, in which we find the best-reviewed products and single out the most convincing ones. (You can learn more about our rating system and how we pick each item here.)
And while we've written before about all sorts of lighting — including tips on how to rescue a rental with bad lighting, a list of energy-efficient bulbs, and a review of "trippy" mushroom-shaped night light  — here, we've rounded up the best LED light bulbs as praised by the most enthusiastic reviewers on Amazon.
Best-rated LED light bulbs
Over 2,500 purchasers give a five-star rating to this multipack of standard-sized LED bulbs from Philips. They're available in two different color temperatures: soft white and daylight. Both have their own draw, but in general, purchasers seem to prefer the slightly brighter "daylight" bulb for general use in their homes. One reviewer explains, "We had warm or soft white incandescent bulbs throughout the house, and I have been working on replacing them all with a bright white light. It feels like a brand-new space. I wanted to paint my walls before, but after getting these installed, it's like a whole new color." Others write that they were happy to buy these bulbs in bulk because it helped them to switch their homes over to LEDs with minimal difficulty. "Being able to buy the 16-packs for a decent price has made [switching everything] a whole lot easier. These are a nice bright daylight color and really have a fresh feel to the light."
Best-rated (less expensive) LED light bulbs
Over 90 percent of the reviewers give these bulbs five-stars, with many highlighting the brightness of the light they put out and the affordability of this four-pack. "Great value for the cost per bulb," writes one reviwer, one of dozens who uses the word "value" in their review. Another shares a more nuanced review: "I have a love-hate relationship with these lights. They are so bright and light up so well, I love it. Oh yeah, the hate relationship part, now I can see how dirty some areas in the house were that my old ugly yellow lights wouldn't show before."
Best long-lasting LED light bulbs
Over 100 reviewers say these AmazonBasics light bulbs have great longevity. One reviewer, with a "big house" that's apparently "always running out of lightbulbs," suspects they "should last a long, long time while using a fraction of the electricity." Even though they're not too expensive, especially when you're buying in bulk, she was "very surprised and pleased at the quality of these bulbs," calling them "much better quality than old-school bulbs." Another reviewer said she has a "near religious epiphany" after switching all her bulbs to these LED lights. "Hallelujah, let there be light." And a third customer says the light from these bulbs are actually much softer than most light bulbs, but it's exactly what he wanted. "The photo does not do this soft, warm light justice. I'm an early riser and like the comfortable feeling this bulb gives to my office," he writes.
Best 24-pack of soft white LED bulbs
"Great deal for the money," writes one five-star reviewer of these LED light bulbs from Sylvania. "I replaced all my curly fluorescent type bulbs and Halogen type with these and wow,they look awesome." Satisfied commenters say you're getting quality bulbs for a very compelling price, with one even remarking, "I never thought I'd see the day when LED bulbs got this cheap. I'm very pleased to be able to get 24 for what I used to pay for a SINGLE BULB, not that long ago." And while many reviewers certainly focus on how affordable these are, plenty also praise their high quality. To sum it up: "THIS is the bulb you are looking for. It has superb brightness, gives off perfect soft-white glow, and lasts and lasts."
Best 16-pack of soft white LED light bulbs
Purchasers recommend this 16-pack of LED bulbs on account of the trustworthiness of the AmazonBasics brand and the strong value for their money, as mentioned by one reviewer who reports being happy after "finally decided to buy bulk." They're available in a range of color temperatures, but many like the "soft white." Reviewers do note that like many LED bulbs, these are not dimmable, but if you're fine with that, these come endorsed by over 1,500 five-star reviews. One commenter jokes: "And God said, 'Let there be light.' Amazon replied and said, 'It's lit.'"
Best daylight 60-watt equivalent LED light bulbs
Some purchasers prefer a brighter "daylight" bulb to the more ubiquitous "soft white." To quote one reviewer who outlines the differences: "The daylight is great for offices, bathroom vanities and kitchens where you want that brighter whiter light. The soft white ones are better for dining rooms, etc." And though these bulbs are available in "soft white," the daylight ones have more reviews and seem to have the most enamored customers. As one purchaser explains, "The daylight 5000K bulbs are certainly bright, and it's such a welcome change to see a crisp, clean light. It is so nice to turn on a light in the darkness of early morning or at night and see the room come to life with so much light." And the bright light is a hit with artists, too. "These are by far and away the best daylight LED bulbs I've ever used," writes a watercolor artist who says they "thrive working in the bright daylight hours," but bought these for when "there isn't anymore daylight."
Best dimmable LED light bulbs
Nearly 15 percent of all five-star reviewers comment on how much they like they way these LED bulbs dim. "This bulb, unlike many other dimmable LEDs, will actually smoothly dim all the way from full bright to off," says one customer. Another is so happy with these bulbs, they're considering replacing all the bulbs in his house with them: "The savings is so great that we can well afford to throw away the old light bulbs in favor of these." He also thinks they're a must for any "modern kitchen where dimming switches are standard." Plus, one more says these are just what he needed for his "new smart home." He explains, "Don't be fooled by going to the big box retailers and buy cheap LED's and expect they will act properly and dim on you smart fixtures and circuits. They won't!" Instead, he advises everyone to "be smart and buy something that works," like these AmazonBasics bulbs.
Best 100-watt equivalent LED light bulbs