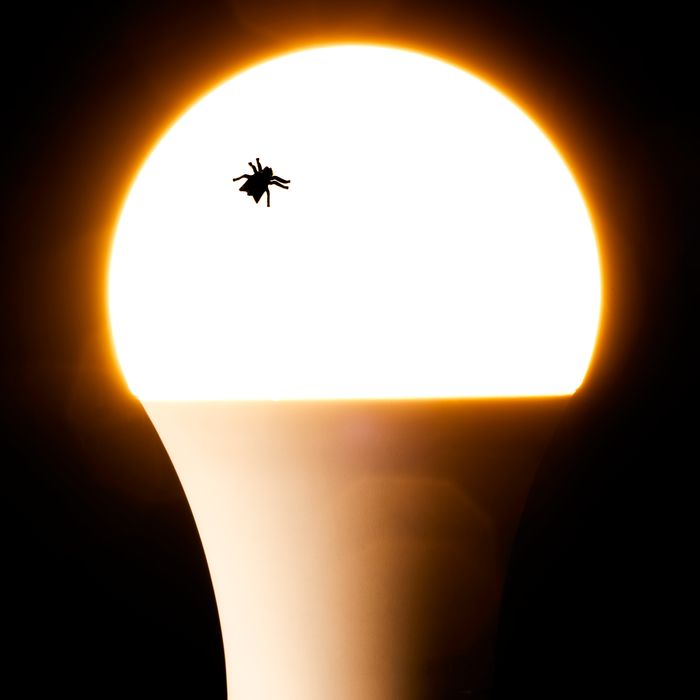 Illustration: Marcus McDonald
Ask a designer or electrician about LED lightbulbs, and prepare to get a longer answer than you expected. In the last decade, LEDs bulbs — which contain an array of light-emitting diodes (a type of semiconductor) — have replaced filament-lit incandescent bulbs for a slew of reasons. LEDs consume up to 90 percent less energy, save households hundreds of dollars, and can achieve effects with color and automation that were previously the realm of high design. For example, architect Daniel Frisch recalls a Herman Miller Leaf lamp he bought in 2007 for $500. "It had little dials, and you could mix the color temperatures yourself. It was really cool," he says. Now, "I replace that with fixtures that cost $25, and it is ten times as good."
Still, LED lights are very much a technology in transition. "Five years ago, I pretty much refused to use them, because they weren't dimmable," says designer Michael Yarinsky. "They were really cold in comparison" to incandescent bulbs — one of the more common complaints about making the switch to LEDs. There are better options on the market now, both in terms of dimmability and warmth, but buying the right LED lightbulb for your space often requires more research than walking into a hardware store and buying whichever option fits your fixture. To help sort the good from the bad, we spoke to nine experts (including lighting designers and LED hobbyists) about their favorites and I tested four of the top-recommended bulbs in my own home.
The first measure to look at when buying an LED lightbulb — whether you're converting from an incandescent or swapping one LED for another — is brightness. Traditional incandescent bulbs list brightness in wattage. (A standard home bulb might be 60 to 75 watts.) But that metric is less useful for LEDs. "Wattage doesn't have a one-to-one relationship in terms of light output. Wattage is power consumption," says Yarinsky. Since LEDs use comparatively less energy, their wattage will be much lower than that of an incandescent while producing the same amount of light. Instead, look for lumens, which more directly track the amount of light emitted. A brightness of 800 to 1,100 lumens will be roughly equivalent to a 60- to 75-watt incandescent — good for a floor lamp or fixture. Look for a brightness of around 400 to 600 lumens for a desk or bedside lamp.
Color distinguishes a good LED from one that fills your home with a pallid, Matrix-like cast. Finding the right tone is more of an art than a science, but there are two specs to look for. The first is color temperature, which is measured in Kelvins (K) and ranges from the icy glare of a headlight (4,000 to 6,000 K) to warm candlelight (1,000 to 2,000 K). A color temperature around 2,700 K creates a soft white glow, and 3,000 K is a cooler white. "Offices are best at 3,000 K (though standards used to be 4,000 K for those terrifyingly bright cubicle offices of the '80s), and residential high-function areas like kitchens are best at 2,700 K," says architect Ming Thompson. "Rooms with more than one bulb or with a calm atmosphere are best at 2,200 K."
The second metric is the color rendering index (CRI), a measure of how faithfully a bulb replicates how colors appear in natural light. "The color rendering index is the thing that people don't understand the most, and it's the thing that they should probably look at," says Yarinsky. That's due to the complexity of LED circuitry: For incandescent lights, "if you buy a 2,700 K bulb, it's 2,700 K. In LED, it's all based on whatever their code is. So little differences in the code can make a big difference in terms of the actual warmth." The maximum CRI is 100, which is equivalent to daylight. So when buying LEDs, Frisch looks for a CRI of 90 or above, and some options on this list have CRIs as high as 95. Not all brands list CRI, but we're including it wherever possible.
If you're planning to install an LED bulb in a fixture with a dimmer switch, be sure to buy a dimmable bulb. Otherwise, it can flicker, strobe, emit a buzzing noise, or simply not work.
Some brands offer bulbs that become warmer in tone as they dim: "It turns out that people really like seeing it go to dusk or orange light, and that kind of mimics what happens to the sun as it drops in the horizon," says Frisch. Lightbulbs with ambient dimming tend to be more expensive due to more specialized hardware and the need to code a change in light temperature as the dimmer moves — "The diode is more expensive, the code is more expensive, you have to have a much more expensive integrated circuit in it," says Yarinsky — but may be a worthwhile upgrade for home lighting.
Best overall
Brightness: 1,100 lumens | Color: 2,700 K, 90 CRI | Dimmable: Ambient dimming
Philips came up most often with our experts as the best source for a standard E26-base screw-in lightbulb that closely mimics the warmth and dimming of an incandescent. "Philips owns the space right now," says Frisch. The bulbs have a five-year life span and reliably non-buggy performance, and their CRI is 90 — the baseline number Frisch looks for when he's buying bulbs. Interior designer Olivia Stutz says that her clients "have been extremely satisfied with the price and performance" of Philips LEDs, which create "a nice soft light that perfectly emulates an incandescent bulb."
You can get these Philips LED bulbs in a few different brightnesses, depending on your preference and need — including an ultrabright 1,600-lumen bulb and an 800-lumen bulb. I tested out the brand's 1,100-lumen bulb in a bedroom floor lamp — roughly equivalent to an old 75-watt incandescent — where it replaced an inexpensive Feit Electric LED bought several years ago. I hadn't realized how much I disliked the old color until I swapped it for the Philips bulb. It emanated a bright, cheerful light — cooler than a peachy old-school halogen burning in my living room but still warm enough to make the previous bulb seem gray and clammy by comparison. The bulb's ambient dimming function works well for bedroom light: I can fade the bulb from bright, sunny white to dim peach with no flickering or buzzing at all.
Best stylish LED lightbulb
Brightness: 540 lumens | Color: 2,700 K, 95 CRI | Dimmable: Ambient dimming
Brightness: 150 lumens | Color: 2,200 K, 95 CRI | Dimmable: Ambient dimming
British brand Tala makes high-quality LEDs in a range of standard sizes along with beautiful, dramatic shapes that can function as stand-alone fixtures. I tested two of the brand's bulbs — the Sphere bulb and the handblown Voronoi II — and was impressed with how they resolved the design puzzle of crafting a nice-looking LED. The Voronoi is lit by a single long filament, which is refracted in the irregular curves of the glass bulb's surface — the DNA of an Edison bulb without being fully skeuomorphic. Another reason I like Tala's bulbs is their CRI of 95 — on the higher end of options on this list. They are pricey, but you're not just paying for design: The bulbs provide better color rendering and a richer, more complex warm tone.
Tala bulbs are a favorite of Roman and Williams co-founder Robin Standefer, who especially likes the brand's Pluto faux-Edison bulb: It's "warm for an LED," she says, and emanates "an ambient glow." Thompson uses handblown Tala bulbs in her home and describes them as "warm and subtle" — good for bedrooms and dining rooms. In general, she notices clients asking for "smooth, matte bulbs" as well "large ovals or spheres, which can be feature objects on their own without a shade or globe." Strategist senior editor Simone Kitchens uses two of the brand's oval bulbs as wall sconces in her bathroom, where they produce "the most incredible soft light," she says. "The color temperature is very warm — almost like candlelight. It's exactly the kind of low light I want when I take a shower at the end of the day." (Kitchens installed them with simple matte-black fixtures, which is a quick hack to create an "instant unfussy sconce.")
Best LED lightbulb for downlights
Photo: Retailer
Brightness: 410 lumens | Color: 2,700 K, 3,000 K; 95 CRI | Dimmable: Yes
Soraa makes "best-in-class halogen-replacement lights for downlights," says Frisch. The brand occupies a similar position for bi-pin halogen-replacement lightbulbs (a style of light that fits into a fixture with two prongs rather than a screw-in base, often used in downlights) as Philips does for incandescents. "Soraa is gonna lead the halogen bi-pin market for a while," Frisch says. Its Vivid line comes in a range of specifications, including multiple color temperatures, and the bulbs have an impressively high CRI of 95.
Best color-changing LED lightbulb
Brightness: 1,100 lumens | Color: 2,000 K to 6,500 K, 16 million colors | Dimmable: Ambient dimming
If you're imagining a color-changing LED lightbulb, you're probably picturing the Philips Hue. (It first appeared on the Strategist in 2018, as a Valentine's Day gift coveted by casualty broker Preston Cotnoir.) It's a favorite of parents, Friendsgiving hosts, and Dungeons & Dragons players. "After I got these as a wedding gift, they quickly became the best things in my home, hands down," says Jazzi McGilbert, founder of Reparations Club. The bulb has the same range of warm to cool white tones and ambient dimming as other Philips bulbs — and it can generate some 16 million additional colors, from peachy pink to neon blue, and be programmed to dim or brighten at a specific time of day.
I tested the bulb in a desk lamp, where it replaced a cheap Hue knockoff I'd bought a few years ago. It was immediately clear that the Hue was an upgrade: The transition from color to color is smoother, and its preset warm whites are richer and fuller. The lamp is usually the last thing burning before I go to sleep, and I love that I can use my phone to turn out the lights without getting out of bed. Yarinsky likes that the white color temperature is adjustable: "You can change the warmth of them, which is really cool."
Best less expensive color-changing LED lightbulb
Brightness: 800 lumens | Color: 2,700 K to 6,500 K, 16 million colors | Dimmable: Yes
"The Sengled bulb ranks above the rest, because it's extremely easy to use and exceptionally well made, especially for the price," says Strategist contributor Kyle Schurman. Like the Philips Hue, it can generate 16 million colors and has a white spectrum from 2,700 K to 6,500 K. "I must say, I have taken real pleasure in freaking out the kids by slowly turning the bulbs a crimson red during a Halloween movie marathon," Schurman wrote in 2020. One thing to note: The Sengled bulb requires a smart-home hub to operate — like Amazon Echo or Google Home. (The brand sells its own hub if you don't want to get into either the Amazon or Google ecosystem.) It's not compatible with the Philips Hue hub or phone app, so if that's your primary smart-home system for controlling lights, you'll need to toggle between two interfaces.
Best less expensive LED bulb for smart-home systems
Brightness: 1,100 lumens | Color: 2,700 K | Dimmable: Ambient dimming
Brightness: 800 lumens | Color: Adjustable color, default 2,700 K | Dimmable: Yes
Chris Person, a writer at the Verge and advanced LED hobbyist, is currently working on automating his home LED system with a Raspberry Pi miniature computer with the Home Assistant SkyConnect dongle. For a less DIY-heavy smart-home system, he recommends Ikea. "The Ikea bulbs are really good," he says. "They're cheap, and they have their own hub. They also have a lot of buttons that are useful if you're trying to design a smart-home system." The devices can be operated via app or integrated with voice control via Amazon Alexa, Apple Home, or Google Home.
A note on dimmer switches
In a home with older wiring, even dimmable LEDs may not be compatible with standard wall switches. Bulbs may flicker, flash, or buzz when you install them. One solution is to install an LED-specific dimmer switch. Both Frisch and lighting designer Noele de Leon recommend Lutron, which makes wall switches and plug-in dimmers for lamps. Its Caséta dimmer kit is Wi-Fi-enabled and comes with a remote control, so you can change your lighting setup from anywhere. I own the Credenza plug-in dimmer, which has worked reliably for more than two years and was glitch-free when I used it to test both the Philips and Tala bulbs.
If Wi-Fi-enabled switches offer too many bells and whistles, Kitchens likes the simple, sleek Legrand option below, which dims to produce a candlelightlike glow without the lights going haywire.
Our experts
• Daniel Frisch, principal architect of Daniel Frisch Architecture
• Simone Kitchens, Strategist senior editor
• Noele de Leon, lighting designer and co-founder of Cosine
• Chris Person, writer at the Verge
• Kyle Schurman, Strategist contributor
• Robin Standefer, co-founder and principal at Roman and Williams
• Olivia Stutz, interior designer
• Ming Thompson, architect at Atelier Cho Thompson
• Michael Yarinsky, co-founder of Office of Tangible Space
Some more LED lights we've written about
The Strategist is designed to surface the most useful, expert recommendations for things to buy across the vast e-commerce landscape. Some of our latest conquests include the best acne treatments, rolling luggage, pillows for side sleepers, natural anxiety remedies, and bath towels. We update links when possible, but note that deals can expire and all prices are subject to change.