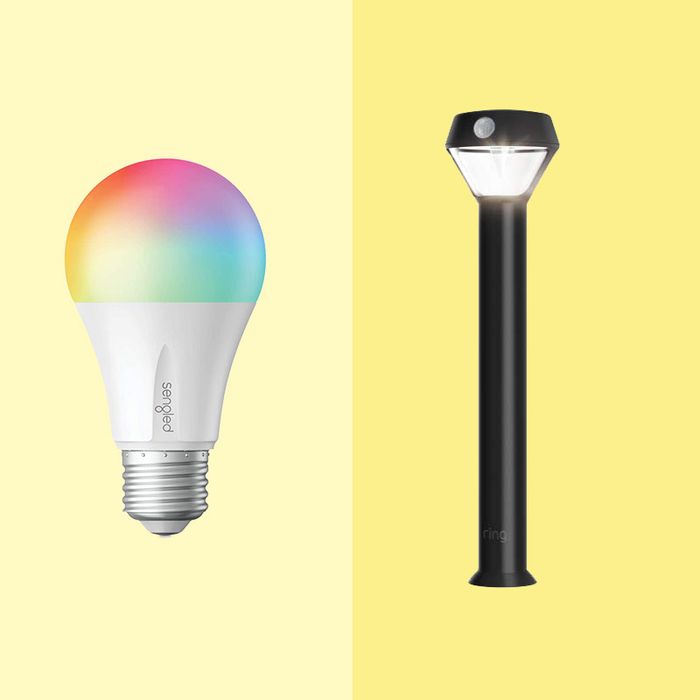 Photo-Illustration: retailers
Smart light bulbs are one of those innovations that always seemed to me, a longtime tech writer, as more like a toy than a tool. Yes, they help optimize the fully automated homes of Silicon Valley entrepreneurs — allowing you to, say, set the mood lighting in your living room to mimic the natural cycle of the sun. But do they really serve any practical purpose?
I discovered, in fact, that they do. Once I tested out versions like the reasonably priced Sengled Smart Light Bulb, I was hooked. While some of them require a hub in order to operate, meaning they need an extra piece of nearby hardware to translate your commands, many of them screw into your fixtures just the same as any standard bulb; then they connect to your Wi-Fi network via phone app and allow you to turn them on or off from wherever you are, whether that's on another floor of the house or in an entirely different Zip Code for work (if we ever return to our nonhome offices). And although they can initially cost anywhere from four to eight times more than a traditional bulb, they can also deliver big energy savings, sometimes cutting 10 to 50 percent off your electric bill.
Plus, I must admit, they're fun. Some of them can even change colors to match whatever music you're playing. Or, as Strategist writer Jordan Bowman says he does with his Philips bar light as part of his Friday routine: "While watching The Mandalorian, I'll use my phone to change the lights to a dark-green hue, setting the mood for all the bizarre Baby Yoda, space-cowboy-inspired adventures." So whether you want to turn your space into a dance club or simply reduce your monthly power output, read on for a list of options that can illuminate every room of your house (along with the front porch).
The best smart color-changing light bulb
Sengled may not be the first manufacturer you associate with light bulbs — it's probably GE or Philips — but the company has made a name for itself in the world of smart technology over the past few years, and it has multiple CES Innovation Awards to prove it. In my experience, the Sengled bulb ranks above the rest, because it's extremely easy to use and exceptionally well made, especially for the price, considering that similar color-changing bulbs can run you upwards of $30. Once you activate it, with the Sengled app or voice assistant like Alexa, it offers the full range of 16 million potential colors that LEDs can generate, including shades of white. While to some that may seem like an unnecessarily vast spectrum, it has more uses than you may think: For example, you can set the light to very gradually get brighter in the morning and darker in the evening to simulate sunrise and sunset (which has purported benefits for your circadian rhythms). And I must say, I have taken real pleasure in freaking out the kids by slowly turning the bulbs a crimson red during a Halloween movie marathon. What's more, the Sengled app keeps track of power usage, so you can see in real time how the output varies at different settings. One caveat: The latest generation of these bulbs requires a separate hub to operate, and while this isn't a very complicated process (much of the setup is automated, other than entering your Wi-Fi password and some other information about your home network), it will cost you another $27. Still, assuming you buy a few of these bulbs rather than just one, that cost is quickly spread out (and overall, you'd still be paying less than you would with those pricey Philips smart bulbs that don't require a hub).
The best smart white light bulb
Maybe you're just not a colored-light person. I wouldn't fault you for this, particularly because you can pay nearly double for this feature, compared to a white-only bulb. Luckily, smart bulbs don't have to offer full-color light. This Wyze bulb specializes in the white-light realm, so it gives you more of the look of a traditional light bulb. No hub is required, and installation is a piece of cake. You can use the app to dim the intensity of the light or to change the color temperature in the white range. And if you're someone who's into photography, like me, you may well have an extra appreciation for this feature, as changing the shade of white can greatly affect the look of photographs and video, and it's nice to be able to dial in the desired effect. The same goes for those Zoom meetings: Finding just the right shade of white light can flatter your appearance onscreen and fool your colleagues into thinking you actually put on makeup and/or showered that day.
The best smart candle light bulb
When you want to add a smart bulb in an E12 (candle) socket, this Philips bulb delivers a full-color option. It doesn't need a hub, though you can buy the Philips Hue Smart Hub ($58) separately to gain extra controls, which is helpful if you are using multiple Philips smart products in your home. Otherwise, you can control the Philips bulb with an app or through your voice-controlled assistant. Here, too, you can pick from up to 16 million colors as well as dozens of shades of white. And while, yes, it will cost you nearly double the price of other full-color smart bulbs, I must say, the Philips stands out for how seamlessly it works with multiple apps — including the Amazon Alexa and Google Assistant apps — which, as I've found from testing several of these bulbs, isn't always the case.
The best mini smart light bulb
For certain lamps and light sockets, you want a shorter bulb that doesn't stick out too far and become an eyesore. I've tried all sorts of bulb sizes to try to fix this problem — it's one of my pet peeves — and finally came to discover this high-quality LIFX bulb. At less than four inches long, this LIFX has a shorter profile than other smart bulbs, allowing it to fit nicely into a variety of fixtures where other bulbs aren't appropriate, such as a tiny lampshade or desk light where you don't want the tip of the bulb extending beyond the shade. (A traditional bulb is closer to 4.5 inches in length.) This LIFX bulb has multiple shades of white available, and its price compares closely to a full-size, white-only smart bulb, which is nice. It also easily connects to your Wi-Fi network, allowing you to control it with an app or your voice assistant.
The best smart floodlight
In rooms where you have recessed lighting with a floodlight-style bulb, there's yet another option from Sengled — this one a 75-watt equivalent — which offers the same features as the one at the top of our list (16 million different colors, including white shades; mood lighting; and automatic dimming and brightening). I also like that its price is right in line with other full-color smart bulbs, if not a little cheaper. Once again, just keep in mind that with this Sengled bulb, as with the model at the top of our list, you'll need to buy a hub like the Sengled smart hub ($27) to operate it.
The best outdoor security smart light
During my testing of all manner of smart products, I've noticed a pattern: If the technology and hardware aren't easy to operate, I tend to lose interest. I don't want to have to undertake several steps to complete a simple command. Ring is a well-known brand in the world of smart video doorbells, and it knows how to make its products extremely user friendly. This is certainly true of its outdoor Smart Security Light — add it anywhere you need a bit of extra illumination (porch, back steps, etc.), and it activates when it senses motion. As with other lights on our list, this one does involve a separate purchase: You'll need to install a Ring Smart Bridge hub ($50) to make use of this motion-sensitive smart light; once it's connected, you can fully control it through the Ring app or with an Alexa voice-control system as well as receive notifications when someone or something activates it. If you already have a Ring smart doorbell installed, adding these Ring lights is an easy process.
The best smart outdoor path light
As you may be able to tell from the above, I like security lights outdoors. I especially like having smart features in these outdoor security lights, as I can receive motion-activated alerts and decide when to turn them on, all from my smartphone. The Ring path light is the perfect companion to the Ring security light above. It fully illuminates your sidewalk or driveway when activated by motion; the light turns on, and you receive a notification on the Ring app, letting you know when someone is approaching your door. As with the Ring security light, you'll have to purchase a Ring Bridge hub separately to make the path light work with the Ring app. And yes, you will pay quite a bit more for these fixtures versus, say, a solar-powered sidewalk light (maybe five to ten times more), but as far as I'm concerned, the smart features are worth the extra cost. And the look of the thing is just a great outdoor design element — it's like a tiny streetlight, a lantern on top of a small post.
The best smart light panel
When it comes to smart light bulbs, it's rare that I've come across those with a truly innovative design. Light bulbs have to fit in a socket, after all. But these Nanoleaf smart light panels are really something different, in both the way they look and how they work. The set consists of four (or as many as nine) square smart light panels you can connect and hang on the wall to provide illumination anywhere in any of 16 million colors and several shades of white. There's even a rhythm module that allows the panels to change their colors to music. Another format causes them to mimic the colors of an image on a nearby television or computer screen. Nanoleaf also makes other shapes of light panels, including Nanoleaf triangles ($216), so you can let your full creativity show with this display and control it all through your smartphone app or digital assistant. As you may guess, these are pretty pricey, but you can also think of them as investments in a piece of art.
The best smart strip lights
Strip lights are a nice way to add lighting in difficult-to-reach locations, such as under cabinets, and they can serve as fun accent lighting. You can also stick them anyplace a traditional socket and bulb are not available. With the Govee version, it's easy to change the color and pattern of the lights using voice assistants or apps. (From my testing, most strip lights are far more difficult to control.) The strip has adhesive on it, meaning you can place it almost anywhere, and each one measures a generous 16.4 feet long, and you can cut to fit. With the app, you can pick among any of 16 million colors, including white, or you can change the colors on a regular loop, which can be a festive option for the holidays or when throwing parties (whenever we get to throw them again). Keep in mind that you will pay about double for these smart strip lights versus regular strip lights — but in the case of the latter, you have the extra hassle of having to operate them with a separate remote control.
The Strategist is designed to surface the most useful, expert recommendations for things to buy across the vast e-commerce landscape. Some of our latest conquests include the best acne treatments, rolling luggage, pillows for side sleepers, natural anxiety remedies, and bath towels. We update links when possible, but note that deals can expire and all prices are subject to change.