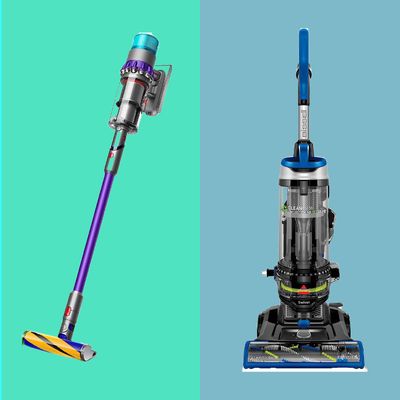 Photo-Illustration: The Strategist; Photos: Retailers
If you want to know which vacuums work best, ask those who tackle the trickiest messes. That's exactly what I did, reaching out to an array of experts — including home organizers, chefs, cleaning specialists, nannies, and pet pros — to see what vacuum each recommends. (One thing to note: Robot vacuums aren't included here.) These opinionated authorities have sucked up everything from dust to dog hair to Play-Doh. They've also considered if a vacuum works better on one surface than another (or if it works equally well on hardwood floors and shaggy carpets) and how easy it is to maneuver. Additionally, I've tested over a dozen top-rated models myself to get a front-row seat to all the superlative suction. So read on for the intel and our picks for the ten best vacuums.
Over time, bagless vacuums have overtaken bagged ones as the standard because they're easy to clean and don't require the additional purchase of extra vacuum bags. One advantage that bagged vacuums have, however, is that they keep the dust more contained when it comes time to empty them, though there are self-emptying models that can help with that. In addition to those considerations, there are three main options: upright, stick, and canister. Upright vacuums are the most traditional, with a handle on top, a swiveling brush head, and a corded power source. Stick vacuums have become more popular thanks to Dyson, and they're often cordless (though you can find corded options). Canister vacuums, which are usually corded, are the most compact full-size option and come with a long hose that makes it easier to get into nooks and crannies.
Cord length (for corded) or run time (for cordless)
Corded vacuums are great if you've got a larger space and don't want to worry about running out of battery halfway through your cleaning session. But of course, they're limited to areas where you can find an outlet. That's why we've listed the length of the cord, which ranges from 15 to 27 feet. For the cordless vacuums, we've listed the maximum run time, according to the manufacturer. (Of course, that run time is variable in real life, and it can change depending on whether the battery is fully charged and which power setting you're running it on. But it will give you a good sense of whether the vacuum has enough battery life to clean your whole apartment or if it's better for spot treatments.)
If the vacuum is too heavy to carry around, you probably won't want to take it out often and clean. In general, stick vacuums are lighter than upright or corded ones.
Additional tools can turn a simple carpet cleaner into a multipurpose machine, tackling hardwood floors, upholstery, baseboards, countertops, stairs, and hard-to-reach corners. Some models can even be turned into a mop. Common attachments include an anti-tangle brush for pet hair, a crevice tool (an angled nozzle for narrow spaces), and a combination tool (two tools in one — usually a hard nozzle and brush for quick switches between surfaces and cleaning needs). We've listed the attachments included with each model. In some cases, additional attachments may be available for purchase.
Best overall vacuum
Type: Cordless stick, bagless | Run time: 70 minutes | Weight: 7.72 lbs. | Attachments: Digital Motorbar cleaner head, Fluffy Optic cleaner head, combination tool, hair screw tool, built-in dusting and crevice tool
Dyson owners are so loyal to the brand, I wasn't surprised to find a slew of Gen5detect diehards, even though it just landed on U.S. shores in June. Emily Ranager, director of business operations at Shelfie, an NYC-based organizing service, is "obsessed" with her Gen5detect and says it's a favorite of many in her circle. In addition to its 70-minute run time, she's a fan of its dust-illuminating technology that has twice the power of previous versions. "It illuminates invisible dust and hair on my floors, so I can be sure I'm sucking up as much filth as possible." Ranager also raves about how it converts to a handheld vacuum, which is ideal for countertop spills. That's likely why Toni Roberts, the executive pastry chef at the Ritz-Carlton, Chicago, loves using her Gen5detect in the kitchen. "It's superlight and gets all kinds of dusty bits," she says. "It also has multiple cleaning heads that can be swapped in, and the filter is washable, so there's less waste."
When I tested a Gen5 myself (I got my hands on a Gen5outsize, which has double the run time and a dustbin that's over twice as large as the Gen5detect), what blew me away was the vacuum's built-in LCD screen that gives you a satisfyingly grotesque count of how many particles it nabs from your floors. One pass beneath my writing desk yielded 108 million microscopic crumbs — an impressive amount of WFH bagel bits.
Best less expensive vacuum
Type: Cordless stick, bagless | Run time: 60 minutes | Weight: 8.9 lbs.| Attachments: Duster crevice tool, anti-allergen brush
For best overall vacuum, it was neck and neck (wand and wand?) between the Dyson Gen5detect and the Shark Stratos. Ultimately, the Dyson snagged the top spot for its run time, but the Shark has some major tricks up its cordless sleeve and is less than half the price.
For one, the stick bends at a right angle so you can slide the whole vacuum under tables, couches, and beds. Ceramicist Liz Burns says, "It's a dream to slide my Shark Stratos under my pottery wheel and beneath nearby shelves to pick up dust and debris with ease. Plus the whole thing folds in half for super-compact storage — it's seriously amazing how small it becomes."
In addition to its contortionist capabilities, the Shark Stratos, like the Dyson Gen5detect, automatically boosts its suction power when it comes across bigger messes. This feature, called Clean Sense IQ in the Stratos, visually shows you when debris is detected and when it's clean. I tested the Stratos after hosting my three kid nephews for dinner, and we laughed that it works as a messy-eater detector when you run it under each dining chair.
Best vacuum for hard floors
Type: Canister, bagless | Cord length: 16 feet | Weight: 10.23 lbs.| Attachments: Multi-surface brush, crevice tool
Sarah McAllister, founder of the cleaning site Bleach, Pray, Love and creator of the Instagram account GoCleanCo, says the Bissell Zing is especially great for hard floors and small spaces. Plus it proves that maneuverability isn't reserved for only stick vacuums. "It's lightweight, so you can carry it around to get in tight or high-up spaces," says McAllister. And the price doesn't disappoint either. "If you're looking for a vacuum that packs a punch and is under $75, this is a go-to. All of my staff carry them."
Strategist editor Maxine Builder is also a fan of the Bissell Zing, especially because the canister design fits easily at the bottom of a coat closet. And though it's ideal for cleaning up after her (very hairy, part-husky) dog on the hardwood floor of her Brooklyn apartment, she notes that it's not quite as effective on other floor types. "It struggles a bit more on rugs," she says. "I usually have to go over the runner two or three times to get all the pet hair out."
Best vacuum for carpet and rugs
Type: Upright, bagless | Cord length: 27 feet | Weight: 13.65 lbs. | Attachments: Pet TurboEraser tool, 2-in-1 dusting brush and crevice tool
While cleaning expert Sarah McAllister relies on the Bissell Zing for hard floors, she counts on the Bissell CleanView for carpets, noting once again that she prefers a corded option. "For carpets," she says, "we like an upright vacuum with replaceable filters that you can clean easily," which helps the filters last much longer — up to eight months. With a specialized roller head covered in heavy-duty bristles, the CleanView loosens, lifts, and sucks up deeply embedded debris from carpets. McAlister says that even after running other vacuums over carpeting first, the CleanView still manages to scrounge up a good amount of additional dirt, providing a truly thorough cleaning.
Best canister vacuum
Type: Canister, bagged | Cord length: 18 feet | Weight: 13 lbs.| Attachments: Combination floorhead, dusting brush, crevice tool, upholstery tool
While some vacuums are like meaningless flings — in and out the door, never quite right for your lifestyle — others are for going the distance. Miele vacuums are the latter, according to Leah Guadagnoli, an artist and the founder of the monthly dinner party Fancy Feast Supper Club, which she often hosts in her upstate New York home. "For deeper cleans, I'm in love with my Miele Classic C1 Pure Suction," she says. "It works great for getting in between the crevices in my wood floor where flour and crumbs annoyingly always accumulate. This is for those nitty gritty corners of my kitchen and home." It's also the vacuum she uses to prepare for her mother coming over. "Mom's coming to visit?" she says. "Better bust out the Miele!"
Shara Kay, a certified professional organizer and the founder of SK Organizing in Beverly Hills, agrees about the reliability of Miele canisters. She praises their high suction, efficient size, and retractable cord storage. "They're expensive but last for decades," she says.
Best vacuum for pets
Type: Cordless stick, bagless | Run time: 40 minutes | Weight: 5.58 lbs. | Attachments: Digital Motorbar cleaner head, Fluffy Optic cleaner head, combination tool, hair screw tool, built-in dusting and crevice tool
Among pet pros, Dyson gets a lot of love. The Dyson V11 Torque Drive Cordless Vacuum landed the "best overall" title in our story about the best vacuums for pet hair. And here, the animal lovers I spoke with recommended the V8, a similar but older model. Kelly Crook — who fosters both cats and dogs and founded an ice cream company for canines called the Pupper Cup — appreciates how efficiently it sucks up animal hair in her Bronx apartment. "The V8 is lightweight, easy to maneuver, cordless, a breeze to empty (a.k.a. not gross!) and has never clogged, even though I'm vacuuming up tons of fur every day," she says. Andrea Arden, founder of Andrea Arden Dog Training appreciates that it transforms into a handheld and "eliminates the need for an additional device." Arden keeps a V8 as well as a Dyson Cyclone V10 at each of her five NYC locations.
Beyond fur, Jen Jordan, a hairstylist who often works out of her Brooklyn apartment, raves about the V8's ability to pick up human hair. "Brooms and Swiffers push the cut hair into unreachable corners while this attachment has a felt roller at the front that draws the hair (and dust and cat litter) into the vacuum." Meanwhile, Patrice Novkov, who founded the NYC-based Mulberry Nanny Agency, relies on the V8 to suck up Play-Doh and car-seat crumbs.
Best less expensive vacuum for pets
Type: Stick with cord, bagless | Cord length: 15 feet | Weight: 2.6 lbs. | Attachments: Crevice tool, floor nozzle
This extremely lightweight, amazingly affordable vacuum (it's less than 10 percent of the price of the Dyson) gets the job done for pet parents, according to Twila McGee, CEO and founder of pet-care company Nola's Finest Pets. "Even though it's extremely light, this vacuum has a powerful suction that makes picking up pet hair on carpet, rugs, and hard floors a breeze," she says. And if you think such a bargain price means the vacuum won't last, McGee notes that she's had hers for almost two years now and it still works like it did on the first day. Like the Dyson, it can be converted into a handheld, but unlike the Dyson, it comes in bright colors, which is fun. Get a FeatherWeight and you just may have the only lime-green vacuum on the block.
Best vacuum for allergy sufferers
Type: Cordless stick, bagless | Run time: 60 minutes | Weight: 8 lbs. | Attachments: Crevice nozzle, dusting brush, upholstery nozzle, multi-floor electric brush
Longtime Shark fan and even longer-time allergy sufferer Naveen Singh became an instant Miele convert after testing the Triflex HX2. "I've always assumed Miele vacuums are all canister design, so it was cool to find out I could get the maneuverability of a cordless stick with the power of a Miele motor," he says. Singh was impressed by the Triflex HX2's ability to capture dust on both hardwood floors and rugs — something he doesn't mess around with in order to keep sneezing and runny noses at bay. With its HEPA lifetime filter, this model claims 99.999 percent filtration, picking up dust, allergens, and viruses. "Plus it turns into a handheld, so I can use it in my car, too," Singh says. "I'm the kind of guy who even keeps a mini trash can in my car, so this level of trustworthy cleanliness is major."
Best vacuum for small spaces
Type: Cordless stick, bagless | Run time: 60 minutes | Weight: 6.8 lbs. | Attachments: Digital Motorbar cleaner head, Fluffy Optic cleaner head, crevice tool, hair screw (anti-tangle) tool, combination tool
Before the Gen5detect, there was the V15, which introduced laser illumination to the Dyson lineup and had some users happily comparing vacuuming to playing a video game. And while the Gen5 has a slightly more powerful motor (spinning at 135,000rpm compared to 125,000rpm) and a maximum run time that's a touch longer (70 versus 60 minutes), the V15 is still a solid choice, especially for smaller homes where an hour's worth of vacuuming is more than enough.
And that's not to say the V15 is a consolation prize. It's still beloved among our experts, including Ryan Easter, who appreciates solid suction as the "chief cleanologist" at New Jersey–based Spark Car Wash. "I think the best vacuum is the Dyson V15," he says, noting that the Dyson V11 ($480) is a great substitute if you have a lower budget. For his car, Easter only relies on the high-powered central vacuums at work, but at home, he's all about Dyson's versatile stick options because they're "lightweight, cordless, modular, small, and still do a great job."
Strategist senior editor Winnie Yang also likes the V15 for its effective and efficient cleaning and compact design (and is a fan of Dyson stick vacs in general, having previously owned the V8 and V11). Dyson's diminutive footprint in the home is also what appeals to Vivien Lee-Mayhue, a certified KonMari organizing consultant and the founder of Tidy Up Los Angeles. She owns the now-discontinued V6 and maintains that Dyson's stick design is the best because the vacuum and its attachments can be easily stored in a wall docking station. "Vertical wall storage means not using precious floor space in a utility closet — a dream feature for professional organizers," she says.
Best vacuums for storage
Type: Cordless stick, self-emptying, bagless body, bagged storage tower | Run time: 60 minutes | Weight: 5.95 lbs. | Attachments: Power Carpet/Universal nozzle, Power Mini nozzle, Power Mop nozzle (with two Power Mop microfiber pads), 2-in-1 combination tool, crevice tool
At first, the more than three-foot storage tower that's included with the CordZero seems like overkill. Sure, other cordless sticks lean (and fall) awkwardly when not in use, but when mine arrived I wondered if it was really necessary to pair such an easy-breezy, lightweight machine with such a sizable station. However, once I vacuumed my entire apartment off one charge and docked this cordless stick, I realized the true beauty of the tower — once the CordZero returns to its stand, the dustbin empties automatically. Within the tower, the dust is funneled into a bag that you pop out and throw away when full (about once a month). No more hovering over a garbage can to dump dirt, only to accidentally spill dust back onto your clean floors. The CordZero's hands-free auto-empty feature makes it especially great for allergy sufferers (no wonder it's earned certification from the British Allergy Foundation). The tower also charges the vacuum and stores its attachments too.
When Strategist senior writer Liza Corsillo tried another LG CordZero model (the A9 Kompressor Stick Vacuum with Power Mop) she was amazed by how much dust, dirt, and dog hair it picked up from her rug and how it outperformed her robo vac. "Please don't judge me when I say this, but the dustbin on the LG filled up and needed to be emptied after just 20 minutes of vacuuming," she says.
Type: Canister, bagged | Cord length: 18 feet | Weight: 14 lbs. | Attachments: Dusting brush, upholstery tool, crevice tool
Compared to the Miele Classic, the Compact (as the name suggests) has a smaller canister, but still delivers the same suction power — 1200 watts. Note, however, that the Compact does weigh two pounds more. It's a favorite of Chrissy Fichtl, founder of the Brooklyn-based candle and fragrance brand Apotheke. "It's small and compact to store, but most of all, it's easy to move around from one level of your house to the next," she says.
Best wet/dry vacuum
Type: Upright, bagless | Cord length: 25 feet | Weight: 12.5 lbs. | Attachments: None
The name of the vacuum game these days is multifunctional: Uprights transform into handhelds, pet-hair erasers also clean upholstery, and dusters become brooms. So when I heard about the CrossWave HydroSteam — a vacuum, mop, and steamer in one — I had to give it a go. Fortunately, the aftermath of a family BBQ presented the ideal testing opportunity with a minefield of mustard-strewn tile, crushed Cheetos on an area rug, and the remnants of a pukey mess in the entryway from a friend's daughter who went too hard on the bounce house.
For a machine that promises so much, setup is surprisingly easy. The CrossWave HydroSteam comes with sterilizing formulas (for both hard floor and multi-surface), so you simply fill a tank with water and formula, then snap it into the back of the vacuum. You switch between modes (hard floor, steam wash, or area rug) on the handle, which sits at the end of a, dare I say, lovely copper stick. Within minutes I tackled my multi-surface mess and was very happy with the ease of cleanup and end results. You do have to empty a dirty water tank after each cleaning, but you'd have to do that anyway if you were mopping. Plus, an automatic self-cleaning cycle takes care of the brush roll, which is more than you can say for any mop head.
Best vacuum for cars
Type: Cordless handheld, bagless | Run time: 25 minutes | Weight: 2.2 lbs. | Attachments: Hair screw (anti-tangle) tool, combination tool, worktop tool
The Dyson Humdinger is how interior designer Kellie Sirna — founder of Studio 11 Design in Dallas — tackles messes in her projects, which include restaurants, hotels, spas, and even casinos. The feather-light machine comes with three attachments to make digging into console nooks and crannies, as well as cleaning car upholstery, a breeze. "It's compact and easy to carry, making it perfect for keeping in my car … Plus, it's relatively quiet, so I can use it at home or, if the need arises, on project sites without worrying about noise," Sirna says. Even on days off, Sirna regularly reaches for her Humdinger. "As a mom of two, having a handheld vacuum is a necessity for quick cleanups," she says.
In addition to its sleek and silent appeal, the Dyson Humdinger stands out for its exceptional run time — up to 25 minutes. This is longer than any of the vacuums in our roundup of handheld vacuum cleaners, and twice as long as similar vacuums of the same light weight.
Some vacuums that are on sale for Cyber Monday
• Emily Ranager, director of business operations at Shelfie
• Toni Roberts, executive pastry chef at The Ritz-Carlton, Chicago
• Liz Burns, ceramicist
• Sarah McAllister, founder of Bleach, Pray, Love and creator of GoCleanCo
• Maxine Builder, Strategist editor
• Leah Guadagnoli, an artist and founder of Fancy Feast Supper Club
• Shara Kay, certified professional organizer and founder of SK Organizing
• Kelly Crook, founder of The Pupper Cup
• Andrea Arden, founder of Andrea Arden Dog Training
• Jen Jordan, hairstylist
• Patrice Novkov, founder of Mulberry Nanny Agency
• Twila McGee, CEO and founder Nola's Finest Pets
• Liza Corsillo, Strategist senior writer
• Maria Mooney, cleaning expert for Truly Free
• Kellie Sirna, founder and principal of Studio 11 Design
• Ryan Easter, chief cleanologist at Spark Car Wash
• Winnie Yang, Strategist senior editor
• Vivien Lee-Mayhue, professional organizer and founder of Tidy Up Los Angeles
• Chrissy Fichtl, founder of Apotheke
The Strategist is designed to surface the most useful, expert recommendations for things to buy across the vast e-commerce landscape. Some of our latest conquests include the best women's jeans, rolling luggage, pillows for side sleepers, ultra-flattering pants, and bath towels. We update links when possible, but note that deals can expire and all prices are subject to change.
Every editorial product is independently selected. If you buy something through our links, New York may earn an affiliate commission.