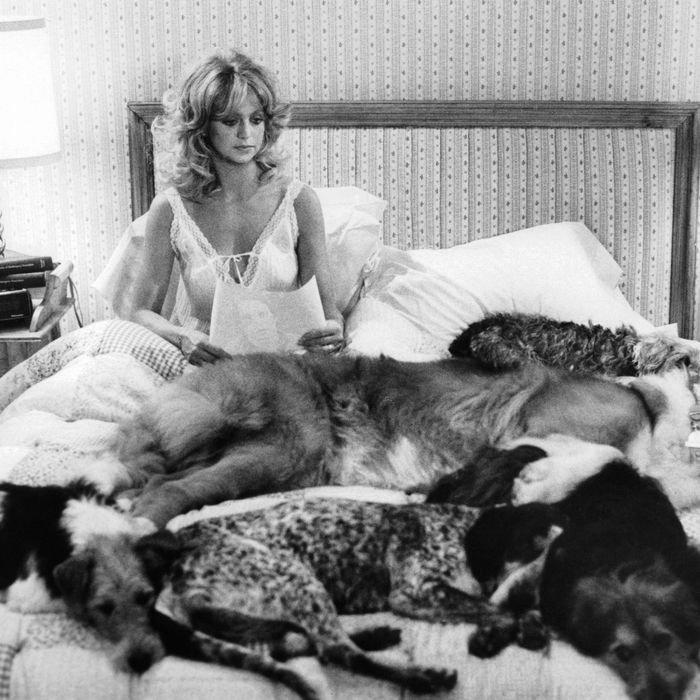 Photo: Michael Ochs Archives/Getty Images
Our pets give us so much — love and laughter, sure, but also a ton of leftover fur on the carpet and furniture. And even those of us accustomed to running errands in sweatpants covered in hair and sharing a bed with a shedding animal will want to do something about it from time to time. That's where an excellent vacuum comes in. You want a machine that doesn't tangle with hair, cleans up messes in even the tightest corners of your home, and works fast — just in case you have a skittish pet. And if you're living in tight quarters, you need a vacuum that does all that in addition to being compact enough to store in a small closet. We spoke to celebrity dog trainers, pet-start-up founders, veterinarians, other notable animal people, and even our very own Strategist testers to find out what vacuum they swear by to keep their space fur-free (or as close to it as humanly possible).
Best overall vacuum for pets
Based on our experts' recommendations, the overall consensus is that you really can't go wrong with Dyson when it comes to vacuuming up pet hair. More than seven Dyson models were mentioned, but this one was among the most recommended, with four people speaking to its excellence. A couple experts noted that its nylon bristles are especially good for getting grime out of carpets. "My Goldendoodle is hypoallergenic, but even hypoallergenic dogs will shed clumps of hair," says Rebecca Fadden, the founder of dog-accessories brand Finn + Me. Fadden adds that she alternates between the five head attachments when she vacuums her home, which makes moving from hard floors to rugs to upholstered couches easy. Rita Li, founder of pet-accessories brand rororiri, says her "fur baby Roro, a maltipoo, is non-shedding," but she uses this for her stores because they "have all types of breeds" visiting on a daily basis and constantly need to vacuum. She calls it "lightweight, cordless powerful, and easy to use." It weighs just under seven pounds, making it simple to maneuver around displays and under furniture. This is also the go-to vacuum at Bond Vet, a start-up veterinary clinic. "When pets come in through the door, they're bringing New York City in with them," says Bond Vet's co-founder and chief veterinary officer, Zay Satchu. The staff is constantly grabbing the vacuum from its charging station for quick cleanups, which is perfect because a fully charged battery lasts about one hour. "We're not doing two-hour cleanings — we're doing quick, frequent cleanings," she says.
Best upright vacuum for pets
For industrial-strength cleaning without industrial-size equipment, this corded vacuum is the go-to at the George, the pet-friendly boutique hotel owned by Bobbi Brown. In addition to a versatile head that works on both carpet and hard floors, the vacuum comes with Dyson's signature Tangle-Free Turbine Tool, an attachment that's designed to remove pet hair from upholstery without tangling it into knots. "It's very powerful," Brown says, noting that the hotel staff "use corded vacuums in our hotels because they last longer for deep cleanings." Payton Cosell Turner, the founder of home-design firm Flat Vernacular and an owner of three rescue cats, is another fan. "The multiple head options help clean our upholstery and area rugs with absolute dexterity," she says. While it's 17 pounds (nearly 10 pounds more than the V11) and a bit bulkier (since it is an upright vacuum), Chelsea Brownridge, the founder of DogSpot, says it fits into a small closet. Laura Colagrande, dog owner and co-founder of cricket-based-dog-treat company Chippin, also swears by this vacuum, telling us it has lasted her seven years and counting. Finally, when Strategist senior writer (and cat owner) Karen Iorio Adelson tested out this model, she was impressed by how it powerfully suctioned up all the tufts of cat hair that collect on her rug.
Best (less expensive) upright vacuum for pets
If you don't want to splurge on a Dyson, Strategist writer Chloe Anello says this less expensive upright passed the "ultimate test" when she brought it to her parents' house, which is also home to three dogs. Even though the house is cleaned diligently, Anello was shocked to see just how much fur and dust the Bissell picked up from the carpeted floors. "Fur from our Westie, Fiona, who died in 2019, and Pekingese, Ellie, who died last summer, appeared in the canister," she says. The only downside is that because it's a somewhat bulky upright model, this vacuum won't fit into small crevices like a stick or handheld vacuum would.
Best overall handheld vacuum for pets
For quick jobs in small spaces or for anyone who lives in a small space in general, three folks we talked to suggested handheld vacuums (though each recommended a different model). Brownridge loves this cordless, handheld Shark vacuum, which she uses to tidy the dog-friendly Brooklyn co-working space her company shares with other tech startups. The brush-free vacuum comes with two attachments and is also great for spot-cleaning on road trips. This specific vacuum also made our list of the best-reviewed handheld vacuums on Amazon (with reviewers calling it a "godsend" and a "game-changer"), which we took into consideration when naming it the best overall.
Best (less expensive) handheld vacuum for pets
As a relatively new cat owner, Strategist writer Lauren Ro says she "wasn't expecting to see tumbleweeds of cat hair all over the house." While her canister vacuum did the trick of cleaning up the fur, it was so cumbersome to carry upstairs that, she says, "it didn't really motivate us to clean there that often." When she tested out this cordless vacuum, she found it has "great suction and can pick up everything from fur balls to dust bunnies to pieces of my long hair" while being lightweight enough to use one-handed.
Best handheld wet/dry vacuum for pets
If you have a tiny apartment, this cordless handheld vacuum is designed to deep clean both dry messes like pet hair and wet messes like pet accidents (or coffee spills). It comes recommended by Winson Wong, a dog owner and the head of pet start-up studio Kinship Labs, who adds that "it's also compact enough to be used in cars." Wong says that, at "less than $100, it's very affordable considering all the features it has."
Best pet vacuum for people allergic to their pets
"I've always had one of those vacuums that you plugged into the wall, but it was a pain in the neck moving it around," says Brown, who, in addition to running a dog-friendly hotel, also has a rescue mix herself. "I love this Oreck because it's light and I can carry it anywhere around the house. I'd always had Golden Retrievers, who shed like crazy and require frequent vacuuming, so it's my go-to home vacuum." The flattened head also allows for easy maneuvering underneath furniture, and has a versatile brush roll suited for both carpet and hard floors. "I love that it's easy to change the bag," Brown adds. "I would not be using it if it were a pain." If you suffer through allergy meds for your pet, you should know that this cordless vacuum is designed with a disposable, self-sealing container that expands to pack in dirt and dust. Once you've filled up the bag, you dispose of the entire container without any dust, hair, or pet dander escaping.
Best pet vacuum for heavy shedders
Pet groomers see a lot of hair every day. The Canine Styles dog-grooming salon on the Upper East Side relies on this corded upright vacuum, which has a 1.5-quart dust cup, for extended and frequent deep cleanings with large amounts of fur. "We've been using Shark vacuums since we opened the store about 30 years ago," co-owner Mark Drendel says. The vacuum picks up wet fur without tangling, due to something called Zero-M technology, which claims to actively remove hair from the brush while it is in use.
Best less expensive pet vacuum for heavy shedders
"I'm a child of the '80s, and I prefer corded vacuums," says Tiziana Agnello, the founder of LoveThyBeast. She loves this vacuum so much that she bought five of them — a few for the company's three store locations and a few for her home — and she prefers it over Dyson cordless vacuums, which she has also used. "I can't use a vacuum that takes five hours to charge," she says. This one also easily transforms into a shorter, portable vacuum. "It's the perfect industrial vacuum despite being so lightweight," she adds.
Best pet vacuum for hard floors
Unlike the cordless Dyson Animal, the cordless Absolute comes with a soft roller-cleaner-head attachment that's specially designed for hard surfaces. Influencer Michaela Podolsky and her husband, Brett Podolsky (a co-founder of dog-food brand Farmer's Dog), trust this lightweight vacuum to clean up after their two Rottweilers. "I could knit a new sweater every week with the amount of hair my dogs shed," says Michaela, who adds that the soft brush head is particularly effective at cleaning her hard floors (her dogs shed so much, she had to get rid of all rugs, she told us).
Best (slightly) less expensive pet vacuum for hard floors
Another Dyson favorite is this older cordless V8 Animal, which weighs slightly less than the V10 Animal and has a battery that, when fully charged, lasts 40 minutes. "It's great for hardwood floors and stairs," says Matthew Morris, the creative director of dog accessories brand Mr. Dog. "The dogs don't get too freaked out by the noise, and it takes up very little space in the storage closet."
Best lightweight pet vacuum