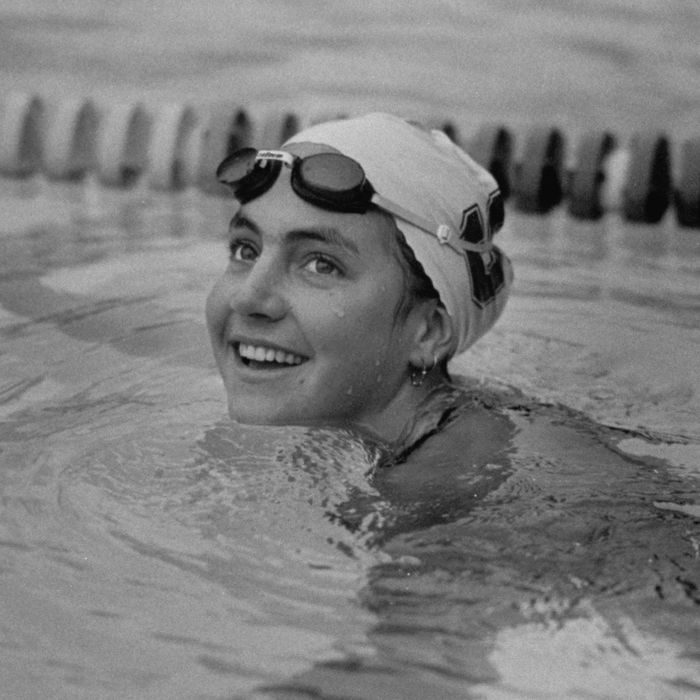 Photo: John Storey/The LIFE Images Collection/Getty
Whether you're swimming laps in an indoor pool or practicing your strokes on the open water, goggles are essential for seeing underwater and protecting your eyes from irritants like chlorine and saltwater. But we've all felt what it's like to swim using pairs that don't work as well as they should. To find the best goggles, we consulted experts for the ones they trust.
Every expert agreed that fit is the most important factor when shopping for goggles. "Everyone's face has a slightly different shape, so you may need to try out a bunch. Goggles should make a seal easily, even without the strap, but they shouldn't be so tight that they leave rings around your eyes" says Dave Samuelsohn, player coach of the Westchester Masters Swimming Association. With that in mind, we talked to swim instructors, coaches, and competitors to discover the best goggles that'll help your freestyle, butterfly, or backstroke go, well, swimmingly.
Best overall swim goggles
Nearly everyone we spoke with mentioned these versatile goggles, which fit most people's faces. "It seems like just about everybody starts with a pair of Speedo Vanquisher goggles," says Christine Frietchen, a board member of the Brooklyn Tri Club. Samuelsohn even keeps a spare pair of women's Vanquishers in his bag for teammates "because they seem to have a reasonably universal fit regardless of your face — male or female. They're like type O negative blood [the universal donor]." According to Julie Stupp, 2012 Olympic Trials finalist and the in-house product reviewer for SwimOutlet.com, these are the best-selling goggles on the market. "If you want to have one all-around goggle, go with the Vanquisher," she tells us. Lindsey Marx, a marketing content strategist at Best Company who also teaches swimming, likes that the elastic band stays put "so your goggles won't fall off if you're doing a flip turn or diving," and writer Melanie Musson wears them because they're "comfortable, fog free, and have a good seal."
Former competitive swimmer and founder of ProSwim NYC Glinda Dobrica likes the Vanquisher because "there's a kind for everyone: women, men, indoor swimmers, outdoor swimmers, [and] prescription." They're also a favorite of Theresa McCartney, a member of the Bearcat Masters swim team who's been using them for nearly 20 years. "I like them because they fit comfortably and don't fog," she says. "Furthermore, they come in various colors, and you can get them with mirrored lenses for outdoor use." Laura Picardo, communications officer at New York Open Water agrees: "The Vanquisher is extremely popular for a reason. They don't fog up easily, and they really stay on well for sprinting."
Best goggles for new swimmers
Offering a wide field of vision and no middle nosepiece to fiddle with, these mask-style goggles are Dobrica's pick for beginners. "They are comfortable, fit well, and have anti-fog coating," she says. "Once you become more experienced, you can advance to a pair with an adjustable nosepiece." Unlike most goggles that have suction around the eyes, these sit outside the eye socket, which may be more pleasant for beginners.
While experts tend to prefer goggles with silicone gaskets (the cushion surrounding the lenses) for stronger suction, Michael Sabala, head coach of the Chelsea Piers Masters Swim Team, suggests that new swimmers try a pair with softer foam gaskets. He used the Speedo Sprint model for most of his early swimming years. "I liked it because it was soft and it didn't hurt my eyes," he says.
Best indoor swim goggles
Paul Miller, president of Lokus Nutrition and a former competitive triathlete, swims five days a week and says he "tried every swim goggle out there," before finding the Roka X1. "These have wide eye cups so your scope of vision is bigger, and they have a one-piece construction so there's no leaking." While Miller primarily swims indoors, he says some of his fellow swimmers wear this style in open water, so it'd be a good choice if you want to buy only one pair.
Samuelsohn thinks Barracuda goggles are the most comfortable, and he uses them for all his aquatic activities. The Fenix has a three-layer construction with more rigid plastic on the outer layer to hold the goggles' shape and softer rubber that feels good on the face and won't leave you with marks from too much suction around the eye sockets. Dobrica likes them for similar reasons. "If you have very sensitive skin around the eyes and after you swim you walk around with goggles marks for hours, Barracuda has some great options," she says. "They may not be the fanciest-looking goggles at the pool, but after swimming, you will not have raccoon eyes"
These goggles are the favorites among swimmers at Asphalt Green, according to Diana Pimer, an age-group and masters coach with the Asphalt Green Unified Aquatics swim team. "The same model is also available in mirrored, so the swimmers can have a bunch of different pairs without having to make any adjustments or have any concerns. They can have indoor and outdoor goggles that fit their face in the exact same way," she says. This pair is leakproof, one of the main features Pimer says swimmers look for in goggles, and the sleek lines will appeal to competitive swimmers as well as those just learning. Picardo likes the Black Hawk too. "The gasket is soft for long pool sets, stays put for sprinting, and the anti-fog is really good," she says.
Best outdoor swim goggles
Falon Stahley, a former competitive swimmer and instructor at Sunsational Swim School, loves the mirrored version of the popular Vanquisher goggles for swimming and teaching outdoors. "I use mine constantly when I am teaching lessons, usually to watch students' form, play games, or even sometimes to keep the sun out of my eyes," she says. Honorata Zaklicki, another member of the Bearcat Masters team, uses them for indoor swimming as well. "They are sleek, with comfortable silicone eye sockets and highly durable silicone bands," she says. "The mirrored lenses help with any indoor light reflection you may get."
Another mirrored option, the Mariner Supreme, is former competitive swimmer and Poolonomics founder Rick Patterson's go-to pair for outdoor training, especially on sunny days. "They'll protect you when you open your eyes underwater and, thanks to the mirrored lenses, the sunlight won't blind you as you pull up to breathe during your strokes," he says.
Popular among triathletes who compete primarily in open water, Aqua Sphere's goggles offer a slim design and an easily adjustable buckle strap. Stupp says they have "a great fit and a nice wide scope of vision. In particular, I like the smoked lens to provide some darkening from the sun."
Best polarized swim goggles
Serious open-water swimmers won't be disappointed with these goggles, which Picardo wore on a marathon swim around Manhattan. "The lenses kept the sun from burning my eyes, which can happen without you realizing it," she says. "The gasket is also supercomfortable and really molded well to my face." She likes that the goggles are easy to adjust mid-swim, because "readjusting goggles during a marathon swim wastes precious time and energy since you have to do it while treading."
When Sabala first tried these goggles, recommended to him by an Olympic swimmer he once coached, he realized they'd be perfect for the swimmers he works with during the summer as the aquatics director and head swim coach at the Creek on Long Island. "It's a polarized lens like your best sunglasses'," he says. "I liked them so much I bought the whole inventory in North America, like 250 pairs of these goggles, because we needed these in my club."
Best transition-lens swim goggles
If you're swimming in variable light conditions, transition or photochromic lenses automatically adjust from clear to smoky gray in sunlight. They won't get as dark as solid tinted lenses, so stick with those for sunny midday swimming. Transitions are ideal for early-morning swims, when the sky gradually gets brighter.
Best racing swim goggles
Compared with standard goggles, racing goggles have larger, more rounded lenses for better peripheral vision, making it easier to glance at the competition without lifting your head out of the water. Radhames Crisotomo, associate director and equipment specialist at Imagine Swimming swim school and a swimmer himself, wears this pair, which he says is "perfect on the eyes of any swimmer." The streamlined, low-profile design eliminates drag, which can slow swimmers down — important if you're looking to shave seconds off your time — and includes other features that Crisotomo looks for in racing goggles, like "wide frames for greater peripheral vision [and] soft gaskets to protect you from the wayward elbows of the swimmer next to you."
Since they provide more coverage than most racing pairs, Marx says the Speedo Covert goggles are especially nice "if you have sensitive eyes or don't like the feeling of wet skin under your eyes." Their polarized lenses make them good for racing outdoors, too. Although these goggles are expensive, Marx argues that, as with all Speedo goggles, their high quality makes them worth the money: "Other brands don't last as long and have cheap parts that break easily," she says.
A collaboration between Aqua Sphere, Olympian Michael Phelps, and his coach Bob Bowman, this pair offers a watertight seal and a sturdy strap that ensures goggles won't budge when you're flip-turning at top speed — Phelps's dolphinlike finesse in the water not included.
Best swim goggles for kids
Like the similar Aqua Sphere goggles for adult beginners, these goggles are especially helpful for kids just learning how to swim, says Dobrica. "Because of the masklike shape, these goggles make contact with the water quicker, which helps kids overcome their fear of lowering their face into the water," she says. "Kids become more motivated to look under the water longer, which helps improve their underwater breathing skills."
Musson also chooses mask-style goggles for her children, who are currently beginner swimmers, and she specifically likes Speedo Hydrospex pairs. "They fit [my kids'] smaller faces better," she says, "and they're the only goggles that keep water out of their eyes."
For her older students who are more comfortable in the water, Dobrica suggests these child-size Speedos. "The shape of these goggles fits most face shapes, so they don't leak," she says. "They provide good suction without being too tight." She recommends sticking with clear, uncolored lenses for kids' goggles to help them see better underwater.
"Goggles are important for children when learning to swim because it encourages them to use correct form by keeping water out of their face," says Stahley. "It could also excite young swimmers who were unable to open their eyes underwater but with goggles can finally see." She likes Finis goggles because they're constructed from a durable, long-lasting plastic and are soft and comfortable on kids' faces.
Finis also makes scented goggles for kids, like purple grape and green sour apple. "This feature is fun for kids and can make a big difference for those who don't normally like wearing goggles," says Crisotomo. He says these are the most popular goggles at Imagine Swimming because they fit nearly every child and are leakproof.
Best swim-goggle accessory
If you find a pair of goggles that fits great on your eyes but the elastic strap is bulky or uncomfortably tight, both Samuelsohn and Stahley recommend buying a stretchy bungee strap as a replacement. Fabric-coated bungee cords are more durable than simple elastic straps that can snap or break. "I have had [mine] for almost ten years, and they're still on my goggles now," says Stahley. Sabala adds that a bungee cord is "a nice way to make a pair of goggles last a couple of years instead of a couple of months, [because] the goggle strap is usually the first thing to go."
The Strategist is designed to surface the most useful, expert recommendations for things to buy across the vast e-commerce landscape. Some of our latest conquests include the best women's jeans, rolling luggage, pillows for side sleepers, ultraflattering pants, and bath towels. We update links when possible, but note that deals can expire and all prices are subject to change.
Every editorial product is independently selected. If you buy something through our links, New York may earn an affiliate commission.