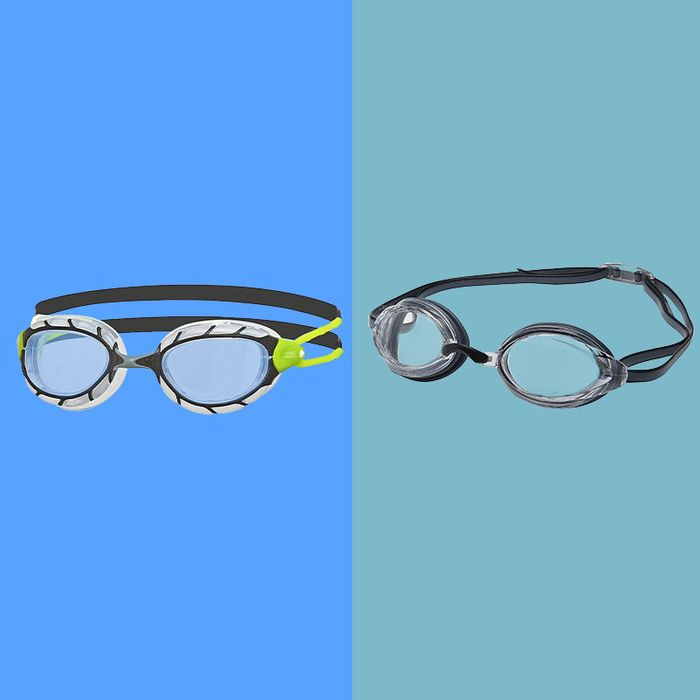 Photo-Illustration: The Strategist; Photos: Retailers
Whether you're swimming laps in an indoor pool or practicing your strokes on the open water, goggles are essential for seeing underwater and protecting your eyes from irritants like chlorine and saltwater. But we've all felt what it's like to swim with a pair that doesn't work as well as it should — due to a leaky seal, an unwieldy strap, or even an uncomfortably tight fit that leaves you with raccoon eyes after a few laps. To find the best swim goggles for all ages and abilities, we consulted swimming instructors, coaches, and competitors to discover the ones they trust.
A good pair of goggles doesn't let water in. This seems obvious enough, but, while your pair's seal should be effective, that can't come at the expense of comfort. "Goggles should make a seal easily, even without the strap, but they shouldn't be so tight that they leave imprints around your eyes," says Dave Samuelsohn, player coach of the Westchester Masters Swimming Association. "Everyone's face has a slightly different shape, so you may need to try out a bunch." In terms of materials, our experts told us that the best swim goggles tend to use a rubber gasket around the eye — as opposed to a foam one. Those who race or sprint their morning laps should seek out goggles with a tighter gasket, while beginners and more casual swimmers will be fine with a gasket that sits further away from the eye.
Goggles for intermediate and advanced swimmers tend to come with adjustable nose-bridge pieces for a more secure fit, although our experts said that this feature isn't totally necessary for kids, beginners, and more casual pool-goers. Still, a better fit around the bridge of your nose definitely doesn't hurt and, these days, you don't have to pay much for the privilege. Most of our top picks for adults have at least three different sizes of interchangeable nose bridges — or, otherwise, one size that can be adjusted to a variety of faces. We've taken note of the differences between brands and styles.
The style of goggle lens you buy will vary according to the kind of swimming you do. While you might not be competing in open-air triathlons, neighborhood lap pools are often outdoor — which means polarized, mirrored, or otherwise UV-protecting lenses will come in very handy when you meet the sunlight between strokes. Tight, low-profile lenses that are curved to enable peripheral vision will suit competitive swimmers — but if you're not aiming for streamlined speed, wider, flatter lenses may be more comfortable and provide less distorted vision. Unless your needs are super specific, don't stress too much over choosing your lens features and shape. Instead, focus on how a pair of goggles feels on your face: Every one of our experts agreed that fit is the most important factor when shopping for goggles.
Best overall swim goggles
Seal: Slim-fit silicone | Nose bridge: Four sizes | Lens: UV resistant, anti-fog, curved
Here's a wonderfully versatile pair of goggles that will suit all kinds of swimmers and, miraculously, fit most people's faces. Even more improbable? These cost just $20 and are praised by athletes and instructors alike. "It seems like just about everybody starts with a pair of Speedo Vanquisher goggles," says Christine Frietchen, a board member of the Brooklyn Tri Club. Samuelsohn keeps a spare pair of women's Vanquishers in his bag for teammates, "because they seem to have a reasonably universal fit regardless of your face — male or female. They're like type O-negative blood," the universal donor. According to Julie Stupp, 2012 Olympic Trials finalist and in-house product reviewer for SwimOutlet.com, these are the best-selling goggles on the market. "If you want to have one all-around goggle, go with the Vanquisher," she tells us. Swim coach Lindsey Marx likes that the elastic band stays put "so your goggles won't fall off if you're doing a flip turn or diving." Glinda Dobrica, former competitive swimmer and founder of ProSwim NYC, likes the Vanquisher because "there's a kind for everyone: women, men, indoor swimmers, outdoor swimmers, and prescription." They're also a favorite of Theresa McCartney, a member of the Bearcat Masters swim team, who's been using them for nearly 20 years. "I like them because they fit comfortably and don't fog," she says. "Furthermore, they come in various colors and you can get them with mirrored lenses for outdoor use." Laura Picardo, communications officer at New York Open Water, agrees: "The Vanquisher is extremely popular for a reason. They don't fog up easily, and they really stay on well for sprinting." Whether you're dipping your feet in the pool or lapping your competitors every morning and night, these affordable yet full-featured goggles are our favorite pair.
Best goggles for new swimmers
Seal: Scuba-style rubber | Nose bridge: One size | Lens: Wide frame, UV resistant, anti-fog, curved
Offering a wide field of vision and no middle nosepiece to fiddle with, these mask-style goggles are Dobrica's pick for beginners. "They are comfortable, fit well, and have an anti-fog coating," she says. "Once you become more experienced, you can advance to a pair with an adjustable nosepiece." Unlike most goggles that have suction around the eyes, these sit outside the eye socket, which makes them more comfortable overall and avoids that raccoon effect once you're out of the water.
Best racing goggles
Seal: Slim-fit silicone | Nose bridge: Five sizes | Lens: Lightweight, low profile, anti-fog, curved
These lightweight goggles are the favorite among swimmers at Asphalt Green according to Diana Pimer, a coach with the Asphalt Green Unified Aquatics swim team. With soft silicone gaskets that sit close to the eye, this pair is leakproof, one of the main features Pimer says swimmers look for in goggles. The sleek lines will appeal to competitive swimmers as well as those just learning. Picardo likes the Black Hawk too. "The gasket is soft for long pool sets, stays put for sprinting, and the anti-fog is really good," she says. Compared to our best overall pick, these are a little more slimline. Designed for indoor use, they don't offer any UV protection, but TYR makes a mirrored version of the same model.
Best open-water goggles
Seal: Scuba-style rubber| Nose bridge: One size| Lens: Wide frame, UV resistant, anti-fog, mirrored, curved
Oversize goggles like these full-feature Aqua Spheres are best for the open water. "There are a lot more elements involved in swimming in a lake or the ocean compared to the controlled environment in a pool," Chris Kaplanis, managing director and assistant head coach at northern New Jersey's RTA Triathlon, tells us, explaining that these goggles offer more protection and allow you to see more of your surroundings underwater. Horning similarly recommends "goggles with a greater degree of peripheral vision and broader lens" for open-water swimming.
Best extra-wide vision goggles
Seal: Scuba-style rubber| Nose bridge: One size | Lens: Extra-wide frame, UV resistant, anti-fog, curved
This pair of Aqua Sphere goggles, with an even wider field of vision, comes recommended by Akiko Busch, a board member of the River Pool at Beacon. "These are classic, a little larger than regular competitive goggles, though smaller than mask goggles," she says. "They don't slip or leak, and, more importantly, they permit great visibility underwater — you can really see the tendrils of waterweeds, rocks, and marine life of all sorts."
Best goggles with colored lenses
Seal: Rubber | Nose bridge: Three sizes | Lens: Mirrored, colored, anti-fog
If you want to not only see the world around you but enhance your vision of it, Kaplanis recommends Roka goggles, which come in a variety of different-colored lenses to suit everything from cloudy days — yellow lenses to, as Kaplanis says, "brighten up the environment around you" — to races during which you want goggles that'll help you spot buoys lining the course in a specific color, like blue-tinted goggles for enhancing yellow buoys.
Best goggles for kids
Seal: Scuba-style rubber | Nose bridge: One size | Lens: Wide frame, UV resistant, curved
Several of our experts recommended mask-shaped goggles for kids learning to swim for the first time. Such goggles, Dobrica says, "make contact with the water quicker, which helps kids overcome their fear of lowering their faces into the water." Kids will "become more motivated to look under the water longer, which helps improve their underwater breathing skills." A wide field of vision will help young swimmers feel safe and confident, while the skirt-style seal — similar to what you might be familiar with from snorkeling goggles — provides plenty of coverage against leaks. Young eyes are protected from UV rays, and the buckle is designed with easy "one-touch" adjustability in mind. For kids who need encouragement to get into the pool, it helps that these come in a range of colors — including some glittery options.
Best stylish goggles for kids
Seal: Wide rubber | Nose bridge: One size | Lens: Anti-fog, flat
"All the cool kids at my local pool have Splash swim goggles," says Strategist senior editor Jen Trolio. "They have a stretchy fabric band instead of a rubber strap, making them more gentle on delicate hair, plus they come in lots of fun colors and prints." Almost too cute for words, the goggles are made in the USA and will suit children ages three years and up.
Best goggles for older kids
Seal: Wider-fit silicone | Nose bridge: One size | Lens: Anti-fog, UV resistant, flat
As kids get confident in the water, it's best to transition them into adult-style goggles like these slimline Speedos designed for swimmers ages 6 to 14 using the same universal gasket fit system that we like in the Vanquisher model above — except sitting further outside the eye for added comfort. "These goggles fit most face shapes, so they don't leak," Dobrica says. "They provide good suction without being too tight." As opposed to racing-style goggles that are curved to help increase peripheral vision, these goggles have flat lenses, which increase underwater clarity and reduce distortion — great for keeping kids calm and confident as they complete diving exercises. The goggles are designed for maximum comfort on young heads featuring a soft, flexible silicone strap. And, yes, they come in plenty of colors and prints.
Best goggles for outdoor swimming
Seal: Slim-fit silicone | Nose bridge: Three sizes | Lens: Polarized, flat
If you're swimming outdoors with any regularity, you'll need a pair of goggles that offers UV protection and mirrored or polarized lenses that fight solar glare. Michael Sabala, head coach of the Chelsea Piers Masters Swim Team, compares these polarized goggles to "your best sunglasses." When he first tried them out — on a recommendation from an Olympic swimmer he once coached — he realized they'd be perfect for the swimmers he works with as the aquatics director and head swim coach at the Creek on Long Island. "I liked them so much I bought the whole inventory in North America — 250 pairs of these goggles — because we needed these in my club," he says. Luckily, they're now back in stock.
Best goggles for sensitive eyes
Seal: Low-suction rubber | Nose bridge: Three sizes | Lens: UV resistant, anti-fog, curved
For some people, the best goggles are simply the comfiest — and these Barracuda goggles are developed with such swimmers in mind. Samuelsohn uses them for all his aquatic activities; he's a fan of their unusual three-layer gasket, which is made of rigid plastic on the outer layer (to hold the goggles' shape) and softer rubber that feels good on the face and won't leave you with marks from too much suction around the eye sockets. Dobrica likes them for similar reasons. "If you have very sensitive skin around the eyes and, after you swim, you walk around with goggle marks for hours, Barracuda has some great options," she says. "They may not be the fanciest-looking goggles at the pool but, after swimming, you will not have raccoon eyes."
Best goggles for big heads
Seal: Wide-fit silicone | Nose bridge: One size | Lens: Anti-fog, polarized, curved
New Yorker copy editor (and dedicated lap swimmer) Naaman Zhou discovered Australian brand Zoggs through his partner. "She went to our local pool and asked them for the best goggles for a large head — the staff immediately recommended these," he says. After finding they fitted his similarly oversize skull, Zhou eagerly purchased his own pair and has been happily using them for the past two years "with no signs of wear and tear." He says they're highly adjustable with a unique wheel-pulley system that lets you feed the straps through "without any friction." Even more crucially for big-headed swimmers, these goggles can be stretched out without losing tension. "I previously used regular Speedo goggles, and the act of taking them off would often result in the strap snapping," he explains. That "simply doesn't happen" with this Zoggs pair because their lenses are designed to be detachable: "So if you stretch the goggles too much, they will clip off at the front, rather than pulling the strap out entirely." He adds that, though they do clip off easily, the lenses don't let water in thanks to their trusty silicone gaskets.
Best replacement strap
If you have a great pair of goggles with a deteriorating strap — or just bought a pair with a nice seal but uncomfortably tight elastic — both Samuelsohn and Falon Stahley, a former competitive swimmer and instructor at Sunsational Swim School, recommend buying a stretchy bungee strap as a replacement. Fabric-coated bungee cords are more durable than simple elastic straps that can snap or break. "I have had mine for almost ten years, and they're still on my goggles now," says Stahley. Sabala adds that a bungee cord is "a nice way to make a pair of goggles last a couple of years instead of a couple of months, because the goggle strap is usually the first thing to go."
Some more swimming essentials we've written about
• Akiko Busch, board member, the River Pool at Beacon
• Glinda Dobrica, former competitive swimmer and founder of ProSwim NYC
• Christine Frietchen, board member, Brooklyn Tri Club
• Chris Kaplanis, managing director and assistant head coach, RTA Triathlon
• Lindsey Marx, swim coach
• Theresa McCartney, swimmer, Bearcat Masters swim team
• Laura Picardo, communications officer at New York Open Water
• Diana Pimer, coach, Asphalt Green Unified Aquatics
• Dave Samuelsohn, coach, Westchester Masters
• Michael Sabala, head coach, Chelsea Piers Masters Swim Team
• Falon Stahley, former competitive swimmer and instructor at Sunsational Swim School
• Julie Stupp, 2012 Olympic Trials finalist and in-house product reviewer at SwimOutlet.com
• Jen Trolio, senior editor, the Strategist
• Naaman Zhou, writer and copy editor, The New Yorker
The Strategist is designed to surface the most useful, expert recommendations for things to buy across the vast e-commerce landscape. Some of our latest conquests include the best women's jeans, rolling luggage, pillows for side sleepers, ultraflattering pants, and bath towels. We update links when possible, but note that deals can expire and all prices are subject to change.
Every editorial product is independently selected. If you buy something through our links, New York may earn an affiliate commission.