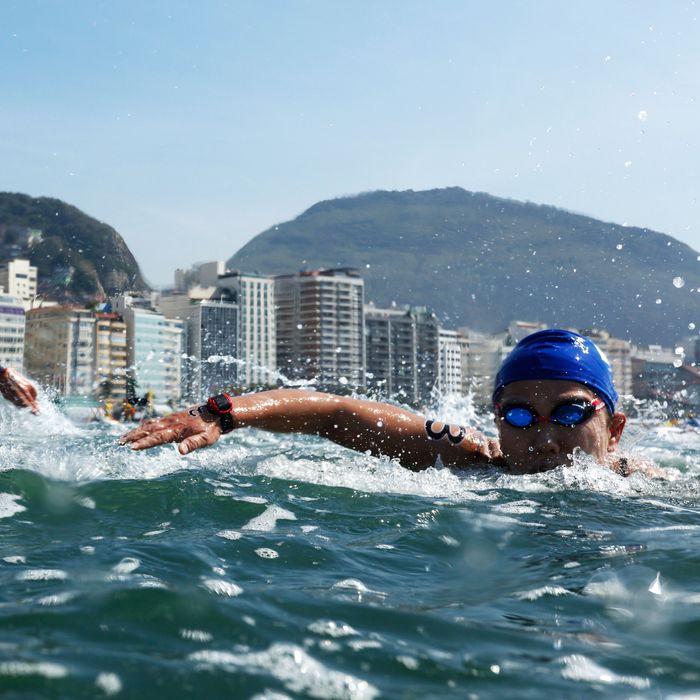 Photo: Adam Pretty/Getty/Getty Images
Your public pools might be closed or have limited hours due to the coronavirus pandemic, but that doesn't mean you can't find a way to work on your freestyle. If you live near a lake, a river, or the ocean, open water is a great option for getting exercise while practicing social distancing — even if you go with a buddy, which you probably should for safety reasons. Plus, if you've ever considered participating in a triathlon, now's a good time to work on the open-water swimming portion, which is often the most challenging for new triathletes.
Open-water swimming requires a little more gear and technique than jumping in your local pool. "I recommend learning how to swim proficiently in the pool first because once you go into the open water, there are a lot of wild cards. It's a very uncontrolled environment compared to a pool," says Chris Kaplanis, managing director and assistant head coach at northern New Jersey's RTA Triathlon. If you already have the swimming part mastered, read on for advice from Kaplanis and seven more experienced swimmers on everything you need to hit the open water.
Best wet suits and swimsuits for open-water swimming
Although some swimmers eschew wet suits because of the added buoyancy — which they say can keep a swimmer from learning how to control their bodies and swim properly — most experts agree that it's a good idea to start your open-water-swimming journey with one. "It's kind of like a giant life preserver," explains Kaplanis. "It makes you much more buoyant and a more efficient swimmer. It just makes swimming easier." There are full-sleeved and sleeveless options, but Kaplanis recommends full-sleeved suits for beginners because of the added buoyancy. He likes that Roka's wet suits are designed by Stanford swimmers and have high-tech features like flexible neoprene around the shoulders for more natural movement and a shape that lifts your arms upward so there's less resistance when you're swimming.
For your first wet suit, experts say to visit a local swim or triathlon store in person, if possible, to try on a few different styles and sizes and learn how one should fit. "Beginners gravitate toward a wet suit that has a degree of give, but this is wrong. Your wet suit should be tight," says David Horning, executive producer of the race organizer EnviroSports Productions, who primarily recommends a wet suit in colder water. "It will not be uncommon for beginners to feel a sense of claustrophobia, but this is okay. It means that the suit has melded with the body to form a barrier against the cold water, which protects a swimmer against hypothermia."
"Being able to zip and unzip the wet suit by yourself in order to easily get in and out is key," says Julie Stupp, a contender for the 2016 U.S. Olympic triathlon team and expert product reviewer for SwimOutlet. When she was racing, Stupp chose Blueseventy wet suits because of the extra-long "zipper leash" that made it easy to put on and take off the suit on her own.
"A lot of lifelong swimmers prefer to go sleeveless because they'll have the most freedom of flexibility with their arms and shoulders," Kaplanis says. Again, he recommends Roka because its suits are "pretty darn durable" and each comes with a prepaid return label, so you can easily exchange it in case it doesn't fit.
Elaine Howley, a marathon swimmer and race director of the Boston Light Swim, doesn't wear wet suits and instead looks for swimsuits that offer plenty of coverage and support. Compared to a mostly polyester suit that she'd wear in the pool, Howley chooses swimsuits with a higher Lycra content for open-water swimming, because they're stretchier, easier to take off when your hands are cold, and less likely to chafe when you're swimming long distances. She's currently been wearing the TYR Diamondfit suit, which she likes for its thick straps for added chest support and extra coverage in the back for more sun protection. Similarly, marathon swimmer and coach Sarah Thomas recommends "competition-grade suits" that are tight fitting — which keeps them from bagging (or stretching) out or moving around — made from a sturdy material, and have straps that cross in the back for support.