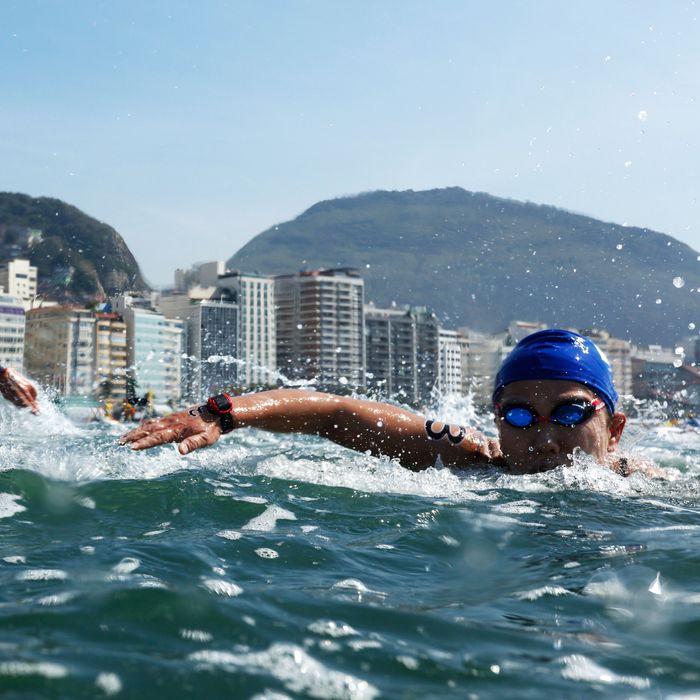 Photo: Adam Pretty/Getty/Getty Images
Your public pools might be closed or have limited hours due to the coronavirus pandemic, but that doesn't mean you can't find a way to work on your freestyle. If you live near a lake, a river, or the ocean, open water is a great option for getting exercise while practicing social distancing — even if you go with a buddy, which you probably should for safety reasons. Plus, if you've ever considered participating in a triathlon, now's a good time to work on the open-water swimming portion, which is often the most challenging for new triathletes.
Open-water swimming requires a little more gear and technique than jumping in your local pool. "I recommend learning how to swim proficiently in the pool first because once you go into the open water, there are a lot of wild cards. It's a very uncontrolled environment compared to a pool," says Chris Kaplanis, managing director and assistant head coach at northern New Jersey's RTA Triathlon. If you already have the swimming part mastered, read on for advice from Kaplanis and seven more experienced swimmers on everything you need to hit the open water.
Best wet suits and swimsuits for open-water swimming
Although some swimmers eschew wet suits because of the added buoyancy — which they say can keep a swimmer from learning how to control their bodies and swim properly — most experts agree that it's a good idea to start your open-water-swimming journey with one. "It's kind of like a giant life preserver," explains Kaplanis. "It makes you much more buoyant and a more efficient swimmer. It just makes swimming easier." There are full-sleeved and sleeveless options, but Kaplanis recommends full-sleeved suits for beginners because of the added buoyancy. He likes that Roka's wet suits are designed by Stanford swimmers and have high-tech features like flexible neoprene around the shoulders for more natural movement and a shape that lifts your arms upward so there's less resistance when you're swimming.
For your first wet suit, experts say to visit a local swim or triathlon store in person, if possible, to try on a few different styles and sizes and learn how one should fit. "Beginners gravitate toward a wet suit that has a degree of give, but this is wrong. Your wet suit should be tight," says David Horning, executive producer of the race organizer EnviroSports Productions, who primarily recommends a wet suit in colder water. "It will not be uncommon for beginners to feel a sense of claustrophobia, but this is okay. It means that the suit has melded with the body to form a barrier against the cold water, which protects a swimmer against hypothermia."
"Being able to zip and unzip the wet suit by yourself in order to easily get in and out is key," says Julie Stupp, a contender for the 2016 U.S. Olympic triathlon team and expert product reviewer for SwimOutlet. When she was racing, Stupp chose Blueseventy wet suits because of the extra-long "zipper leash" that made it easy to put on and take off the suit on her own.
"A lot of lifelong swimmers prefer to go sleeveless because they'll have the most freedom of flexibility with their arms and shoulders," Kaplanis says. Again, he recommends Roka because its suits are "pretty darn durable" and each comes with a prepaid return label, so you can easily exchange it in case it doesn't fit.
Elaine Howley, a marathon swimmer and race director of the Boston Light Swim, doesn't wear wet suits and instead looks for swimsuits that offer plenty of coverage and support. Compared to a mostly polyester suit that she'd wear in the pool, Howley chooses swimsuits with a higher Lycra content for open-water swimming, because they're stretchier, easier to take off when your hands are cold, and less likely to chafe when you're swimming long distances. She's currently been wearing the TYR Diamondfit suit, which she likes for its thick straps for added chest support and extra coverage in the back for more sun protection. Similarly, marathon swimmer and coach Sarah Thomas recommends "competition-grade suits" that are tight fitting — which keeps them from bagging (or stretching) out or moving around — made from a sturdy material, and have straps that cross in the back for support.
For men, Bob Singer, chair of Adirondack District Masters Swimming, likes Speedo's tight-fitting Endurance+ swimsuits. They come in a variety of prints and colors and last a long time. He finds these are less prone to stretching out than other brands and, as he says, "I really like the wild patterns. Why not have fun?"
Best goggles for open-water swimming
Unlike the low-profile goggles you've likely seen on Olympians and other competitive swimmers, most of the experts we spoke with recommend wider, oversize goggles for the open water. "There are a lot more elements involved in swimming in a lake or the ocean compared to the controlled environment in a pool," Kaplanis says, explaining that these goggles offer more protection and allow you to see more of your surroundings under water. Horning similarly recommends "goggles with a greater degree of peripheral vision and broader lens" for open-water swimming.
It might take some trial and error to find goggles that fit your face shape: "To find the best fit, I like to try on the goggles without straps, just pressing them to my face, and see if they stay on your face for a few seconds on their own before falling off," says marathon swimmer Jaimie Monahan. Unlike pool swimming, where you can get away with one pair of clear goggles, if you plan on swimming outside in both sunny and cloudy conditions, you'll want a few pairs of goggles with different-colored lenses. For bright and sunny days, experts say to go with dark, mirrored lenses like these, which function like sunglasses. "Not only do they protect your eyes, but they also help cut the glare of the sun, and especially the sun bouncing off of the water," Howley says. Four of our experts recommend Aqua Sphere goggles because they're comfortable, durable, and don't fog up. Thomas says, "One pair can last a whole season, maybe two, if you're careful with them."
This pair of Aqua Sphere goggles, with an even wider field of vision, comes recommended by Akiko Busch, a board member of the River Pool at Beacon. "These are classic, a little larger than regular competitive goggles, though smaller than mask goggles," she says. "They don't slip or leak, and, more importantly, they permit great visibility underwater — you can really see the tendrils of waterweeds, rocks, and marine life of all sorts."
For other weather conditions, Kaplanis and Stupp recommend Roka goggles, which come in a variety of different-colored lenses to suit everything from cloudy days — yellow lenses to, as Kaplanis says, "brighten up the environment around you" — to races during which you want goggles that'll help you spot buoys lining the course in a specific color, like blue-tinted goggles for enhancing yellow buoys.
As Monahan says, "One of the fun things about open water is that conditions are always changing," so she likes goggles with "transition" lenses, like this pair from Speedo, that can adapt to different light conditions during the course of a swim. They're also a good investment if you plan on going for very long swims. "I have worn these on swims up to 33 hours in duration, and there is no need to switch goggles when the sun goes down or comes up," says Monahan.
Some swimmers do choose lower-profile goggles. Kaplanis says this is often the case with experienced swimmers who are already used to these snugger goggles that sit right in the eye socket. Howley, for example, wears Swedish-style goggles. "I prefer them because they're inexpensive, and you build them yourself," she says. Instead of arriving preassembled, the parts for these goggles come in a kit that you put together to get a customized fit. "I've got dozens of pairs of those in my bag at all times," she says, with different-colored lenses for different conditions.
Best swim caps for open-water swimming
Along with keeping your hair out of your face, swim caps help you stay visible in the open water to fellow swimmers, boaters, and those on the shore. "You want to wear bright colors so you can be easily spotted by anyone else in the water," Stupp says. While latex swim caps (the type you usually see at the pool) are the least expensive option, most of our experts say it's worth spending a few extra bucks on a silicone cap. "They're a little bit thicker, a little bit more durable, and oftentimes women and men with long hair find that it's a little bit more comfortable on their hair," Kaplanis says. Thomas and Howley agree. There are even roomier long-hair caps for those with more hair to fit in, and Monahan says Speedo's long-hair silicone cap is her standby.
Founded by a swimmer mom in South Africa who couldn't find caps that fit her daughters' hair, Swimma is one of a growing number of Black-owned companies (like Nemes and Lock Journey) designing caps specifically for natural hair, locs, and braids. The caps are also 100 percent silicone, so they won't tug or pull on hair.
When the water temperature drops down to the 50s or low 60s, lots of the open-water swimmers we spoke with said they'll switch to a swim cap made from neoprene, the same thick material found in wet suits. "Neoprene caps usually hook under your chin, so they keep your head a little warmer," Thomas says.
Best earplugs for open-water swimming
"Earplugs are great for protecting your ears from cold water or water that may not be the cleanest," Monahan says. She buys moldable, silicone earplugs from Mack's because they're "effective and inexpensive." Howley also notes that earplugs are helpful for preventing vertigo or dizziness, which some people experience when they get water in their ears.
Best buoy and dry bag for open-water swimming
No matter how strong of a swimmer you are, experts recommend using a buoy that attaches to your waist and floats behind you as you swim. "It's like having your own floaty attached to you, but it doesn't interfere with your swimming," Kaplanis says. "If you want to stop or just hold on to something, it's very convenient. These buoys typically come in very bright neon colors, so they're also another way for others to spot you." This one, recommended by Singer, also functions as a dry bag for storing your keys or ID while you swim, which Howley says comes in handy when she doesn't want to leave important items on the shore.
Best sunscreen for open-water swimming
"When you're out there for a long time in the open water with all the reflection of the sun off the water, you have to be concerned about sun care," says Howley. She prefers zinc-oxide-based sunscreens like this one from Blue Lizard that's water resistant for up to 80 minutes.
For even longer swims, Howley uses this sunscreen that delivers up to ten hours of protection. She learned about it while in Ireland but happily reports that you can order it online in the U.S.
Best anti-chafe products for open-water swimming
As with other sports that involve repetitive motions, like running or cycling, swimming can cause chafing as your bathing suit rubs up against your skin. To protect your skin, several swimmers we spoke with suggested using Body Glide. Monahan says it's "great if you are prone to chafing and necessary if you're wearing a wet suit."
In a pinch, you can use a skin protectant you likely already have at home, like Vaseline, one of Howley's picks, or Aquaphor, which Thomas says is longer lasting than other dedicated chafing products.
The Strategist is designed to surface the most useful, expert recommendations for things to buy across the vast e-commerce landscape. Some of our latest conquests include the best acne treatments, rolling luggage, pillows for side sleepers, natural anxiety remedies, and bath towels. We update links when possible, but note that deals can expire and all prices are subject to change.