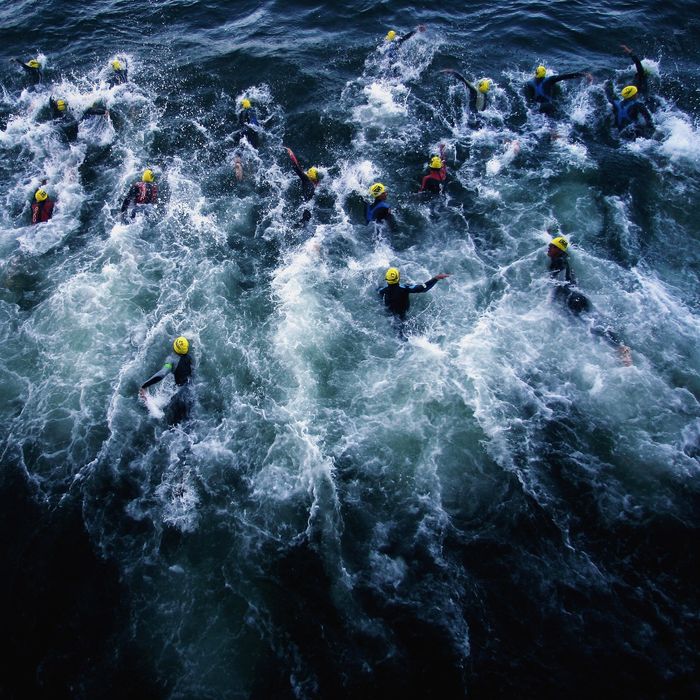 Photo: Donald Miralle/Getty Images
It's not surprising that participating in a triathlon can get expensive quickly since you'll need gear for three sports — swimming, cycling, and running. According to Christine Frietchen, a board member of the Brooklyn Tri Club who has completed more than 50 triathlons, "There's a real misconception that to even start in triathlon you need to spend thousands," but beginners can easily acquire some solid, entry-level pieces without breaking the bank. We spoke to veteran triathletes and coaches to find the best triathlon gear for beginners: What's essential, what's worth splurging on, and where you can save.
"If there's one piece of gear to invest in, it's the shorts," said Earl Walton, owner and head triathlon coach at Tailwind Endurance cycling studio. "You're going to swim in them, so they have to shed water; you're going to ride in them, so they have to have some padding on your tuchus; and you're going to run in them, so they need to allow for free movement." Compared to traditional bike shorts, triathlon shorts dry quicker and have a thinner layer of padding, so they feel less bulky when you're off the bike. Frietchen recommended Pearl Izumi's affordable shorts that come in both men's and women's versions.
"Get tri shorts right away and train in them from the beginning," said Danny Artiga, head coach at Trilatino Triathlon Club. "You will be ready for race day and have a smoother experience." He likes 2XU for their basic takes on triathlon essentials.
Like tri shorts, a triathlon top can be worn for all three stages of the race. These are usually very tight-fitting to fit under wet suits, so pay attention to sizing charts if you prefer a looser fit. Women's versions should include a built-in bra. It's convenient to not have to worry about any outfit changes, but you can also save money by swimming in a sports bra (for women) or shirtless (for men) and throwing on a regular athletic top once you're out of the water.
Another option that will get you through the whole race is a one-piece tri suit. Alison Kreideweis, co-founder and head coach of the Empire Tri Club, has been competing in triathlons for 18 years (she's a two-time member of Triathlon Team USA) and recommends this model from Castelli: "It's comfortable, doesn't rub or chafe, flattering — no muffin top — and lasts a long time. I've had mine for about eight years and it's still in good shape."
Elite triathletes choose Roka's high-end suits that are engineered for speed and aerodynamics. Walton said the brand makes great pieces for beginners as well — like these under-$100 tri suits.
Sunscreen is an all-day essential for triathletes. Choose a water-resistant, broad-spectrum sunscreen that will stay on even as you sweat. Blue Lizard's sport sunscreen is water-resistant for up to 80 minutes (leave a bottle with your cycling gear for reapplying after the swim), and it has zinc oxide, a powerful, physical sun blocker. It's also a top choice of dermatologists.
Protecting your eyes from the sun is equally important, and sunglasses can also keep objects from flying into your eyes while you're riding on the bike. Any sunglasses that will stay on your face when you're cycling and running will be fine. As a runner, I'm partial to these Tifosi glasses, the only ones that don't bounce around on my face.
If this is starting to sound like a lot of stuff, that's because it is. You'll need a bag to carry everything to the race and to stash your sport-specific gear in the transition areas between stages. Buying a special bag isn't essential — Walton admits that he often grabs one of his wife's canvas totes before a race — but if you do, Kreideweis uses this BlueSeventy bag "because it has lots of compartments, including a space for your helmet and a separate compartment for your wet suit and swim gear."
Runners may be used to just pinning their race bib on their clothing, but this isn't convenient for triathletes who may be changing outfits mid-race or putting their number on for the first time after the swim. Attach your number to a race belt for a quick and easy transition. This one has space to store energy gels or bars for longer races.
Before the race starts, you'll store a towel with your bike for drying off when you get out of the water. This is something you can grab from home, but as a tip, Kreideweis recommends "something bright-colored, so you can easily identify your transition area amid the sea of bikes and people." We recently wrote about this bright, and popular on Amazon, towel that has Velcro closures in case you want to make a quick change underneath.
All of the triathletes and coaches I spoke with agreed that some form of lubricant is a must-have to prevent chafing from wet suits, and all of that fitted gear that can rub against and irritate your skin. Inexpensive and easy to find, Body Glide is a favorite of many athletes, including TriLife head coach Ross Galitsky, who said, "It's easily applied, and the deodorant-like plastic enclosure keeps hands free of the substance, so no need to wipe or wash hands, lessening risk of getting it into eyes or goggles."