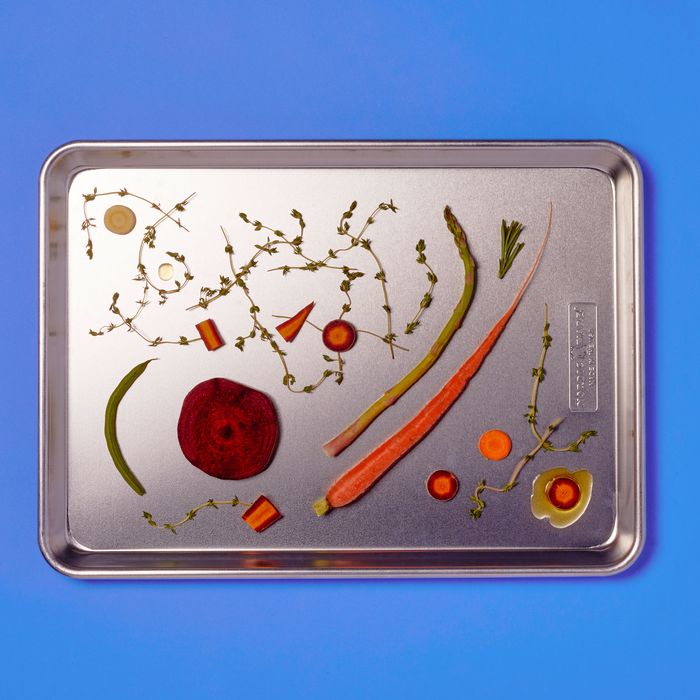 If you were forced to pare down your kitchen supplies to only the bare minimum, sheet pans would make the cut. I pull mine out nearly every day, often multiple times a day. I've been known to make a big batch of granola to eat for breakfast throughout the week and to crisp up bacon on the weekend (way less mess than frying in a skillet). For lunch, I often quickly transform a handful of nuts or a can of chickpeas from raw to golden brown, the perfect additions to salads. For dinner, I prep any number of ingredients — roasted or charred vegetables, filets of fish, cuts of meat. And at least once a week, you'll find me turning to a single-sheet-pan dinner in an attempt to cut down on dishes, whether a whole roasted chicken nestled on top of a layer of potatoes, or a rectangular pizza loaded with cheese. Then, of course, there's dessert. Cookies are a given, but sheet pans make excellent vessels for large-format cakes as well as trays for catching pie- or tart-juice overflow. The point is, they're serious workhorses.
They're made by a lot of different brands. So how do you know the one you're buying will hold up to all that cooking without staining, warping, or scratching? To help answer that question, we spoke to nearly a dozen cooks, bakers, and even one candy artist about the sheet pans they love — and I wax poetic about the ones that have lasted me through years of granola (and chicken and cookies).
What we're looking for
Most sheet pans on the market are made from either aluminum or aluminized steel (basically, carbon steel treated with an aluminum-silicon alloy, a.k.a. mixture). If this sounds nitty-gritty, that's because it is — but all you really need to know is that the core material isn't a huge determiner for a good sheet pan. While some people say bare aluminum is the best for even heat conductivity, in our research, we found that both work well and that there are other factors to consider when deciding which sheet pans are best for you.
A nonstick coating can make cleanup a whole lot easier. But it makes long-term care a bit fussy, since you have to make sure to avoid metal utensils that will damage the surface and pay attention to any recommendations for maximum temperature exposure.
The largest sheet pan on this list (smaller than commercial-size pans but still bigger than a standard half-sheet) is great if you're blessed with a large oven and are consistently feeding four or more people or baking all the time (though it's certainly the most niche option on the list). Half-sheets, which generally measure around 11-by-16 inches, are the most versatile and probably what you think of when you think of a sheet pan. Make sure to look at specific measurements if it matters for your oven or kitchen, though; they can vary by up to a few inches on either side. Finally, quarter-sheet pans are half of that, perfect for single-serving snacks and meals as well as more targeted tasks, like toasting nuts.
There are many dedicated "cookie" sheet pans out there with rims on only two or three sides, as opposed to four. This is supposed to make transitioning cookies from sheet to cooling rack particularly easy since you can just slide them off. You could always use a spatula, but I did include one particularly well-constructed cookie sheet on the list, if that's what you're looking for. There are trays with wider flat rims on two sides, making for more of a handle than those with rolled rims. But in my experience, those tend to be flimsier and weren't recommended by any of our experts, so they're not on this list.
Best overall sheet pan
Material: Aluminum | Coating: None | Size: Half-sheet | Rim: Rolled
Nordic Ware makes the most durable sheet pans out there. Brittany Bennett, owner of Taartwork, says they'll "make you feel like a professional in your home kitchen," and chef and television host Elena Besser says they're the "closest brand to the industrial baking sheets" she used in the kitchen at the beloved Brooklyn restaurant Lilia. I have owned two Nordic Ware half-sheets and one quarter-sheet for nearly a decade and haven't needed to replace them yet.
That's because, as Claire Saffitz, baker and author of Dessert Person, puts it, Nordic Ware sheet pans can "really take a beating." While the surface color may change over time, especially with the use of acidic ingredients like vinegar and tomatoes (mine have definitely become a bit darker over the years), that doesn't affect the quality of cooking at all, which is still as even as ever. Nordic Ware notes that metal utensils may cause scrapes, but those are merely cosmetic. I can attest to this too, as I use my fish spatula to scoop up roasted vegetables pretty consistently with no negative effect.
As these aren't nonstick, if you're making something that may require some help with easy removal, like cookies, you can simply place a silicone mat or parchment paper on the surface; both are easy and cheap solutions. Plus, a set of two sheet pans is only $20, so if you find yourself craving that new, shiny silver color after a while, you won't feel bad about replacing them.
Best nonstick sheet pan
Material: Aluminized steel | Coating: Nonstick | Size: Half-sheet | Rim: Rolled
Although Great Jones's Holy Sheet is a relative newcomer — it launched in November 2019 — several of our experts said it became their instant favorite. When I checked back in with a couple of them a year after their initial praise, they noted that it stood the test of time. Both sculptural candy artist and founder of Sweet Saba Maayan Zilberman and cook and television host Molly Yeh noted the Holy Sheet's sturdy nature. At two pounds each, they're slightly heavier than the Nordic Ware half-sheet, but that makes them feel particularly durable, even standing in as a pizza stone for Yeh.
The obvious appeal is the bright, bold colors. Strategist senior editor Jen Trolio uses her blue one as a tray to carry food to the grill, as serveware during the summer, and sometimes as a snack plate. And even though she cooks with it at least once a week, it cleans up nicely and still looks presentable even after four years. Like Trolio, Erin Jeanne McDowell, recipe developer and author of The Fearless Baker, says "its beautiful appearance hasn't caused its capabilities to suffer in any way. It hasn't warped, scratched, or chipped." Still, the most impressive aspect to her is how easy the nonstick surface is to clean. "Even when I roasted vegetables at a high temperature to specifically char them, the pan cleaned off like I was in an infomercial, without the need to scrub it intensely," she says.
Best sheet pan for baking
Material: Aluminized steel | Coating: Nonstick | Size: Half-sheet | Rim: Rolled
Oxo is a solid brand when it comes to kitchen basics (we've written about its products many a time), so it's no surprise its nonstick sheet pan came up as a favorite too. It comes recommended from Kristen Tomlan, the founder and CEO of DŌ Cookie Dough Confections, who says it's her "go-to" because "it's sturdy and nonstick and helps make sure sweets are evenly baked." This is partially because of the micro-texture on the bottom, which improves airflow. "The light color of the sheet pan helps slowly transfer heat so the bottoms of your pastries don't get too brown," she says. This may be more noticeable with something like sugar cookies than chocolate-chip cookies, but in general, the darker the pan, the faster your baked goods will darken.
Best three-sided sheet pan
Material: Recycled steel and aluminum | Coating: Nonstick | Size: Half-sheet or smaller | Rim: Three-sided
This King Arthur tray is the only model on this list with three sides, an attribute that lets me slide roasted vegetables or scones onto a platter in one fell swoop. It also allows easier access to the rimmed edges — I can go straight in with a spatula, which is especially useful when food is sticking and needs some jabs to loosen. It feels super-sturdy — though still lightweight — and hasn't warped or discolored at all in the several months I've been using it. As with the Oxo sheet pan above, it has a textured bottom to promote airflow and even browning (especially nice when it comes to baked goods, where a uniform color is desirable).
Best sheet pan for heat retention
Material: Cold-rolled steel | Coating: None | Size: Half-sheet | Rim: Rolled
Baker Laurie Ellen Pellicano has a set of baking sheets just like these that have a super-dark surface and a heavy, "cast-iron-light" feel. She picked hers up years ago (likely from an industrial pizza-supply store, where she says she often sees similar ones) and uses it for a myriad of things — pizza, yes, but also focaccia and other breads, galettes and tarts, and even charred vegetables. "The way the pan holds heat is really great, and the surface makes things brown a lot faster." That makes them too intense for cookies or other delicate baking, but ideal for all the aforementioned foods, where a dark bottom is key.
Best durable sheet pan
Material: Aluminized steel | Coating: None | Size: Half-sheet | Rim: Rolled
Made with a similar construction to the Nordic Ware sheet pans, these from Chicago Metallic should last you a very long time. They certainly have for Pellicano, who has been using them in both professional and home settings her entire life. She says their domestically manufactured goods (another bonus, in Pellicano's mind) are the kinds that can be passed down from generation to generation. "To me, they are synonymous with incredible steel, quality, and durability," she says. "If I see Chicago Metallic, I know it will be sturdy, not warp, and will outlast others."
Best sheet pan for buying in bulk
Material: Aluminum | Coating: None | Size: Half-sheet | Rim: Rolled
"I've gotten so many fancy sheet pans over the years, and honestly, none really lives up to the hype," says Emily Petrick of Whisk and Whittle. Instead, she prefers to buy these Winco trays at restaurant-supply stores. "These are sturdy, easy to clean, cheap, and easy to replace because, let's be honest, disasters happen. And most important, they get the job done," she says. They have "no bells and whistles," but they're made from heavy aluminium so they're less prone to warping. The one caveat: They're not nonstick, so you'll want to use parchment paper with these, too.
Best quarter-sheet pan
Material: Aluminum | Coating: None | Size: Quarter-sheet | Rim: Rolled
For some reason, quarter-sheet pans are rarer in home kitchens, but they're possibly even more useful than their half-size counterparts. They are, of course, great for cooking smaller quantities of food, ideal if you're making a meal for one. But I think they come most in handy if you need your oven for multiple components in a larger meal and don't want each thing to take its own turn. You can roast, for example, nuts, fish, and leeks all at the same time, each on their own schedule, putting them in and taking them out as necessary. Not to mention, quarter-sizes are much easier to store and clean than half-sheets. Emily Fiffer, co-owner of Botanica in Los Angeles, is a fan of these Nordic Ware pans. According to her, their other perks include baking a few late-night cookies (without their looking sad) and using them as trays to carry things from inside to outside, especially helpful if you're grilling. Great Jones makes a quarter-sheet called Little Sheet.
Best nonstick quarter-sheet pan
Material: Aluminum | Coating: Nonstick | Size: Quarter-sheet | Rim: Rolled
Strategist associate editor Jenna Milliner-Waddell was gifted a couple of June quarter-sheet pans along with the company's smart oven almost a year ago — and she ended up being more impressed with the accessories than the oven itself. Nonstick coatings can be finicky, often wearing down after even a small amount of use, but Milliner-Waddell assures that this one is better than any she has tried before. "They serve as-seen-on-TV realness, but in my own kitchen," she says. "Excess olive oil burned onto the pan, fat drippings from a half-rack of ribs, and even stuck-on parchment paper clean up with ease." While the only downside is that June doesn't offer a larger size since the pans are meant to fit directly into the countertop oven, Milliner-Waddell uses them in her regular oven, too.
Best less expensive nonstick quarter-sheet pan
Material: Aluminized steel | Coating: Nonstick | Size: Quarter-sheet | Rim: Rolled
Great Jones makes quarter-sheets, which come in a set of two. They're constructed the same as the half-sheet above, which means they work just as well for all your roasting, baking, and broiling needs. But this smaller size means they can double as platters. With vibrant color options of royal blue, forest green, and raspberry red, they look like they're meant to be on the table, filled with appetizers — crudités and dips or cheese and crackers — or even mains like a carved roast chicken or a whole fish with pan sauce.
Best big sheet pan
Material: Aluminum | Coating: None | Size: Big sheet | Rim: Rolled
On the other end of the spectrum, Nordic Ware makes a bigger sheet pan than a half-sheet, at 13.5-by-19.5 inches. Make sure to measure your oven if this one piques your interest, but if it fits, you're well on your way to comfortably cooking quite a bit of food at once. (For what it's worth, this is the size my mom, an avid and great home cook, turned to regularly to feed four of us when I was growing up). It's handy if you're big into baking, like former Strategist writer Chloe Anello, who has this very model. "I'm impatient and like for everything to bake at once instead of doing batches," she says. "But gluten-free baked goods tend to spread a whole lot more than their flour-filled counterparts, so depending on what I'm doing, the extra space is nice."
Best sheet-pan set
Material: Aluminum | Coating: None | Size: 3 sizes | Rim: Rolled
If you want a variety of sizes, Strategist senior editor Crystal Martin recommends this three-piece set. After using an old and warped nonstick sheet pan for about eight years, she invested in this Nordic Ware trio when she got into baking last summer. It comes with one of each size previously mentioned on this list for $5 cheaper than if you were to buy them individually. Martin loves the flexibility of having them all — the biggest for a batches of cookies, the medium for creating more heat when baking a Bundt cake, and the smallest for individual batches of roasted vegetables and heating up tortillas. Even with the different dimensions, storing them is easy. "I put them in my narrow, 12-inch cabinet along with cooling racks and muffin pans," she says. "They don't take up much space, because they nestle."
Some more kitchen essentials we've written about
Our experts
• Chloe Anello, former Strategist writer
• Brittany Bennett, founder of Taartwork
• Elena Besser, cook and television host
• Emily Fiffer, co-owner and chef of Botanica
• Crystal Martin, Strategist senior editor
• Erin McDowell, baker and cookbook author
• Jenna Milliner-Waddell, Strategist associate editor
• Laurie Ellen Pellicano, baker
• Emily Petrick, founder of Whisk and Whittle
• Claire Saffitz, baker and cookbook author
• Kristen Tomlan, founder and CEO of DŌ Cookie Dough Confections
• Jen Trolio, Strategist senior editor
• Molly Yeh, cook and television host
• Maayan Zilberman, founder of Sweet Saba
The Strategist is designed to surface the most useful, expert recommendations for things to buy across the vast e-commerce landscape. Some of our latest conquests include the best acne treatments, rolling luggage, pillows for side sleepers, natural anxiety remedies, and bath towels. We update links when possible, but note that deals can expire and all prices are subject to change.