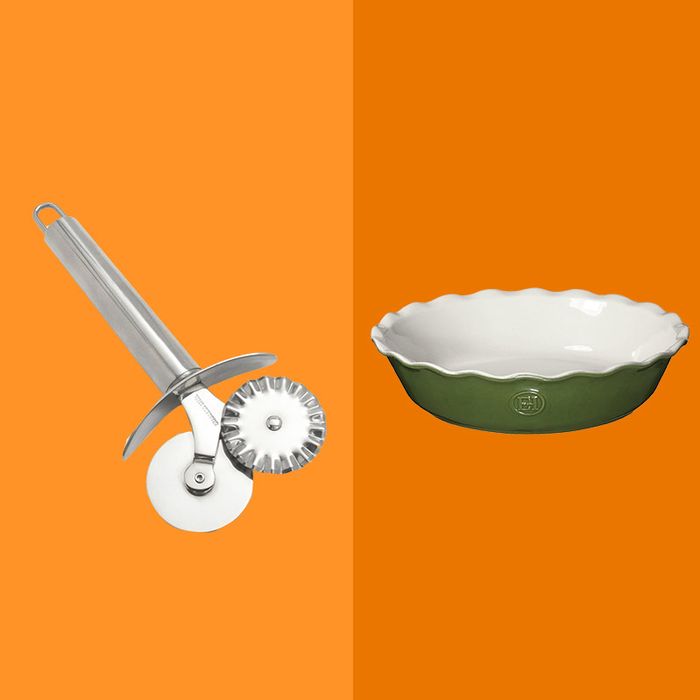 Photo-Illustration: retailer
Baking a pie can be intimidating. You don't want to overwork the dough for fear of losing that flaky crust, you don't want to underbake the pie for fear of the dreaded "soggy bottom," and you don't want to overfill it for fear of the explosion it'll cause in your oven. But setting yourself up for success is as simple as gathering the right tools (and, well, a little practice). To make sure you're as well equipped as you can be for what we're calling the official start of pie season — apples are about to hit farmers' markets, cans of pumpkin purée line supermarket shelves, and you know your mom has already thought at least once about what she'll ask you to make for Thanksgiving — we talked to pastry experts about their must-haves and exactly how to put them to use. And if your fall and winter baking goals go beyond pie, you can find our guides to baking cookies here, and baking cakes here.
Our experts say a food scale is a must-have in any kitchen, but it's especially crucial when it comes to baking. "Weighing ingredients is the gold standard in a professional kitchen," says Lani Halliday of Brutus Bake Shop. "It's particularly useful "for something like pie dough that's notoriously finicky." Petra Paredez, owner of Petee's Pie Company in New York and author of the new cookbook Pie for Everyone, agrees: "Since volume measurements can have drastically different weights, it's important to weigh certain ingredients for optimal results," she says, namely "the flour in your crust and the fruit in your filling."
Erin Jeanne McDowell, author of The Book on Pie, says she prefers "French-style, handleless pins with slightly tapered edges." Claire Saffitz, author of Dessert Person, likes a dowel-style pin, which has an even diameter all around (both types are available at this link). The main advantage of each of these is that they're handleless, which gives you a lot of control when rolling out your dough. "The handleless style responds better to pressure," Saffitz says, "which gives a good feel for what's happening." She also notes that the substantial length is helpful. Both Paredez and British pastry chef and author of The Pie Room, Calum Franklin, agree that no matter what you choose, it should be on the heavier side. "A heavy pin will help you roll more evenly, as it does a lot of the work for you," says Franklin.
If you're a beginner, both Saffitz and McDowell recommend using a glass pie dish — in particular, this relatively cheap and virtually indestructible one from Pyrex. Most pies need to bake longer than home bakers typically think, and "with glass, you can monitor the browning on the bottom and sides," explains Saffitz.
While Saffitz sticks with glass most of the time, McDowell prefers a metal or ceramic plate once you've developed your "bottom-crust muscle memory," as she puts it. "I love ceramic for its ability to get the bottom crust nice and crisp. And I love metal because it's nonstick."
Both McDowell and Saffitz agree that a bench scraper is nonnegotiable. "I use its blade to cut butter into cubes and portion pie dough after mixing, and I especially love it for scraping my work surface clean when I'm all done," says McDowell. Saffitz employs one to loosen her dough as she's rolling it out so that it doesn't stick to the counter when all is said and done and to transfer fruit to a bowl once she has cut it up. This one, she notes, is particularly helpful for latticework because it comes with a handy ruler etched into the edge.
There are two options when it comes to pastry brushes: silicone bristles and natural. Both help you slick on egg wash that gives a beautiful, shiny finish and help demerara sugar adhere to the top. Halliday and Paredez prefer silicone brushes, with Paredez saying they "tend to be extra gentle, and the egg doesn't get caught in the base of the bristles, as can happen with a natural-bristle brush."
Saffitz, on the other hand, prefers natural bristles. "They hold liquid much better than silicone," she says. "This one is super-durable so long as you wash it thoroughly with hot soapy water when you're done. Otherwise, it will stiffen up." She uses the tool for egg wash as well and to brush excess flour off her pie as she's assembling so that the dough sticks to itself. "It helps you work clean," she says.
There are a few different ways to mix your pie dough. Most experts do so by hand, which allows you to feel the texture of your dough as it comes together instead of just trusting your eyes. "A big sturdy bowl is best," says Halliday, explaining that "you'll get the best texture by staying close with it." She recommends a stainless-steel option, and we particularly like these for their silicone bases that prevent the bowls from sliding around your countertop.
If you don't have much experience and are nervous about getting the right texture (hands can warm up butter pretty quickly), Paola Velez, pastry chef La Bodega and Maydan and a co-founder of Bakers Against Racism, says a food processor can help. "I use it to make sure that the crust stays nice and cold," she says. Paredez agrees. "Using a food processor can help you make a delicate, flaky crust every time — and super quickly, too," she says.
Emily and Melissa Elsen of Four & Twenty Blackbirds like a pastry blender for creating a consistent, smooth pie dough. Just be sure yours is dependable. "There are a lot of styles and makes of handheld pastry blenders out there, but most of them are subpar and fall apart," they say. "OXO got it right. Comfortable, easy to clean, and lasts forever, so you can make a lifetime of pie crust by hand."
"How evenly your pie cooks may depend on your oven," says Paredez. "If you find that the outer edge of the crust is consistently overbaked by the time the center of the pie is done, get a pie crust shield. The aluminum ones are light so they can protect the crust without weighing it down and crushing it."
"When I make a custard pie, like pumpkin or sweet potato, I need to blind-bake the crust," says Melissa Funk Weller, baker at Funk Foods Bakery and co-author of the cookbook A Good Bake. "Blind baking," she explains, is "when you bake the crust separately before baking the filling in it. I line my pie crust with a piece of parchment paper, which I push down to mold into the shape of the crust, then I pour in two one-pound bags of dried beans. I use the cheapest beans I can find at my local bodega, since I won't be eating them. They are the perfect weight to hold down the pie and they're economical."
McDowell prefers proper weights. If you go this route, just be sure to purchase more than one pack. "It's important to remember that you need enough weights to fill the pie plate up to the top edge," says McDowell. It's not just about the bottom puffing; you need the sides to stand up strong too. "This usually requires three sets of ceramic weights, not one," she says.
While silicone baking mats might seem like a one-trick pony — good for baking sheets and not much else — Paredez says there's more to them than meets the eye. "Silicone baking mats have multiple functions for pie-making," she says. "You can roll dough on it to avoid making a mess on your counter. You can use it to line a baking tray and put a pie on top, so it catches fruit filling that bubbles over — another way of making clean-up easy. And if you get a fancy one with circles of various diameters, you can use them as a guide when rolling out your dough."
An immersion blender falls into the "nice-to-have" category, but if you're using raw ingredients (like real pumpkin or squash instead of the canned stuff), you may need to blend it to achieve peak smoothness. "You can get away without one, but these are super handy for blending liquid fillings, like pecan and pumpkin, into a silky-smooth consistency," says Paredez. The Elsens are partial to this professional-grade blender from Waring.
If you want to create a lattice top, Saffitz likes this two-sided pastry cutter that gives you the option of a straight edge or, "if you want to be a little more Martha Stewart about it," a fluted edge. She also notes that it comes in handy when making any kind of pastry or homemade pasta.
If you want to save yourself some work and are okay with a single-use lattice tool, Franklin recommends this cutter that creates multiple consistent strips of dough at one time.
Saffitz calls these kitchen scissors one of her most essential cooking tools in general — and she certainly always pulls them out for pie. "One of the trickiest things is getting the edge of a pie just the right thickness," she says. You need enough dough to work with if you want to crimp your crust, or even just to make it uniform, but not so much that it ends up huge, gummy, and undercooked. "I use the scissors to trim away the excess dough," she says. "The blades are short and thin but supersharp."
You could certainly peel the five pounds of apples you picked at your local orchard by hand, but it doesn't have to be that way. The Elsen sisters swear by this $20 apple peeler for getting the job done in record time. "We were skeptical of this contraption at first — it looked like it was going to be much more trouble than it was worth — but we were so wrong," they say. "This peeler is the easiest way to peel, core, and slice all at once." Best of all, it can also be used to peel other produce like potatoes and pears, too.
Although cherry season is long over, it will be back. (Maybe it's returned as you're reading this very article!) Pitting cherries by hand is another thankless and exhausting task, so buy a good cherry pitter and make your life easier. "It's beyond easy to use and likely also the one that your grandma used," the Elsens say. "Cherry season is important for pie-makers, and so is efficiency in pitting. Don't bother with anything else."
"I love to use something on my oven rack to help conduct heat and ensure I get a crisp bottom crust," says McDowell. "My preferred choice is the Baking Steel, but a pizza stone is another good choice. Just remember not to take a pie from the freezer right onto the hot stone, as sudden temperature changes could crack either the pie plate or the ceramic pizza stone.
The Strategist is designed to surface the most useful, expert recommendations for things to buy across the vast e-commerce landscape. Some of our latest conquests include the best acne treatments, rolling luggage, pillows for side sleepers, natural anxiety remedies, and bath towels. We update links when possible, but note that deals can expire and all prices are subject to change.