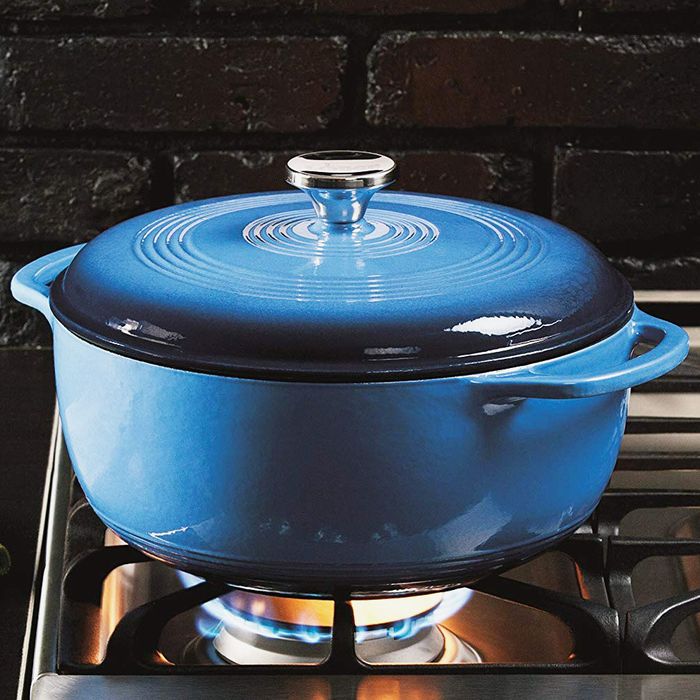 Photo: Courtesy of the Retailer
Here at the Strategist, we like to think of ourselves as crazy (in the good way) about the stuff we buy, but as much as we'd like to, we can't try everything. Which is why we have People's Choice, in which we find the best-reviewed products and single out the most convincing ones. (You can learn more about our rating system and how we pick each item here.)
And while we've written about all the best items to stock your kitchen — including everything from cookware sets to slow cookers, and even found the best dupes for a Le Creuset Dutch oven — here, we've rounded up the best Dutch ovens, as praised by the most enthusiastic reviewers on Amazon.
Best-rated Dutch oven
The word "easy" is used in hundreds of reviews of this Dutch oven from Lodge, and dozens of five-star reviewers say that it's particularly excellent for making no-knead bread, like one who says, "This beautiful little cast-iron pot is perfect for making 7-inch artisan 'no knead loaves of bread.' The bread is so crusty and chewy. Using parchment paper, I really never need to wash the cast-iron Dutch oven." Other reviewers favorably compare this cast-iron Dutch oven to those from pricier Dutch ovens, including one who writes, "As a woman who bought the first Le Creuset her friends had ever seen, over 30 years ago, I must say that while they are v-e-r-y pretty and in far more colors than were out back in the early '80s, nothing will ever replace a good old cast-iron skillet. You could buy an entire set of genuine Lodge cast-iron for the price of one large Le Creuset Dutch Oven! Neither set can make you a better cook — but one will make you a smarter shopper."
Most reviewers agree this Lodge Dutch oven lasts, too, as long as you take care of it properly. One reviewer bought this Dutch oven two years ago, and they admit, "In the beginning I wondered if it was the right choice, as in the beginning I had to build up the seasoning a bit and you also have to get used to the weight of the pan and the hot handle." But they continue, "I make amazing eggs with a little oil/butter on a low heat … Meanwhile I have been tough on other 3 Tefal pans which really don't last. This pan is amazing if you love it in the right way. Don't get upset if in the beginning you don't understand him right away! Oven holds up over the years as long as you're aware of how to properly care for cast-iron."
Best-rated (less expensive) Dutch oven
"This is an inexpensively made cast iron Dutch oven. Having said that, they got all the design basics right," writes one reviewer, and many more agree with that consensus. "I needed a heavy Dutch oven for baking bread. The Utopia Dutch Oven was exactly what I needed. Being a little skeptical of the price compared to other products, I was not expecting such good quality," one reviewer admits, but adds, "I would strongly recommend this pan if you are in the market for a reasonably priced, high-quality cast iron pan." That quality is why so many reviewers use the word "value" to describe this Dutch oven, though one customer still had to buy two: "I bought it for my daughter because she kept wanting the one her dad has. I really didn't expect much since the price was so low. I was very pleasantly surprised. The quality is so good that my husband insisted that I purchase another one for him. Great value!"
And now for some micro-picks of every type of Dutch oven you might be looking for.
Best enameled cast-iron Dutch oven
Most reviewers agree the main benefit to purchasing an enameled cast-iron Dutch oven is in the ease of cleaning. "The pot is beautiful — the red is fire engine red and gorgeous! My favorite part is that it cleans so easily," one reviewer attests. "After the braising was done, it looked like the pot's insides were all brown, but when I went to clean it (some hours later), everything wiped off super easily, without any scrubbing required." Another reviewer agrees: "I had a Lodge cast-iron Dutch oven (without enamel coating), but it was tough to keep clean, so it retained scents and transferred them to food I cooked." So they bought this Dutch oven from Lodge and conclude, "It's easy to clean and maintain, cooks evenly and distributes heat well. I've had my Lodge cast iron skillet for a decade, and plan on this Dutch oven lasting just as long."
Best (less expensive) enameled cast-iron Dutch oven
Reviewers agree when this enameled cast-iron Dutch oven is a great value, in part because it's a lookalike of the more expensive French version. "No, it doesn't have a fancy French name on it and cost a small fortune, but what it does do is give you a super cool large pot to make roasts, stews, and soup and gives you an awesome deep fryer," one customer raves. Another reviewer calls it an, "Excellent value … I have Le Creuset and Staub pieces … This is so close it's hard to think about buying a much more expensive option simply for making stock, braising, etc. Looks very nice, too." And one experienced reviewer concludes, "Other brands should be embarrassed with their pricing. … I'm a good cook, and I own a successful restaurant; those are my credentials. It has become my new all-purpose pan at home. Essentially non-stick, cleans nice, great heat retention. You're better off beating the crap out of this one and buying another for the price."
Best French cast-iron Dutch oven
Reviewers seem to agree that this Dutch oven will outlast the first owner, making it the ideal piece of cookware to hand down in the family. One reviewer calls it, "Absolutely the best money I've ever spent for anything in our entire kitchen! I purchased the 5.5-quart pot eight years ago, and I've used it almost every day since." They continue, "This thing is the perfect size for everything. I wish I had another because I hate using something else when this one is in use. I use it for soups, stews, frying bacon, burgers, hot dishes, making bone broth, whole chickens, chicken pieces, sausage, eggs, pancakes, pork chops, pastas, rice dishes, veggies, you name it I have cooked it in this pot." Another reviewer describes the Le Creuset as status cookware, explaining, "There isn't anything that I would change about this piece of cookware. The hardest part is accepting the price tag and picking a color. I use it as often as my KitchenAid stand mixer and Wüsthof 8-inch chef knife. This thing is right up there in terms of kitchenware that I couldn't live without."
Best Dutch oven with skillet lid
Writer Mia Leimkuhler has about this multifunctional Dutch oven from Lodge on the Strategist before, especially for baking: "Although the no-knead bread recipe calls for any Dutch oven to create the superhot oven-within-an-oven, the Lodge does the same while giving you even more: a deep skillet, a fry pan, a small griddle, and a lidded Dutch oven for around $30." And lots of reviewers also describe it as versatile, including one who explains, "I love this thing. I actually use the skillet top more than I use the Dutch oven. The skillet is just the right size for daily cooking — frying eggs, searing chicken. This cost the same as store-quality nonstick skillets." Another first-time owner of a Dutch oven concludes, "This is a must have in the kitchen! I was a little intimidated by the fact that it's deeper and I knew the upkeep requirement, but it's so easy."
Best Dutch oven for outdoor cooking
"The Lodge 8-quart Dutch oven is ideal for both Boy and Girl Scout troops as well as overall outdoor enthusiasts," one reviewer concludes, explaining, "Thanks to the three legs and flanged top, this Dutch oven is ideal for standalone outdoor cooking." Other reviewers agree that the legs make this Dutch oven ideal for outdoor use on an open flame, like one who writes, "The legs on the bottom and lip on the lid allow you to place charcoals under and over for outdoor cooking. Anything you can cook in the oven at home can be cooked in a Dutch oven. Pot roast, lasagna, corn bread, cakes, cobblers, chili. We also use it for frying and browning (bacon, ground meat, etc.) The lid is reversible and can act as a small skillet as well." And it makes a great gift, too