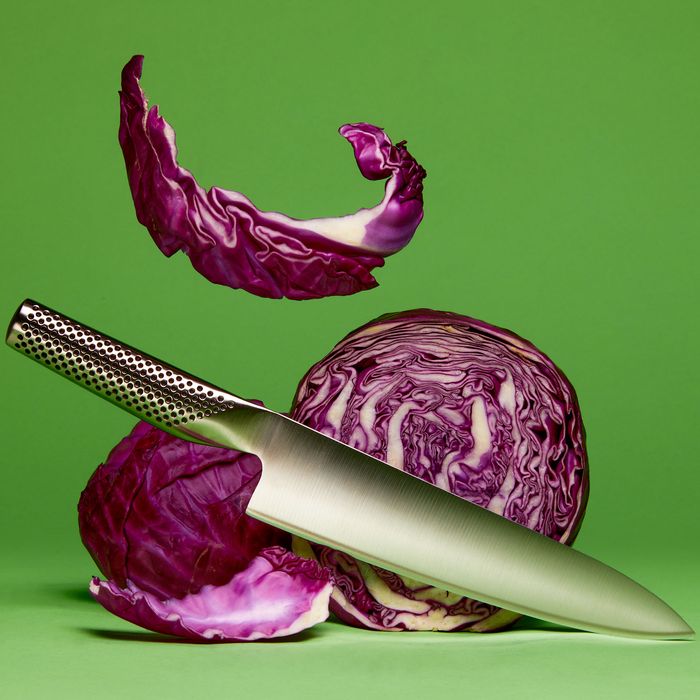 Knives are generally the most important tool you can wield in the kitchen — but to take it one step further, a chef's knife is king among them. There is little slicing, chopping, cutting, and carving you can do without it, so finding one you feel comfortable holding and using for all your meals is vital to your efficiency and success as a cook. This is quite a subjective task, though. Beyond considering the price, of course, chef's knives are made of different materials, are different sizes, have different-feeling handles, and are different weights — and in none of those categories is there an absolute correct way to go. It's worth saying that more expensive doesn't necessarily mean better. It's like a white T-shirt: What's the ultimate one to somebody else may not be the ultimate one to you. That being said, I spoke to a handful of experts to determine some outstanding options and did my best to categorize and describe them to help you find yours.
What we're looking for
Chef's knives have blades that are most commonly eight inches long, sometimes seven, sometimes six. Though you don't see it very often, they can go up to ten or 12 and down to five. What length you want comes down to personal preference. How large are your hands? How practiced are you in knife control? I'd argue that it's helpful to have different sizes for different tasks. I use my eight-inch blade for specific heavier-duty and larger-volume tasks like cutting through a squash or chopping up a huge amount of herbs, but I use my six-and-a-half-inch blade (which feels like a Goldilocks size for my hands) for most everything else.
European- or Japanese-style
Not every chef's knife falls distinctly into one of these categories (some don't fall into either). But the terms are commonly used and the distinctions are notable enough that it's good to have a sense of the main characteristics of each. European-style knives (which include German style, French style, and western style) tend to be heavier with a thicker, more curved blade — the shape of which assists in rocking back and forth with the tip down on your cutting board. Japanese-style knives are usually lighter with a thinner blade and straighter edge, ideal when you're after extreme precision. To make the landscape more complicated, some Japanese companies make European-style knives, and some European and American companies make Japanese-style knives. Here I've denoted the style of each to the best of my ability, then gone into more detail in the descriptions.
I just mentioned that, in general, European-style knives tend to be heavier and Japanese-style knives lighter, but that's not always the case. That's why knowing the exact weight can be a helpful determiner of which you'll personally find most comfortable.
Best overall chef's knife
Blade length: 8 inches | Style: Japanese with some European influence | Weight: 5.5 ounces
In 2018, Strategist contributor Nick Marino wrote a heavily researched and vetted guide to the best knives, and after consulting 25 experts and testing it out himself, he found this one to be "the only knife you really need." In the seven months I've been using it, I've come to agree: I reach for it more than any other in my collection. Although it's due for a sharpening soon, the blade has stayed exceedingly (even shockingly) sharp in the time I've been using it regularly with no maintenance. Smitten Kitchen's Deb Perelman told Marino how well it holds an edge, too, and confirmed the same to me all these years later.
I find its weight — on the lighter side for an eight-inch knife — to be perfect. I can perform more delicate tasks, like making florets out of a head of broccoli or slicing through a tomato, and it never becomes unwieldy. (Marino pointed out the same, noting that it cut through a whole chicken just as well as it sliced up fruits and vegetables.) The handle is on the shorter side, which adds to that feeling of control: My relatively small hands can get a very good grip and maneuver with ease.
Strategist editor Maxine Builder has also been a fan of Global for a long time. "I've had my Global chef's knife since … 2013? Maybe even before then," she says. "A decade and several new knives later, it's still my most-used tool in the kitchen. Comfortable to hold, enough arc to the blade that you can really get into a rhythm with chopping and dicing, but the tip is sharp enough for some scoring and more delicate knifework." Jeff Strauss, owner and chef of Jeff's Table in Los Angeles, is another fan. "It has a blade that is Japanese in design," he explains, "but influenced by the French-style knives. It has a bit more curve to the blade, a little more lift to the tip, and it can kind of work in both ways." One note: You can also choose to buy this knife with a six-inch blade or a ten-inch blade.
Best Japanese-style chef's knife
Blade length: 8 inches | Style: Japanese | Weight: 5 ounces
Matt Rodbard, a food writer, editor, and author, loves his Seki Magoroku chef's knife (and vegetable cleaver) that he found digging through Tokyu Hands in Shibuya. Its blade is on the softer side, meaning it won't hold its super-acute edge for ages but will be much easier to sharpen when it dulls down. That can be totally fine — even better — for the home cook, Rodbard explains, since they're more likely to use a sharpening gadget than a stone that takes a lot of finesse and practice. The plastic handle, which makes it even lighter weight than the Global, should not be feared either. "A heavy handle helps balance, for sure," Rodbard says, "but I really like the feel of this one. It feels like a high-quality knife for the price."
Best European-style chef's knife
Blade length: 8 inches | Style: European | Weight: 9 ounces
If you want a classic European-style knife, try Wüsthof. We named its knife set the best overall and with good reason — it's the brand preferred by celebrity chefs like Ina Garten and Gordon Ramsay. Cook and Top Chef Canada host Eden Grinshpan was told to buy the "super-high quality" blades when she was in culinary school, and cookbook author Erin Gleeson put them on her registry when she got married a decade ago. Both Grinshpan and Gleeson use their knives to this day. They're that durable. Gleeson notes that she uses the chef's knife for "everything" and even takes it with her when she travels somewhere with a rental kitchen, because it "rarely needs sharpening." Joy Wilson, creator of Joy the Baker, is another fan. She likes the weight of it, as "the metal runs all the way through the handle, which makes it feel even throughout the knife." It's heavier than both the Global and the Seki Magoroku, lending it a particularly controlled feel. "The area where the handle meets the bottom base of the blade is so comfortable," Wilson says.
Best chef's knife for beginners
Blade length: 8 inches | Style: Combination | Weight: 8.3 ounces
Strauss is a fan of Misen. He laid out the main reason why when recommending its knife set: "One of the things knife nerds talk about is steel hardness," he says (see above). "This is on the hard end of bendy, which means it sharpens really well but isn't so rigid that if you move it funky you can feel it and even break it." That level of firmness, in his mind, is a perfect sweet spot, and because of that, he recommends this knife to pretty much anyone looking to take a step up from whatever big-box-store version they owned previously. Not only are they fit for beginners, but "I know a bunch of pro chefs who use them," he says. At only $75, it's a great value for someone who wants to invest in their first good knife without going overboard as well as someone who is hard on their blades. "You don't have to be overly precious with them, but they're still well made," he says. "I own six."
Best balanced chef's knife
Blade length: 8 inches | Style: Japanese with some European influence | Weight: 6.5 ounces
Hedley & Bennett is known for its aprons but recently started making knives, the brand's first foray into kitchen tools. This knife was designed with input and testing from professional chefs — "and you can tell," chef Melissa King says. Both she and Zoya Roya, the founder of Fysh Foods, call it "well balanced," with Roya adding, "It's not too heavy to handle but heavy enough that it still glides through whatever you're cutting with ease." In my own testing over the past few months, I've found the same. While it weighs an ounce more than my Global, that can be helpful when cutting firm ingredients like squash and potatoes. Plus, the weight is evenly distributed from handle to blade so it doesn't feel cumbersome to hold. And as someone who has her knives out in the open, I appreciate the aesthetic details, like the barely noticeable logo and brass rivets.
Best less expensive balanced chef's knife
Blade length: 8 inches | Style: Japanese | Weight: 9 ounces
Material, another DTC company, makes a chef's knife beloved by recipe developer and writer Rebecca Firkser, who has been using hers practically every day for the past three years. "I love everything about it," she says. "I got it in the neutral color, which is just plain pleasing to me in a sea of black-handled knives. I have small hands, but still prefer to do most of my chopping with a larger chef's knife: I find that this one fits really nicely in my hand and feels balanced when I chop. It's not heavy but not too light." In fact, it's on the heavier side for a Japanese-style knife (and on the heavier side of ones on this list), but that balance Firkser feels was specifically and thoughtfully engineered. "Straight from the package (and when regularly maintained — I sharpen mine at home every couple months), the blade can easily handle thin tomato slices," she says, "which is my benchmark for a 'good' chef's knife."
Best super-small chef's knife
Blade length: 5 inches | Style: Japanese | Weight: 3.8 ounces
Even though Wüsthof is a German company that specializes in German knives, it makes a Japanese-style santoku knife that is the choice pick from Amanda Cohen, chef of New York City's Dirt Candy. In general, it's a much-beloved brand (I found it to be the best overall pick if you're investing in a knife set) — and this small-but-mighty blade fits right in. "I'm a serial monogamist when it comes to knives, and right now, I'm in a long-term relationship with this one," Cohen told me. "A shorter knife gives you more control, so I'm through with six-inch knives for the moment. This one holds its edge for a ridiculously long time. It's really light — the lightest on this list, in fact — which Cohen says means she can use it for hours, "switching between really precise knife work and hacking away at tougher vegetables."
Best chef's knife for utility
Blade length: 10 inches | Style: European | Weight: 5.6 ounces
Cara Nicoletti, the founder of the sausage company Seemore Meats & Veggie, wrote a piece for the Strategist a couple of years ago about her favorite knives. As a fourth-generation butcher who grew up using utilitarian knives that could break down countless carcasses before needing to be resharpened, she eventually found herself in New York City kitchens where professional chefs revered their knives, treating them with a care and pride previously unfamiliar to Nicoletti. Now, she says, "the knives I use most at home land squarely in between those beloved by my butcher relatives and those worshiped by my chef colleagues" — and chief among them are her Vicorinox knives. (This is still the case since she originally wrote her article — I checked.) "For my beater knives — the ones I use regularly and roughly — I really love Victorinox," she says. "They tend to last the longest and keep a sharp edge, even when being used daily on heavy projects. The blades are stainless steel, which makes them easy to maintain, and I love the rosewood handle for grip comfort. You may not be breaking down full beef carcasses in your home kitchen (Or maybe you are? What do I know!), but you still want knives that don't need to be sharpened every time you break a chicken." Nicoletti's size of choice is ten inches, but that's definitely on the larger end for most people. Victorinox makes the same knife in eight inches, too. One more endorsement: In Strategist contributor Sarah Leon's piece about the appliances and tools that made up her makeshift kitchen during a big renovation, she turned to Victorinox knives, calling them "indestructible and not precocious."
Best chef's knife for vegetables
Blade length: 7 inches | Style: Japanese | Weight: 8.9 ounces
With a straight blade shaped a bit like a small cleaver, a nakiri knife is designed to be particularly good at breaking down large vegetables such as cauliflower and cabbage as well as slicing, dicing, and chopping onions, peppers, all manner of root vegetables, and more. But according to Emily Fiffer, a co-owner of Botanica in Los Angeles, it's just as versatile as a chef's knife and can be used for very similar tasks. It's her own go-to blade even for delicate tasks like chopping herbs for salsa verde or cutting up a piece of fish. "The only thing I wouldn't do with it is slice bread," she says.
Best high-end chef's knife
Blade length: 8 inches | Style: European | Weight: 9.5 ounces
"A dear friend gifted me this knife," Rodbard says. "Would I ever buy myself a $400 knife? No. Was I afraid to use it for over three years? Yes. Have I now fallen so hard for it that a day doesn't pass that I don't pull it out just to feel the grip in my hand? Absolutely." Kramer, a real artist and artisan, crafts handmade knives that he auctions off to eager fans and serious professionals. They regularly go for tens of thousands of dollars (or even, in the case of the one he made special for Anthony Bourdain, a quarter of a million dollars). This particular knife, however, is not a one-off and comes from a collaboration with tried-and-true kitchen company Zwilling, which of course makes well-known knives of its own. It's still very expensive, yes, but a much more accessible model of Kramer's work, relatively speaking. I actually own one too (also a gift from a friend), and it's a real prize on my knife rack — always sharp with such a comfortable handle and Kramer's signature Damascus-steel design on the flat surface of the blade (he combines two different types of steel to create the effect).
Best chef's knife for kids
Blade length: 4 inches | Style: European | Weight 5.3 ounces
Sara Kate Gillingham, co-founder of Kitchn and The Dynamite Shop, a cooking school for kids, endorses a Wüsthof for children, because she thinks they should learn with real tools and small blades make practice manageable. That said, for particularly young ones — ages 5 to 8 — she says the Opinel knife is the only kid-branded kitchen tool she's into. "There's no product that should replace a parent overseeing safety," she says, "but the finger guard and grip hole work to teach proper positioning. It's like training wheels." While she warns that it's not good for kids to become too dependent on said training wheels, she appreciates the fact that this isn't a gimmicky product: "It's a real knife but with some added protection."
Some more knives (of all types) that we've written about
Our experts
• Maxine Builder, Strategist editor
• Amanda Cohen, chef of Dirt Candy
• Emily Fiffer, co-owner of Botanica
• Rebecca Firkser, editor and recipe developer at Food52
• Sara Kate Gillingham, co-founder of Kitchn and the Dynamite Shop
• Erin Gleeson, cookbook author
• Eden Grinshpan, cook and Top Chef Canada host
• Melissa King, chef
• Sarah Leon, Strategist contributor
• Nick Marino, Strategist contributor
• Cara Nicoletti, founder of Seemore Meats & Veggie
• Deb Perelman, founder and writer of Smitten Kitchen
• Matt Rodbard, food writer, editor, and author
• Zoya Roya, founder of Fysh Foods 
• Jeff Strauss, owner and chef of Jeff's Table
• Joy Wilson, creator of Joy the Baker
The Strategist is designed to surface the most useful, expert recommendations for things to buy across the vast e-commerce landscape. Some of our latest conquests include the best acne treatments, rolling luggage, pillows for side sleepers, natural anxiety remedies, and bath towels. We update links when possible, but note that deals can expire and all prices are subject to change.