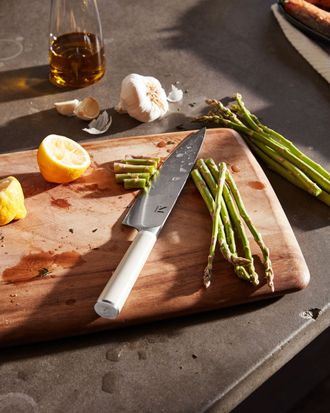 Knives are generally the most important tool you can wield in the kitchen — but to take it one step further, a chef's knife is king among them. There is little slicing, chopping, cutting, and carving you can do without it, so finding one you feel comfortable holding and using meal in and meal out is vital to your efficiency and success as a cook. This is quite a subjective task, though. Beyond considering the price, of course, chef's knives are made of different materials, are different sizes, have different-feeling handles, and are different weights — and in none of those categories is there an absolute correct way to go. Also, it's worth saying, more expensive doesn't necessarily mean better. It's like a white T-shirt: What's the ultimate one to somebody else may not be the ultimate one to you. That being said, I spoke to a handful of experts to determine some outstanding options and did my best to categorize and describe them to help you find yours.
Best overall | Best less expensive | Best for beginners | Best balanced | Best super-small | Best for utility | Best high-end
What we're looking for
Blade length: Chef's knives have blades that are most commonly eight inches long, sometimes seven, sometimes six. Though you don't see it very often, they can go up to 10 or 12 and down to 5. What length you want comes down to personal preference. How large are your hands? How practiced are you in knife control? I'd also argue that it's helpful to have different sizes for different tasks. I use my eight-inch blade for specific heavier-duty and larger-volume tasks like cutting through a squash or chopping up a huge amount of herbs, but I use my six-and-a-half-inch blade (which feels like a Goldilocks size for my hands) for most everything else.
European- or Japanese-style: Not every chef's knife falls distinctly into one of these categories or the other (and some knives don't fall into either at all). But the terms are commonly used and the distinctions notable enough that it's good to have a sense of the main characteristics of each. European-style knives (which include German-style, French-style, and western-style) tend to be heavier with a thicker, more curved blade — the shape of which assists in rocking back and forth with the tip down on your cutting board. Japanese-style knives are usually lighter with a thinner blade and straighter edge, ideal when you're after extreme precision. To make the landscape more complicated, though, some Japanese companies make European-style knives, and some European and American companies make Japanese-style knives. But here I've denoted the style of each to the best of my ability and then gone into more detail in the descriptions.
Weight: Yes, I just mentioned that, in general, European-style knives tend to be heavier and Japanese-style knives lighter, but that's not always the case. That's why knowing the exact weight can be a helpful determiner of which you'll personally find most comfortable.
Best overall chef's knife
Best less expensive chef's knife
Best chef's knife for beginners
Best balanced chef's knife
Best super-small chef's knife
Best chef's knife for utility
Best high-end chef's knife