The only knife you really need is shaped like a torpedo. It is 100 percent stainless steel, unspoiled by even a particle of plastic, but still made for just about any kitchen, anywhere. After consulting 25 experts — chefs, restaurateurs, cookbook authors, James Beard nominees, and an iconic knife dealer — I can confidently say that if you're going to buy one knife, it should be the Global G-2. It's a chef's knife, which means it's an all-purpose tool in a category of five- to eight-inch blades that cover just about all of your chopping needs. You can spend less than $10 and more than $1,200 on a chef's knife; this one costs $100. That price buys you something that feels like a piece of engineering in your hand, when it feels like anything at all.
To be clear, our panelists didn't unanimously pick the Global G-2: Some cooks prefer heavier knives or shorter knives or knives that cost as much as a sofa. Actual chefs describe what they expect of their knives in a few ways. "Really, what you want is a knife that's durable, that holds its edge a long time," says restaurateur Tim Love, who owns several meat-centric restaurants in Texas, including Lonesome Dove Western Bistro in Austin and Fort Worth, and who likes Global's products. Deb Perelman of Smitten Kitchen says almost the exact same thing: "My favorite knife is the Global G-2; it holds a sharp edge very well." Other chefs more quickly refer to the size of the blade as the most essential quality: "If you're using a knife constantly, you want it to feel comfortable," adds Amanda Cohen, the chef-owner behind New York vegetarian restaurant Dirt Candy. "It should be your friend," and your friend, Cohen says, won't be too long or heavy for a petite chef doing the arm work.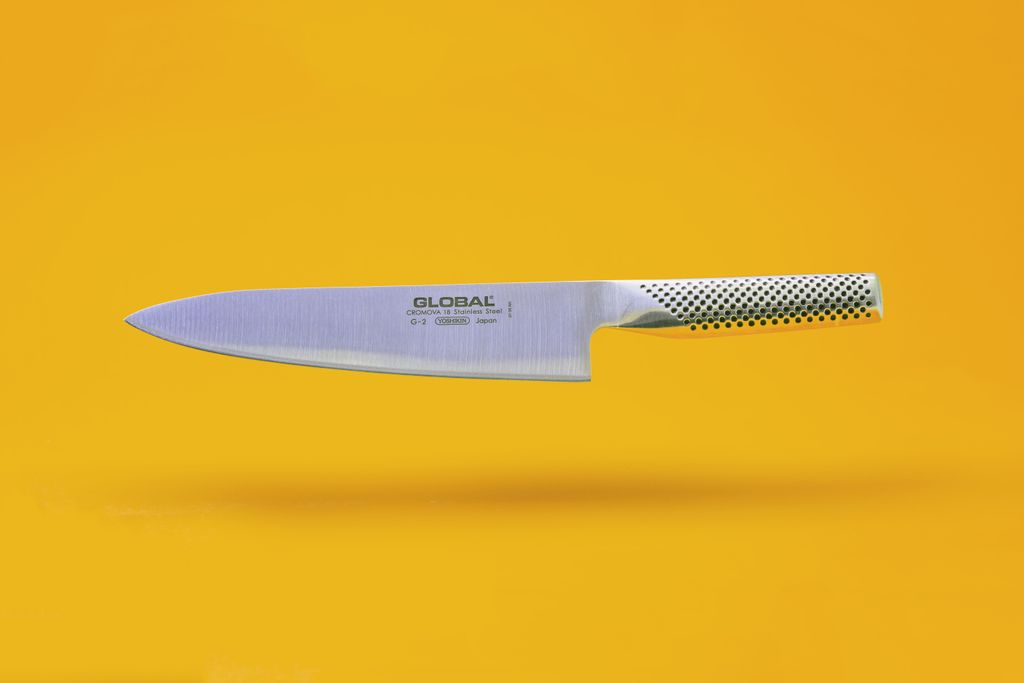 A few knives gained enough mentions to rise to the top, so I tested those at home on a Waldorf salad for lunch and a roasted chicken with carrots for dinner, with the logic that between the crunchy produce (apples and celery in the salad; carrots for the main dish) and the juicier but sinewy chicken, we'd be asking the knife to really perform.
The Global passed both Love's and Cohen's tests in my kitchen: The stainless steel seemed easily sturdy enough to last for years, and while some blades over six inches long can feel unwieldy if you're doing anything short of butchering a deer, I found the eight-inch — but still ultralightweight — Global G-2 to be appropriately sized for ordinary fruits and vegetables. And while it gets frequent shout-outs from reviewers for working best on produce, it halved the whole roast chicken in one smooth stroke. Under pressure from the blade, the root end of a carrot snapped off swiftly and smoothly.
Global knives are made in Japan, in an explicit homage to samurai warriors. The G-2 has an unusual dimpled handle that feels like a bicycle grip. This same handle is hollow, which explains the knife's mere 7.84 ounces. These attributes — samurai-inspired and hollow — mean the whole thing feels like it disappears into your hand when you use it. And when you're done with it, it's forgivingly easy to clean and handsome to display.
The
Second-Best
Chef's
Knife
Our silver medal goes to the Wüsthof Classic Chef's Knife, which is comparably sized and priced against the Global G-2. (The knife pictured here is six inches; an eight-inch knife costs $128 on Amazon.) It was recommended by, among others, Alison Roman, author of last year's cookbook Dining In. Her take: "Wüsthof is like a basic-bitch brand, but they do a really good job." I found the weight a little too heavy compared to the G-2, and the blade shape a bit too aggressive, like a hatchet. But as we've mentioned, some chefs and people prefer that kind of weight.
The
Best
Chef's
Knife
for
$10
Photo: Jed Egan
It's possible to blow your entire paycheck on a cutlery collection, but you really don't have to. Rather than try a lot of on-sale cheap versions, we suggest going with this santoku-style chef's knife recommended by Justin Devillier, of La Petite Grocery in New Orleans. He likes the Kai, which Williams-Sonoma sells for $10 for a five-incher, or $12 for seven-and-a-half, for its hand feel and reliability. It also has a black plastic handle that keeps the knife lightweight. "For a home cook who's very recreational and weekend warrior–ish, you don't want to pull out some crazy-heavy thing that shatters if you drop it," he says.
The
Luxury
Chef's
Knife
You
Can
Buy
on
Amazon
"Usually, when I buy an expensive knife, I buy crazy-rare stuff that nobody else can find," Devillier says. "But I've been really enjoying this Miyabi birchwood-handle chef's knife." The one Devillier favors is a gyutou-style chef's knife, which basically means it's a Japanese knife that cuts anything, and the wood handle is buffed to a supersmooth finish. "It's bolstered on the handle, so it has really, really good balance. I'd use it If I were a home cook and I were having people over, to break down a chicken, cut up vegetables, chop herbs. It's a total everything-you-do type of chef's knife."
Miyabi knives are made in Japan, and look like art.
If you only have room for one knife in your life, the Global G-2 is the one to get. But once you get into cutlery (it can quickly become an obsession), you might start wanting to build a collection. So for this guide, we dug into meat knives, fish knives, and cheese knives; knives for cheapskates; knives for plutocrats; and knives for kids. We also have advice on caring for your brand-new blade and explain why Japan is to knives what Italy is to sports cars. All that and some more, below.
In alphabetical order: Hugh Acheson, restaurateur and Top Chef judge; Nyesha Arrington, chef at Native in Santa Monica, California; Richard Blais, winner of Bravo's Top Chef All-Stars; Swati Bose, co-founder of Flight Wine Bar in D.C.; Elizabeth Chubbuck, senior VP of sales at Murray's Cheese; Amanda Cohen, chef-owner at Dirty Candy in New York; Tim Cushman, chef at O Ya in Boston; Justin Devillier, chef at La Petite Grocery in New Orleans; Saori Kawano, founder of Korin knives; Tim Love, Texas chef and restaurateur; Angie Mar, chef-owner at Beatrice Inn; Rahanna Bisseret Martinez, Top Chef Junior finalist; Matt McClure, chef at the Hive in Bentonville, Arkansas; Ryan McDonald, chef at Good Fortune in St. Louis; Harold Moore, chef-owner at Harold's Meat + Three in New York; Erik Niel, chef at Easy Bistro in Chattanooga, Tennessee; Ken Oringer, chef and restaurateur in New York, Boston, Bangkok, and Dubai; Deb Perelman, chef and founder of Smitten Kitchen; Alfred Portale, chef at Gotham Bar and Grill in New York; Alison Roman, author of Dining In; Sujan Sarkar, chef at Baar Baar in New York; Peter Shelsky, co-owner of Shelsky's of Brooklyn; Lucas Sin, chef at Junzi Kitchen in New Haven, Connecticut; Michael Solomonov, chef of Philadelphia Israeli restaurant Zahav and newly opened Miznon in New York; Claire Welle, co-owner of Brooklyn butchery and bistro Otway.
This is how you praise a knife. When a chef says you want a blade that "keeps a real edge," mentally replace that phrase with "a blade that stays sharp." If your blade is so dull that it slides off tomato skin and hacks its way through meat, you either have a poorly made knife, or a good knife that's lost its edge.
Cohen says cooks, often men, over six feet tall will often prefer an eight-inch knife, while chefs around five feet tall will opt for five-inch knives.