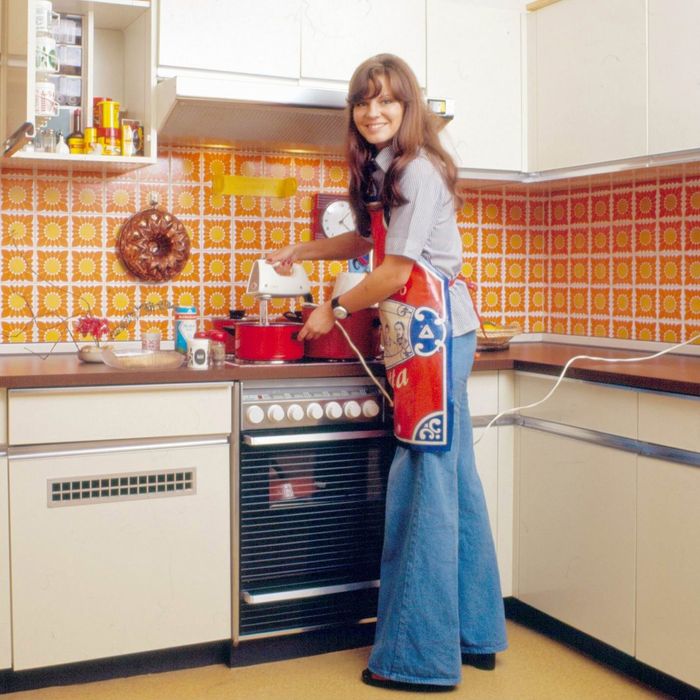 When you're trying to come up with gift ideas for someone who likes to cook, you want to find something that's both personal and practical. But finding a gift for a home cook that strikes that balance can be hard, especially if you're the kind of person whose fridge is filled with takeout containers. That's why we've gathered 37 of the best gifts for every type of home cook in your life— from the newbie who just wants to make a good grilled cheese to the home cook who has it all.
For the home cook who has everything
They might not think they need a sous vide machine, but that's exactly what makes it a great gift for an experienced chef, who can use it to make always-tender steaks, never-overcooked fish, and even soft-scrambled eggs.
For the home cook who would rather use a cookbook
Photo: retailer
A minimalist plywood cookbook-stand for those who still like reading recipes on paper — though it can also hold up a tablet.
For the home cook who'd like to throw more dinner parties
We were introduced to these tear-off linen napkins by Tonne Goodman, who discovered them at a boutique in Paris. "Instead of having a stack of napkins that needs to be spread out in an attractive fashion and then wrestled with to gingerly pick just one, you just simply tear each napkin off," she writes.
For the home cook who wants only one pot
This Dutch oven from Dansk has a mid-century design that's easy to cook with but still looks good on the dinner table. It's made of carbon steel, so it's lighter than cast-iron Dutch ovens but it's still sturdy enough to sear, braise, sauté, and bake anything you want.
For the home cook who's not over avocados
For the home cook who got really into celery juice
It's still unclear if celery juice is actually good for you, but if that's what they're into, this juice extractor from Breville is powerful enough to make sure none of the stringy bits make it into the liquid (and can be used to make lots of other types of juices, too).
For the home cook who watches The Great British Baking Show every Friday
During her time in the tent, Kim-Joy built a reputation for making delicate pastries with adorable decorations and clever flavor combinations, and in this cookbook, she shares some of her most whimsical recipes — like "pigfiteroles" in mud.
For the home cook who just got into bread-making
Unlike contestants on The Great British Bake-Off, most of us don't have proofing drawers in our homes. So a proofing basket — used to hold the bread during its second, pre-baking rise — is the next best thing for at-home bread-making: This three-piece set includes a linen nonstick liner for a smooth outer crust and a plastic dough scraper that conforms to the curves of your mixing bowl.
For the home cook who loves to grill on the go
Mark Jenner, the editor-in-chief of barbecue site FoodFireFriends.com, swears by this portable grill from the folks at Weber, which includes legs that fold over the lid and a convenient rectangular form. You can even create two grilling zones for high-heat and low-heat grilling.
For the home cook who wants to make their own sauerkraut and kimchi
Recently, we had two chefs heartily endorse this incredibly affordable and effective container as a go-to fermentation vessel. "It's really useful because it has an insert that essentially creates a vacuum to press down your ferments," chef Dave Park of Jeong in Chicago told us. "It has an inner ring where you can either burp your ferments or keep it airtight. It's definitely one of the most useful containers I've found."
For the home cook who's also good at Instagram
Photo: Courtesy of Vendor
Why does professional food photography look so good? In part because of food stylists, whose job is to choose all those attractive plates and cups and tablecloths to enhance the food. If your favorite home cook loves to share their latest grain salads and roast chicken on the 'gram, give them some plates that will look great underneath.
For the home cook trying to eat more greens
This collapsible salad spinner is a great gift for the recent college grad who's got a small kitchen and big culinary ambitions.
For the home cook who's a salt snob
Tonne Goodman also told us about this bucket of Maldon sea salt, which, she admits, "seems a bit extreme, but then again, salt fanatics do exist. I gave it to my brother-in-law, who is a wonderful cook, and he laughed and loved it."
For the home cook who loves leftovers
This stainless-steel lunch box is meant for children, but it's stylish enough to bring to the office (when you return to one, that is) and has enough room for a mini-buffet of leftovers.
For the home cook who identified with Antoni on Queer Eye
Culinary expert Antoni Porowski gifted this smokeless, infrared indoor grill to two different guys over the course of two seasons, and you can now gift it, too.
For the home cook who's trying to use fewer paper towels
These dishcloths have odor- and bacteria-absorbing charcoal infused into their fibers, so they'll last a little longer between washes.
For the home cook who's trying to use less plastic
These reusable food wraps are made by infusing cotton with beeswax, and they can be used over, and over, and over again — and once they're finally done for good, they can be composted.
For the home cook who's ready to compost
If they know that composting is a thing they should do but have always been turned off by ugly compost bins.
For the home cook who's ready for fresh spaghetti
For the home cook who needs fresh herbs
This indoor vegetable-and-herb garden is self-watering and has a built-in grow light and pre-seeded plant pods to grow fresh cilantro, basil, and even chili peppers if the kitchen has no windows.
For the home cook who loves their knives
Cutting boards wear out over time, so any serious home cook will appreciate a brand-new, nice-looking cutting block that'll protect their sharpened blades.
For the home cook who doesn't have knives