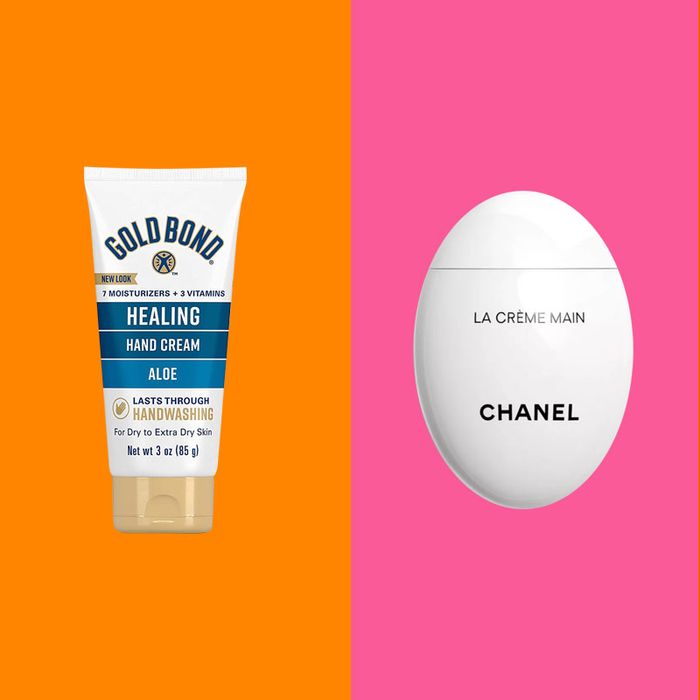 Photo-Illustration: Courtesy Retailer
A quality hand cream is a must — especially if you're a frequent hand-washer or have naturally dry skin. It helps to keep skin moisturized, which not only leaves hands and cuticles soft and supple, but also reduces the likelihood of the skin on your hands cracking and splitting. Unlike normal lotions, which are meant for the entire body, hand creams are thicker and contain a higher concentration of oil. "Hand creams are thicker because hand skin is thicker," says certified dermatologist Dr. Karan Lal. "It requires more oils and lipids to restore moisture."
To help you wade through the many (many) options available, we polled dermatologists, beauty enthusiasts, nail technicians, and Strat staffers who are serious about their hand routines to find the best options.
Best overall hand cream | Best luxury hand cream | Best hand cream for extremely dry and cracked hands | Best hand cream for aging hands | Best hand cream with SPF | Best hand cream for dry, flaky skin | Best hand cream for eczema | Best vegan hand cream | Best-smelling hand cream | Best unscented hand cream
Active ingredients: The skin on your hand is thicker, and thus calls for more intense moisturizers. Many of the creams on this list contain multiple key moisturizing ingredients (our top pick contains seven!), which we've noted — along with any additional skin-care benefits like vitamin C (a brightening antioxidant) or lactic acid (a gentle yet effective exfoliant).
Price: The creams on this list range in price — from a luxe fragrant option that'll run you $100 to a cheap drugstore pick that won't cost you more than $5. In case cost is a factor, we've noted how much you're getting in each tube, as well as the cost per ounce.
Best overall hand cream
When thinking of a hand cream that works well for most people, we kept a few things in mind. First (and most importantly), how effectively it moisturizes. We also considered hand-feel (nongreasy or sticky) and if it has any extras, like vitamin C to protect hands from environmental stressors and UV rays. Finally, price. Hand cream is often used daily (or multiple times a day), so we considered affordability too. That led us to this hand cream from Gold Bond, which comes recommended by Dr. Lal. He likes that it contains vitamin A, C, and E, along with seven different moisturizers, and is deeply moisturizing. "It even lasts through hand washes," he says. It's also affordable. At $4 a tube, you don't have to feel bad about applying it many times a day.
Best luxury hand cream
This splurge-worthy hand cream from Chanel was the most recommended of every hand cream on this list — and has been written about before here at the Strategist and by our friends at the Cut. When we spoke to hand models about their favorite hand creams, they mentioned that the Chanel Hand Cream is an on-set manicurist favorite. "It absorbs quickly and doesn't leave any shine or residue, so it 'photographs well,'" says hand model Ariel Paredes. Celebrity nail artist Trenna Seney (who has lots of on-set experience) is also a fan. She likes that it is lightweight but moisturizing and has a "soft, floral scent." One of its main moisturizing ingredients is glycerin, a humectant that draws moisture from the atmosphere to hydrate and soften the skin.
Best hand cream for extremely dry and cracked hands
This popular hand cream from O'Keeffe's has been called a "miracle worker." It's one of the most popular hand creams on Amazon (it has over 6,500 five-star reviews and counting), with reviewers crediting the cream with making the hands baby-smooth. The magic is in the ultra-concentrated ingredients, which include glycerin and dimethicone, a popular and effective skin protectant. It creates a barrier on skin and draws moisture in and also stops moisture from leaving skin.
Best hand cream for aging hands
Hands age as you get older, and while moisturizing well can help to minimize signs of aging like fine lines and wrinkles, if you're particularly concerned, a hand cream with added skin-care benefits can help. This one from Gold Bond is a favorite of former Strategist writer Chloe Anello, who likes that it contains ultra-hydrating hyaluronic acid and vitamin C, which is good for dark spots and hyperpigmentation. "Both help repair the skin while protecting it from further sun damage," she says. It's also thick, so a little goes a long way.
Best hand cream with SPF
Hands can experience the same levels of UV damage as the rest of the body, and since they have less fat tissue than the face, they can begin to look wrinkled sooner. A hand cream with SPF can help to protect your hands. Anello, who burns easily, likes this hand cream from Unsun, which apparently kicked off her obsession with SPF-filled hand creams — so much so that she's on her third tube. It contains shea butter, aloe, and coconut oil to nourish and moisturize, along with titanium dioxide and zinc oxide, physical blockers that protect from UV damage by bouncing the sun rays off the skin.
Best hand cream for dry, flaky skin
If you deal with dry, flaky skin, Dr. Lal recommends this cream from Amlactin, which contains lactic acid. "It gently exfoliates and hydrates at the same time," says Lal. Lactic acid increases cell turnover and helps to make skin look smoother overall. Even though it can be used on the entire body, its thick consistency makes it particularly good for hands.
Best hand cream for eczema
Our beauty columnist Rio discovered this hand cream during the height of COVID, when she was washing her hands upwards of ten times a day. It healed her dry eczema patches in just a few days thanks to ingredients like colloidal oatmeal, aloe, and vitamin E. "It has a thick, hydrating texture," she says of the consistency, which works well to soothe dry patches and irritation.
Best vegan hand cream
Seney uses this cream on her clients because it's deeply moisturizing and nongreasy. "I go through so much of this stuff, but I don't mind because it's affordable and there's lots of great scents," she says. Its main moisturizing ingredient is olive oil, which in addition to moisturizing has anti-inflammatory properties.
Best-smelling hand cream