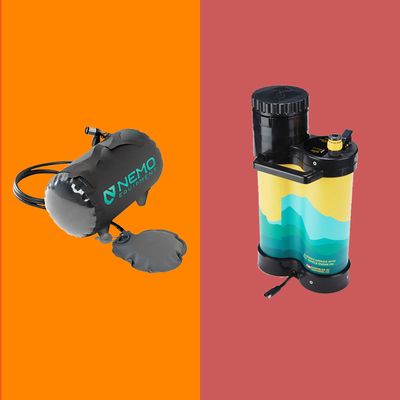 Photo-Illustration: The Strategist; Photos: Retailers
Anyone who's been camping has at least once thought longingly of a shower to rinse off the day's dust and sweat. But the time when you most need to shower is often when it's hardest to find — campgrounds can't always be counted on to have shower facilities, especially when you're venturing off the beaten path. And that's where a portable camp shower would come in handy.
Will Bowen, a sales associate at Ascent Outdoors gear store in Seattle, Washington, suggests people start by thinking about how long they're comfortable going without bathing — "For me, after five days is when I start to feel like, This is a problem,'" Bowen says — and encourages people to consider getting a portable shower if they're going to be out for longer than that, won't have access to other places to bathe, or just want the ease and independence they offer.
But there's a range of different designs and features, which can make it hard to know exactly which shower would be right for you. Personally, I've dabbled in van-living myself, and have spent quite a bit of time getting dirty and trying to clean off outdoors. I've bathed in lakes, rivers, underneath a five-gallon bucket with holes drilled in the bottom strung up from a tree branch, and with a few of the showers in this article. We also called up dedicated van lifers, gear retailers, and avid camping and hygiene enthusiasts to find out what they look for in a camp shower and which ones they use themselves.
Before we talk specifics, an important note about bathing in the great outdoors for the uninitiated: Your run-of-the-mill body wash and shampoo can be seriously unhealthy for the plants and animals that live in the areas nearby, especially the waterways. Only use biodegradable and ecofriendly soaps (I like HiBar) or consider limiting yourself to a water-only rinse if an indoor shower is in your near future. A lot of protected wilderness areas don't allow soap use at all (which likely won't be an issue because they're mostly only accessible by backpacking), so check before your trip.
Best overall | Best (less-expensive) | Best for water conservation | Best ultralight | Best car rack-mounted
Heating option: All the showers on this list heat the water enough for a warm (if not scalding hot) shower. Most are solar-heated and take about an hour for the water to reach a comfortable temperature in direct sunlight. There are some shower models out there that use fuel like propane to heat the water more quickly, but all were much clunkier than these showers without offering any additional benefits. If you're in a rush, just add some heated water from your camp stove.
Pressure delivery: Camp showers achieve the necessary force to rinse away suds and grime either with gravity or some sort of pump. How much you can pressurize the storage chamber, plus the rate that the shower head or hose attachment dispenses water, determines how strong the flow is. Gravity-powered showers usually have lower pressure than ones with pumps, and that pressure decreases as the tank empties and there's less weight. Pumps offer a stronger and more consistent flow since you can top up the pressure mid-shower, but they add a bit of extra weight and bulk and a couple additional steps beyond just hoisting the water tank above your head.
Head and hose design: The design and shape of the head, and whether or not it has a hose, doesn't just affect water pressure. It does determine how it feels to use the shower and what you can wash with the shower. Long hoses (the exact length depends on how tall you are and how big your gear is, but as a general rule, I prefer at least five feet if the water tank is overhead and a minimum of seven if it rests on the ground) with adjustable sprayers offer the most control over where the flow of water is directed and how strong it is. Even the options on this list with the best pressure aren't exactly fire hoses, so it's quicker and more effective to be able to move the showerhead around your body to hit muddy areas directly instead of waiting for it to trickle down your body. A hose and sprayer are also helpful if you travel with a mountain bike, wetsuit, or other gear that needs a good rinse. But a showerhead mounted directly to the water tank is going to be lighter, less bulky, and leave both hands for washing.
Portability: The showers on this list were chosen for being totally portable with a couple of exceptions. Being able to use the shower anywhere makes it way more versatile and easier to avoid turning your campsite into a mud pit. If they're totally portable, they're also still light enough to reasonably be carried short distances while full — three gallons of water weighs about 25 pounds, so if you don't think you can comfortably lift that much over your head, consider one of the models where the tank stays on the ground.
Storage capacity and shower length: The last thing you want when taking a shower outside is to run out of water before you're finished rinsing the shampoo out of your hair. A good camp shower holds enough water to properly bathe, although you might need to adjust your expectations regarding length (we're talking "enough time to get clean," not "enough time to serenade the campground with the entire Billboard Top 40"). Most of the models in this list promise at least seven minutes of continuous flow, which is plenty of time if you're efficient. Pro tip: Turn off the shower while sudsing up to save water.
Best overall portable camp shower
Solar heated | foot pump | 7-ft hose | adjustable spray head | portable | 2.9-gal tank | 5-7 minutes at highest pressure
For two of our experts, the Helio is their go-to for surf trips and weekend camping. And for good reason — the seven-foot hose and foot-pump-pressurized tank make it convenient for a variety of uses, providing hot, steady, and ample water.
The additional effort of pumping the tank, which sits on the ground, is worthwhile because it means the Helio can be used anywhere. And by adding a few stomps of air throughout the advertised five-to-seven-minute shower, the flow stays steady instead of dwindling like it would if it was gravity fed. The water warms up from sunlight and lasts long enough to wash and rinse.
Miles Hollinger, a surfer, notes that while rinsing surfboards and washing briney hair was no problem for the Helio, it did feel "a bit underpowered" when it came time to rinse sand out of a wetsuit's nooks and crannies.
Small details, like a collar on the nozzle to keep it open, add to the ease of use and help set the Helio apart. But at the end of the day, it's the best all-around option because it has the widest range of uses — washing yourself, rinsing gear, doing the dishes — while remaining small and packable.
Best (less-expensive) portable camp shower
Solar heated | gravity | 15.5-in hose | on/off spray head | portable | 3-gal tank | 4 minutes
This simple gravity shower has everything you need for a short shower, and nothing you don't, for the price of a night at most campgrounds.
The design is simple. Fill the bag with water, let it sit in the sun to warm up, sling it over a tree branch, post, or the door of your van, and open up the spout on the hose for a gravity-fed shower.
The Summer Shower also has more limited uses than the NEMO Helio — it's for washing you, not so much your dirty dishes or gear, because the hose is too short to hit hard-to-reach parts of a bike, like the drivetrain, or something big like a kayak, and the pressure is too low to be very effective at rinsing off anything heavy, like mud. But it packs down to about the size of a shampoo bottle and gets the job done without any frills.
There's a bunch of camp showers out there in this style, but we like the Summer Shower's durability. Paloma Farkas, an alpine and climbing guide in the Sierra Mountains who has used the Summer Shower for years, says the four-layer insulating construction has held up well traveling in her van.
The Summer Shower comes in sizes between 2.5 and ten gallons, but we like the three-gallon size because it heats up quickly and is easier to hang overhead while full than the larger, heavier models but still has plenty of water for a full shower (hair wash included).
Best overall portable camp shower for water conservation
Stovetop heated | electric pump | 5-ft hose | sponge showerhead | corded | 0.8-gal tank | up to 15 minutes
The Geyser is unique to this list for a few reasons. One, it's the only one where the water comes out of a sponge instead of a more classic showerhead, which increases water efficiency. The tank, which is one-third the size of most of the others here and holds three liters (0.8 gallons or a third of the next-smallest shower on this list), provides plenty of water for a full shower for most. Though Kristen Bor, founder of the camping and van-life blog Bearfoot Theory who recommended the shower to us, says that it may be a little on the small side for some. "I have a colleague with really curly hair who told me she liked showering with the Geyser, but there wasn't really enough water to wash her hair," Bor says.
The next thing that sets the Geyser apart is that it requires an external power source. Instead of pumping it yourself to create pressure or letting gravity do the work, it has an electric pump that runs on 12-volt DC power. You can plug it into the cigarette lighter in your car or run it off of a separate battery or power bank if you have one. It works with your car off or running, but you get more power, and thus pressure, if the car is on. Depending on the health of your car's battery, you might not want to run the pump for the advertised shower duration of up to 15 minutes without the engine on. The power cord also keeps you within 16 feet of your car, presenting a similar risk to the RoadShower of turning your campsite into a mud pit.
The final thing that makes this system different is that it's not solar-heated. Instead, you fill up the tank with two parts cold water and one part boiling water heated on the stove. Not a major hurdle, and something you can do with the other showers here, too — but with the Geyser, it's  your only option.
Personally, I'm not convinced about how well the Geyser's sponge would work for gear, but I haven't had the chance to try it myself. For someone who just wants to wash themselves using as little water as possible, the Geyser is a peerless option.
Best ultralight portable camp shower
Solar heated | gravity | no hose | on/off spout | portable | 2.6-gal tank | 8 minutes
If this shower looks exactly like one of Sea-to-Summit's lightweight drybags at first glance, that's because it's made with the brand's same waterproof 70-denier nylon material (in black, to maximize the sun's heat). I haven't used one of these myself, but I regularly take their drybags on long backpacking trips in the Pacific Northwest to keep my clothes dry and have been very happy with them. No leaks and surprisingly durable given how lightweight the material is — the shower weighs a measly 4.3 ounces (120 grams) empty.
Only $5 pricier than the Advanced Elements Summer Shower, the Pocket Shower works pretty much the same way: Fill the bag, loop it over something, and let gravity do the rest. The Pocket Shower has a slightly smaller capacity (ten liters or about 2.6 gallons) and packs down to the size of a small paperback. It is the only option on this list that doesn't come with a hose, which means you have even less flexibility over where you can hang it. Sea-to-Summit advertises a seven-minute shower, and some reviewers report it lasts closer to ten.
Best car rack-mounted portable camp shower
Solar heated | hand pump | 55-inch hose | adjustable spray head | car-mounted | 7-gal tank
The only semi-permanent option on this list and the most expensive by far, the RoadShower (which also comes in five- and ten-gallon versions) is definitely more than the average weekend trip calls for. But for the van lifer, overlander, or long-haul road tripper, the greater storage and external storage system could be worth the hefty price tag. The sturdy black aluminum it's made with warms up quickly in the sun, and it has the largest capacity by far of the showers on this list. I really appreciated this one while traveling through an area that only had water sources to refill every few days or when I wanted to be able to wash myself, my traveling companion, and both of our muddy mountain bikes without having to refill the tank.
You pay the price for the big tank twice, first in cash and again in prep time. The initial setup is involved. The tube, which weighs 25.5 pounds empty, is mounted to your roof rack. It also takes longer to fill than the smaller showers on this list, and it's pressurized using the same type of hand pump you'd use to fill up your bike tires, which is a brief extra task before you can bathe and another thing that has to be on hand. Another wrinkle: Since the shower is roof-mounted, if the spigot where you're refilling doesn't have a hose, you're stuck lugging full jerricans between the spout and the roof of your car.
The hose can spray with more force than any other I've tried, which made it my favorite for cleaning gear. But since the hose is only 55 inches long, all cleanup has to happen right by the vehicle.
Some other stuff to complete your camp-shower setup
• Kristen Bor, founder, Bearfoot Theory
• Will Bowen, sales associate and graphic designer, Ascent Outdoors
• Paloma Farkas, rock and alpine guide
• Miles Hollinger, surfer
The Strategist is designed to surface the most useful expert recommendations for things to buy across the vast e-commerce landscape. Some of our latest conquests include the best acne treatments, rolling luggage, pillows for side sleepers, natural anxiety remedies, and bath towels. We update links when possible, but note that deals can expire and all prices are subject to change.