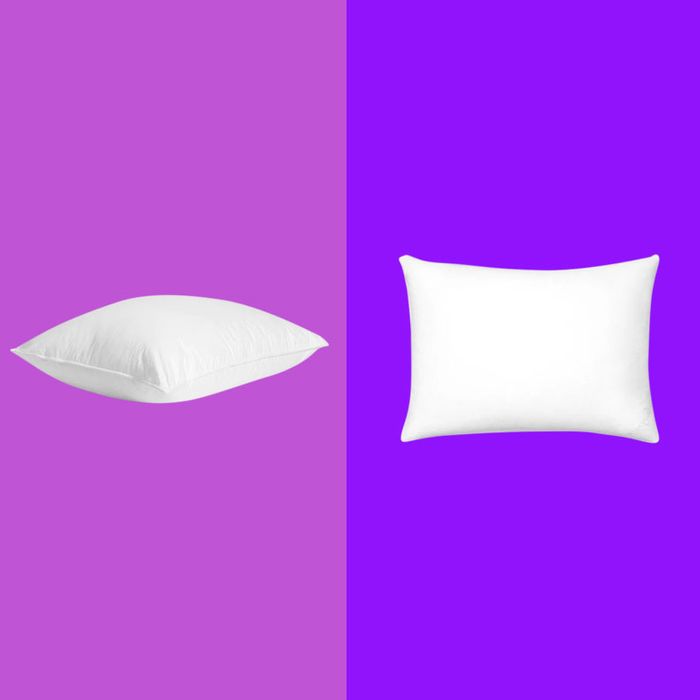 Photo-Illustration: The Strategist
Diving into a bed stacked with plush, cloud-like pillows is the stuff dreams are made of, and the key component to making those dreams a reality is a luxurious, soft-down pillow. Light and fluffy, down pillows are naturally breathable and can range from soft to firm, making them compatible with every sleeping position. Down refers to the feathery fluff found on the underbelly of ducks and geese. Lying underneath the animal's tougher outer feathers, the airy fiber keeps birds warm and is free of quills. When used in a pillow, the down material is supportive and comfortable while maintaining its supremely lush feel.
The price tag of a down pillow can be quite hefty, depending on the down fill composition. The most deluxe down pillows are completely filled with the down fluff from geese and ducks and will typically run over $100. But down-pillow pricing falls on a spectrum, and those with a mixed-fill composition or down-alternative fiber fill can come at a lower price without skimping on comfort. Although down pillows are known for their whipped-cream level of plushness, they are also available in firmer densities, which are ideal for people navigating neck pain, according to Dr. Dennis Colonello, celebrity and professional-athlete chiropractor at Peak Wellness, because they "offer the best balance of support and pressure relief."
We talked to Dr. Colonello and two other experts to find the best down pillows that'll take your bed to a luxurious new level.
Best overall | Best less-expensive | Best medium-firm | Best plush | Best all-goose down | Best down-alternative | Best feather and down hybrid | Best gusseted
What we're looking for:
Fill power: Pillows filled with other materials like memory foam, poly fiber, and latex have generalized measurements to determine their loft. For down pillows, the fill power correlates to the loft of the pillow, and you can use the fill power to judge the quality of the pillow. Manufacturers come up with the fill-power number by measuring the cubic inches of loft that one ounce of down fill produces. Basically, the higher the fill power number, the loftier and more insulated the pillow will be — with a higher price tag to match. The standard fill power is around 500 to 600, which is a respectable plush pillow. Above that fill power, you are entering the deluxe pillow space.
Fill composition: You'll notice that a few of the pillows below contain a blend of duck or goose feathers and down material, while some are filled with only down material. What your down pillow is actually filled with will affect the price as well as the overall feel and support of the pillow. Pillows that are 100 percent down cost more and feel superbly lush and soft. When feathers are mixed in, the pillow price and plushness can vary, making them a good choice for those who want a more affordable or more supportive option.
Fill ratio: The fill ratio provides a more specific breakdown of the fill composition, giving you an idea of how plush, soft or firm, and supportive a pillow may be. Some pillows on our list have a 95-to-5 down-to-feather ratio, meaning they are mostly filled with fluffy down. Others have a 60-to-40 feather-to-down ratio, meaning the pillow is on the firmer end and the fluff adds a small amount of loft and cushion.
Goose versus duck: Many pillows are filled exclusively with goose down or duck down, and the main difference between the two is that goose down has higher fill power because a goose is a bigger animal compared to a duck. Goose-down pillows tend to be plusher, loftier, and hold their voluminous shape for longer, while duck-down is on the denser, thinner side (though still soft). That makes duck-down pillows a great option for stomach and back sleepers since that position can be tough on your neck, explains Dr. Janet Kennedy, clinical psychologist and founder of NYC Sleep Doctor. She explains that "people who sleep on their stomachs need a thinner pillow to support the head without wrenching the neck." Because goose-down is fluffier and has a greater fill power, goose-down pillows are more expensive than duck-down pillows. Since down pillows utilize animals to source the filling, it is important to ensure that the brand you're shopping with is using ethical and humane practices. Brands may call out their resourcing process or note their ethical sourcing certifications or standards like the Responsible Down Standard seal.
Responsible Down Standard (RDS) seal: The Responsible Down Standard aims to "ensure to the highest possible extent that down and feathers do not come from animals in a supply chain that have been subjected to any unnecessary harm." Brands and products that meet the standard can display the RDS seal.
Care instructions: Unlike memory-foam pillows that aren't usually washing-machine friendly, down pillows are typically okay to toss in the wash (on a delicate cycle) and the dryer. But before you wash your pillow, double-check the care instructions so you understand its maintenance requirements before you buy.
Best overall down pillow
750 fill power | 85-to-15 percent European white duck down to down and feather fibers | Machine washable | RDS certified
A fan favorite, the Parachute Down Pillow is the epitome of bedtime luxury. Available in three firmness levels and two sizes, the airy European-duck-down pillow has a fill power of 750 and a fill ratio of 85 percent down to 15 percent down and feather fibers. The smooth sateen-cotton exterior is breathable, and the double-stitched piping along the perimeter gives the pillow an extra layer of durability. The pillow can either be dry-cleaned or machine-washed on a delicate setting and tumble-dried on low with wool dryer balls to help it re-fluff.
Best (less-expensive) down pillow
0 fill power | 95-to-5 percent white goose feathers to white goose down | Machine washable | RDS certified
The price of down pillows can shift by quite a bit depending on the fill composition and fill ratio, with feather blends being more affordable. This set of two down pillows by Puredown is a blend of 95 percent white-goose feathers and 5 percent white-goose down, making the set of pillows medium-firm for consistent head and neck support. There are three sizes to choose from, standard, queen, and king, and the pillows can be washed on a delicate cycle and tumble-dried on low.
Best medium-firm down pillow
650 to 700 fill power | Fill ratio not listed | Machine washable | RDS certified
Filled with triple-washed, responsibly sourced, farm-raised duck-down material and feathers, the Boll and Branch down pillow is luxe while being kind to the ducks behind the scenes of its production. The pillow has a unique three-chamber design that helps the pillows maintain their fluffiness and structure by keeping the fill in place over time, so your head feels supported while you snooze. The pillow is available in three density options, soft, medium, and firm, as well as two size options, standard and king. The soft pillow has plush down material in all of the chambers and can be adjusted for a higher or lower loft, making it a good choice for stomach sleepers as the softness allows "your head to be closer to the mattress, keeping the integrity of your neck's natural alignment," explains Dr. Colonello. The medium and firm densities have a feather-blend inner pillow for consistent support and a down-filled outer layer for cushioned comfort.
Best plush down pillow
600 fill power | 100 percent white duck down | Spot clean recommended, dry clean if needed | Down sourcing standards not listed
This plush pillow by Brooklinen is the epitome of the airy fluffiness that luxury down pillows are known for. Similar to the Boll and Branch pillow above, Brooklinen's down pillows are available in three different density levels: plush, mid-plush, and firm. This plush version of the pillow is completely filled with Canadian-down clusters, creating a voluminous, cushy surface for you to snooze on. Unlike the Boll and Branch plush pillow, the fill level of Brooklinen's plush-down pillow is not adjustable, which may be a drawback for some. It comes in two sizes, standard and king, and is spot-clean only. It will be much softer overall than Brooklinen's mid-plush and firm down pillows, which are filled with a blend of feathers and down material, with the firmest version having the highest ratio of feathers to down material for the most supportive pillow.
Best all-goose down pillow
650 fill power | 100 percent white goose down | Machine washable | Down sourcing standards not listed
Goose-down clusters tend to be fluffier and loftier than duck-down clusters, making goose down the more luxurious (and expensive) pillow-fill type. These down pillows by Kassatex are exceptionally lofty, making them a solid choice for back and side sleepers, who need more height in a pillow to keep their head aligned with their neck and spine. ("Pillow thickness makes a big difference" explains JD Velilla, head of sleep experience for Serta Simmons Bedding). Featuring a fill power of 650 with European-white-goose down, these fluffy pillows are encased in a 350-thread-count cotton shell. They are machine washable and dryer-friendly, and you can choose from three density levels (firm, medium, and soft) and two sizes (king and standard).
Best down-alternative pillow
0 fill power | Down-alternative fiber fill | Machine washable 
If you are vegan, have allergies, or simply don't like the idea of using pillows with animal products, a down-alternative pillow like this one from Slumber Cloud can deliver all of the softness of a down pillow — feather- and down-free. Encased in a cooling cover, this down-alternative pillow is on the firmer side but still offers the supportive plushness that fans of down pillows love. This pillow is machine washable and available in two sizes, king and standard, and two fill densities, soft-medium and medium-firm.
Best hybrid down and feather pillow
550 fill power | 95-to-5 feather to down inner core with 100 percent down outer layers | Care instructions not listed | RDS certified
One hundred percent down pillows have a cloud-like feel to them, which can be too soft for some. This Helix down-and-feather blend pillow has the quintessential cloud-like feel with some extra firmness and support thanks to a core filled with a sturdier down-and-feather blend, giving it a high loft of six to eight inches. It has a three-chamber construction, similar to the Boll and Branch feather-blend pillows above; the center chamber has a supportive 95-to-5 percent down-to-feather ratio, while the two outermost chambers have a fill power of 550 of fluffy down. It comes in two sizes, standard and king.
Best gusseted down pillow
450 fill power inner chambers and 650 fill power outer chambers | 60-to-40 white duck down to feather inner core with 80-to-20 white duck down to feather outer cambers | Machine washable | RDS certified
Balanced between cushiony and supportive, the Casper down pillow has a five-chamber construction and is filled with feathers and white-duck-down material. The outer chambers have an 80-to-20 down-to-feather ratio for a plush feel, and the inner chambers have a 60-to-40 down-to-feather ratio to provide more structured support and pressure relief for your head and neck. The two-inch gusset helps the pillow keep its shape and makes the loft consistent and buoyant across the full width of the pillow. The pillow is available in standard and king sizes and it is washing-machine and dryer safe.
Our experts:
Dr. Dennis Colonello, celebrity and professional-athlete chiropractor at Peak Wellness
Dr. Janet Kennedy, clinical psychologist and founder of NYC Sleep Doctor
JD Velilla, head of sleep experience for Serta Simmons Bedding
The Strategist is designed to surface the most useful, expert recommendations for things to buy across the vast e-commerce landscape. Some of our latest conquests include the best acne treatments, rolling luggage, pillows for side sleepers, natural anxiety remedies, and bath towels. We update links when possible, but note that deals can expire and all prices are subject to change.