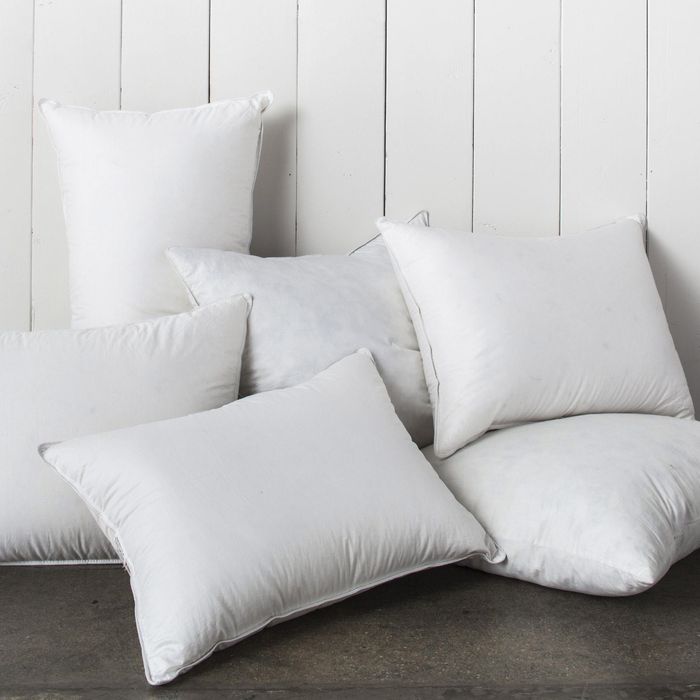 Thinking about down pillows probably conjures images of luxe hotel bedding — or that scene in The Holiday when Kate Winslet's character dives into her host Cameron Diaz's bed and sinks into the many pillows upon it. But anyone who has rested their head on a down pillow knows it's possible to get that sumptuous experience in your own home, too. Many folks opt for down pillows because they are light, fluffy, and breathable. But as Keith Cushner, the founder of sleep-product review site Tuck, explains, their form can also serve many functions when it comes to getting a better night's sleep. "If you know that your head gets really hot, or your ear is really sensitive, or you're sleeping on your side and you wake up with the equivalent of pressure points on your head, then you're probably want to go with something a lot softer or plusher," like down, "versus any of the harder pillows," he says.
Cushner and the nine other experts we spoke to say that, when shopping for down pillows, you should pay attention to three things: Loft (or the height of a pillow when it lays flat on a bed), fill composition (the type of down or feathers filling a pillow), and fill ratio (the proportions of whatever's filling it). Loft usually correlates to what's called a pillow's fill power. Mark Wood, the CEO of National Pool Fences, says to think of fill power as "the fluffiness of a pillow." Generally, pillows with a higher fill power will be loftier, more insulated, and lighter. Wood says that "650 fill power is a great starting point for the average person," but notes you can get pillows that go up to 800 fill power. Most down pillows are typically filled with goose or duck down in combination with feathers, which is why all-down pillows are considered even more luxurious and usually fall on the higher end of the price spectrum. According to commercial real-estate investor Marina Vaamonde, the founder of real-estate website PropertyCashin, "the filling composition is the best indicator of a down pillow's durability: The purer the down composition of a pillow, the longer it will last." Certified sleep-science coach Laura Bates, a co-founder of Comfybeddy, advises looking closely at any pillow's fill composition because brands might call a pillow down but fill it with down and feathers, which some people may want to avoid because, as she notes, "feathers can often poke through the pillow cover."
Conveniently, down pillows can work for all types of sleepers, according to our experts. No matter if you sleep on your side, stomach, or back, McKenzie Hyde, a sleep-science coach with Amerisleep, says the right down pillow will "provide full support in the form of reinforced firmness to fill the spaces between the shoulder and neck during slumber." Like mattresses, many down pillows come in different firmness levels. Melissa Wagner, of online interior design service Havenly's creative and design team, explains the firmness levels correspond to different sleeping positions. "A firm down pillow will support a side-sleeping habit; a soft one is great for belly sleeping; and a medium support is best for people who sleep on their backs," she says. If you change positions in your sleep, "a medium-density option that isn't too firm or soft" should be plenty versatile, according to Johanna Lundgren, a director of product and design at vacation-rental service Jurny.
To find the best down pillows, we asked our experts about the ones they recommend. Their 12 favorites below include options from a couple of our favorite bedding companies, ultra-luxurious pillows, and even some sold in sets. No matter which you choose, the experts say that caring for down pillows by tossing them in the washing machine or sending them to the dry cleaner every few months can prolong their lifespan. (Any down pillow you buy should have washing instructions.) Adds Wagner: "Taking pillows outside for a good shake/beating is highly recommended between washings. Even simply setting them in the sun is helpful to lengthen their lifespan."
Best overall down pillow
Parachute's down pillow is by far the most recommended down pillow by our experts, with four of them endorsing it for its quality and feel. "With 750 fill power, these pillows feel supportive but offer a generous amount of cradling for luxurious comfort," says Bates. Brandon Lee, an Airbnb host, agrees, calling them luxurious with "a supportive-yet-airy quality that makes them so comfortable." The filling is made of 85 percent down and 15 percent down-and-feather fibers, and the pillow has an all-sateen exterior. Bates notes that the pillow comes in three densities — soft, medium, and firm — "so you can choose according to the feel you are trying to achieve." The pillow also comes with a three-year warranty, which Bates says "is a good indication of its quality." Wagner and Cushner are also fans of Parachute's down pillow. "If you're willing to spend a bit more, it's a really nice pillow," Cushner says.
Best (less-expensive) down pillow
Brooklinen's more affordable down pillow comes recommended by Cushner and sleep-science coach Alex Savy, the founder of sleep-product-review website SleepingOcean. "It's a fairly affordable option that does not sacrifice quality for the price tag," Savy says. Like Parachute's pillow, Brooklinen's comes in three densities — plush, mid-plush, and firm — each of which have different fill compositions. While the company doesn't specify fill power, the plush option is stuffed with all-down clusters; the mid-plush pillow has more support in the form of a layer of feathers beneath its outer down layer; the firm pillow has a similar construction, but a higher ratio of feathers to down. No matter the density, Savy describes the pillow as "nicely made, with neat stitching and a 100-percent cotton cover that uses a sateen weave and feels heavenly soft and silky to the touch."
Best (even-less-expensive) medium-firm down pillow
Two experts also recommend the down pillows from Pacific Coast, with Lundgren calling this Touch of Down style one of her favorites. Covered in a cotton shell, it has an inner chamber made of feathers surrounded by a chamber of 550-fill-power down and offers medium-to-firm support. She's a fan of what the brand calls this pillow-in-pillow structure, "which provides the support many down pillows lack without sacrificing softness or fluff because the inner pillow is surrounded by the highest quality of down," she explains.
Best (even-less-expensive) medium-plush down pillow
Pacific Coast's Double DownAround pillow is a bit plusher and comes recommended by Savy. It also has a cotton cover, but double the amount of 550-fill-power down surrounding its inner feather chamber. This construction provides medium-soft support, which he says "would work for a wide variety of sleepers" because the pillow "can adjust to the shape of one's head and neck, providing reliable support and aiding relaxation."
Best all-goose down pillow
A couple of experts told us that if you're looking for a truly luxurious down pillow, you should choose one that's filled with goose down. Wood calls goose down "the best," and Cushner explains that it's generally softer (and therefore more expensive) than duck down. That said, he admits you might not be able to tell the difference: "A lot of people really wouldn't notice, but technically there is one." A relatively affordable (for goose down) option, Cushner and Wood say, is this pillow from Kassatex. It's filled with 650-fill-power, European-white-goose down and has a cotton shell. Wood calls it "very high-quality fabric, extremely comfortable, and easily washable, too." The pillow comes in three different support levels — though, right now, some are out of stock (the company can notify you when they return, though).
The most luxurious all-goose down pillow
Wood considers this all-goose down pillow from Down & Feather Co. one of the best you can buy. It has 750 fill power and is made of Hungarian goose down, which he calls "the absolute peak" of down. Of course, that means you'll be paying a premium for it. This pillow comes in four support options, from soft to extra firm, with a long-staple cotton cover and a 10-year limited warranty. Each is also made-to-order. Wood describes the pillow as "an investment in good sleep," adding, "It's comfy, it cradles your head, and it's extremely high quality."
Most supportive down pillow
Savy says this Helix pillow "delivers resilient support" because of its three-chamber (or layer) design that's filled with a combination of down and feather. Its innermost chamber is made up 95 percent down and five percent feathers; surrounding that are two outer layers of all 550-fill-power down that compliment the supportive core with "gentle cushioning," he explains. "It's quite springy," he says, and "heavenly soft and supportive at the same time." The pillow has a cotton cover and comes with a one-year warranty.
Best down pillow twofer
If you're looking to buy a pair of quality down pillows and save a few bucks in the process, Bates recommends this set from Royal Hotel. Each of the 750-fill-power pillows is made with 75 percent down and 25 percent small feathers and has a cotton cover that she says is natural and breathable. Like other pillows on this list, you can get the set in a variety of firmness options.
Best (less-expensive) down pillow twofer
This truly affordable set of down pillows comes recommended by sleep-science coach Stephen Light, a co-owner of Nolah Mattress. While there is no fill power listed, each pillow is made of 85 percent down and 15 percent feathers, which Light says are "blended together to avoid any crunchy texture." The pillows have cotton covers and can be purchased in either soft or firm support levels.
Best all-goose down pillow twofer
For an all-goose-down twofer, Vaamonde recommends this duo of 800-fill-power pillows from East Coast Bedding. The pillows have a cotton-satin shell and, with a starting price of around $130 per pillow, are some of the "cheapest pure-goose down pillows on the market," according to her.
Best down-alternative pillow
Whether due to allergies, concerns about ethical production processes, or another reason, some folks may prefer pillows that mimic the feel of down but aren't actually made of down. Cushner says down-alternative pillows are generally a bit firmer and this one, which comes recommended by Lee, sounds great for those who seek a pillow with some temperature-regulating ability. The 100-percent-down-alternative pillow has a cotton cover that's lined with NASA-approved Outlast fabric, which, according to the company, "absorbs, stores, and releases heat as your temperature changes throughout the night." Like many of the actual down pillows on this list, it is machine-washable.
Best down-alternative pillow twofer
These affordable pillows are filled with 4D polyester, which Bates says "mimics the feel of down." The machine-washable pillows, she adds, are "soft but springy, which results in great support without sacrificing that luxurious cloud-like feel."