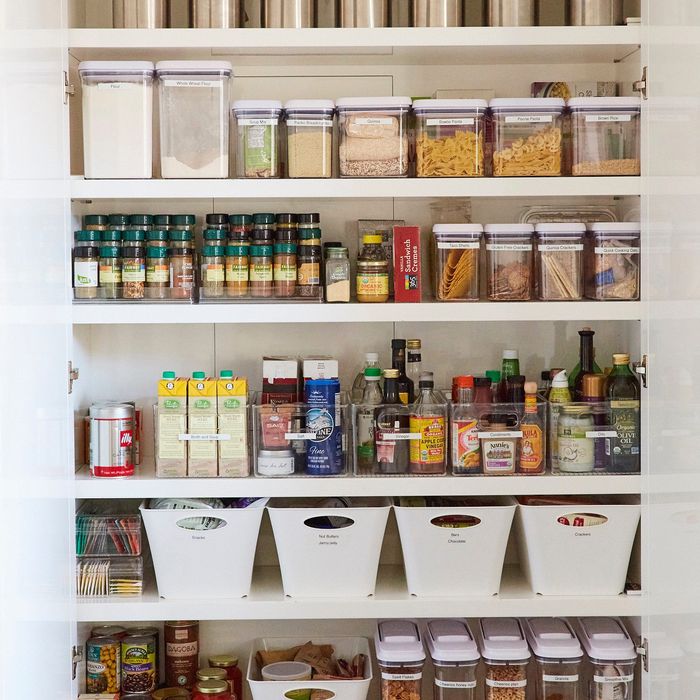 Photo: Barbara Reich and Lara Metz
If you've ever tried to organize a room — whether it's your bathroom or bedroom or home office — you've probably realized that you need to buy some kind of container to hold your stuff. But it can be tricky to know what type of storage bin is best for which purpose. So to save you from buying things that won't actually help you achieve the organized home of your Kondo-inspired dreams, we spoke with professional organizers about their favorite storage bins for every room and purpose, including toy storage bins, clothing and shoe storage bins, and underbed storage bins. And though every room and organization project is different, these 17 baskets, bins, and boxes are the options that organizing professionals reach for the most when tackling any client's space (and, in one case, even their own).
Best small-object storage bin for any room
If you're organizing condiments or a massive collection of nail polishes, you may want to see everything you've stored away. Lisa Zaslow of Gotham Organizers is a big fan of these clear bins, which allow you to "turn a shelf into a drawer." "It's always hard to get to small things in the back of a shelf, which is why you want to contain them," Zaslow says. "So if you put all of your spices or all of your beauty products or small office supplies in one of these bins, you can pull the whole bin out and see exactly what your stash is."
Best easy-to-carry storage bin for any room
If you have items you need to both store and carry around, like tools or cleaning supplies, Zaslow recommends InterDesign's organizer baskets, which conveniently feature a handle as well as holes that promote airflow and visibility. "They do stack if you don't fill them above the edge," she points out. "And they also have a solid, plastic bottom."
Best opaque lidded storage bins for any room
Anyone living in the "out of sight, out of mind" camp will like these storage bins that come in a variety of sizes, from a narrow version that's perfect for small items to deeper bins that can hold toys or clothing, but Mary Cornetta, founder and co-owner of Sort and Sweet, thinks they're "great for virtually anything." "We love them because they can store a variety of items from bathroom overstock to electronic cords, but they're also aesthetic enough to blend in with a room's decor." You can opt for a white or bamboo lid, and for an extra $2 you can purchase two tags for labeling. "The top also sort of slides off," says Barbara Reich of Resourceful Consultants. "You don't have to get your finger under it to pry it off, which is why I like that one."
Cornetta also suggests this smart charcoal color.
Sharon Lowenheim of the Organizing Goddess, meanwhile, likes the decorative bins from Open Spaces, which "look classy enough to have out in the open" and can be purchased with or without a lid.
Best decorative storage bin for any room
For storing things out in the open, you'll want a bin that complements the rest of the room. Cattano likes large rope storage baskets, which she recommends for clients who don't want toys (or shoes or blankets) strewn everywhere. "Some of my clients don't just want clear, open plastic bins all over the house," she says. "These are good for bigger things, so you can kind of hide it, and if someone walks in, they see a beautiful basket instead of the toys." And if this one doesn't appeal to you, there are rainbow, subdued stripes, wicker, and knit white baskets, too.
Best food-safe storage bins for kitchens
Nothing creates more clutter in a kitchen than disparate bags and boxes of pasta, flour, rice, and your favorite cereal. That's why it's worth investing a whole gaggle of these airtight containers from OXO. "I think it probably does stay fresher than flour in a paper bag, and in that way, it works," says Lightfoot. "But anything that's in a box with directions, don't put that in a separate container. You can put them into bins by groups."