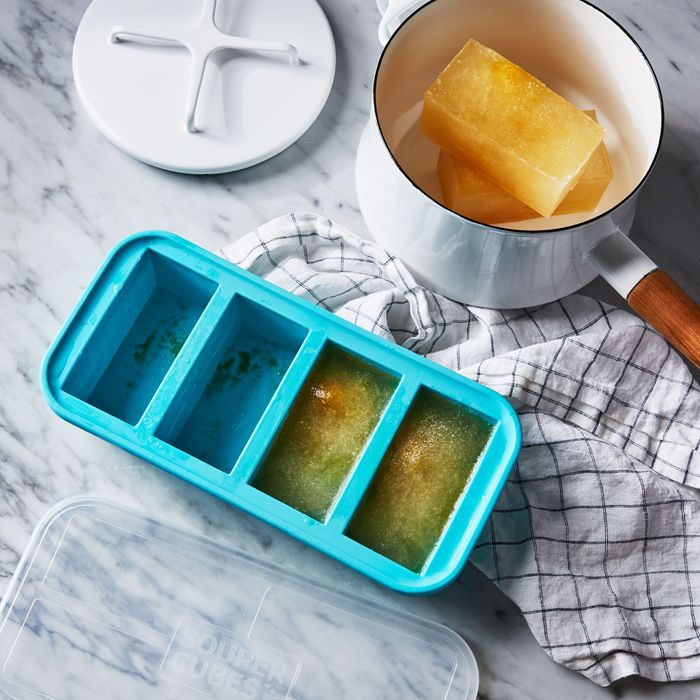 Even if you're the type of New Yorker who regularly cooks in your tiny apartment kitchen, it's very possible you didn't think much about a long-term food storage — save for a couple of washed-out takeout containers you use as Tupperware when you made too much pasta — until you were asked to stay indoors for the foreseeable future. You can of course still grocery shop, but it's smarter to go less often by stocking up (not stockpiling — five cans of chickpeas? Sure. 50? Please don't). The best way to socially distance is to avoid crowding commonly used spaces, like a supermarket. Preparing your kitchen to house more food for longer stretches of time requires a bit of extra pantry, fridge, and freezer organization.
As someone who develops and tests recipes regularly for work, I'm typically in possession of a few more groceries than the average home cook. If I've learned anything, it's that a bit of planning will turn food chaos into (only slightly overwhelming) order. Through vertically stacking, combining smaller packages of the same dry goods into large containers, and using as much freezer real estate as possible, you too can optimize kitchen storage and feel confidently supplied, not like you're living in an apocalypse fallout shelter or the bean aisle at Whole Foods.
For dry goods in the pantry
Start by making more space in your current kitchen shelving situation by embracing vertical stacking. Set up these Madesmart steps in your existing pantry for instant additional area to store canned goods, spices, and other containers. You can stack these shelves on top of each other, too, for even more space.
For dry goods like beans, lentils, pasta, rice, and other grains, differently sized packages can take up extra room in the panty. Same goes for baking ingredients that come in smaller quantities, like cocoa powder, baking powder and soda, and chocolate chips, as well as nuts and seeds. These can all be transferred into Mepal containers, which come in different sizes but each have the same width and length, as well as a lip around the lids, making them stackable. This means they fit nicely into my kitchen's built-in pantry and the open shelving unit I put in for extra storage.
A few boxes of cereal, granola, or oats can be poured into one of these giant 4.4-quart OXO containers, as can (often leaky) large bags of flours, sugar, and other large-quantity dry goods. Though they don't stack on top of each other, the wide base helps these containers balance easily in places that weren't necessarily designed for food storage but are often used as such, like the top of the fridge. The pop-in button on the lid also creates an airtight seal, which keeps all your dry ingredients fresh for a long time.
For refrigerated goods
Small-batch leftovers, quick pickles, cooked grains like rice and quinoa, even your sourdough starter can be stored in these tall, wide-mouth mason jars, which seal airtight and can be neatly arranged in the fridge (or pantry). They're ideal for keeping tender herbs fresh for longer, too: Just fill with an inch or two of water and drop in your bunches of parsley and cilantro, stem-down. Narrow jars are also the perfect vessel for regrowing scallions: Snip them an inch from the root end, place in a jar with enough water to cover the roots, and leave in a sunny windowsill.
To keep vegetables as fresh as possible for as long as possible, slightly dampen Vejibags and place in your greens, carrots, radishes, and celery. The higher humidity helps them stay crisp for up to two weeks (though writer Mattie Kahn told the Strategist that they kept her kale fresh for 16 days).
I use Bee's Wrap almost anywhere you'd use plastic wrap — blocks of cheese, cut fruit and vegetables, loaves of bread and baked goods. It can be washed with cool water and soap, air-dried, and stored in a pantry for about a year, then is totally compostable. (It's been featured on the Strategist before, too.)
One food safety note: Though Bee's Wrap is washable, it can't be sanitized and is therefore not recommended to use for raw meat, as the beeswax could spread bacteria to the next item you wrap. So for uncooked burgers, meatballs, and whole cuts of meat, the most food-safe choice is to continue using plastic wrap or containers that can be washed with very hot water and soap or run through the dishwasher.
For frozen foods
If I had to pick one container to store items in my pantry, fridge, and freezer, it would be these deli containers. They keep leftovers fresh and pantry staples organized, and the uniform mouths mean the lids fit every size container. I fill them with big batches of brothy beans and red sauce and store in the freezer indefinitely. When it comes to reheating, these containers are microwave safe, which is ideal for when I need to defrost leftover canned tomatoes quickly or don't feel like using a bowl for my leftover stew. (Extra tip: If you're having issues with your multi-size spice jars, transfer the goods into half-pint deli containers. Label the front side of each container with the spice name, then neatly stack them in one tall pile.)
While larger containers are great for soups and sauces you plan to reheat all at once, Souper Cubes are an excellent choice if you want to defrost just a cup or so of chicken stock at a time for a specific recipe. It sounds sort of gimmicky, but once you start using them you'll understand. Of course, regular ice cube trays work just the same, but it's vaguely annoying to use a tray of half-ounce stock cubes to yield one measly cup.