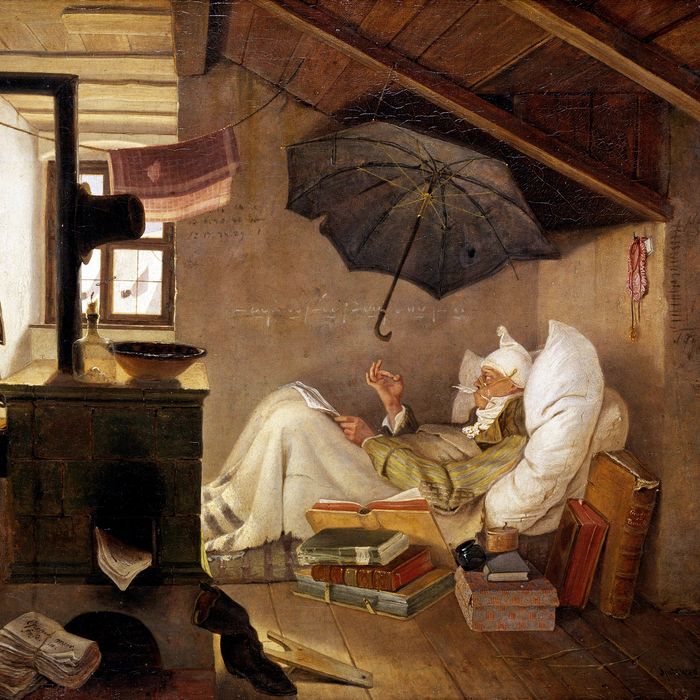 Photo: Photo Josse/Leemage/Corbis via Getty Images
With cases of COVID-19 rapidly spreading throughout the U.S. and the world, you might be anxious about how the virus could affect you amid the global pandemic. While a lot is still unknown about the novel coronavirus, right now, the most effective ways to prepare and prevent contraction are habits most people should know very well by now. "Cover your coughs and sneezes and wash your hands after you cover your coughs and sneezes, stay away from sick people, stay home when you're sick," says Stephen Morse, a professor of epidemiology at the Columbia University Medical Center and the director of the Infectious Disease Epidemiology Certificate Program. "We really have to rely on what we would essentially call non-pharmaceutical measures and good common sense," he explains, because a vaccine for this particular virus is still at least a year out.
Which brings us to another point echoed by the experts we talked to: You should get your household ready should the coronavirus continue to spread at its current pace. "The CDC has great guidance on what people can do at home. The key is to start planning right now," says Dr. David Callaway, the chief medical officer at Team Rubicon, a U.S.-based disaster-response organization. If you or someone close to you begins to show any kind of respiratory symptoms that look like the flu — but could be caused by the coronavirus — it is recommended that you self-isolate for 14 days, and if your condition worsens (e.g., if you experience difficulty breathing), the CDC says to seek medical attention but to call your health-care provider before going to see them. According to our experts, 14 days is the longest incubation period between the time someone is exposed to a pathogen like the coronavirus and when they will show symptoms of COVID-19. (The 14-day incubation period, they explain, is based on what researchers know about the incubation period of MERS, a virus in the same family.)
The term "quarantine" has come up a lot over the last few weeks, but we should avoid using it, according to Dr. Robyn Gershon, clinical professor of epidemiology at the NYU School of Global Public Health and an expert in disaster preparedness. "It's not really quarantine; it's really self-isolation," she says. "It just means you have to stay home and stay away from other people." According to the CDC, if you are mildly ill with the virus, self-isolation means that "you should restrict activities outside your home, except for getting medical care. Do not go to work, school, or public areas. Avoid using public transportation, ride-sharing, or taxis." The CDC also recommends that you should be kept as isolated from the rest of the household as much as possible. "If someone's sick in your house, you should try to keep them isolated like you would if they had the flu," says Callaway. "Don't share a bathroom, don't share towels, clean up any surface that they've been touching."
Because self-isolation means you shouldn't be leaving your house except to receive medical care, anyone worried that they may need to self-isolate should be prepared beforehand. That means stocking up on "everything you need to stay home for several weeks," according to Tom Cotter, the director of emergency response and preparedness at Project Hope, which is currently on the ground in China helping fight the coronavirus outbreak. "There's been a lot of talk about stocking up on food, but also dog food, cleaning supplies, toilet paper, shampoo. It's not necessarily because there might be stock-outs or anything like that, it's because you don't want to leave your home and be around people." While lots of these supplies will vary by personal preference, there are some general essentials our experts recommend buying to prepare for self-isolation, which we've listed below. A note: While many of these products are selling out faster than we can update them, we are leaving them here as a resource for your shopping whether it is done online or in-store.
If you do find yourself needing to self-isolate, Gershon recommends keeping your home as sanitary as possible. "I would absolutely positively ramp up the household cleaning, because this coronavirus is in the same family as SARS and MERS, and SARS was able to live on an inanimate surface or any object for up to one week," she says. "It would be very prudent at this point to stock up on disinfecting sprays and wipes, like Lysol," Gershon explains, because "the chemical disinfectants in these products have been shown to be effective against SARS and MERS, and the thinking is that they are similarly effective here." Use them to clean hard common surfaces like counters, toilets, sinks, TV remote, keyboards, light switch plates, and door knobs, throughout the day, and after any time the ill householder has touched them.
If you don't have access to disinfectants, Gershon says you can easily make your own by combining a quarter cup of Clorox plus 2.25 cups water. But "use hand protection when handling this and protect your eyes from splashes," she advises. And even if you or nobody in your household is showing symptoms of COVID-19, it's still a good idea to keep your home clean. "Ramping up the wiping down of common surfaces will help protect the household against seasonal infectious agents," says Gershon. "Once or twice a day of wiping down (or spraying) common surfaces is probably more than sufficient." Cotter says that the risk level inside your home is relatively low if you and your household are healthy, but says to be aware of what you're touching outside of your home. Either way, "it's a good time to start practicing these habits, for sure," he adds.