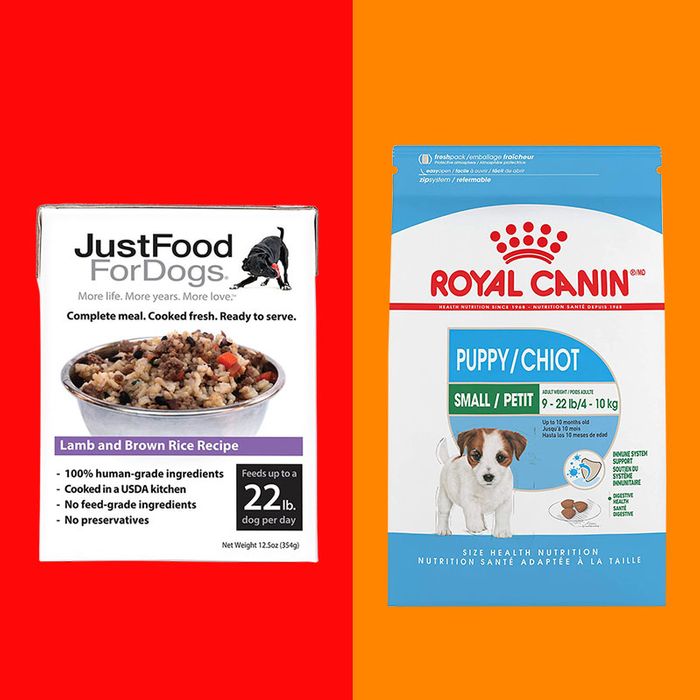 Photo-Illustration: The Strategist; Photos: Retailers
Whether you adopt a rescue dog or bring home an American Kennel Club–certified pup, providing that pet with proper care, a soft place to snooze, and good nutrition is, as the saying goes, a big responsibility. The question of what you feed your dog should take into account its age, size, breed, and any health issues your dog may have. But none of that will matter if your dog doesn't like the way the food tastes. Veterinarian Dr. Stephanie Liff of Pure Paws Veterinary Care explains that palatability is a vital part of deciding what to feed a dog. "I want my patients to like eating it," says Liff, who feeds her three-year-old Labradoodle a combination of human-grade and air-dried raw food as well as kibble. One way you know your dog is eating the right food, according to Liff, is if it produces "good, quality (easy to pick up) stool." And if you're wondering whether your dog likes the taste of its food, it should be obvious enough: If your dog enjoys the food, it will probably eat it in one sitting. "Dogs do not necessarily love to just leave food in the bowl until the next time they're feeling hungry," says Texas-based integrative veterinary expert Dr. Hunter Finn. "That's very old-school thinking, and honestly, with all the choices available today, you should absolutely find a food your dog loves."
Other important things to look for are a brand's recall history and an AAFCO (Association of American Feed Control Officials) statement on the bag, box, or can. The AAFCO statement is a sign that the food is nutritionally complete and balanced, explains Dr. Zay Satchu, the co-founder and chief veterinary officer at Bond Vet. But while it's a good starting point for your research, when shopping for dog food, it's definitely possible to dig deeper. "​​I personally prefer to only select companies that employ a full-time board-certified veterinary nutritionist on staff and don't just consult with one," says Finn. And if you'd rather cook your own dog food, he pointed us to the handy online tool Balance IT, which will help you put together a nutritionally balanced menu.
Before getting into the list of recommended dog foods, we should note that the FDA not long ago put out a warning about certain grain-free foods, which the agency thinks may be linked to an increase in dilated cardiomyopathy in dogs. According to veterinarian Dr. Sara Ochoa, "Large and giant-breed dogs are predisposed to this disease." The majority of the vets we spoke with explained that the correlation isn't from the lack of grains in these foods, but rather from the legumes or peas that have been added as a replacement. Veterinarian Dr. Angie Krause says, "When a dog's diet gets so high in legumes as a protein source, it may change their uptake of certain amino acids."
To get a better idea of what foods the experts (both human and canine) like, we talked to Liff, Finn, Satchu, Ochoa, Krause, and nine other experts about the foods they recommend to their patients as well as what they feed their own dogs at home. Since every dog is unique, if you're thinking about changing your dog's diet, it's a good idea to consult with your veterinarian before doing so.
Best overall dog food
Of the 14 veterinarians we spoke to, nine said Royal Canin dog food is their top pick for their own pets and the dogs they treat at work. Dr. Gregory Gstrein, a staff veterinarian at VCA Animal Hospital in California, says that "the best foods are backed by actual research and feeding trials and Royal Canin does the extensive work needed to prove their foods yield excellent real-world results." Dr. Catriona Love, an associate veterinarian at Heart of Chelsea Veterinary Group, feeds Royal Canin to her five-pound, 11-year-old Chihuahua rescue, and says that of the three dog-food brands she recommends to her patients, Royal Canin is the most palatable. "I think the animals tend to like it more," she says.
Best wet dog food
Veterinarian Dr. Jeff Werber also likes Royal Canin because he says the brand has a positive track record, a trusted name, and its products are readily available. He told us that he's always been a fan of mixed feeding, meaning a little of both dry and wet foods. Werber explains that, because a lot of dogs don't drink enough water, adding moist canned food (which has less carbs and more flavor) to their dry food is a win-win. He says that his dogs "love with a capital L" Royal Canin's low-fat canned dog food.
Best dry dog food for sensitive stomachs
When it comes to dog-food brands, four of the vets we spoke to recommend Hill's Science Diet, which meets AAFCO nutritional standards and comes in a wide variety of breed, size, and age-specific formulas. Its more specialized formulas include products for dogs who need help managing their weight or have sensitive skin or stomachs — the latter is what Ochoa feeds her eight-year-old schnoodle every morning. Ochoa also told us that all the dogs who stay at her practice's boarding facility eat Hill's Science Diet Sensitive Stomach, and Love adds that "Hill's is a company I have always trusted, mostly because I was really exposed to it when I was in vet school."
Best dehydrated raw dog food
When it comes to raw-food diets for dogs, there are some strong opinions in the veterinary community. Unsurprisingly, many vets feel that feeding your pet raw food can lead to potential health risks for both the dog and the humans who live with that dog. "I am not an advocate for any raw food at this time, as there is a very real risk for contamination to other household members, including people," says Finn. "If the research comes out years down the road and suggests that raw food is indeed better for pets and can improve their lives, then I will be the first person to switch my dogs over immediately. Unfortunately, the research is lacking at this point in time." Others, including Krause, Liff, and veterinarian Dr. Marty Goldstein (who literally wrote the book on holistic medicine for pets and has his own line of dog food) explain that there are extra hygienic precautions you need to take with raw food, but believe those are worth the added nutritional benefits, such as improved digestion and immune system function as well as less inflammation and allergies. Liff says she has patients that do well on raw diets, but she always has "a lengthy discussion with owners about food handling to prevent food-borne illness." According to Goldstein, freeze-dried raw foods have less risk of food-borne illnesses and can be stored without refrigeration. Krause says that if her own dog didn't have specific food sensitivities, she would feed him a raw diet — specifically, these Stella & Chewy dehydrated raw turkey patties. They meet AAFCO standards and can be served dry or mixed with a little warm water to rehydrate them. Krause told us that she's a fan of literally everything the brand makes, saying "Stella & Chewy has never put out anything I haven't liked."
Best fresh dog food
Fresh or human-grade dog food is minimally processed and gently cooked to retain nutrients and reduce the risk of harmful bacteria that could potentially be found in raw dog food. It's also more appealing to many dog owners who like that it looks more like something they would eat. "If health and wellness is a priority, I absolutely recommend human-grade fresh food," says Satchu, who feeds fresh-cooked dog food to his own pets. However, she stresses that whatever food you pick (especially with some of the newer designer label foods) it has to be nutritionally balanced. The AAFCO stamp of approval helps to make this easy to differentiate. When we spoke to veterinarians the best food for puppies, Dr. Jamie Richardson, the chief of staff at Small Door Veterinary in New York City, recommended the direct-to-consumer subscription brand NomNomNow. According to Richardson, the brand works directly with a veterinary nutritionist to create diets specific to your pet that conform to AAFCO standards. "There are not a lot of other companies who do that," she told us.
NomNomNow says its plans start at around $3 a day for the smallest dogs with few dietary restrictions. To determine a meal plan (and actual price), it asks you to first fill out a survey about your pet's breed, age, activity level, and weight goals. If you want Fido to try before you buy, you can also get a variety pack with four of the brand's foods for a flat $15.
Best (less expensive) fresh dog food
Satchu himself, meanwhile, suggests the slightly cheaper subscription-based food from The Farmer's Dog for anyone looking for a fresh option. Like NomNomNow, the brand worked with board-certified veterinary nutritionists to formulate recipes that are complete and balanced according to AAFCO standards. As further evidence of its food's quality, The Farmer's Dog has released results from ongoing long-term feeding trials showing that the nutritional value in their food exceeds AAFCO recommendations.
The company says its plans start at around $2 a day for the smallest dogs with few dietary restrictions. Again, you're asked to answer questions about your dog's breed, age, activity level, and weight goals in order to figure out a meal plan and its actual cost.
Best non-subscription fresh dog food
While he's not exactly anti-kibble ("Every animal and situation is different, so don't ever let someone shame you for the food you feed your pet," he says), Finn likes the California company JustFoodForDogs, which he says "has an astounding team of veterinarians from multiple specialties" and "is doing a good job in terms of fresh-cooked food." The company's PantryFresh range is made up of complete meals formulated from human-grade ingredients like macaroni, rice, turkey, beef, potato, lamb, and chicken. As the name implies, these prepackaged foods are pantry stable and ready to eat — yet they contain no iffy preservatives.
Best dog food for large or giant dogs