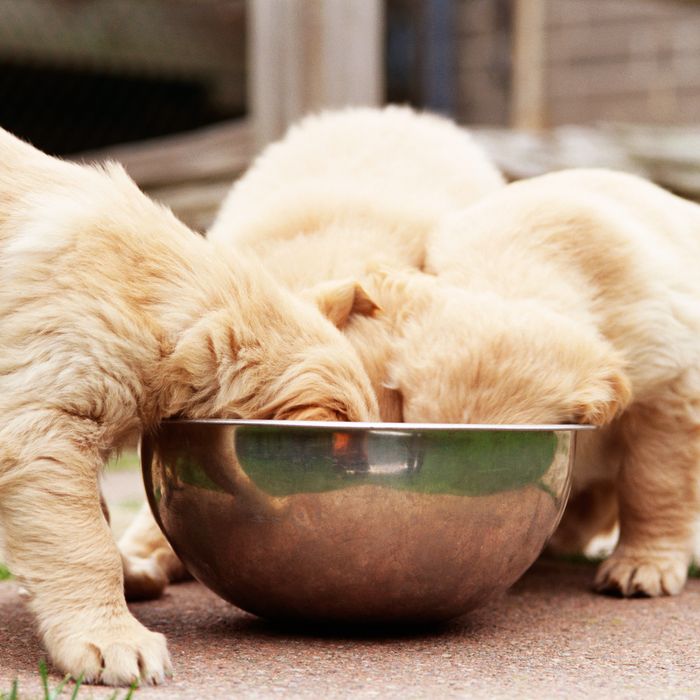 Photo-Illustration: Dann Tardif/Getty/Getty Images
If you've ever brought a new puppy home, you know how much fun it can be. Everything about them is cute — from the way they waddle around the house and tip over to the look on their face when they're about to fall asleep — plus their paws smell like tortilla chips. But owning a puppy also leads to a million questions. You'll wonder what's okay to let them eat. (Grass? A little. Your roommate's CBD gummies? Definitely not.) And just know that they're gonna try to eat another animal's poop. (It's okay if you don't catch them in time. They can handle it.) But one question you should know the answer to before bringing your dog home is what dog food you are going to feed them.
If you have other dogs at home, you might assume it's okay to feed your adult dogs and your puppy the same food. But according to Dr. Jamie Richardson, chief of staff at Small Door Veterinary in NYC, "Puppies have different dietary requirements compared to adult dogs." They need higher levels of protein and certain vitamins and minerals. Because of this, Richardson recommends feeding them formulations specific to puppies until they are skeletally mature — around one year for small- and medium-breed dogs, or between 14 and 18 months in large- and giant-breed dogs. Still, even among the foods specifically made for puppies, there are hundreds of brands to choose from. So we asked Richardson and six other veterinarians to help us find the best of the bunch for all kinds of puppies.
"What to feed your puppy is a question I get almost every single day," says Dr. Karie Anne Johnson, a mobile veterinarian and co-founder of VIP Vet Visit. She and the other vets we spoke to all recommend choosing a puppy food that carries the AAFCO (Association of American Feed Control Officials) seal of approval, which means it has been thoroughly researched and tested for nutritional adequacy. Richardson also suggests confirming that whatever food you buy says that the diet "meets the nutritional profiles for growth or all life stages."
Best food for large-breed puppies
Large- and giant-breed puppies like malamutes, Great Danes, German shepherds, and Saint Bernards have different dietary needs than, say, a Yorkshire terrier or dachshund puppy. Veterinarian Leslie Brooks, an adviser at Betterpet, says large-breed puppies should eat food that is specifically labeled for "large-breed puppies." According to her, the mineral and calorie content in those foods is tailored to prevent large-breed puppies from growing too fast and developing bone or joint abnormalities as they grow.
Four of the veterinarians we talked to recommended Purina Pro Plan puppy foods for large breeds, because all of the company's foods for specialized diets have been researched and tested by veterinary nutritionists. Johnson also likes that Purina stands by its food and uses voluntary recalls frequently. "This means they test their product often and only allow food on the shelves if it passes their strict quality-control measures," she says. Purina Pro Plan Focus is typically a hit with most puppies, she says. Even the pickiest eaters.
Hill's Science Diet comes recommended by three of the experts we spoke to, including veterinarian Jessica Kirk, who likes that "this food has gone through AAFCO feeding trials, is readily available at many pet-supply stores, and is affordable to most puppy owners." Whichever large-breed-puppy dog food you buy, Kirk suggests making sure it has been tested in AAFCO feeding trials as opposed to simply having been designed using AAFCO guidelines. "The wording on the packaging can be misleading," she says.
Best food for small-breed puppies
The main difference with this kind of food, Richardson says, is that it's made in smaller chunks. Because little dogs have smaller mouths and teeth, you want to give them something that's easy for them to bite and chew. But that's not the only reason to get food made specifically for small-breed puppies. According to Dr. Shelly Zacharias, veterinarian and vice-president of medical affairs for Gallant, small-breed puppy food also has nutrient differences that are important for small dogs.
Three of the vets we consulted recommend Royal Canin puppy foods. (That includes Zacharias, who raised six of her own dogs on Royal Canin.) Dr. Sara Ochoa, a Texas-based veterinarian and a veterinary consultant for doglab.com, likes Royal Canin puppy food because it is formulated not only specifically to a dog's size, but also specifically to certain breeds, such as Chihuahuas and French bulldogs. If your small dog's breed is a bit of a mystery, Royal Canin also makes small, medium, and large puppy food that aren't specific to breeds.
In addition to recommending small-size kibble for little dogs, Zacharias suggests exposing young dogs of all sizes to both wet and dry foods to help them develop a taste for both. "This helps prevent having a picky pet who doesn't like one or the other," she says. Plus, if a specific health condition dictates one or the other type of food, you won't have a hard time introducing it, she says. "I personally mix dry kibble with a little canned, so they get the benefit of the added moisture," says Zacharias. This wet food is for small breeds, but Royal Canin also makes wet food for medium- and large-breed dogs.
Richardson says that Italian brand Farmina is a great choice for puppies. Not only does the company use high-quality ingredients, it also works directly with an Italian veterinary nutritionist to create foods formulated to the highest of standards, whereas many other brands simply formulate their food based on information found in existing studies. Also, this dry food is clinically tested to have a low glycemic index, which helps your puppy get all the nutrients it needs, and none of what it doesn't.
Best fresh dog food for puppies
If you're among the people who see their dog more as a member of their family than as a pet, you may want to give them minimally processed food that looks like your own dinner. Richardson says that a growing number of the pet owners she sees are interested in human-grade or fresh pet foods. As this is a relatively new concept in the pet food world, definitions vary a bit by brand, but generally speaking, something labeled "fresh pet food" is minimally processed, does not use preservatives, and is gently cooked to retain nutrients and reduce the risk of harmful bacteria present in some raw diets. According to Richardson, many of the fresh pet foods on the market currently don't have food specifically formulated for puppies. She's also cautious about fresh pet foods because they tend to contain a higher fat content than other dog foods.
If you're looking to go the fresh-food route, Richardson recommends the direct-to-consumer subscription brand NomNomNow. Like Farmina, it works directly with a veterinary nutritionist to create diets specific to your pet. To order, you fill out a survey about your pet's breed, age, activity level, and weight goals. Richardson says it's one of the fresh-pet-food companies she can get behind because it has a nutritionist with whom they work very closely. "There are not a lot of other companies who do that," she says.
"The best foods for puppies are breed- and size-specific foods that are gently cooked with fresh, natural protein, vegetables like carrots, and added fatty acids, providing higher critical levels of EPA and DHA that puppies need in their most critical developmental age, which starts at six to nine weeks," says veterinarian Joe Martins of Belle Mead Animal Hospital. The Farmer's Dog is made using fresh meat and vegetables and exceeds AAFCO recommendations for nutritional value. Like Nom Nom Now, the company asks each customer to fill out a series of questions about their dog's age, breed, weight, and food issues. Each diet is customized to your dog and shipped to your house, ready to serve. Homeopathic veterinarian Christina Chambreau recommends The Farmer's Dog and says feeding your dog a nutrient-rich fresh-food diet prevents illness and can lengthen its life.
Best affordable dog food for puppies
If you're trying to save money without sacrificing good nutrition for your pup, don't worry: A higher price doesn't always mean you're getting better food for your dog. Zacharias says all good puppy foods should contain some sort of grain, because grain-free diets have been linked to an increased risk of dilated cardiomyopathy (a kind of heart disease), especially in large-breed dogs. She also stresses that the ingredients should name the type of meat included (instead of "meat" or "meat by-products"), and they should not contain white flour, preservatives such as BHA or BHT, propylene glycol, or rendered fat.
Johnson recommends Purina Puppy Chow Complete as an affordable food for puppies because it uses the same AAFCO testing to prove nutritional adequacy as the brand's more expensive Pro Plan diets, but will run you around half the price for the same size bag.
Ochoa recommends two brands of affordable puppy foods, saying "the best grocery-store dog food is Iams or Pedigree." According to her, these foods may not have the highest-quality ingredients, but they are still a good and healthy option.