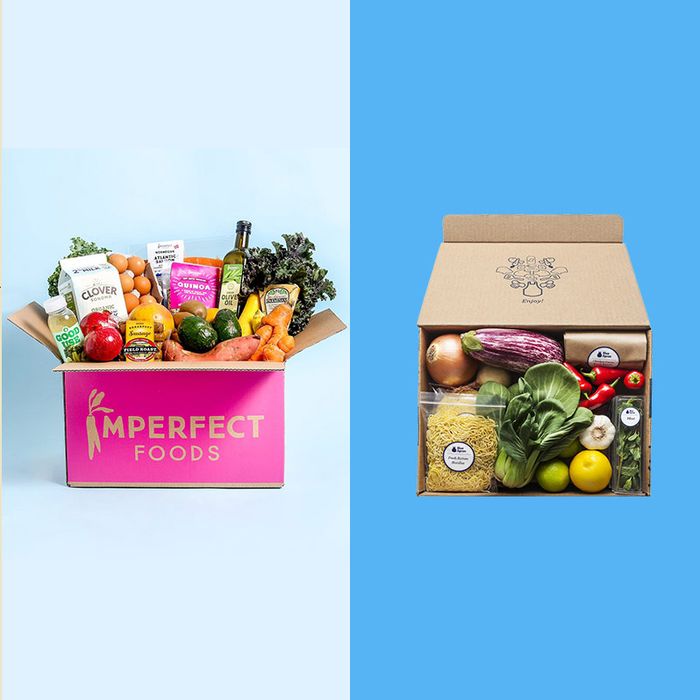 Photo: Courtesy of the retailers
With everyone sheltering in place to help flatten the curve of COVID-19 cases, lots of folks are turning to delivery services to get stuff to eat without leaving the house. But with so many options out there, it can be difficult to know where to start, especially because meal delivery can mean different things to different people. For this edition of Stuff We Buy Ourselves, we've rounded up the meal-delivery services that Strategist editors and writers rely on, from boxes that come with individually packaged ingredients measured to the ounce (and recipes for how to cook them), to boxes of farm-fresh vegetables and fruits, to premade smoothies offering a (nutritious) liquid lunch that requires little prep other than dumping the ingredients into a blender and turning it on. We've also included a few grocery-delivery services they swear by for those who prefer to fill their carts à la carte. Most of these have pretty extensive shipping operations nationwide, but some are truly localized (i.e., in New York City or other major metropolitan areas), so we've noted the latter whenever applicable.
Karen Iorio Adelson, senior writer
Left to my own devices, I would eat delivery from Seamless every night of the week. I'm not a confident cook and, since I'm usually just cooking for myself, I create a lot of waste when I have to buy, say, a bunch of celery if I only need one stalk. For a while, I was using Plated, which I really liked until it stopped its meal-kit service at the end of last year. In looking for an alternative, I sought out services that offered relatively healthy meals that still looked appetizing, and Sunbasket seemed like the best choice. Its meal selection is omnivore friendly, unlike some other "healthier" kits that are all vegan or gluten free. And, in addition to traditional meal kits, Sunbasket has "oven-ready" meals you only need to reheat, as well as "pre-prepped" ones that come with all of the ingredients chopped and ready to cook. I like having those options when I know I'm not going to have a lot of time to cook.
Sometimes, I find the meals need a little extra salt, but besides that I've been very happy with my dinners. I've ordered both the Indian-style butter chicken with basmati rice and chicken cacciatore with spaghetti multiple times now; I've also been impressed with the kale and sausage faro bowl and the shrimp and polenta dish. The meals are very simple to prep, and things like sauces or spice blends usually come premade, which I appreciate.
Alexis Swerdloff, Strategist editor
Call me basic, call me unimaginative, I don't care if my food-snob friends roll their eyes while reading this, but I love Blue Apron. My husband and I (two less than stellar cooks) have been happily doing Blue Apron on and off for about four years now — we'll take big, several-months-long breaks throughout the year. While there are a few too many stove-top fish dishes (would much rather it be baked salmon as opposed to pan-seared) and unnecessary scallions to chop for garnish — not to mention a horrifying amount of plastic — we both very much enjoy not thinking about what to cook at the end of a very long day. As longtime users, we've seen things change for the better: It used to be that you were sort of stuck with the three dishes that were assigned to you based on general protein preference, but now there are many more options to choose from each week. We generally pick ours based on how long they take to cook — usually we stick to the 25-minute-ers. Recent favorites have included chickpea pasta and turkey Bolognese, a Korean-style Beyond Burger, and a Calabrian chile-glazed meatloaf. The ice-pack situation has also improved: There are now gel packs, which are apparently less environmentally terrible.
We've also started modifying the amount of salt they suggest sprinkling on everything. Basically, each step in the recipe calls for seasoning ingredients with salt and pepper, and the dishes were starting to taste like salt bombs. All in all, we are very satisfied customers, but we both wish that they could do something about making the packaging less wasteful. They always send over these tiny plastic bottles of white-wine vinegar and little bags of chile flakes, so it would be nice if folks could opt-in to a plan where you order a box of regular-size Blue Apron pantry staples, just so the company can stop sending those mini versions each week.
Lauren Ro, writer
I actually love going to the grocery store and was never into the idea of getting provisions delivered, but when we all started working from home due to the pandemic, planning, prepping, and cooking three meals a day for multiple people quickly got stressful. So my husband suggested we try a meal-kit delivery for the convenience of not having to worry about shopping or figuring out what to eat. We had tried Blue Apron in the past and liked it, but we wanted something new.
Marley Spoon is Martha Stewart's meal-kit-delivery service, and it works more or less the same as similar services. You choose your taste profile, how many people you're ordering for (either two or four), and how many meals per week you want (between two and four). Because my mother-in-law is staying with us to help watch our baby, we ordered the plan that comes with three meals for four people. Meat came packaged in an insulated bag while everything else (veggies and seasoning) came in paper bags divided by recipe. The thing I noticed immediately is how fresh the ingredients are. The greens were bright and crisp, and the pork chops seemed to be of high quality. And the portions are generous, too. The meals come with step-by-step instructions on a sheet with pictures and are pretty straightforward. As far as flavor goes, the first meal we prepared (Argentine-style pork chops with sautéed kale and smoky roasted potatoes) was delicious and quite filling — all three of us were impressed. Like Alexis, I don't love all the plastic packaging that each item comes wrapped in, but I guess that's unavoidable.
Earlier this year, I had attended a press event for Splendid Spoon, a plant-based meal-delivery service, where I received a voucher to try a week for free. So, while stuck at home, I figured now would be a good time to try this service. Splendid Spoon offers smoothies, grain bowls, and soups for breakfast and lunch that are all made with "clean" ingredients (vegan; gluten-, soy-, and GMO-free; low in sugar and sodium). They're delivered ready to eat, which means no prep required beyond warming the food up — perfect for someone like me who all of a sudden felt overwhelmed by the prospect of all the cooking I have to do in quarantine.
Plans include $65 for five bowls (a mix of hearty soups or grain bowls); $95 for five smoothies and five bowls; and $135 for five smoothies, five bowls, and five "lighter" soups for "resetting." I chose the latter plan, and everything came via FedEx in an insulated box. The soups were all frozen while the smoothies were fresh — and quite good (even the baby liked them!). But I will say that the kale-and-lentil soup we tried tasted very "healthy." It was chock-full of vegetables, which I appreciated, but it lacked salt (an easy fix, and by no means a deal-breaker, but something worth pointing out nonetheless). We liked the stuff enough that we ordered another box (that we paid for) to keep in the freezer, and I'm looking forward to trying everything else. There are tons of options to choose from — more than 40 in total — from a matcha smoothie, to a coconut-curry rice bowl, to a fennel consommé.
One of my dad's favorite foods is pickled herring, and the first time he tried it from Russ & Daughters, he said it was the best he's ever had. So every year, I send my family this New York Brunch basket (to which you can add some pickled herring) from Goldbelly — a service that ships food from iconic American restaurants and other small food businesses nationwide. Its menu includes Chicago deep-dish pizza, authentic Philly cheesesteaks, and North Carolina barbecue (to name three famously local cuisines). Prices vary: While my favorite Russ & Daughters bundle isn't cheap, it includes all the fixings to re-create a real New York bagel-and-lox brunch for up to six people; but for $15, you can get a dozen Russ & Daughters bagels. Everything is shipped overnight and packed with ice (if necessary); my parents have never received a less-than-pristine package. Depending on how much you spend, shipping may be free on individual orders, and Goldbelly also offers a subscription program to get regular deliveries of your favorite foods.
Peter Martin, senior editor
Ipsa Provisions is high-end, premade frozen food — basically small-batch TV dinners made by very talented chefs. Meals are delivered via a messenger system, though right now that system only extends to Manhattan and Brooklyn. And it really is delicious. You choose from a menu of 20 items, ordering as many or as few as you want, whenever you want. We usually get six at a time — enough to stock our freezer but not overwhelm it. My favorites are the beef and kimchee stew with Korean rice cakes, posole rojo, and charred pineapple pibil with chicken. (The price shown is the starter for a full meal from Ipsa, but it sells treats, such as cookies, for less.)
As far as packaging goes, right now each meal comes in a plastic quart container, but Ipsa says it's planning on moving to all non-disposable packaging. If there are any extras, like the Korean rice cakes that come with the aforementioned stew, they're in their own separate vacuum-sealed pouch. The meals are easy to prepare. You're just reheating food, after all. Ipsa suggests thawing meals one night in advance in your fridge, but we rarely think that far ahead and it's never been a problem. Most dishes are prepared by adding a little water and simmering in a sauce pot until it's heated up. Ipsa says each meal serves at least two and that you can sometimes stretch that to three. Among my wife, 2-year-old daughter, and me, we usually get plenty to it. Occasionally there's even enough left over for our daughter to eat for lunch the next day. If you're planning on feeding three adults, though, you're going to have to break open another meal package.
Jessica Silvester, contributing editor
BBQ short ribs with paprika Yukon potatoes. Chicken-thigh stir-fry. Braised brisket with sautéed greens and roasted butternut squash. These are fully prepared, ready-to-eat, full-on meals you're getting here (not kits or ingredients). When they arrive, packed in ice, you don't have to do anything besides open up the vacuum-sealed, BPA-free bag, empty the precooked contents into a skillet with a little olive oil or grass-fed butter, and five minutes later, there's dinner.
And not just a "healthy" dinner: The Pete of Pete's is a Le Cordon Bleu–trained chef, so even though the food sticks to those rigorous Whole30 standards — no gluten, dairy, or soy — it also has a fancy, my-private-chef-made-this quality. Plus, it's all sourced from local farms and suppliers in San Diego, where the company's based, and is grass-fed, pastured, organic, and non-GMO. I've subscribed on and off since about 2014; in addition to the weekly subscription, you can buy meals à la carte for $15–$18 a pop (there's a five-meal minimum), and there's also a ten-meal vegetarian plan for $129. Pete's is also hard to get sick of because the menu changes seasonally. And for Strategist readers, Pete's Paleo is offering $10 off its meals (both onetime purchases and subscriptions) using the code STRATEGIST.
Photo: Retailer
I've already written a whole ode to these keto- and apocalypse-friendly smoothies, which may be less a proper meal than a quick meal replacement, but are nutritious and satisfying nonetheless. A quick recap: They come in a pack of 12 Daily Harvest–esque cups that each hold the complete ingredients for one smoothie; all you do is empty the freeze-dried goodies (fruit, Brazil nuts, lots of spinach) out of the cup and into the blender, add water and ice, and whizz it all up to watch the Chia Pet–like transformation. They come in mixed berry, strawberry banana, and tropical flavors, and taste as good as any Juice Press smoothie, as far as I'm concerned, but cost less (about $7 per smoothie). Plus, most of the nutrients are retained in the freeze-drying process, and they're shelf stable for about nine months.
[Editor's note: The smoothies are currently only available for preorder, according to Catalina Crunch, which says they'll ship sometime this month.]
Jenna Milliner-Waddell, junior writer
I guess you could say I use takeout and delivery services backward, in that most people probably use them to get their favorite food delivered, but I actually use them to discover new restaurants. When I first moved to Brooklyn, I downloaded pretty much every service available (okay, all the ones with first-order deals and discounts that were available) to figure out what my new neighborhood had to offer. All were helpful on my takeout-discovery journey, but now I find myself using Caviar the most. The service is available in more than two dozen metropolitan areas across the country (to find out if you live in one, click here).
No, they don't deliver any faster than the others, nor do anything special when it arrives. But Caviar's search function, and the way it presents available restaurants, are superior to any similar delivery services I've tried. It's all set up for someone like me who doesn't necessarily know what they want to eat, but knows cooking is out of the question. You can search by restaurant or cuisine like on other services, but Caviar also curates offerings by dish, if you have a taste for something specific and care less about where it's coming from. That curation, for instance, includes dishes under $15, a "Healthy Enough" section, specific dishes you can order if you're on a Mediterranean diet, organic or low-carb options, as well as dishes that would allow you to support a woman-owned business. Caviar also offers a secret menu that features Caviar-only dishes and restaurants that exclusively do takeout with Caviar. Since I started using it, I found my favorite chicken sandwich, from Moloko, a Caviar-only bar in Bed-Stuy. And for that, I will forever be indebted to the service. You can obviously order directly from the site or app, but Caviar also offers gift cards starting at $25 — in case you want to help a loved one find their new favorite chicken sandwich.
Mia Leimkuhler, newsletter editor