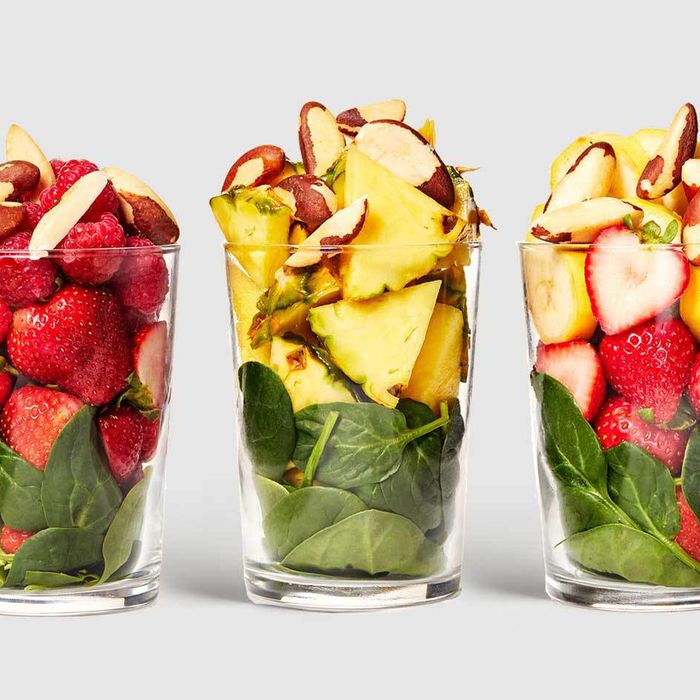 Photo: ©2016 Yellow Images https://yellowimages.com
A few weeks ago, led by Jedi intuition or promotional email, I can't say which, I materialized at the clean and sunny website of the keto-friendly brand Catalina Crunch. Either way, what I found there, to my surprise, was a new line of freeze-dried fruit-and-veggie smoothies — which seemed like a nutritional godsend. Yes, priced from $89 per case (or roughly $7 per smoothie) they cost significantly more than the boxes of Italian-Style Wedding soup my husband had been stockpiling for a potential quarantine, but I figured if we did end up in the bunker for the foreseeable future, I would need to eat more greens than just the few soggy leaves floating in a can of Progresso.
They arrived in a featherlight 12-pack of Daily Harvest–esque cups; sealed inside each was the entirety of smoothie ingredients — an assortment of freeze-dried fruit, spinach, and Brazil nuts — even though they looked like nothing but a handful of jewel-tone woodchips. When I added them to the blender with ice and water, it was a little like watching the time-lapse transformation of a Chia Pet; in 30 seconds, a pile of ashes blossomed into a thick and creamy Juice Press experience. I poured the liquid back into its 16-ounce cup. It tasted, as my husband put it when I forced him to take a sip, like "crushed-up berries" — fresh as a North Fork farm. Which you really wouldn't expect from a shelf-stable product that can last about as long as a trip to Mars.
Photo: ©2016 Yellow Images https://yellowimages.com
As mentioned, the Catalina company's M.O. is keto — the founder is a type-1 diabetic, and they launched in 2017 with low-carb cereal followed by cheddar-cheese bites. In order to keep the sugar out of these smoothies, they use that of-the-moment sweetener, allulose (best known to some of us as the "magic" ingredient in Magic Spoon cereal): It is "natural," in the sense that it can be found in certain fruits, like figs (though, of course, in large quantities, it's not so much plucked from a tree as manufactured in a lab), and it has none of that stevia-ish aftertaste. It's still making its way into the wider marketplace — Whole Foods does not yet accept products made with allulose — but industry insiders say it's only a matter of time. (The Catalina smoothies, it should be said, use allulose as their primary sweetener, but also contain a bit of stevia as the last ingredient, so you do get a trace of aluminum foil cutting through that North Fork farm; I find a pinch of pink Himalayan salt helps set it off. And for what it's worth, I also add half an avocado for extra creaminess.)
As for freeze-dried smoothies as a whole, there's reason to believe their time has come, too. "They don't take up freezer space, they last forever, and they contain nutritional density," says plant-based-food expert Luke Abbott, who does consulting for grocery stores and individual brands (no affiliation with Catalina Crunch). To that nutrition point: Most of the vitamins, minerals, and antioxidants in your typical plant foods remain intact during the freeze-drying process. Vitamins C, E, and folic acid do get reduced, Abbott told me, but then again, you're getting three full cups of spinach in these Catalina smoothies, which is a lot more than, say, the most popular spinach-smoothie listings on Allrecipes.com. Another bonus of the freeze-dried route, as pointed out by Catalina Crunch founder Krishna Kaliannan, is environmental-friendliness: Since the water is removed from the fruits and veggies, Kaliannan notes, "they are much lighter, and so require far less gasoline to ship around the world." Clearly, these are all factors that have come to have mass appeal; Walmart took on a line of freeze-dried smoothies, called Everipe, last year (this one is not low carb).
But in this very particular moment of social distancing — which can create distance not only from others but also from our own selves — what I appreciate most about these smoothies is the sense of stability they give me. Every morning as I choose from the mixed berry, strawberry-banana, and tropical flavors in the variety pack, it's like I'm simultaneously doing something good for my body and staying in touch with my pre-quarantine identity (which, for better or worse, was apparently tied up in regular trips to Juice Press). The air inside is stale, but these drinks make me feel a little more alive. I've already ordered my third case.
The Strategist is designed to surface the most useful, expert recommendations for things to buy across the vast e-commerce landscape. Some of our latest conquests include the best acne treatments, rolling luggage, pillows for side sleepers, natural anxiety remedies, and bath towels. We update links when possible, but note that deals can expire and all prices are subject to change.