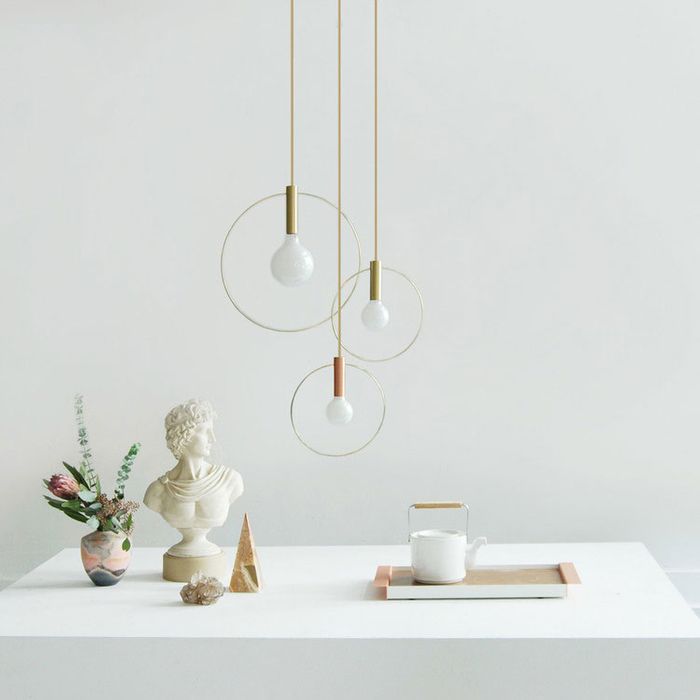 Photo: Courtesy of the vendor
In the latest issue of New York, we wrote about the evolution of a chandelier that, over the course of the last two decades, has become the status fixture for Brooklyn remodels: the Three-Arm Ceiling Lamp by Serge Mouille, a 1950s Parisian designer. It's surprisingly easy to procure a Mouille online — the fixtures, which were once only available at specialty antique shops — are available on Design Within Reach for some $7,000. Which made us wonder: is it possible to shop for a similarly impactful, but not-so-similarly expensive chandelier online?
We reached out to a bevy of designers and asked them just that. The consensus was that while there is no shortage of inexpensive, nice-to-look-at chandeliers available online, it is a slightly more difficult thing to shop for on the internet than, say, a couch cushion. Light fixtures are difficult to repackage and ship back without shattering a bulb or eight. And if your very-delicate-and-easily-breakable fixture does, in fact, break en route, most retailers will not refund full payment. The experts we consulted recommended combating this chandelier-specific issue by doing your homework before you start shopping. Interior designer Joy Moyler recommends, for one, measuring the ceiling height in the room you'd like to put the chandelier into, then thinking carefully about who is going to be occupying the space. "You want to make sure to leave at least 12 inches above the tallest person in the house's' head," she says. "My husband is six-foot-two — if I'm getting a chandelier for our bedroom, which has a 9-foot ceiling height, I know I have about one foot and ten inches to play with, no more. And that includes the chain, which people often forget to measure when they're shopping for a chandelier online." For the go-to, under-$1,000 chandeliers our consulted designers use for their clients' bedrooms, foyers, dining rooms, low-ceilinged spaces, and lofts, see below.
For a bedroom
For a master bedroom, designer Delia Brennan loves &Tradition's Formakami JH4 pendant by Jaime Hayon, a riff on classic Asian paper lanterns. "They're airy and light," she says, "perfect for over the bed."
"I've used this woven pendant from Ikea about a million times," says designer Orlando Soria. "It's such a great value, and adds so much warmth and coziness to a space. It's hands-down the most bang-for-your-buck lighting fixture out there right now."
Two of our experts recommended this inexpensive Crate and Barrel fixture. "The key to bedroom lighting is to make it dimmable," says designer Leanne Ford. "You want to be able to create a space that's bright and airy but can also be moody and cozy. This accomplishes that perfectly." "It has a feminine feel, but still looks modern," says designer Kylee Truck. "Plus, it has great reviews, which never hurts."
For a dining room
For an over-the-table fixture, Brennan recommends Pholc's Mobil 100 pendant, which has five opal glass shades. "It reminds me of a candelabra," she says, "and who doesn't like to dine near candlelight?"
Designer Harry Heissman likes this inexpensive chandelier for its frosted globes, which, he says "help soften the light above your dining table."
Designer Ana Claudia Schultz has a different go-to CB2 pick. "It's long enough for a large dining table, has an artistic quality, and is very elegant — especially for its price," she says.
This one is slightly over $1,000, but would work particularly well over a rectangular dining table, according to designer Molly Torres likes. "I like a good rectangular chandelier moment over a rectangular dining table," she says. "And the Galilelo Chandelier from Worley's Lighting just nails it." We agree.
For a foyer
Assouline-Litchen has used this West Elm x Bower Studios chandelier many times in entryways, she says, where she likes to go for something with personality. "It's dramatic, and its curves and strong profile create a bold statement piece," she says.
Hepfer's secret go-to for inexpensive lighting is this under-$150 pendant from Anthropologie. "The milk glass globe provides a beautiful ambient light, particularly for evenings," she says.
And Heissman's is this blown glass pendant from Urban Outfitters. "Get a couple of them, and suspend them in a cluster or hang them at different heights," he says. "It'll create a playful 'soap bubble' fixture."
Schultz likes this handmade-to-order, simple-but-geometric pendant from Etsy. "It's abstract and contemporary," she says, "which I like for an entrance to a home."
For a loft
Assouline-Lichten loves using this Ladies and Gentleman Studio pendant in high-ceilinged loft spaces. "Their clean lines enhance a loft's natural airness," she says.
"This reminds me of a modern mobile," says Delia Brennan of Francesc Vilaro's Invisible LED 2-Arm Pendant. "And a modern mobile pairs well with a modern loft space."
Two of our experts, Heissman and designer Joe Serrins, recommend going for a simple hanging Noguchi in a loft. "Get three of these in different sizes," Heissman. "It's like bringing the moon and stars into your loft." Per Serrins: "The paper shade produces a soft warm glow, which is calming and quiet."
Soria just put this five-light chandelier in his own dining room, and thinks it would work perfectly well in a contemporary loft. "It's very modern, and large enough to engage a super open loft space," he says. "The worst thing in a loft is having a chandelier that looks inappropriately small. Larger pieces are generally very expensive, and this one is not."
For a low-ceilinged space
For an apartment with perilously low, 8-feet-or-under ceilings, all of our designers recommended using a Semi-Flush Mount instead of a chandelier — they hang, but only slightly. Designer Raymond Boozer particularly likes this fixture from the Kate Spade for Circa Lighting line for its ability to pack a punch despite it's relatively short stature.