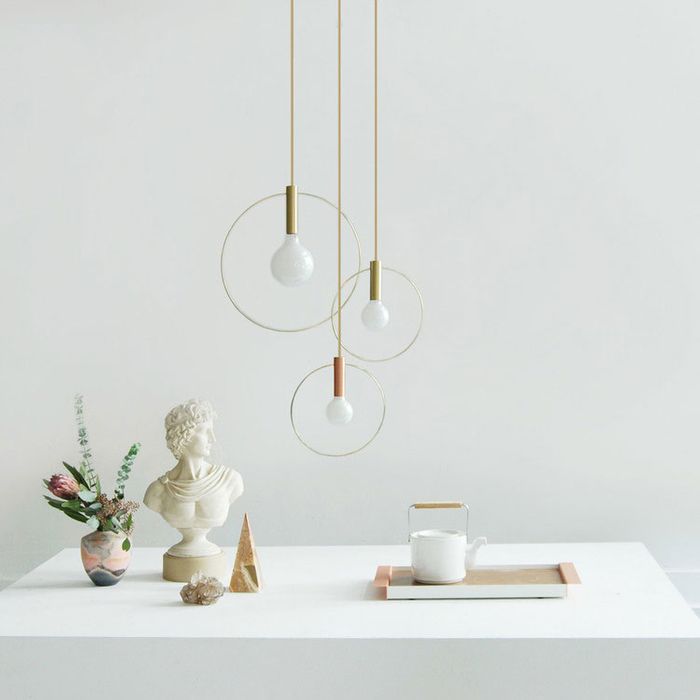 Photo: Courtesy of the vendor
Not long ago, we wrote about the evolution of a chandelier that, over the course of the last two decades, has become the status fixture for Brooklyn remodels: the Three-Arm Ceiling Lamp by Serge Mouille, a 1950s Parisian designer. It's surprisingly easy to procure a Mouille online — the fixtures, which were once only available at specialty antique shops — are available on Design Within Reach for some $7,000. Which made us wonder: is it possible to shop for a similarly impactful, but not-so-similarly expensive chandelier online?
We reached out to a bevy of designers and asked them just that. The consensus was that while there is no shortage of inexpensive, nice-to-look-at chandeliers available online, it is a slightly more difficult thing to shop for on the internet than, say, a couch cushion. Light fixtures are difficult to repackage and ship back without shattering a bulb or eight. And if your very-delicate-and-easily-breakable fixture does, in fact, break en route, most retailers will not refund full payment. The experts we consulted recommended combating this chandelier-specific issue by doing your homework before you start shopping. Interior designer Joy Moyler recommends, for one, measuring the ceiling height in the room you'd like to put the chandelier into, then thinking carefully about who is going to be occupying the space. "You want to make sure to leave at least 12 inches above the tallest person in the house's' head," she says. "My husband is six-foot-two — if I'm getting a chandelier for our bedroom, which has a 9-foot ceiling height, I know I have about one foot and ten inches to play with, no more. And that includes the chain, which people often forget to measure when they're shopping for a chandelier online." For the go-to, under-$1,000 chandeliers our consulted designers use for their clients' bedrooms, foyers, dining rooms, low-ceilinged spaces, and lofts, see below.
For a living room
According to Brooke McReynolds, a senior luxe designer at online interior-design service Modsy, a Sputnik-style chandelier can add an "eye-catching focal point" to any room — but she says their drama may be best in a living room. She explains that the arms that radiate from the chandelier can be "lit with all styles of light bulbs, depending on the mood of the space." Her favorite version of the mid-century style is this chandelier from Sunpan. "I love the mix of clear and smoke-gray glass that surrounds the light-bulb arms," she says.
If you want to make a more "modern, minimalist statement," Modsy's VP of style, Alessandra Wood, recommends this three-tiered pendant light from CB2. It's made from white cast metal with a plaster finish, a detail she says "gives it an organic edge, which softens the angular silhouette." The monochromatic, dimmable fixture, she adds, has a "Cali-casual" style that would make a living space feel a bit more like a beach house. (She adds it would also look great in a beach house, should you be shopping for a chandelier to hang in one.)
For a bedroom
Two of our experts recommended this Crate and Barrel chandelier. "The key to bedroom lighting is to make it dimmable," says designer Leanne Ford. "You want to be able to create a space that's bright and airy but can also be moody and cozy. This accomplishes that perfectly." Designer Kylee Trunck is also a fan, saying, "It has a feminine feel, but still looks modern — plus, it has great reviews, which never hurts." The slim silhouette makes it airer, something you'll want in a room taken up by a hulking bed. Shown here in brass, it's also available in a darker bronze.
Designer Delia Kenza loves &Tradition's Formakami JH4 pendant by Jaime Hayon, a riff on classic Asian paper lanterns, for a master bedroom. "It's airy and light," she says, "perfect for over the bed." Black-stained oak rings add a bit of depth to the otherwise delicate fixture.
"I've used this woven pendant from Ikea about a million times," says designer Orlando Soria. "It's such a great value, and adds so much warmth and coziness to a space." Handmade from bamboo lattice, "it's hands-down the most bang-for-your-buck lighting fixture out there right now," adds Soria."
For a dining room or kitchen
For an over-the-table fixture, Kenza recommends Pholc's Mobil 100 pendant, which has five opal glass shades. "It reminds me of a candelabra," she says, "and who doesn't like to dine near candlelight?" A rather nifty detail: The brass light's metal arms can be adjusted to create different configurations.
Here's another take on the Sputnik chandelier, this time rendered linearly. It's a favorite of Decorilla's Devin Shaffer, who says that you really can't beat the price — especially because the fixture has 16 (dimmable) lights. "Sputnik-style chandeliers and pendants rarely come in at under $500, especially if they have more lanterns," he explains. Like the chandelier above, this one's shape makes it ideal for hanging over a rectangular table.
For something a bit more traditional, consider this pendant lamp from Rejuvenation. It comes recommended by Melissa Wagner, who works in creative and design at online interior-design service Havenly and describes it as "understated but certainly not boring." According to her, "it can easily work over a dining table in nearly any style of home, from Scandinavian to eclectic to traditional to mid-century." If this particular style is not your fancy, Rejuvenation allows you to customize the perfect one — down to its drop length, metal finish, and shade.
Shaffer suggests this mint-green pendant fixture to anyone looking for a retro vibe. "Certain colors harken back to a certain decade," he explains. "This pendant is magical in that it mixes a 1930s-style mint metal with sleek, rounded mid-century form." For a fairly reasonable price, he says, you'll get a fixture that "would transform a kitchen space."
Becky Sturniolo, a luxe designer with Modsy, told us that she often turns to Anthropologie to find "unique chandeliers that can truly transform any space" but won't break the bank. Her favorite is the Cloud Chandelier, which has imperfectly rounded marbled globes floating at the ends of a Champagne-colored frame. She calls it "simplistic yet organic, slightly bohemian, and a real conversation starter" that "won't overwhelm a space." It's pictured above a dining table, a location that seems perfect to spark those conversations when guests come over for dinner.
Editor's note: According to Anthropologie, the lamp is on backorder and is expected to ship on August 30. But due to supply chain issues, the retailer says that date may change.