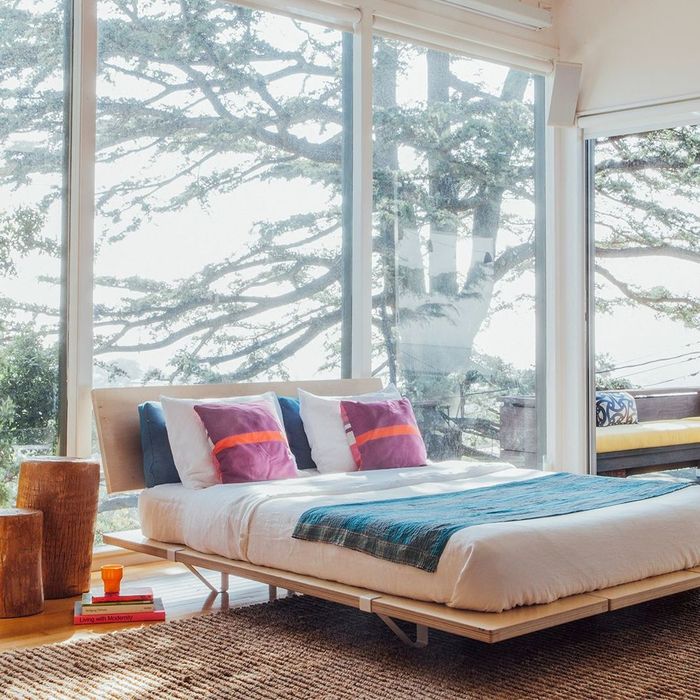 The Floyd platform bed. View and fiddle-leaf fig tree not included.
In our advice column, Ask the Strategist, we take your most burning shopping questions and scour friends, call up experts, and draw from personal experience to answer them. As always, please comment with one of your own — we're here to help.
We recently received two questions about bed frames, so we're doubling up this week for a bed-frame special!
Question No. 1: I've been looking for a stylish storage bed frame that doesn't break the bank. Any thoughts?
Question No. 2: Where is a good place to get solid, tasteful minimalist bed frames?
To help us dig into the world of beds that aren't Ikea's Malm, I reached out to Betsy Helmuth, owner of Affordable Interior Design in New York City who also teaches classes on interior design. She started us off with some helpful tips.
"One problem with beds that have the drawers on the side is, if you have nightstands they can prevent you from opening those drawers. It's also hard if you have an apartment where one side of the bed needs to be close to the wall," Helmuth says. For that reason, she prefers hydraulic-lift beds with big storage underneath, which are far more practical for big things like luggage, sports equipment, photography equipment, a surfboard, whatever it may be. "You really get more bang for buck by utilizing all of that square footage."
If you do, however, prefer a bed with side storage, Helmuth recommends using it for out-of-season things that you won't be using every day. Instead of using those drawers for, say, underwear, store all of your summer stuff there when it starts getting cold.
Here are two she likes with side storage.
There are also those who just prefer storing in bins under their bed. In that case, "Unless it's in really nice baskets — and Pottery Barn has really nice ones with wheels, but those are rare — it doesn't look nice unless you have a bed skirt to conceal it."
Here's a really nice bed skirt that's also on sale.
Or something highly rated on Amazon.
Helmuth also leaves us with a feng-shui tip: "Don't put anything under the bed that feels stressful. Don't put old files or tax stuff. If you're putting out-of-season clothes, don't just shove them in there, fold them. That kind of thing can creep up and disturb sleep." Don't tell us we didn't warn you.
On good-quality, minimalist bed frames
As for where to shop all of these great beds: "If you're shopping on a budget, like under $1,000, but looking for something nice, you need to go online. In New York City, and elsewhere, big items like a bed are just going to be more expensive because they take up a lot of room in a showroom. Online, you'll get a much better deal. Places like Overstock, Hayneedle, and Wayfair. I know people hesitate to make such a big purchase online, but most of these companies have free shipping and free returns. Also, I modify search by reviews and only accept four stars or higher, which makes it really easy to find some good hits. If there are no reviews, I don't buy it. It's just not worth the risk."
Lastly, Helmuth has two style tips:
(1) "I find it's really important to have a headboard because then you can put artwork up in a contextual way that makes sense. Plus, there's no gap where pillows and things could fall. A headboard is vital unless going for a super-austere or super-minimal look, and even headboards can achieve that look."
(2) "I prefer an upholstered headboard. So many other things in the bedroom are generally wooden: nightstands, dresser. It's nice to add a different texture or element. That gives you the designer look."
This bed is very mid-century modern with its paneled headboard and splayed legs.
There are some very clean lines on this upholstered platform bed.
Wow, a canopy for under $800. Rare.
A queen-size bed frame for under $300.
The "Anya" is under $200 and comes in six fun colors to spice up the bedroom.
I love the tall headboard here. So cozy. I'm considering buying this one for myself.
I'm really feeling this burnt-orange color for fall. Plus the fabric looks really soft.
Just something simple. We're not trying to be petty here, but reviewers say it's way easier to assemble and way better quality than Ikea.
This one from Urban Outfitters is a bit more expensive, but has some really attractive storage space.
Floyd is a start-up from Detroit, and right now all it sells is a single minimalist wooden bed frame.