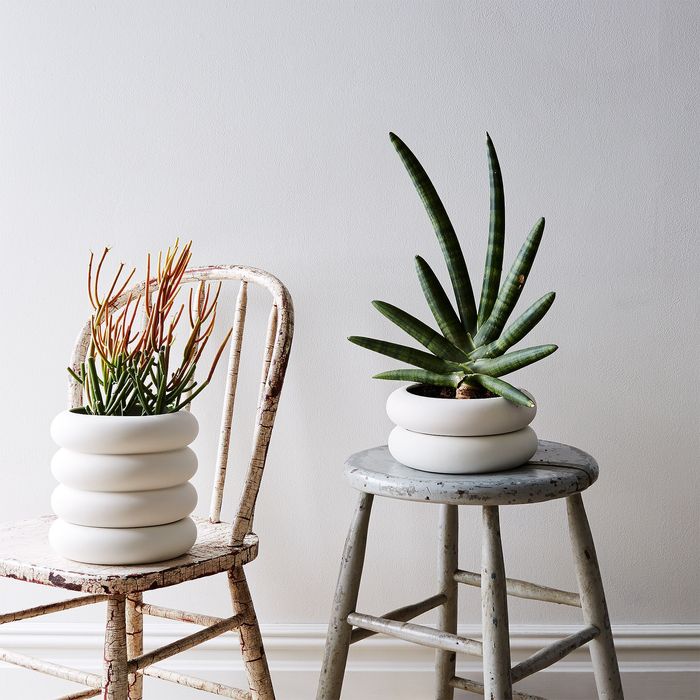 Photo: Courtesy of Food52
It's the age of the plant. Plantfluencers crowd our Instagram feeds and stores like the Sill offer direct-to-door services to create indoor jungles. But if you're a plant parent looking to house your fiddle-leaf fig baby, you may be wondering what to put it in. The Sill's planters — lovely as they are — have gotten a bit ubiquitous. The Group Partner Boob pot is delightful, but by this point, a little oversaturated. What is a person who's just gotten their first rubber plant to do?
To find the next status planter, I reached out to four designers, shop owners, plant people, and a status ceramist, including Scott Haven, co-owner of Homecoming, Sight Unseen co-founder Jill Singer, Sprout Home founder Tara Heibel, and Bari Ziperstein.
The next status planter
When I reached out to these different design-minded people, I got a lot of responses, but the one that stood out the most — the one that had the most momentum — was this stacked planter from Areaware. "I've seen this design really catch on over the past year or so, and even seen pieces from other makers that seem to be heavily 'inspired' by it," says Haven. He's referring to the stacked porcelain planter designed by Chen Chen and Kai Williams, who met at Pratt and founded their New York–based design studio in 2011. They originally designed their Stacked Porcelain Planter and then licensed it to Areaware, which now manufactures it.
The porcelain planter is inspired by the stacked-ring shapes of the condenser coils found on power lines. While most traditional planters either don't have a saucer at all (not ideal for plant health) or have a saucer that is a different size and shape from the planter itself (which makes it feel like an afterthought), this planter has a saucer that is wholly integrated into the rest of the piece. The ring at the bottom is actually a hidden saucer that fits into the rest of the planter seamlessly. Sight Unseen's Jill Singer, who also recommended this planter, says, "That imperceptible drainage tray gets me every time. I actually have this planter, too, and it's so sturdy. It's basically a sexy workhorse planter."
Runners-up
Maybe you want something a little quieter instead. "We see a lot of our customers opting for minimal and simple pieces to let their plants do the talking," says Haven, and Singer suggests that if you want your plant to take center stage, "a Norden planter is the normcore planter" of choice. It's also a new version of terra-cotta, done in elegant shapes rather than the standard versions you get at the corner plant store. "We are going back to terra-cotta, not traditional but tactile. It's a move back toward a natural, raw material that you want to touch that also has really beautiful forms," says Heibel.
Both Singer and Haven mentioned these Light + Ladder planters as ones to know, which come in understated colors and look like they have an edge carved out of them.
If you prefer hanging your plants, Light + Ladder makes a status-y version of that kind of planter, too. Haven recommends this one for adding "easy-to-maintain pothos plants, or just prop up some air plants."
Heibel also recommends these handmade Capra pots, which are from Australia and only carried in a few U.S. shops like Prism boutique in Long Beach and Sprout Home in Brooklyn. It also comes with its own drainage tray that seamlessly integrates into the bottom of the pot.