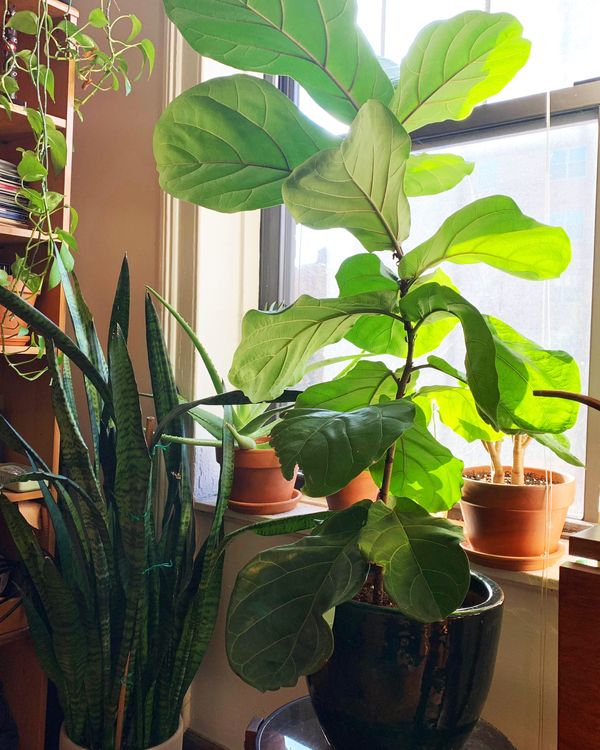 If you've read any of our Strategist editor hauls this year, you'll know that we buy a lot of stuff, and even though we think carefully about each thing that goes into our carts, there are still standouts. To close out the year, we're asking each editor to write about the best thing they bought in the past 12 months. Today, writer David Notis on the houseplant that won him over.
Is it weird to say a plant is the best thing I bought this past year? I bought a fiddle-leaf fig on Amazon this past spring: partly on a whim, partly because Instagram, and partly due to genuine curiosity about the Amazon Plants Store. If you had told me that eight months later I would deem it my best purchase of the year, well, I wouldn't have believed you. To be honest, I didn't like the fiddle-leaf fig at first. It was pretty and design-y, sure, but it also felt so obvious — like the avocado toast of house plants.
Still, I chose the fiddle-leaf because, despite being a bit overplayed, there's no denying its charm. Something about its spindly trunk and oversize leaves gives it an organic, almost Jurassic look you don't see in other houseplants.
So even though I am generally trend-averse, I bought the fiddle-leaf (against my better instincts). After setting it up in my living room, I almost immediately felt self-conscious. But as months went by and it started to grow, the tree has, unexpectedly and practically against my will, become one of my favorite things. I have other plants, but none of them transforms the surrounding space the way the fiddle-leaf fig tree does; it currently stands at about four feet tall, with new, foot-long leaves unfurling every couple weeks.
Clichéd as it is, the fiddle-leaf is a focal-point plant, and as someone who doesn't always have the best sense of décor, I've found that it has made my living room look "designed" with hardly any work (a friend recently called me a "serial killer" for never hanging things on my walls). The fiddle-leaf fig is instant visual impact — a $35 piece of interior design that gets better every day.
Some fiddle-leaf fig options
(Note: This is the one I bought, but it appears to be out of stock at the moment and only available from a third-party seller. Once it's back in stock and sold again through Costa Farms, it should cost less).
If you want to skip the awkward growth-spurt phase, this fiddle-leaf will be delivered at the respectable height of four feet. And unlike mine, this comes already "branched" into tree form, so you don't have to worry about pruning and shaping it yourself. (Something I am very much dreading).
This Hirt's fiddle is slightly smaller than the one I bought from Costa Farms, but it looks almost identical and has great reviews.
If you're really hardcore and and want to grow your fiddle from infancy, consider this tiny one in a four-inch pot.
Will your plant be able to tell the difference between a made-in-England copper watering can and a plastic hardware store model? No, probably not. (Definitely not). But still, the Haws is a gardening icon and, at least in my opinion, it looks quite handsome sitting next to a fiddle-leaf (see if you can spot the Haws spout cameo in the main photo below the headline). Brooklyn-based interior plant designer Lisa Muñoz says the detachable shower-head-like "rose piece" is particularly useful for larger floor plants like fiddles because it "allows you to provide an even spread of water over the soil, mimicking rainfall."