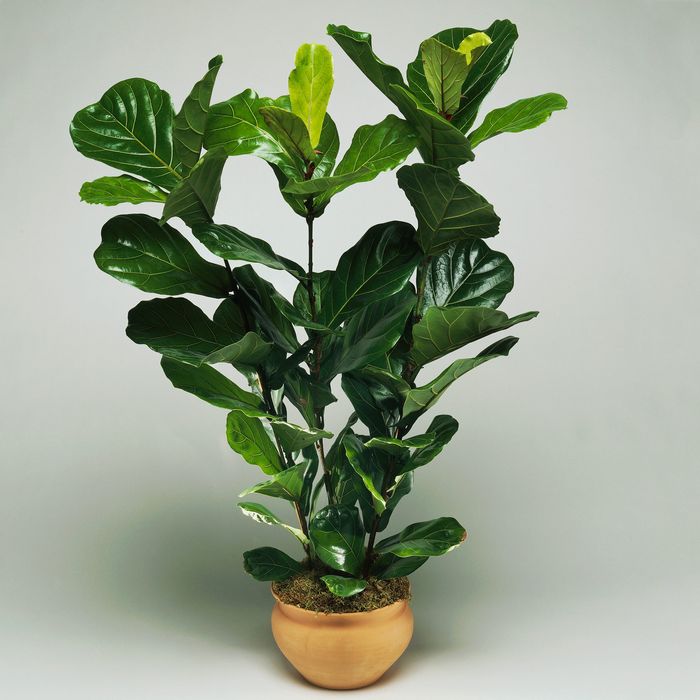 Photo: De Agostini Picture Library/De Agostini/Getty Images
Buying plants virtually has become easier (and more curated) since we were first introduced to Amazon's plant store, and while most of us shelter in place during the pandemic, more people than ever are taking up indoor gardening. Plus, a hanging plant or succulent can do more than look good in your window: Houseplants are known to purify your air, reduce anxiety, and even improve concentration, all welcome antidotes to this stressful time when we're cooped up inside.
We've combed through Amazon's (continuously growing) selection of indoor plants to find the best in-stock options for plant-parents of all gardening levels, fit for those with floor space or a bare windowsill alike. (One note: As people experiment with being more self-sufficient, the availability of seeds, soil, and plants is fluctuating online, including on Amazon. Since many small businesses that sell edible plants are deemed essential, you can check a local nursery or greenmarket for plants, too.)
Best floor plants
The status plant that started it all and is still a best-seller. Former Strategist writer David Notis was once a fiddle-leaf skeptic but quickly found that among his other plants, this one "is an instant visual impact — a $35 piece of interior design that gets better every day." Although this fiddle-leaf fig appears to be slightly smaller than the (currently out of stock) two-foot version that Notis bought, the plant grows best in indirect sunlight, meaning it can flourish indoors; as of last year, Notis' design-y houseplant has grown almost three feet in height.
While most of the status plant runners-up (namely the Ficus Audrey) are out of stock online, there are still some in-stock birds-of-paradise plants for sale on Amazon, if you want your apartment to look like an East Village cocktail bar. Benito Gonsales, plant buyer at Saifee Hardware & Garden, says the plant is easier to care for than a fiddle leaf. "Just give it bright light and water it once per week," he says, adding that you can get it to flower annually "if you take care of it." The shorter bird-of-paradise plant from Costa Farms is not available, but this slightly taller and slightly more expensive version from a reputable third-party seller is still in stock.
According to visual merchandiser Chikako Ishii Frank, there's been a "pink plant" trend as of late, to which the pink-toned Chinese evergreen (a.k.a. Aglaonema) fits right in. It comes recommended by two plantfluencers, including Summer Rayne Oakes, author of How to Make a Plant Love You and host of the YouTube series Plant One on Me, who especially recommends the plant for somewhat-experienced plant parents "who can't grow flowers in their home, because Aglaonema can really give a nice brightness of color."
Another pink-toned floor plant is the rubber plant. Upon arrival, the shiny, dark, "burgundy" leaves will be smaller than they look in this photo, but they'll grow super-tall over time.
One of the few houseplants out there with its own "day of the week" hashtag on Instagram — "#monsteramondays," in case you were wondering — the monstera has been on the fiddle leaf's tail for years now, and it's still popular as ever. They can get really big, and they tend to grow out rather than up, so make sure you have a lot of floor space available. The irregularly shaped leaves are part of the charm.
Snake plants make for another great floor plant. They're very tolerant of low light and infrequent watering, and since they grow straight up, they're ideal if you want something that doesn't take up too much air space in your living room. Plus, we've said that buying from Amazon is the most convenient and cost-effective way to get this plant.
We recommended the parlor palm in our roundup of the best pet-safe plants, so it would be a great option for anyone for whom that is a concern. The foliage is a little more delicate and detailed than that of your average floor plant.
Best countertop plants
The ZZ plant is one of our most stood-behind plant recommendations because it's one of the heartiest and most foolproof species out there, and it also has a unique, almost Jurassic look. In the "before time," David bought a ZZ plant while researching office-friendly plants and found that over the course of a year it doubled in size with nothing but overhead fluorescent light and infrequent waterings every week or so from a mugful of office-sink water. This 12-inch version will ship directly from Amazon in a white/natural-toned planter.
The Chinese money plant is also referred to as the "sharing plant," since it's known to sprout miniature "baby plants" out of the surrounding soil, which are easy to repot and share with a friend. The Costa Farms version of this plant, complete with a ceramic planter and mid-century-style wooden plant stand, is no longer available, but you can still get those same plant accessories separately on Amazon. Don't dillydally: This plant is already in low stock.
Peace lilies are quite possibly the best air purifier of all houseplants (a NASA study found that it removed benzene and formaldehyde from the air). They're easy to care for, too. Senior editor Anthony Rotunno wrote about his beloved peace lily — named Marilyn — which has moved with him to three different apartments. "It's among the hardiest green things I've ever encountered," he says.