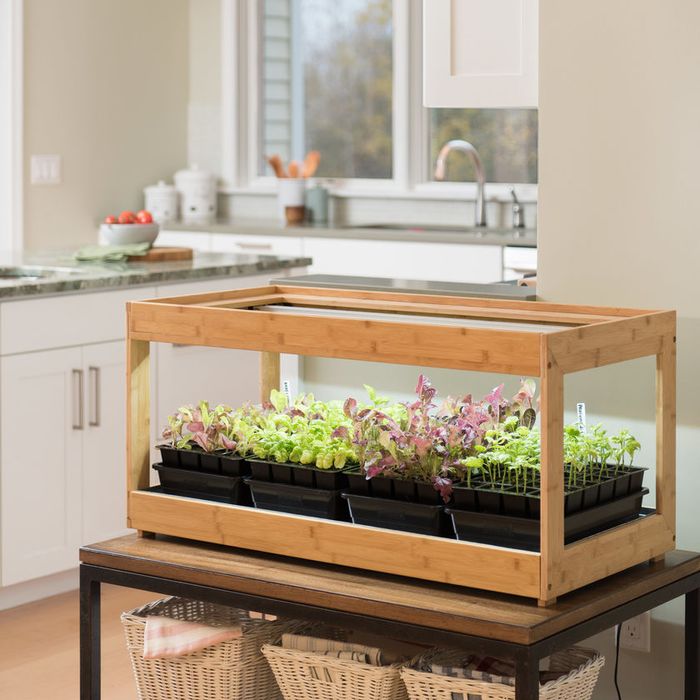 Photo: Courtesy of the retailer
Between the convenience of having flavorful herbs on hand whenever you need, and the satisfaction that comes with knowing you grew them yourself, there are lots of reasons to consider starting an indoor herb garden. Imagine seasoning your fresh tomato sauce with a few leaves of freshly picked basil, sprinkling a pinch of cilantro in your homemade guacamole, or tossing a sprig of rosemary on your roasted vegetables. As idyllic as it sounds, though, these little herbs pose big challenges for the aspiring indoor gardener. Most require at least six to eight hours of bright light each day and enough water to thrive — but not so much water that their roots will rot.
Fortunately, thanks to growing interest in indoor gardening (and a boost from the legalization of marijuana in many states), it's easier than ever to find grow lights and other tools that'll help your herbs grow. "Right now there's a lot of money being put into this technology as more people are eager to grow plants indoors," says Adam Dooling, curator of outdoor gardens and herbaceous collections at the New York Botanical Garden. Below, Dooling and four more gardening experts share their recommendations for everything you need to start your own herb garden, from soil and seeds to pots and pruners.
Best herbs to grow indoors
"The best herbs to grow indoors are the ones you find yourself reaching for most often with everyday cooking," says Emily Murphy, author of Grow What You Love: 12 Food Plant Families To Change Your Life. With seeds for five of the most common kitchen herbs, including cilantro and parsley which Murphy calls "the best herbs for low-light conditions," this set is a good place to get started. It also includes basil which is great for new gardeners just getting a feel for how often to water their herbs. Dooling explains, "you'll know from a mile away if your basil plant needs water because it'll start to wilt and flag. If you water it quickly enough it should bounce back and be fine."
An annual plant (one that lives for one season and produces seeds for the next), basil is a popular herb garden choice and one that's easily grown straight from seeds. Outdoors, basil plants can grow quite large, but if you continually prune leaves from your potted plant as needed, you'll control its size and grow it as a "microgreen." Gayla Trail, author of Easy Growing: Organic Herbs and Edible Flowers from Small Spaces, explains, "microgreens [are] very young plants that are harvested as seedlings or just after. They make a flavourful and fresh addition to salads, sandwiches, and as soup or meal garnishes." Along with High Mowing Seeds, Botanical Interests is one of Murphy's favorite sources for seeds.