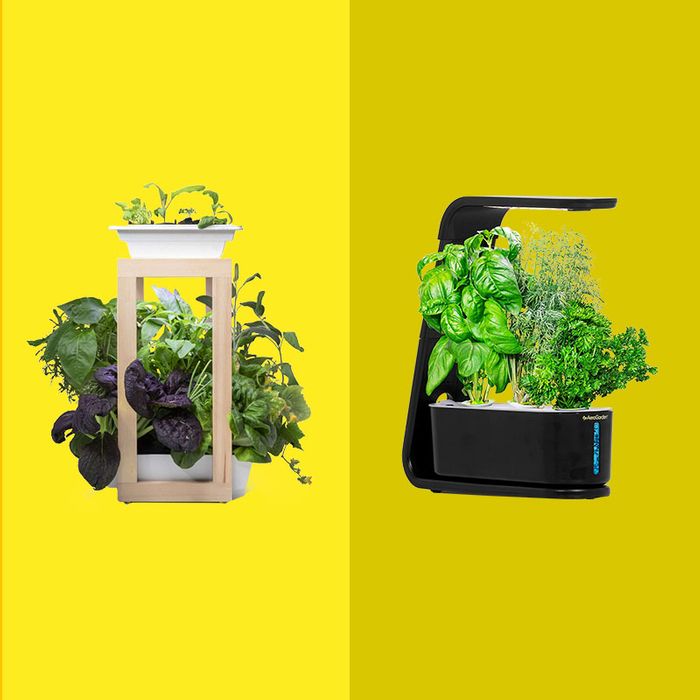 Photo-Illustration: The Strategist; Photos: Retailers
An indoor gardening kit is one of those purchases that seem fussy until you get one. As a heavy herb consumer, I hate spending money on a sad bundle of grocery-store mint that wilts within a couple days. (My most foolproof way to avoid this: Trim the herbs' stems like flowers, place in a cup of water, cover loosely with a gallon Ziploc bag, and then store in the fridge.) I've tried growing herbs in pots with limited success: "Generally, city kitchens do not have the full sun required to keep herbs alive," says Sera Rogue, owner of Brooklyn gardening company Red Fern. "The roots of herbs are somewhat simplistic. They require daily watering."
An indoor gardening kit is the best solution I've found to the fresh-herb problem — it allows you to harvest your greens minutes before you use them — and larger models can be used to grow all kinds of crops, from flowers and cherry tomatoes to cucumbers, anthuria, and mushrooms.
Best overall | Best high capacity | Best DIY | Best for starting seeds | Best tower | Best wall planter | Best raised planter | Best for growing mushrooms
What we're looking for
Size and capacity: Indoor garden kits are designed to be compact and make the best use of a small space. Many kits on our list come in a range of sizes —  for example, smart gardens measure by "pod," or how many Keurig-style cups containing seeds and a growing medium the appliance can fit, and sizes range from a three-pod garden smaller than a toaster to a multitiered console Strategist senior writer Liza Corsillo describes as "bookshelf size." Some DIY options are modular, and others have variable heights with lights that need to be raised as plants grow. The right size depends on how much space you have and how quickly you'll be able to go through produce. Even my three-pod garden, at its peak, produces more herbs than I know what to do with (I have made so much herb butter), so we're not eliminating any options for being too small or too large.
Nutrient management: Beyond the nutrients in your seed pods' soil, some indoor gardens include accessories that help plants grow faster and healthier: fertilizers, pH balancers, and pumps to oxygenate water. In addition to fostering herb growth, many garden kits are ideal environments for algae and mold, and while a bit of green slime on the top of the soil is fine, you'll want a design that helps keep microorganisms in check. For algae, that means opaque covers that prevent sunlight from reaching wet soil, and for mold, good airflow or components that are easy to sterilize between cycles.
Ease of use: Indoor garden kits simplify the process by automating certain processes. Still, no product can entirely eliminate the need for maintenance, whether that's weekly watering or cleaning out the tank between uses. We're favoring garden kits that make the task of growing plants as straightforward, foolproof, and stress-free as possible. This factors in setup time — which, in my experience, can range from just a couple of minutes to a two-hour wild-goose chase on the Spectrum website to try to connect a grow house to an app — and clear instructions. For gardens that require more maintenance, we're also evaluating whether the extra work translates to an increase in output and quality.
Best overall indoor garden kit
Photo: Retailer
3-pod capacity to 24-pod capacity | Includes all-purpose fertilizer and pump | Low maintenance
AeroGarden's smart garden, recommended by George Pisegna, deputy director and chief of horticulture at the Horticultural Society of New York, checks all the boxes: It's compact, comes in a range of sizes, contains a pump and fertilizer, and produces a prodigious quantity of herbs even in the three-pod model I tested, the brand's smallest. (The company also makes a popular six-pod model.) I preferred it to the Click & Grow Smart Garden 3, which I've had for about a year — the AeroGarden Sprout is thinner and less expensive, and the garden has fewer problems with algae and mold. (The AeroGarden does make a consistent burbling noise as the pump works, so if that bothers you, the Click & Grow Garden may be a better option. I find the sound pleasant and think it's well worth the decrease in mold.)
The AeroGarden Sprout took almost no time to set up, and depending on the model, a light or LED display will remind you when to refill water and replenish "plant food," a synthetic fertilizer with an NPK ratio of 4-3-6 that is included in the kit. The tank's components come apart easily for cleaning, so even if you do develop a mold problem, the system can be thoroughly sterilized without resorting to Q-tips or spray bottles.
Best high-capacity indoor garden kit
Photo: Retailer
8-pod capacity to 36-pod capacity | Includes two fertilizers, pH balancer, filter, and pump | Medium maintenance
If you have a bit more time, space, and money to devote to your indoor gardening experiments, Rise Gardens is a great option, a favorite of mine and of Strategist writer Liza Corsillo, who says she was "blown away by the variety of different vegetables (and sheer volume of food) we could grow." I've used it to produce crisp, flavorful heads of lettuce, and the company also sells herb, vegetable, and flower seed pods.
The Rise Gardens kit did take about half an hour to set up, and it requires weekly maintenance — adding fertilizers and a pH balancer to the tank and refilling water. Pods germinate for a week or two in a separate container before you move them to the garden. Instructions on the app make this fairly straightforward, but if you want a truly hands-off option, AeroGarden may be a better choice. I found the extra time to be well worth it in the quality of the produce: I find myself ambiently munching on arugula and mustard greens when I prune the garden, and the Rise Gardens' basil came in first place in a blind taste test Corsillo ran.
Best DIY indoor garden kit
24 starter cubes | Air pump included | Higher maintenance
Hydroponic growing can be as simple as drilling holes in a food-grade plastic tub, filling it with a fertilizer solution, and waiting. But if you're looking to balance a high-tech system with more customizability, BK Bumpkin owner Krissie Nagy and Grow Room owner Lindsey Arnell recommend Hydrofarm's lights, germination station, and watering system, which can be used separately or all together. "If you're trying to start seeds indoors or supplement your ambient lighting, a basic grow kit and a high-quality grow light are all you need," Nagy says. The light is adjustable and can be raised as plants grow, and it comes with a timer.
Arnell recommends the brand's Megagarden system, which "pumps water and nutrients from the lower reservoir up into the growing tray (controlled by a timer), feeding your plants throughout the day and night for maximum growth," she explains. The kit includes seed-starter cubes and a pH test kit.
Best indoor garden kit for starting seeds
10" x 20" tray | Medium maintenance
Arnell recommends this SunBlaster kit as "perfect for starting seeds, or for catering to your humidity-loving diva plants in our dry New York winters." Unlike some other options on the list, the tray comes with a plastic humidity dome, and it includes a grow light that fits neatly onto the top of the kit.
Best tower garden