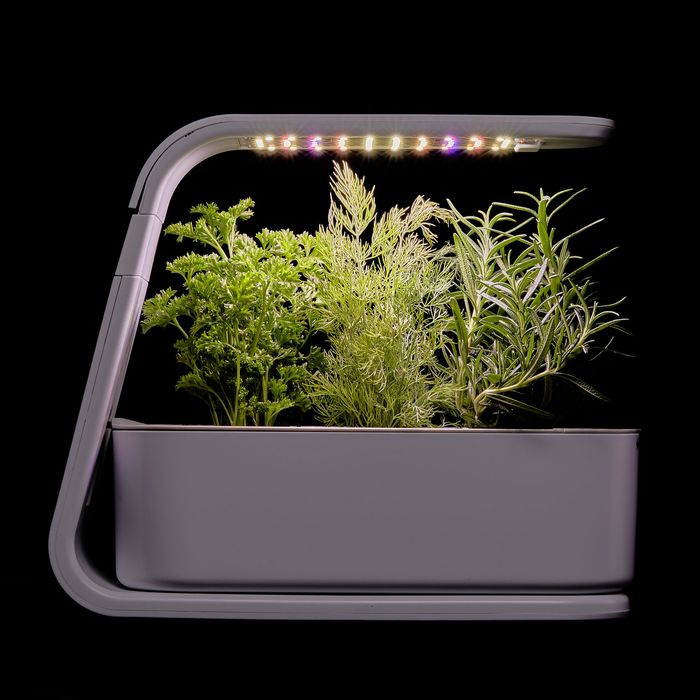 An indoor-gardening kit is a great insurance plan guaranteeing that you'll always have access to fresh herbs, plus any other produce with a short harvest-to-wilt window, like lettuce and flowers — you can pick your greens minutes before you use them. As a heavy herb consumer, I hate spending money on a sad bundle of grocery-store mint that wilts within a couple days. (The best strategy I've found to avoid this: Trim the herbs' stems like flowers, place in a cup of water in the fridge, and cover loosely with a large Ziploc bag.) I've tried growing herbs in pots with limited success: "Generally, city kitchens do not have the full sun required to keep herbs alive," says Sera Rogue, owner of Brooklyn gardening company Red Fern. "The roots of herbs are somewhat simplistic. They require daily watering."
Many indoor gardens use a form of hydroponics, the practice of growing plants' roots in nutrient-fortified water instead of soil. Hydroponic growing can be as simple as drilling holes in a food-grade plastic tub, filling it with a fertilizer solution, and waiting (if you're curious, that's called the Kratky method), or as complicated as choreographing a system of grow-light timers and fertilizing schedules customized for your plants' needs.
Hard-core plant people love the control offered by the latter, but it can be a barrier to entry for the casual kitchen gardener. It's too much for me; maybe I would have graduated to grow lights and oxygen pumps eventually, but I love having an indoor garden automate out some of the work. There is a tradeoff between more automation and less customizability, but even the lowest-maintenance options on this list will vastly expand what you can grow in your kitchen.
What we're looking for
Many kits on our list come in a range of configurations and sizes. Most smart gardens measure by "pod," or how many Keurig-style cups containing seeds and a growing medium the appliance can fit, and sizes range from a three-pod garden smaller than a toaster to a multitiered, bookshelf-sized console. Some DIY options are modular, and others have variable heights with lights that need to be raised as plants grow. The right size depends on how much space you have and how quickly you go through produce. Even a three-pod garden, at its peak, produced more herbs than I knew what to do with, so we're not eliminating any options for being too small or too large.
Some of the kits on this list include components and accessories that help plants grow faster and healthier: fertilizers, pH balancers, and pumps to oxygenate water. In addition to fostering herb growth, garden kits with a water tank are ideal environments for algae and mold, and while a bit of green slime on the surface of your soil is fine, you'll want a design that helps keep microorganisms from interfering with the growth of your plants. To prevent algae, some models have opaque covers that stop sunlight from reaching wet soil; an oxygen pump and a design that's easy to take apart and clean between cycles is essential for keeping mold in check.
Indoor-garden kits simplify the process of growing plants by automating or streamlining things that are labor-intensive, messy, or nonintuitive, like sticking to a watering schedule or monitoring light levels. Still, no product can entirely eliminate the need for maintenance, whether that's refilling a water tray or cleaning out a smart garden between uses. We're favoring systems that make plant care as straightforward, foolproof, and stress-free as possible. That consideration includes setup time — which, in my experience, can range from just a couple of minutes to a two-hour wild-goose chase trying to connect a grow house to an app — and clear, easy-to-follow instructions.
Higher-maintenance gardens do offer more control and versatility, which may be appealing for experienced gardeners — plus, they tend to be cheaper in the long run than models with more automation. For gardens that require extra work, we're also evaluating whether the extra work translates to an increase in output and quality.
Best overall indoor-garden kit
Capacity: 3 to to 24 pods | Microbe management: Includes all-purpose fertilizer and pump | Maintenance: Low
AeroGarden's smart garden, first recommended to us by George Pisegna, deputy director and chief of horticulture at the Horticultural Society of New York, checks all the boxes: It's compact, comes in a range of sizes, contains a pump and comes with fertilizer, and produces a prodigious quantity of herbs even in the three-pod model I tested, the brand's smallest. (The company also makes a popular six-pod model, found below.) I preferred it to the Click & Grow Smart Garden 3, which I'd had for about a year — the AeroGarden Sprout is smaller and less expensive, and the garden has fewer problems with algae and mold. (The AeroGarden does make a burbling noise as the pump works, so if you find that annoying, the Click & Grow Garden may be a better option.)
The AeroGarden Sprout took almost no time to set up, and depending on the model, a light or LED display will remind you when to refill water and replenish "plant food," a synthetic fertilizer with an NPK ratio of 4-3-6 that is included in the kit. (Fertilizers branded for smart gardens tend to be marked up, but you can use any water-soluble fertilizer with similar nutrient levels.) Unlike the Click & Grow garden, the tank's components come apart easily for cleaning, so even if you do develop a mold problem, the system can be thoroughly cleaned out without resorting to Q-tip-cleaning nooks and crannies or angling a spray bottle into a hard-to-reach crevice.
Best upgrade indoor-garden kit
Photo: Retailer
Capacity: 8 to 36 pods | Microbe management: Includes two fertilizers, pH balancer, filter, and pump | Maintenance: Medium
If you have a bit more time and space to devote to your indoor-gardening experiments, Rise Gardens is a great upgrade option, a favorite of mine and of Strategist senior writer Liza Corsillo, who says she was "blown away by the variety of different vegetables (and sheer volume of food) we could grow" in the brand's larger garden (below). I've used it to grow generations of produce — basil, arugula, lettuce, tatsoi, cabbage — which taste like the high-definition version of the produce I buy at the grocery store. When Corsillo ran a blind taste test of the basil produced by four kinds of smart gardens, Rise Gardens came in first place.
The Rise Gardens kit is higher-maintenance than AeroGarden's system, though instructions on the app make tasks fairly straightforward. When it arrived, it took about half an hour to set up, and it requires weekly maintenance — adding fertilizer and a pH balancer to the tank and refilling water. Pods germinate for a week or two in a separate container before you move them to the garden; I've gotten better results when I keep a close eye on seedlings during this stage. The Rise Gardens grows larger plants than my AeroGarden Sprout, which comes with the occasional need for aggressive pruning to keep taller plants from overpowering shorter ones. (That can be a good excuse to make pesto or chermoula.)
These are all things I love about gardening, and of the kits I tested, I've learned the most from the Rise Gardens system. It's the one I kept after my energy bill could not justify running four smart gardens simultaneously. It isn't a set-it-and-forget-it appliance, but if you're an amateur gardener looking for an entry point into growing produce, it's a great choice.
Best DIY indoor-garden kit
Capacity: 24 starter cubes | Microbe management: Air pump included | Maintenance: High
For experienced gardeners looking for customization, BK Bumpkin owner Krissie Nagy and Grow Room owner Lindsey Arnell recommend Hydrofarm's lights, watering system, and germination station (which comes with a heat pad), which can be used separately or all together. "If you're trying to start seeds indoors or supplement your ambient lighting, a basic grow kit and a high-quality grow light are all you need," Nagy says. To circulate water and nutrients to plants, Arnell recommends the brand's Megagarden system, which "pumps water and nutrients from the lower reservoir up into the growing tray (controlled by a timer), feeding your plants throughout the day and night for maximum growth," she explains. The kit includes seed-starter cubes and a pH test kit.
Best indoor-garden kit for starting seeds
Size: 10" x 20" tray | Maintenance: Medium maintenance
If you're going the DIY route, it's helpful to have a domed-lid tray with a grow light for seedlings. Arnell recommends this SunBlaster kit as "perfect for starting seeds, or for catering to your humidity-loving diva plants in our dry New York winters." It's large enough to fit several plants and includes an LED light that fits neatly onto the top of the plastic lid.
Best tower garden
Capacity: 20 plants | Microbe management: Includes pump and fertilizer | Maintenance: High
The Mr. Stacky Smart Farm kit comes with a lot of accessories — a pump, timers, fertilizer, and a grow guide — and is a great way to grow a large quantity of produce or plants in a vertical space. (If you're growing inside, it may help to supplement the tower with a grow light.) "Many of the schools we work with in New York and Chicago use our donated seedlings in their classrooms with tower gardens," says Nicole Baum, director of marketing and partnerships at Gotham Greens.
Best wall-planter system
Capacity: 36 planters | Maintenance: High
This set of plastic vertical planters from Worth Garden are "visually amazing because they 'grow' on the wall," says Gennaro Brooks-Church, director of landscaping firm Eco Brooklyn Living Walls. The set of 36 planters comes with a nine-foot drip-irrigation hose kit. Brooks-Church mentions that it's important to be diligent about watering: "The one drawback is that these systems dry out fast," he says.
Best wall planter pocket
Size: 24" x 15" | Maintenance: Medium
For more flexibility with a garden-wall layout, Ceci de Corral, director of design and build at rooftop farm Brooklyn Grange, recommends these Wally Pro pockets, made from a recycled plastic fabric. They come with a watering channel and are designed to provide air circulation: "They're easy to plant in and great for installing custom vegetation configurations," de Corral says. She recommends installing the pockets close together with creeping plants, like pothos or anthuria.
Best raised planter
Size: 32" x 15" x 31" | Maintenance: High
If you have more space to work with and don't mind handling planting and fertilizing yourself, this raised-bed planter is a perennial Strategist favorite. It can fit outside or inside, and is self-watering, with a reservoir in the bottom that plants can draw from when needed, and the drainage tap provides an outlet for excess water.
Best kit for growing mushrooms
Size: 4" x 3" x 5" | Maintenance: Low
This grow-at-home mushroom kit is a fun, low-commitment option. "It brings almost instant gratification," says Rogue — she notes the fungi takes just a few days to grow, and you can use the same kit for more than one crop. Pisegna is also a fan of this kit, but he does warn about keeping your mushrooms out of reach of pets (especially cats) who might munch on them.
Some other indoor-gardening products we've written about
Our experts
• Lindsey Arnell, owner of the Grow Room
• Nicole Baum, director of marketing and partnerships at Gotham Greens
• Gennaro Brooks-Church, director of landscaping firm Eco Brooklyn Living Walls
• Liza Corsillo, Strategist senior writer
• Ceci de Corral, director of design and build at Brooklyn Grange
• Krissie Nagy, owner of BK Bumpkin
• George Pisegna, deputy director and chief of horticulture at the
• Horticultural Society of New York
• Sera Rogue, owner of Red Fern
The Strategist is designed to surface the most useful, expert recommendations for things to buy across the vast e-commerce landscape. Some of our latest conquests include the best women's jeans, rolling luggage, bed sheets, coffee makers, and bath towels. We update links when possible, but note that deals can expire and all prices are subject to change.

Every editorial product is independently selected. If you buy something through our links, New York may earn an affiliate commission.