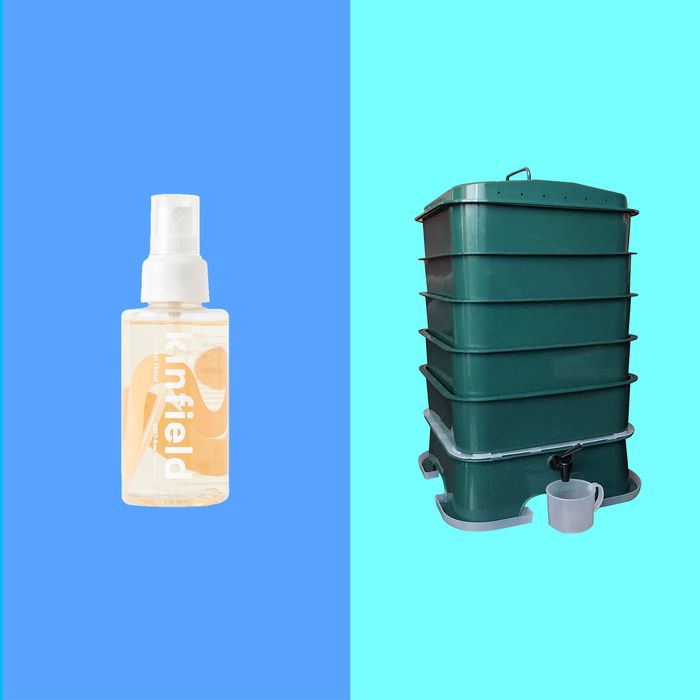 Photo-Illustration: The Strategist; Photos: Retailers
Any gardener or horticulturalist will tell you that tending a garden can quickly grow from a hobby into a lifelong passion. That means the gardener in your life likely owns a lot of the tools they need. So what do you get the person who stockpiles stacks of planters and has already perfected their fertilizer blend? Below, we've rounded up 42 ideas that will enrich their oasis, most of which we have written about before and would make great holiday gifts. From artisanal brooms to heritage watering cans to our favorite smart, self-watering garden that takes the guesswork out of growing herbs indoors, this list includes perennial favorites of the Strategist gardening caucus. There's something for pretty much everyone — whether they're the proud keeper of an English-style cottage garden or an apartment gardener leveling up their plant-tending skills.
If your gardener doesn't have a pair of pruners from Swiss company Felco, they'll make a fantastic gift. The F2 model is considered the industry standard, and it tops our roundup of the best expert-recommended pruners. According to Kurt Morrell, the VP of landscape operations at the New York Botanical Garden, "A good gardener or horticulturalist anywhere in the world is most likely going to have a pair of Felcos." [Editor's note: The F2 pruners arrive after Christmas from Amazon. Expedited shipping starts at about $15 to the eastern U.S. from the Pruner Warehouse.]
Photo: Retailer
If your gardener is left-handed, this pair of Felco shears is made for a comfortable grip and comes recommended by one of the Strategist's resident lefties, junior writer Leah Muncy.
For pruning and snipping that require a finer touch, these scissors recommended to us by gardeners have thin, Teflon-coated blades and ergonomic handles for ease of use.
Photo: Retailer
Strategist writer Erin Schwartz is a fan of these supersharp Japanese iron herb shears, which they use to efficiently snip herbs from their Click and Grow smart garden. [Editor's note: Analogue Life has a lower price but ships from Japan, which costs about $20 to the U.S. Nalata Nalata ships from the U.S.]
For the novice gardener who's ready to transition from cultivating indoors to outside, Truini swears by this tool set. He says the measured transplanting trowel is "especially important when planting bulbs."
Photo: Courtesy of vendor
A smaller broom is useful for apartment gardeners who find themselves frequently dusting stray soil off plant stands and windowsills. Buddhist monk and author Shoukei Matsumoto recommends this natural-fiber brush and dustpan "to clean up any little mess."
We wrote about the rise of the artisanal broom a few years ago. ("People tend to ask, 'Are your brooms sculptures or tools?'" broom-maker Erin Rouse told us. "A nice broom is right at the intersection.") This gorgeous push-broom from French brush-maker Andrée Jardin is made of thermally treated, humidity-resistant ash wood, which means your gardener can use it all year long. It's available with black or coconut bristles; you can also buy it with or without a handle if you'd prefer to supply your own.
For a more utilitarian option, consider this garden rake that Truini swears by. The lightweight aluminum-alloy rake features a telescopic handle and an adjustable head that goes from 7½ inches to 21¾ inches wide — good for squeezing into narrow spaces between rows of plants.
Dan Colen, artist and founder of Sky High Farm, a sustainable farm in the Hudson Valley, swears by this red steel hoe from Johnny's Selected Seeds. "The blade is sharp; the grip is comfortable," he says. "This one, when you're holding it, is ergonomic — it allows you to use your knees and your back. Without it, I'd be down on my knees pulling things out of the ground or throwing my back out, which I do all the time regardless." The five-inch hoe Colen uses is currently out of stock, but this 3¼-inch version works well for smaller areas.
If the gardener in your life wants to start composting but doesn't know where to begin, Grow Your Soil author Diane Miessler recommends this vermicompost system. (Vermicomposting is the term for using a population of worms to break down plant matter.) The finished product of "rich compost writhing with red worms brings joy to most gardeners," she says.