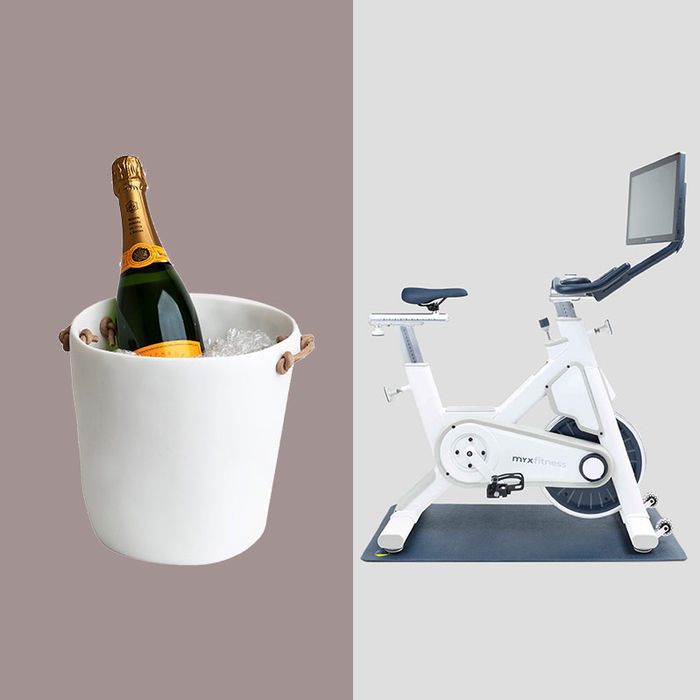 Photo-Illustration: retailers
In the pre-COVID era, retirement parties were fairly predictable. There was cake, balloons, maybe a bottle of bubbly that someone had kept locked in their office desk. Soon-to-be retirees were showered with golf balls, foot massagers, jigsaw puzzles, and whatever else their well-meaning colleagues thought could be useful to someone with an extra 40-plus hours a week to kill.
But when the pandemic struck, it made celebrating a retiring coworker or family member that much harder. What are you supposed to get a person marching headlong into their golden years when we're all stuck at home anyway? We asked a bunch of new and recent retirees just that, inquiring about the best (and worst) retirement presents they ever received, as well as the gifts they wish they'd been given instead.
 For the retiree with nothing but time
Retired model-maker and manufacturing engineer Ed Ruminski, 71, spends a lot of his newfound free time online, surfing the internet, sending emails, and playing games. For that, he recommends giving retirees an iPad. The newest iteration has a 10.9-inch liquid retina display, improved graphics thanks to an A14 Bionic chip, and a 7MP FaceTime high-definition camera with enhanced low-light performance (all the better for chatting with the grandkids). It's available in a range of colors, including sky blue and green, and shoppers can request free personal engraving.
For the retiree who wants to curl up and relax


Many retirees have worked since they were teenagers. Haven't they earned the right to chill? Retired school bus driver Christine Archer, 65, says "lounge-y things" make excellent gifts for the newly retired, and specifically recommends fleece-lined Cuddl Duds pants from QVC. "They're real soft," she says. "I hardly feel like I'm wearing pants when I have them on, but they're dressier-looking than sweatpants." Archer also loves Cuddl Duds' cushy, sherpa-lined cabin socks, especially in the cold winter months. "They're perfect for cozying up with a blanket on the couch and enjoying your retirement."
For the retiree who wants to stay in shape
When Linda Silverman, 65, retired from her job in retail management this past April, she wasn't thrilled to receive a onesie for her "new lazy life." What Silverman would have preferred was an Activ5 isometric strength-training device, which she describes as an "easy way to work out and build strength anywhere." Her daughter and son-in-law, an Olympic rower, got her into it and now she's a convert, using the Activ5 fitness app to coach her through poses and measure her force. "As someone who has never really worked out, I'm finding myself addicted," says Silverman. "It's small, it's portable, and it's fun." She adds that it even helps relieve her joint pain. "I highly recommend it for people over 65," she says.
George R. Shockey Jr., 73, who retired three years ago from his corporate law firm, has also focused more on maintaining his physical health since retiring. "A gift certificate to a health club like Shift Wellness would be useful and wanted," he says of the New York–based health and wellness center. "I like it because they have an array of options, including personal training, physical therapy, infrared sauna, and massage therapy."
When Benigna DeCurtis, 71, retired from teaching in 2015, she was showered with bottles of booze and restaurant gift cards. Those were all great, but what really stands out is the gift she bought for herself and would recommend to other retirees: a MYX fitness bike and accompanying membership, which, like similar models from Bowflex and Schwinn, are more affordable alternatives to the Peloton bike. The stationary bike comes with an interactive touchscreen tablet and hundreds of preloaded workouts; new sessions are added weekly. DeCurtis and her husband have been members of a small local gym for years, but during the pandemic, they've turned to daily walks and riding their MYX. "I particularly like the coaches, their enthusiasm, and the way they explain, guide, and encourage me," says DeCurtis.
For the retiree who wants to stay informed
George Shockey says he has more time to read now, "so a subscription to The New Yorker or The Economist would make a good gift," as would one of his favorite books, Harry G. Frankfurt's On Bullshit. Says Shockey, "It provides a guide to understanding much of what passes as discourse in the present day."
For the retiree who is an aspiring artist
Howard Temner, 75, is a retired graphic designer whose clients once included Marvel, Matchbox, and Tyco. "When he retired at age 73, he found himself with too much free time and in need of a hobby," says his daughter, Brooke Temner. So he "dusted off some old acrylic paints and found his passion and second act" painting and posting his work to Instagram. Though Howard was given books, golf clubs, and cigars at his retirement, he says what he really could have used was a new set of fresh paint. "I now paint alongside many retirees of all levels and find it's a mind-expanding, creative endeavor," he says. "Painting keeps your mind sharp, as it requires intense concentration. It's a great way to meet new people who are in the same life phase with similar interests."
Gamblin is his top choice of paint. "I love it because it's a reasonably priced brand of high-quality oil paint with a high content of pigments in relation to fillers," says Howard. He likes this introductory set, which includes nine colors in 37ml tubes, because it has "all the colors needed to get started, along with a panel to paint on."
For the retiree who is an aspiring musician


When Jose Baltasar, 71, retired in August from mortgage banking, he was touched by the many thoughtful presents he received, including a set of bass ukulele strings. Baltasar, who has dabbled in tenor ukulele for five years, was touched by the sentiment. Aquila is his preferred string maker.
As for the instrument itself, he likes Kamaka ukuleles, which are made in Hawaii. "I believe they are the best ukuleles in the world," says Baltasar. "Their melodious sounds are unique and conjure images of the islands."