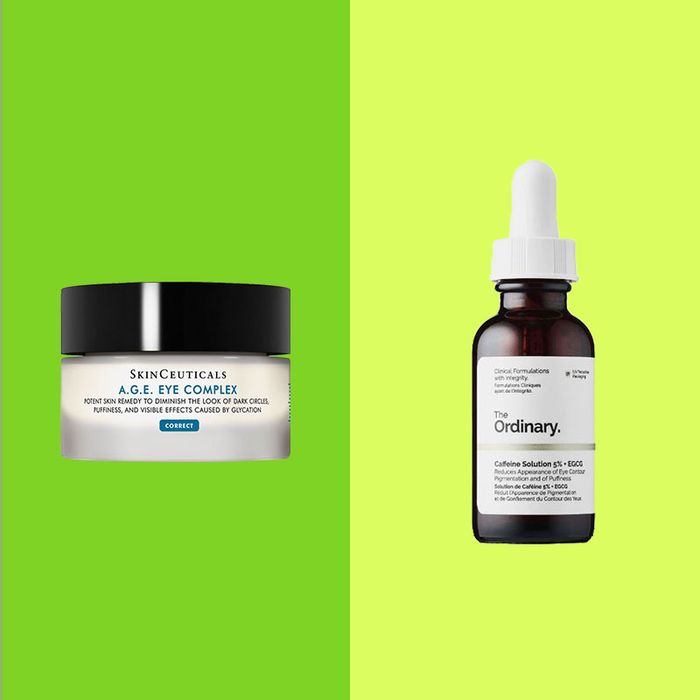 Photo-Illustration: The Strategist; Photos: Retailers
While applying moisturizer is an obvious part of most people's skin-care routines, caring for the fragile skin under your eyes is a whole other ball game — a good reason to consider using a dedicated eye cream. "The skin on our lower eyelids is the thinnest in the entire body," explains Amanda Doyle, a board-certified dermatologist at Russak Dermatology Clinic. And according to dermatologist Karan Lal, this skin gets "lax and crepey" over time and is vulnerable to a whole host of skin issues, including dark circles, bags, and wrinkles.
To find the best eye creams that will actually give you results, we consulted Doyle, Lal, and seven other experts (including an aesthetician). Below, find their picks for the best eye creams to banish dark circles, reduce puffiness, and even brighten and moisturize.
Best overall | Best less expensive | Best for dark circles | Best less expensive for dark circles | Best for dark circles and deeper skin tones | Best for sensitive skin | Best for mature skin | Best for under-eye bags | Best less expensive for under-eye bags | Best for puffiness | Best night cream | Best that doubles as makeup primer | Best all-natural
Active ingredients: Eye creams are one of those skin-care products that are tailored to treat specific concerns, and the ingredients should reflect that. An eye cream designed to brighten might have ingredients like vitamin C and niacinamide, while an eye cream aimed at reducing puffiness will likely be packed with caffeine. With that said, some eye creams (like our top pick) include a host of actives that target different concerns simultaneously and help with everything from wrinkles to puffiness to dark circles.
Texture: The word cream is used loosely here, as our picks include a range of thick creams, lightweight lotions, and serums. Texture is important depending on your skin type and needs. A drier under-eye area would benefit from a thicker consistency, while an oilier skin type would do well with a gel-cream or serum.
Size (and cost per ounce): Eye creams are available at just about every price point, ranging from under $20 to over $100 per jar or tube. But it's important to pay attention to how much product you're getting for the price you're paying, so we've noted the size, as well as the cost per ounce, to help you decide what works best with your budget.
Best overall eye cream
Peptides, goji fruit extract | Lightweight cream | 0.5 ounce (Approx. $218/ounce)
Five of the dermatologists we spoke with had high praise for Revision Skincare's D.E.J. Eye Cream for its ability to treat a variety of under-eye concerns. "This is a favorite in my office," says Melissa Doft, founder of Doft Plastic Surgery, who recommends it for patients dealing with wrinkles, sagging skin, puffiness, and dark circles. According to Hadley King, clinical instructor of dermatology at the Weill Medical College of Cornell University, "This cream contains dipalmitoyl hydroxyproline and sunflower-seed oil for moisturizing, vitamin C for brightening, and peptides for reducing fine lines and wrinkles." It also contains goji fruit, which provides additional antioxidant benefits, and cucumber fruit water, which calms the skin, she explains. While it is on the expensive side, it's a multitasking product that will treat just about any skin problem you may be experiencing in your eye area. Case in point: Doyle says it can also be used on the upper eyelids "to strengthen the thin skin and help with crepiness, premature aging, and even hooding." Board-certified dermatologist and founder of RVL Skincare Rita Linkner is also a fan and has been using it twice a day for years. She uses it all over her eye area, including her upper-eyelid skin, and says she has seen "a big improvement in crepe-ing."
Best less expensive eye cream
Retinol, hyaluronic acid | Lightweight cream | 0.5 ounce (Approx. $36/ounce)
If you don't want to splurge on Revision's eye cream, this one from RoC is a great option at a more affordable price. It helps with a host of under-eye concerns, including crow's-feet, fine lines, wrinkles, dark circles, uneven texture, and puffiness. Its hero ingredient is retinol, a derivative of vitamin A that works by stimulating collagen production to strengthen the skin's foundation and minimize the appearance of lines. If you're familiar with the ingredient, then you know it has a reputation for being sensitizing and irritating — but since this cream uses a vitamin-A derivative that is less strong than prescription-strength retinol, you're less likely to experience irritation. Dermatologist Joshua Zeichner and Doft are both fans, with Doft noting the inclusion of hyaluronic acid, which attracts water and locks in moisture. This is essential because the dryer the under eye is, the more wrinkled it will look. Because this eye cream contains retinol, it's best to use it at night and follow up with sunscreen in the morning, because retinol makes skin more sensitive to the sun.
Best eye cream for dark circles


Vitamin C, ferulic acid, phloretin, caffeine | Gel cream | 0.5 ounce (Approx. $190/ounce)
According to King, "There are many causes of dark circles under the eyes." Genetics, dehydration, lack of sleep, allergies, nasal congestion, smoking, and anemia can all play a part in contributing to tired-looking eyes. She suggests finding an eye product containing antioxidants, such as SkinCeuticals AOX+ Eye Gel, to treat this particular problem. This gel contains potent vitamin C, which she says "interferes with the production of pigment and will therefore brighten dark circles, improve pigmentation, and prevent free-radical damage from UV-light exposure." She also has a few lifestyle recommendations that will help minimize dark circles: "Make sure you are getting enough sleep and that you are well hydrated. Treat allergies with oral antihistamines. Eat a well-balanced diet and make sure you are not anemic. Stop smoking!" And when all else fails, "concealers are also helpful for improving the appearance of dark circles." Meanwhile, if you want the powerhouse ingredients of the AOX+ Eye Gel but with a creamier texture, Doyle suggests the A.G.E. Eye Complex from SkinCeuticals (which is also our eye cream pick for mature skin, below).
Best less expensive eye cream for dark circles
Niacinamide, pumpkin-seed extract, sodium hyaluronate, caffeine | Lightweight cream | 0.5 ounce (Approx. $64/ounce)
Dermatologist Caroline Robinson of Tone Dermatology uses this eye cream from First Aid Beauty, which she says instantly illuminates the under-eye area using peach micro-pearls, while working to lighten dark circles over time. "It blends niacinamide, caffeine, and sodium hyaluronate in a beautiful brightening formula," she says. Note that if you have a deeper skin tone, you may want to test this one out before committing to a full-size jar, as reviewers have mentioned it may show up pale on dark skin.
Best eye cream for dark circles and deeper skin tones
Niacinamide, plankton extract, ash-tree bark | Lightweight serum | 0.5 ounce (Approx. $294/ounce)
Epara Eye Serum comes recommended by Robinson, who likes that it was crafted with darker skin tones in mind. It reduces hyperpigmentation using ingredients like niacinamide and plankton extract, and also contains ash-tree bark, a natural anti-inflammatory ingredient that helps with bags and dark circles. It's mostly made up of hydrating oils like apricot and ylang-ylang, which work together to hydrate without feeling greasy.
Best eye cream for sensitive skin


PSP growth factors, hyaluronic acid, antioxidants | Cream | 0.5 ounce (Approx. $194/ounce)
"I would swim in this product if I could," says facial plastic surgeon Dara Liotta. Many Neocutis products were developed out of wound-healing research, and Liotta says the brand's Lumière eye cream works to build collagen and smooth fine lines and wrinkles while hydrating the delicate eye skin. "I've found that regular use of this product around the eyes prevents the fine lines that trap makeup and make the eye skin look crepey and dry." It is also fragrance-free, making it suitable for sensitive skin types.
Best eye cream for mature skin
Blueberry extract, proxylane, peptides | Rich cream | 0.5 ounce (Approx. $200/ounce)
"For mature patients who suffer from severe dryness and lack of elasticity, you can't beat SkinCeuticals A.G.E. Eye Complex," says dermatologist Corey L. Hartman of Skin Wellness Dermatology. In addition to being "intensely moisturizing," Hartman likes that it contains proxylane and blueberry extracts, antioxidants that help combat puffiness and dryness. It also has both short- and long-term benefits. "While the long-term effects are younger-looking skin, it also gives an immediate radiance upon application," he says. Doyle also recommends it for its pleasing texture, and Michael Somenek, a facial plastic surgeon, has been personally using it nightly for three years. "This product has all the 'right stuff,'" says Somenek. "It's infused with peptides, antioxidants, and sunscreen. The creamy consistency is featherweight and melts right into skin."
Best eye cream for under-eye bags