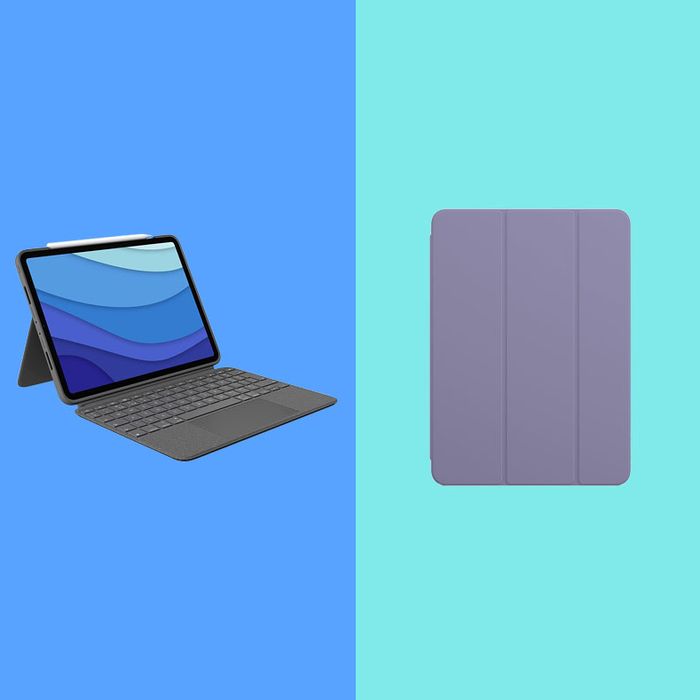 Photo-Illustration: The Strategist
While the ways we use our iPads are unique (a college student jotting down notes in a classroom, an illustrator painstakingly creating a new drawing, a grandparent trying to sign up for Netflix, a kid buying a few extra lives for a mobile game while their parents aren't paying attention), we do all share one need: a case. The right iPad case not only protects your investment from accidental spills and drops, it can also improve your iPad's functionality by letting you position it at different heights or angles or supplying a keyboard for easier typing. And, of course, the nicest cases will look good.
To find the best case or sleeve for all sorts of people, we talked to 11 tech experts, art directors, illustrators, artists, and other folks with great taste about their favorites for security and style, and also tested a few ourselves. For each pick below, we've listed versions (where available) for the iPad, iPad Air, and iPad Pro.
What we're looking for
There are sleek leather cases that add low-profile durability. Soft nylon cases can be tough and offer some cushion, while remaining light enough to carry around. Rugged hard-shell cases can absorb the impact of bumps and drops and shield your device from scratches and abrasions. The material is a matter of preference, but depending on how you use your iPad, you might want something more durable or lightweight.
A good case should withstand everyday drops and scratches. If you're the type of person who throws their keys into their bag where they might rub up against your iPad screen, anti-scratch protection will be important. A case that covers the edges, corners, and buttons will also better protect an iPad that sees a lot of jostling, whether in your bag while you're on a train or from a kid who demands to play games on it all the time.
Cases may come with a keyboard, which makes typing a lot easier and more comfortable; a trackpad; or additional ports. Some have an integrated stand that can prop your iPad at an angle or a dedicated Apple Pencil holder to keep the tool handy and to offer extra security to folks who don't want to lose an expensive stylus. You may also want to look for a specific type of closure, whether a magnetic or Velcro fastener or an elastic band that goes around the whole case, depending on personal preference.
Extra protection or function often comes at the expense of portability and can add a good amount of bulk to your iPad (which probably weighs over a pound on its own). Something thin and light will barely be noticeable when attached to your iPad. For cases weighing 1.5 pounds or more, you'll really feel the added weight in your bag or your hand.
Best overall iPad case
Material and protection: Plastic with front and back covers | Design and function: Self-folding stand, magnetic closure | Weight: 0.88 pounds
Getting Apple's iPad case might seem like the obvious choice, but that's because it's one of the best options if you want to keep your iPad free of scuffs without the bulk. This streamlined cover is a favorite of many of our experts, primarily because of its featherweight construction and highly portable design. "I had used bulky cases for previous tablets, and they really hurt the portability factor," says Tatiana Quigley, a 3-D artist and illustrator. "The Folio case is a little pricey, but it's lightweight and easy to fit into your bag or on your lap while you are irresponsibly drawing in bed." Harry Hambley, the illustrator behind the popular "lil bean" Instagram account, likes that the Folio "folds to the perfect angle for daily drawing." He also likes the case's simple-but-nice sueded interior finish. And Jason Snell of the tech podcast Upgrade praises its portability and durability. "I've been using the Folio for a few years now," he says. "It does get some wear around spots where you might grip the case while drawing, but I think it's a fair trade-off for how light the thing is." Both Quigley and artist Kofi Ofosu also appreciate the case's foldable stand, which makes drawing on the iPad comfortable, no matter how you might be sitting — and even if you're lying down.
The Smart Folio covers both the front and back of the iPad but not the edges, so it protects the tablet's fragile screen but isn't built to withstand massive drops. The case comes in a handful of colors and attaches to the iPad magnetically, waking the iPad when opened and putting it to sleep when closed.
Best (less expensive) iPad case
Material and protection: Plastic with front and back covers and edge protection | Design and function: Self-folding stand, magnetic closure | Weight: 0.4875 pounds
"I wanted something that was slim and light but didn't skimp on protection," says Daniel Fishel, an illustrator and designer. He especially appreciates the case's portability and flexibility: "It rolls up nice, allowing me to draw at a slight angle." Like the Apple Smart Folio, the JETech case attaches magnetically and has front and back covers, and the cover folds into a stand. However, it also has a plastic edge that offers more protection along the corners and sides of the iPad. It's not as sleek as the Smart Folio, but it functions similarly for a much lower price and comes in more than a dozen colors. It also wakes the iPad when opened and puts it to sleep when closed. If you use an Apple Pencil, Fishel recommends attaching a Pencil sleeve to the back of the case, so you don't have to worry about losing it.
Best iPad keyboard case
Material and protection: Plastic with front and back covers and edge protection | Design and function: Detachable keyboard with trackpad, adjustable kickstand, stylus holder, magnetic closure | Weight: 1.27 pounds
Logitech's Combo Touch can transform your iPad into a makeshift laptop thanks to its trackpad, keyboard with backlit keys, and adjustable kickstand, which Snell says makes it perfect for students. Pair it with the Apple Pencil, and you've got a note-taking powerhouse, he says. The case has four "modes" that are essentially different viewing angles — there's one for sketching, one for typing, one for watching video, and one for reading. It's sturdy, and there's a convenient nook to store your Pencil.
I've been using the Combo Touch for about a year, and the case is a study in thoughtful design, from its grippy and protective outer shell to its conveniently detachable trackpad and keyboard (which draws power from the iPad, so there's nothing to plug in or recharge). A row of shortcut keys on the keyboard mimics the classic Apple shortcut keys, making it easy to adjust settings like screen brightness and volume just like you would on a MacBook.
There's also a new version for the tenth-gen iPad. Not only is it cheaper than Apple's new Magic Keyboard Folio, which the Verge's deputy editor Dan Seifert notes costs a whopping 55 percent of the new iPad's total cost, but it's better, too. The kickstand can be propped up at a shallower viewing angle, the case offers more protection, it has backlit keys, and it isn't as prone to dirt and marks as the Magic Keyboard Folio's all-white design.
Best (less expensive) iPad keyboard case
Material and protection: Silicone casing | Design and function: Keyboard, trackpad, USB-C port, magnetic closure | Weight: 1.48 pounds
Zagg's Pro Keys for the iPad Air and 11-inch iPad Pro isn't quite as fancy as Logitech's Combo Touch, but it gets the basics right while saving you a few bucks. It's a combination of a standard iPad case, which will protect the device from drops and scuffs, and a detachable keyboard and trackpad for taking notes or knocking out a few emails.
I've tested the Zagg Pro Keys and found its keys to be comfortable to type on and its trackpad to be more than capable of navigating iPadOS without any fuss, though he says it's not quite as responsive as the trackpads on the Combo Touch or Apple's own (pricey) Magic Keyboard. There's also the added inconvenience of having to charge the Bluetooth keyboard, something the Combo Touch doesn't require, and its two viewing angles aren't nearly as versatile as the kickstand on the Combo Touch.
Those drawbacks aside, it's significantly cheaper than either Apple's or Logitech's offerings, while being a perfectly capable keyboard case with plenty of versatility. It lacks the polish of the Combo Touch, but it gets the basics right.
Best case for turning your iPad into a laptop
Material and protection: Silicone casing | Design and function: Keyboard, trackpad, USB-C port, magnetic closure | Weight: 1.6 pounds
iPadOS has come a long way in helping you get your work done, and unless you're looking to do intense video editing, programming, or design work, there's a good chance you might be able to replace your laptop with an iPad. To do that, though, you'll need a good keyboard case that works as well on your lap as it does on a coffee-shop table or airplane tray. Apple's Magic Keyboard has a versatile hinge that lets you adjust the viewing angle of your iPad just like you would on a laptop, though it's a bit more limited.
Unlike the Combo Touch, the Magic Keyboard has one flat base, making it easier to plop on your lap to get some work done. That, along with its excellent keyboard and trackpad, more closely replicates the look and feel of a traditional laptop than Logitech's — or anyone else's — offering and makes it worth the extra money for anyone who wants a more seamless work-from-anywhere experience. Apple also added an extra USB-C port to the side of the Magic Keyboard, so you can use the iPad's port for data transfer and the case's port for charging, all without needing a dongle.
Best for turning your iPad into a monitor
Material and protection: Plastic with front and back covers | Design and function: Self-folding stand / Weight: 1.06 pounds
While Apple's Smart Folio can prop your iPad up for hands-free viewing and use, it keeps the iPad close to whatever surface you're resting it on, which won't work well with a Bluetooth keyboard and mouse and in general will require you to bend your head pretty low to get a good view. Moft's Float Stand and Case provides more protection than Apple's Smart Folio, and it's about on par with the case portion of Logitech's Combo Touch; it just lacks the keyboard attachment. Unlike the Combo Touch, though, it has a stand that mimics the way a monitor stand's angle and height can be adjusted. It won't bring the iPad quite to eye level, but it works in a pinch. Fair warning: The case wobbles just a bit if the table gets shaky, so just make sure it's on a sturdy surface while in use. It also doesn't have a way to protect the screen, so you may want to slap a screen protector on your iPad to be safe.
If you have a Bluetooth keyboard and mouse, this case's stand mode is great for turning your iPad into an on-the-go workstation. Even if you don't do work from your iPad, the added viewing angles and stand mode make it an excellent choice for watching videos at the table or looking at a recipe while you cook.
Best heavy-duty iPad case
Material and protection: Canvas and plastic with front and back covers and edge protection | Design and function: Self-folding stand, stylus holder, magnetic flap closure | Weight: 0.36 pounds
Illustrator Maggie Stephenson recommends the Targus VersaVu iPad case for its security and reliability. "The exterior is non-slip and has a comfortable and cool feel that you'll appreciate if you have to hold your iPad for a long period of time," she says. She also likes that the case accommodates the Apple Pencil really well, helping it to stay attached to the iPad's magnetic smart connector. "I use my iPad every day for hours at a time and have found this case to be the most robust, but also the most comfortable one around," she says. The Targus can stand up your iPad in either landscape or portrait modes.
Best iPad sleeve
Material and protection: Water-resistant canvas sleeve with soft fleece interior | Design and function: No stand, velcro flap closure | Weight: Not listed
Despite the anxiety it may induce in some, a few of the people we spoke to say they prefer to leave their iPad naked when they are using it, and tuck it away in a sleeve when they're done. Dominic Kesterton, an artist and illustrator, is adamantly anti-case. "I hate grabbing on all that clunk when I draw. It just feels like it's in the way," he says. Illustrator Nick Liefhebber agrees. "I like the design and form factor of the iPad by itself," he explains. "Sometimes I hold the iPad on my lap when drawing, but I also use a simple foldable Kolibri iPad stand, and that doesn't work well with a case." Liefhebber has been using this sleeve for almost three years and likes that it's "rugged, with a waterproof outside and soft padded inside."
Best leather iPad case
Material and protection: Leather and plastic with front and back covers | Design and function: External pocket and handle, self-folding stand, stylus holder, magnetic closure plus elastic band
| Weight: 0.86 pounds
"It's by no means the Otterbox of cases, but if I dropped my iPad in this case while it was closed with the elastic band, I wouldn't be scared," says Lo Harris, an illustrator and animator. "It has a cool magnetic smart cover that automatically wakes and puts my iPad to sleep when I open and close it, which helps save battery life," she says. "It also has a front pocket where I can keep note cards and cash. Plus, its soft, synthetic leather is super-elegant, and it has a plastic shell where you place the iPad. And the trifold stand lets you prop it up and attach a keyboard or watch a movie." She says she can easily slip it into a bag and it strikes a nice balance "between style and protection."
Best illustrator handle for an iPad
Material and protection: Leather and wool with minimal back cover | Design and function: Handle doubles as a stand, stylus holder, no front cover or closure | Weight: Not listed
Instead of a case, illustrator and YouTube creator Stefan de Groot prefers the TabStrap, which is kind of like a phone loop on steroids. It attaches to the back of your iPad with a sheet of non-adhesive suction-cup tape. "It is handmade of merino-wool felt and vegetable-tanned leather," he says, and the strap is adjustable for different hand sizes. It rotates 360 degrees, so you can spin your screen without taking your hand out of the strap — a feature de Groot finds very useful for illustration. The TabStrap ultimately functions like a painter's easel combined with a palette, letting you view your work at different angles while keeping a grip on your iPad at all times. It also serves as a low-profile stand, in case you want to prop up your iPad to watch a video or position it at a gentler angle for drawing.
Some other handy iPad accessories we've written about
Our experts
• Stefan de Groot, illustrator and YouTube creator
• Daniel Fishel, designer
• Lo Harris, illustrator and animator
• Harry Hambley, illustrator
• Dominic Kesterton, artist and illustrator
• Sadie Lewandowski, illustrator
• Nick Liefhebber, illustrator
• Kofi Ofosu, artist
• Tatiana Quigley, 3-D artist and illustrator
• Jason Snell, host of the tech podcast Upgrade
• Maggie Stephenson, illustrator
The Strategist is designed to surface the most useful, expert recommendations for things to buy across the vast e-commerce landscape. Some of our latest conquests include the best women's jeans, rolling luggage, pillows for side sleepers, ultra-flattering pants, and bath towels. We update links when possible, but note that deals can expire and all prices are subject to change.
Every editorial product is independently selected. If you buy something through our links, New York may earn an affiliate commission.