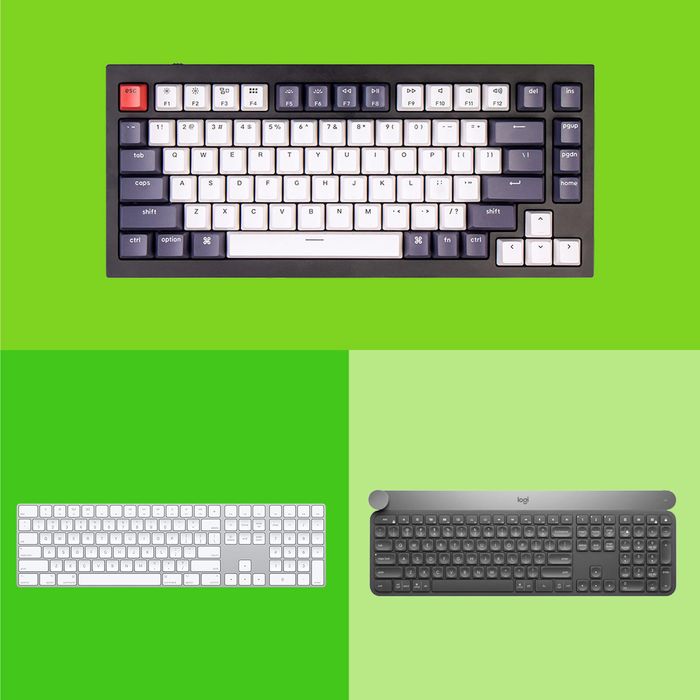 Photo-Illustration: The Strategist; Photos: Retailers
Here at the Strategist, we know that finding the "best" product really depends on exactly whom you ask — which is why we've devoted this series to squeezing in as many informed, trustworthy opinions as possible. And we've come up with dozens of ways to do this, among them: surfacing reader reviews from across the internet, taking quick polls of our most shopping-obsessed friends and Strategist editors, and partaking in some advanced internet snooping.
Here, we've rounded up the best keyboards you can buy online, according to everyday people, professional video editors, gamers, YouTube stars, TikTokers, Twitch streamers, and computer-repair experts. We have a wired keyboard if the thought of connecting another Bluetooth device makes you want to chuck your computer across the planet; mechanical keyboards for anyone who loves how the satisfying clickety-clack of the keys makes you feel like a hacker from an '80s sci-fi movie; a $13 keyboard that a developer swears by; and options for nearly everyone else. There's even the perfect keyboard for your iPad.
Expert Approved: The keyboard praised by five tech experts
Five experts we spoke to recommend Logitech's keyboards, specifically the Craft Advanced. It's a full keyboard with space for arrow keys and a side numeric pad, but what makes it most unique is the crown — a dial at the top of the keyboard that allows you to quickly scroll up and down a page. Sara Dietschy, a YouTuber and video creator, says, "If you're in Excel spreadsheets, it's easy to scroll around. And for me, with video editing, I've assigned that wheel to making the video timeline bigger and smaller." Matt Workman, a cinematographer who has worked on music videos for Justin Bieber, 50 Cent, and Diddy, also enjoys the wheel. "You can spin to scroll down a page or map it to whatever you want. It just gives you tactile control," he says. Plus, "The travel on the keys is nice and pretty quiet."
Snooping: A YouTube tech reviewer's favorite mechanical keyboard
Marques Brownlee, creator of MKBHD, one of the most popular tech-review shows on YouTube, tweeted about his new favorite keyboard from Keychron: "The metal board. The layout. The switches. The sound. Everything about it is *chef's kiss*." The Q1 replaced his previous favorite, the Keychron K2. Both keyboards are wireless with arrow keys, no number pad, and backlighting. And both are Mac compatible. The Q1 is slightly larger, so it will take up more space on your desk, but it also has a better overall feel with smoother typing.
Snooping: A developer's favorite budget keyboard
"I've been using the same Amazon Basics keyboard for ~5 years and only recently bought a new one because a single key started to die out," says developer Nick Janetakis on his blog. He was initially searching for something quiet, with keys that "have a decent amount of resistance to them so you can definitely feel each key press, but it's not so much that it hurts your forearms after long hours of coding," he says. After using ten different keyboards over the years, Janetakis says he can't think of one that he prefers more than the Amazon Basics keyboard. "Although the keyboard is cheap in price, I haven't found another keyboard that I liked as much as this one at any price point."
According to Reddit: Best gaming keyboard
When a Reddit user asked for recommendations for a quiet and not-too-expensive gaming keyboard, the conversation quickly led to multiple threaded battles about the annoying sound of mechanical keyboards or the uselessness of quiet keyboards. But thankfully, one person took the time to thoughtfully answer the question: "I really like my Razer Huntsman a lot. It's one of the most consistent keyboards I've ever used. Quiet while not being too quiet, in a very satisfying way," they said. They added that the point in travel for the keystrokes was extremely consistent across all the keys.
Ask a Professional: The B&H salesman pick
"This is my daily driver and the one I am using right now to type this message," says Miguel Melendez, a PC expert at B&H. "As somebody who types all day, every day, I absolutely love this keyboard. The tactile feedback is great without being too noisy, and the backlit keys are great for those who like to work in a darker environment." He also likes that you can pair the keyboard with up to three devices. "It's a great feature for those who are between their PC/Mac/smartphone/tablet," he says.
Strategist Pick: Best low-cost keyboard
The K380 is a compact keyboard that I've used for almost a year. I bought it after testing out keyboards at my previous job. I was drawn to its compact form and how it can easily connect to as many as three different devices, which means I can quickly switch from typing on my iPad to my laptop. It has a slim profile and you can easily slip it into a bag, in case you want to work in another location for a little while. The curved keys are completely quiet but they still feel responsive, and I've never had major issues with the Bluetooth connection. It takes two AAA batteries that can last up to two years.
A Verge Editor's Pick: The most comfortable keyboard
"I've been using the Surface keyboard and mouse for months now, and it's so comfortable to use that I completely forgot about my struggle to find the perfect desktop keyboard and mouse," writes Verge senior editor Tom Warren. "Microsoft has improved the key spacing," he says, making the keyboard wider and more comfortable to navigate.
Quick Pick: Best mid-range keyboard found in a Strategist writer's hour of research
After hearing how much people loved the extra space of the Logitech Craft (the first keyboard in this list), I decided to look for something that was a bit more spacious than my budget K830. I looked around Reddit at first, and one thread led me down a mechanical-keyboard tunnel where people were showing off keycaps that looked like Pokémon characters or Baby Yoda. I'd clearly dived deeper than I wanted to, so I headed to Amazon. After some clicking and skimming, I settled on the Logitech K780. Unlike my keyboard, it has a dedicated number pad. It can still connect to up to three devices, and it has a sweet little white gutter that is perfect for holding your tablet, smartphone, or just a pen. Once my K830 gives out on me, this will be my next keyboard.
Ask a Cool Person: The best keyboard for Apple fans
Tyler Stalman, a photographer and podcaster, has tried many keyboards but "always comes back to the Magic Keyboard," he says. "The angle of my wrist feels right," making it less tiring to type. He also says that "the way that the keys press down and bounce back is very responsive." Responsiveness was one of the most important factors among the experts we consulted. If your keyboard feels like you're typing on a slab of stone, then you're in trouble. The keys need to spring back and release that sweet clicky hit of dopamine. And finally, he says, "Apple keyboards just really integrate well with the hardware."
Expert Approved: The mechanical keyboard praised by four tech experts