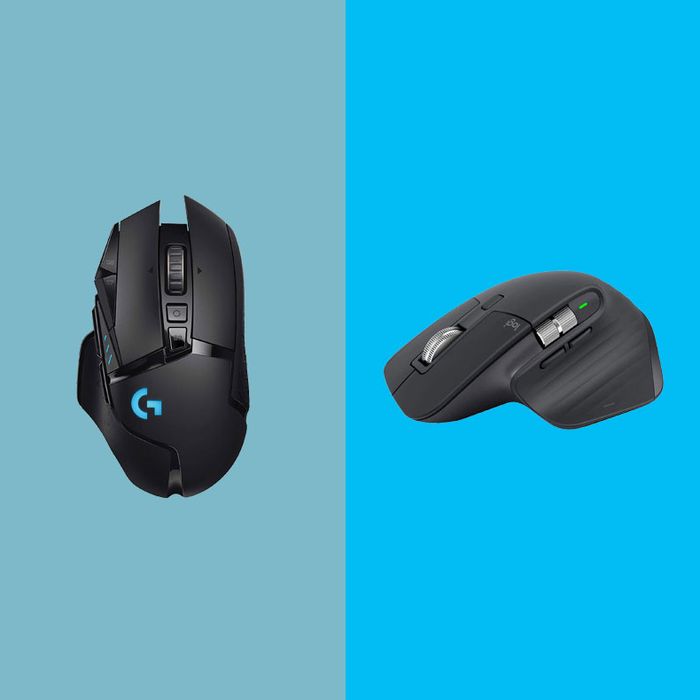 Photo-Illustration: The Strategist
A wireless mouse can drastically improve how you work. If you haven't already noticed, using your laptop's dedicated track pad can make your wrist curl up like an armadillo and your arms resemble those of a T. rex. That may not be a problem for short periods of time, but if you're on a laptop all day, using a separate mouse will help maximize comfort and minimize muscle strain. "The wrong mouse-and-keyboard setup can wreak physical havoc on your hand, wrist, and forearm," says Dr. Scott Weiss, a physical therapist and board-certified athletic trainer. In addition to making your workspace more ergonomic, a wireless mouse can also make it easier to navigate certain software programs or websites because they often have more features and functions than a track pad. To help you pick the right one, we spoke with a range of experts including WFH professionals, tech writers and YouTubers, ergonomic researchers, and gamers.
Best overall | Best less expensive | Best for travel | Best for gaming | Best ergonomic | Best for multiple-device connectivity
What we're looking for
Responsiveness and connectivity: A mouse that lags and drags can be super-frustrating to use. Every mouse on this list is able to quickly register movement, which makes scrolling and clicking feel as seamless and precise as possible. A good mouse should also work well on a variety of surfaces, whether or not you are using a mouse pad — from a wood or bamboo desktop to a granite or laminate kitchen countertop. The mouse should slide easily without too much friction that causes you to constantly reposition your hand. Almost every mouse in this guide connects via Bluetooth or comes with a USB receiver that you can plug into your computer for a quick and easy setup. If you want to use a mouse with more than one device, whether multiple computers or a computer and a tablet, look for one with the option to connect to and swap between multiple devices.
Comfort and ergonomics: When using a laptop's dedicated track pad, you may not immediately notice the strain on your wrists, but over time it can become more apparent and uncomfortable. When we spoke to Carrie Schmitz, a certified health coach who's currently a wellness and ergonomic research manager at Ergotron, for a story on ergonomic office equipment, she said that when you're working, you want your elbows tucked in so you're not reaching far away and taking yourself out of a neutral posture. "The neutral posture is going to be one where you have the most amount of balance and power," says Schmitz, "which means there's going to be less stress and strain on your muscular skeletal system." A good wireless mouse will be comfortable to use while making it easy to keep that neutral posture. If you happen to be left-handed, shopping for a wireless mouse can be a bit tricky, as a majority are designed for right-handed users by default. But some have more symmetrical designs that make them more ambidextrous.
Buttons and scroll: Every wireless mouse on this list has at least two buttons — the standard left-click and right-click buttons. Some also have multiple scroll wheels and/or side buttons that work as forward and backward buttons when clicking in a browser tab or a document. Most allow you to program some or all of the buttons to perform whatever functions are most useful and comfortable for your specific workflow. The level of customization depends on the model and the number of buttons available.
Battery: Every wireless mouse on this list is battery-powered and has either a built-in rechargeable battery or requires AA or AAA batteries. Battery life will depend on usage; rechargeable options can last up to a few months before they need topping up, and the mouse will need to occasionally be plugged in to recharge via a USB cable. Disposable AA or AAA batteries can last much longer — the Logitech mouse that I often use lasted just over two years before I needed to change its AA batteries — but will require occasional replacement of the batteries, adding a minor additional cost (and leaving you with dead batteries to throw away or drop off for recycling). If the wireless mouse you choose requires AA or AAA batteries, you could also consider purchasing rechargeable ones to use with it.
Best overall wireless mouse
Approx. 2.5 months per charge | USB-C rechargeable with included cable | 7 buttons | Right-handed
Four of the five experts we spoke to recommended the Logitech MX Master 3. What makes this mouse unique is its ergonomic thumb rest and widely praised programmable thumb scroll wheel on the side of the mouse, which allows you to quickly and precisely scroll side to side on the screen, whether you're looking at documents, editing video timelines, or touching up a photo. There's also a more typical scroll wheel at the top of the mouse for vertical scrolling. Sara Dietschy, a tech YouTuber and video creator, says she uses the MX Master 3 in both her office studio space and at home. "Having that horizontal scroll to move throughout a video timeline is huge for me, but for the average person who is in Excel spreadsheets or editing web pages, it's actually extremely helpful. It's a big mouse that doesn't feel cramped, like an Apple Magic Mouse," she says.
Justin Tse, a tech YouTuber, also points out that the MX Master 3 has a 70-day battery life, and Tyler Stalman, a photographer, tech YouTuber, and podcaster, says that it's "a perfect balance of being a normal mouse with all the features you want and nothing extra — it's not covered in extra clutter." Another fan of the MX Master series is Matt Workman, a cinematographer who has worked on music videos for Justin Bieber, 50 Cent, and Diddy and who uses the MX Master 2S, a predecessor to the 3. The 2S is likewise recommended by Strategist associate editor Louis Cheslaw, who appreciates its customizable controls: "When first connecting the mouse, you're asked to download and open Logitech's desktop app. That app allows you to change the function of each of its controls to suit your needs," he says. The biggest difference between the two devices is that the Master 3 has a faster scrolling speed and a USB-C charger. Both can connect to up to three devices seamlessly, making it easy to switch between different screens.
Best less-expensive wireless mouse
Approx. 24-month battery life | Two AA batteries | 5 buttons | Right-handed or left-handed
The Logitech M650 is an upgraded version of a compact wireless mouse from the brand that I used for nearly four years. It has limited features compared to the MX Master Series, but it's durable and small, so it won't take up too much desk real estate. It uses two AA batteries, which should last you about two years. It also has a smooth scroll wheel that doesn't stutter or lag when navigating large documents or web pages, and "silent touch" technology that makes button clicks on the M650 much quieter than they were on the older version I used. So if you're working in a library or a café and trying not to draw anyone's attention with incessant clicking sounds, it's a good choice. The M650 is also relatively inexpensive, and it comes in left-handed or right-handed options as well as two sizes, so if you have a larger hand and need more surface area to grip, you can easily pick up the larger size. It's also fairly sleek and stylish, and the right-handed version comes in six colors including blue, red, and pink for those looking to go beyond the typical black, white, or silver. One of the only gripes I have with the M650 is that it can only connect to one device at a time, so it lacks the ability to easily swap between devices like some of the other mouses in this guide.
Best wireless mouse for travel
Approx. 2.5 months per charge | Micro-USB rechargeable with included cable | 7 buttons | Right-handed 
This mouse is "meant to be the portable laptop version" of the MX Master 3, Stalman says. It works on nearly any surface, has a compact and comfortable shape, and has a full charge that can last up to 70 days, which should be plenty long for most trips. "I bring this around in my backpack," says Dietschy. "It's more affordable and smaller. It can fit in a tiny bag or purse. And it's the only small mouse I could find with a good horizontal scroll," she says. The MX Anywhere 2S doesn't have a dedicated thumb scroll wheel, but you can use the vertical scroll wheel and tap left and right to get that horizontal scroll which is useful for certain workflows, says Dietschy. Though the side buttons are situated on the left (and thus well-suited for right-handed users), the overall shape of the mouse is symmetrical and southpaw-friendly. It can also connect to up to three devices at once, which you can swap between with just one click. So if you're working on two laptops or an iPad along with a laptop, you can easily change which screen you're controlling.