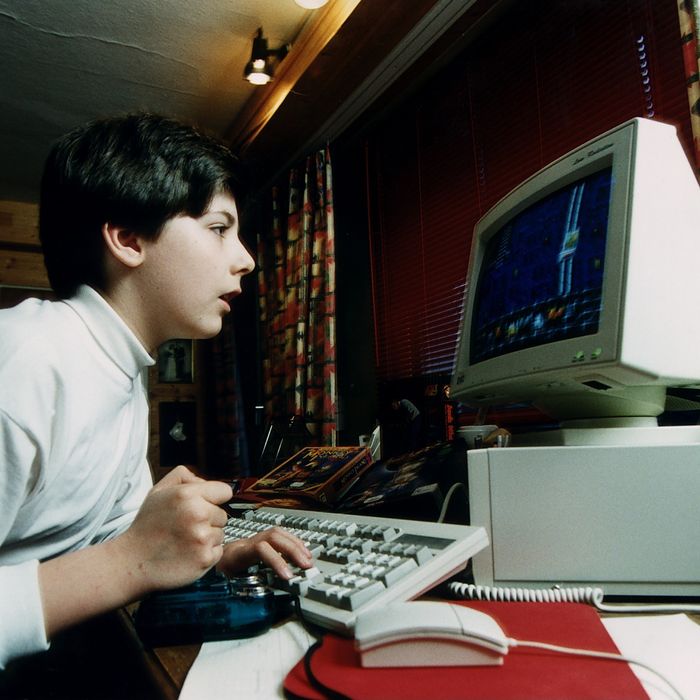 Photo: ullstein bild/ullstein bild via Getty Images
Here at the Strategist, we like to think of ourselves as crazy (in the good way) about the stuff we buy, but as much as we'd like to, we can't try everything. Which is why we have People's Choice in which we find the best-reviewed products and single out the most convincing ones. (You can learn more about our rating system and how we pick each item here.)
And while we've written about lots of computer accessories before — including the best monitors, the best speakers, and the best wireless mice — here we've rounded up the best gaming mice, as praised by the most enthusiastic reviewers on Amazon.
Best-rated (and less expensive) gaming mouse
Over 16,000 reviewers bestowed five stars upon this simple, wireless mouse because "it is super comfortable in the hand, it's large enough to provide good support to help prevent hand fatigue, and groves for your thumb and ring and pinky fingers," as this IT and gaming expert puts it. Even hardcore gamers felt this inexpensive mouse held its own compared to the more sophisticated options, like one who writes, "As for gaming, it has exceeded expectations. After hours of use, I simply cannot find any flaws. I haven't noticed any latency, glitches, or anything at all. As a matter of fact, I feel like I didn't even need to break in this mouse when I started gaming with it." Others write that it's not specifically a gaming mouse per se, but like one describes, "For the price and considering the insane cost of a gaming mouse that basically do the same thing except they glow, it's totally worth it." Or, as another reviewer concludes, "The summary is that this mouse has a good reputation for a reason. It's a solid mouse at a really good price."
And now for some micro-picks for every type of gaming mouse you might be looking for.
Best silent gaming mouse
Many rave about how silent this mouse is, noting they can stay up late gaming or inconspicuously play in public without irritating others. One who describes this mouse as "super quiet," writes, "I used to have a pretty loud mouse that would annoy people around me when gaming. This mouse is quiet and I don't have to worry about annoying others." Another calls this galactic-looking mouse "the sexiest mouse I have ever owned," writing, "I feel amazing using it. I didn't realize it would look so cool with all the light up lights and stuff. I really expected something terrible, but I am blown away at its quality." Others agree that the quality prevails, even for the price. As one who didn't expect it "to be so good" puts it, "The sensor is really precise, it doesn't overreach at all so it's simple to turn in video games without having to pick up the mouse a whole lot. I'm less likely to over-correct or under-correct in my gaming sessions."
Best gaming mouse with color-changing lights
"The constant, ever-changing light is my favorite thing about this mouse. It's a very soft, slow moving light so it doesn't disrupt my sleep or anything else I may be doing," writes one reviewer. Others agree that the color-changing lights are eye-catching, but that's only one of many standout features. , "I spent time at night in front of my computer with the lights out, so I went looking for a light up mouse that was also comfortable," writes one reviewer who searched for a color-changing mouse writes, adding, "This fits the bill. I play video games and have spent hours at a time with my hand on the mouse, and while I don't think it was touted as ergonomic it is still extremely comfortable and fits my hand really well." Dozens even feel "This is a great mouse for gaming and for the price. It can stand up to those crazy hundred dollar mice for a lot cheaper," as one reviewer puts it.
Best gaming mouse for palm grippers
Reviewers with a palm grip tend to recommend this mouse, like one who writes, "If you use a claw style grip, stay away. I'm a big guy, and I have large hands. This is a large mouse that is perfect for large hands. It's adjustable weight, which is nice, but what's nicer for my style of play is how heavy it is when all of the weight is installed. I need a mouse that I know isn't going to move unless I want it to move." Another gamer who notes he plays three different games full time writes compared to other mice he's used in the past, "The ergonomics of the mouse are super, super, super comfortable for a mouse in this price range. The weight of the mouse is just spot on. The material feels good to the hand, pretty similar to how a G502 Proteus Core feels like." Another raves and the programmable thumb buttons calling it "super handy," overall, "this thing is awesome."
Best programmable gaming mouse
Reviewers loved they could customize their mouse with Logitech's programming software, commenting that the mouse is "very high quality and very easy to program the various buttons," like one mentions. Another feels it's "very accurate" and loves that it "can be programmed to be as sensitive as you want." One reviewer spends over nine hours a night gaming, commenting, "This is the best gaming mouse I have ever used." He continues: "I've noticed a dramatic difference in my ability to quickly track and kill targets in FPS games. This is a smooth and accurate ride, and can be customized/tailored to meet the user's needs." One even feels this "rivals even the DeathAdder in terms of comfort."
Best gaming mouse with a grip
Dozens comment on how beneficial the rough textured grip on this mouse is, especially during long gaming sessions. "This thing is quality and feels great. The texture on the mouse is like a soft rubberized super-fine grit 'sandpaper.' It feels absolutely wonderful to my fingers and hand, my favorite mouse texture to-date," writes one gamer who was "completely surprised" by how much he loved this mouse. Another was also shocked by the quality of this mouse, writing, "This is a gorgeous mouse in terms of both price and performance. I am using it right now, and I like it a lot. It is extremely responsive, and very comfortable to grip. I have been using it on a few of my favorite games including Dota and Call of Duty, and this mouse is a kill. The programmable buttons are also a big plus in the games." One reviewer specifically loves "this thing's thumb wing and finger shelf" because "compared to other mice on the market, this is leaps and bounds better for my fingers than anything else I have found."
Best laser gaming mouse