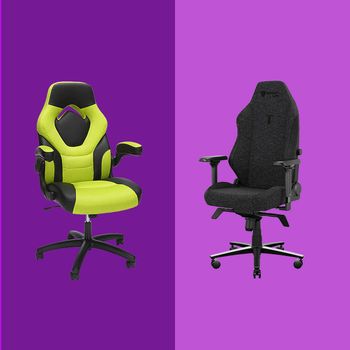 Photo-Illustration: Amazon/OFM
Gamers, be warned: The longer you sit or stand in any one position, the more likely you are to sustain an injury by putting too much stress on a particular part of your body. A good gaming chair that supports you will help avoid these kinds of injuries — and can be used by non-gamers too. "There's a perception that they're only good for gaming, but they're good for anyone who spends ten hours in front of a computer," says Daniel Yamilkoski, a full-time, professional Overwatch player.
A good gaming chair facilitates comfortable ergonomic positions and features enough customizability to let you switch up the way you sit often (a key to avoiding repetitive strain injuries). They're designed like race-car seats with sporty looks and higher backrests, which help keep your posture in check. According to Thomas Klein, CEO of gaming-chair company Need for Seat, "the more support your muscles have on the back and shoulders, the more the chair pushes you straight." At the same time, that race-car-inspired design can have drawbacks. Caitlin McGee, a physical therapist and chief operating officer of Esports Health and Performance Institute, says chairs that too closely mimic the design of a race-car seat can put too much strain on your lower back, as the bottom portion of many race-car seats tilt upward to create a neutral position while driving. "It's a little less useful when you're not moving at any speed other than the Earth's rotation," she says.
To find the best gaming chairs to suit a variety of body types and sitting positions, we spoke with gaming-chair companies, professional gamers, and physical therapists.
Adjustability and support
"Gaming chairs are more comfortable, because they're very customizable," says Yamilkoski. "You can adjust the back of the chair, the lumbar support, the tilt, the headrest, and the armrests in all possible ways."
McGee agrees that adjustability is key to maintaining good and consistent posture and support. She notes two key measurements that can help you find the perfect fit for a chair. First, check the seat depth. To make sure the seat won't put unnecessary strain on your lower back, measure from the back of your butt to the back of your knee, and aim for the depth of your seat to be an inch or two shorter than that. Next, find the right backrest height for your body. To do this, McGee says to measure from the top of your head to the bottom of your butt and look for a chair with a backrest that's about the same length.
To help you choose a chair that offers adequate support, we've listed the weight limit of each chair.
Gaming chairs can often come in a range of materials, from fabric to fake leather, all of which have different pros and cons.
Best overall gaming chair
Adjustability and support: Adjustable seat height, armrests, lumbar support, recline, head cushion | Weight capacity: 200 pounds to 395 pounds depending on chair size | Material: Leather, faux leather, or fabric
Secretlab is known for its incredible quality and attention to detail in its parts — such as replaceable magnetic armrests, memory-foam pillows, and excellent lumbar support. Our best overall gaming chair, the Titan Evo has all of these features plus two lumbar-adjustment knobs. The right knob lets you change the depth of the lumbar support, while the left knob changes the height.
Polygon commerce-deals writer Alice Newcome-Beill, who has used Secretlab gaming chairs almost exclusively for the past five years, likes the Titan Evo for all of this plus its variety of custom options. There's faux leather, "but you can choose breathable fabric or genuine Napa leather," she says. Unlike some other chairs that only come in one size, the Evo is available in three sizes (small, regular, and extra-large) — each with a different height range and weight limit to fit a variety of body sizes. The smallest fits people under five-foot-six, the "regular" fits people up to six-two, and the extra-large fits people up to six-nine. Despite its standard race-car-seat design, the Evo's cushion isn't slanted upward, so it still keeps your legs in the proper ergonomic position when seated, while the larger backrest adds support.
Newcome-Beill acknowledges that Secretlab's understated aesthetic might not be for those who like colorful gaming gear, but says, "You'll have a tough time finding a better chair at this price point — whether you're a gamer or not."
Best (less expensive) overall gaming chair
Adjustability and support: Adjustable seat height, armrests, lumbar support | Weight capacity: 275 pounds | Material: Mesh
Although there are plenty of chairs built specifically with gamers in mind, a standard office chair with the right features will do the job just fine and, in many cases, save you money. Dr. Jasmine Bhoola recommends (and uses) this ergonomic chair from Branch, which she says is "comfortable and completely customizable" with adjustable armrests, seat height, tilt, tilt tension, seat depth, and lumbar support. Its lumbar support moves forward and backward, or you can remove it entirely. It has a high-density-foam bottom cushion and a double-layered, breathable mesh backrest along with two color options for the frame (black or white) and three for the cushion (black, gray, or light blue).
Best office-appropriate gaming chair
Adjustability and support: Adjustable seat height and depth, armrests, lumbar support, recline, optional head cushion | Weight capacity: Up to 400 pounds | Material: Leather or fabric
Before purchasing the Gesture, I would have never thought to spend this much on an office chair. But after a gnarly car accident left me with a serious back injury, I decided to invest in a chair that would take care of my back for years to come. Of the few chairs I tried out in my hunt, the Gesture provided the best support for my back (the sales rep I spoke with said the Gesture tends to work better with broader shoulders than the company's other high-end chair, the Leap).
It has a ton of adjustable settings, including seat height and depth. Plus you can fiddle with the tension of the backrest's reclining feature (and lock it so you don't lean too far back). All that adjustability matters if you tend to adjust your position a lot throughout the day. As you switch positions, you can readjust the chair's settings to best relieve pressure on your spine in whatever position you're in. You can also reposition the armrests to support different uses, such as reading from your tablet or playing a game with a controller. Steelcase also offers a variety of finishes and colors to match your home office style, and you can make the chair even more comfy with add-ons like a headrest or stool.
At over $1,000 to start, the Gesture's far from cheap. But after using it every day for the last four months, the comfiness and support it provides have kept the Gesture's wow factor going strong. It's worth every penny.
Best luxury gaming chair
Adjustability and support: Adjustable seat height, armrests, lumbar support, recliner, head cushion | Weight capacity: 300 pounds | Material: Polyester
The Embody is a collaboration between Herman Miller, maker of the Eames Lounge chair and the gold-standard Aeron desk chair, and Logitech G, who's responsible for some of the most popular gaming accessories in the industry. "The Embody looks starkly different from other gaming chairs that are more likely to resemble the seats in a Fast and Furious car," writes Polygon commerce editor Faulkner in his review of the chair. "It's minimalist in its use of materials and it has a low-profile design." At $1,695, the Embody has a hefty price tag, but its additional ergonomic options help justify the cost. Faulkner writes, "There are over 150 small supports around the chair, and these apparently let blood flow more easily to regions that usually get pressed on in most chairs, like your butt, lower back, and your legs. In my experience, a side benefit of this design is that I don't feel fatigued when I get up to emerge from the chair."
You can adjust everything from seat height to lumbar support, the backrest's incline, and how much force you need to lean back. The Embody also has an extendable seat that Faulkner praised. "By lifting up on the front corners of the seat, the edge can be extended to tuck underneath your knees or pulled up toward your thighs." These small details add up to create a more comfortable product. "The Embody gaming chair is better than most others because it just gets out of the way when you use it," he writes. "It will spoil you forever."
Best kneeling chair for gaming
In addition to a traditional gaming chair, those who play games or work at a desk for extended periods can benefit from using a kneeling chair to break up all of that sitting. "If you're going to be at a desk for eight hours a day, a kneeling chair puts your spine in a position that's much closer to the position when you're standing," says McGee. She adds that it's best to use a kneeling chair intermittently with sitting rather than as a full-time option.
Dragonn's ergonomic kneeling chair, recommended by Dr. Rudy Gehrman, chiropractor and founder of wellness center Physio Logic, allows you to lengthen your hip flexors (which can tighten when sitting in a chair for long periods of time), promotes a more neutral lumbar spine, and relieves some pressure from your glutes and hamstrings.
• Dr. Jasmine Bhoola, chiropractor
• Cameron Faulkner, Verge writer
• Thomas Klein, CEO of Need for Seat
• Caitlin McGee, physical therapist and chief operating officer of Esports Health and Performance Institute
• Alice Newcome-Beill, Verge deals writer
• Lauren Schwartzberg, Strategist contributor
• Daniel Yamilkoski, professional Overwatch player
Additional reporting by Jordan Bowman
The Strategist is designed to surface the most useful, expert recommendations for things to buy across the vast e-commerce landscape. Some of our latest conquests include the best acne treatments, rolling luggage, pillows for side sleepers, natural anxiety remedies, and bath towels. We update links when possible, but note that deals can expire and all prices are subject to change.
Every editorial product is independently selected. If you buy something through our links, New York may earn an affiliate commission.