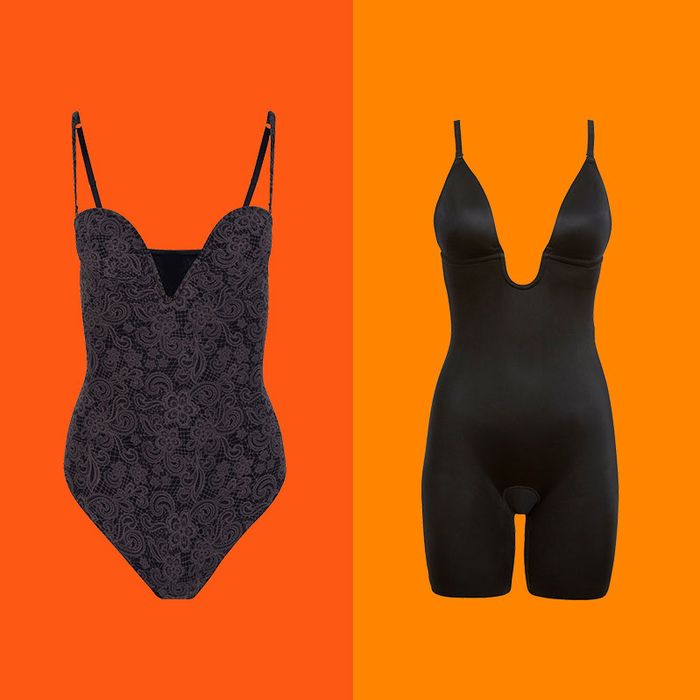 Photo-Illustration: The Strategist; Photos: Retailers
Let's get this out of the way first: There's nothing wrong with not wearing shapewear, which admittedly has a reputation for being uncomfortable and even torturous — the term "sausage casing" came up more than once in our interviews for this story. (Remember Renée Zellweger's knickers scene in Bridget Jones's Diary?) But it's no longer just a secret fixture on red carpets or saved for special occasions — the divisive category has both expanded to offer a range of more comfortable products meant for everyday wear, and evolved with the times to be more inclusive.
Whether you want a bit of a boost, a hint of a lift, or just a little tuck, you're much more likely to find shapewear in a variety of styles with different functions — from straightforward all-over smoothing to more complicated cuts made for dresses that have thigh-high slits. It also comes in a wide range of colors to match different skin tones, and sizes to fit different bodies and body types. This is in part thanks to more competition in the market — Kardashian-founded Skims, for example, has quickly become a formidable Spanx rival (though there's a reason why the decades-old label is a fan favorite).
So to find the very best of the best shapewear, we put together a panel of experts — including boutique owners, plus-size bloggers, and Hollywood costume designers — and asked them about their go-to styles. You can use the links below to skip ahead to the category you've been searching for, or simply scroll down to learn about them all.
Best overall | Best splurgeworthy | Best (less expensive) overall | Best strapless | Best plunge | Best open-bust | Best (less-expensive) open-bust | Best slip | Best shorts | Best (less-expensive) shorts | Best shorts for thigh chafing |Best tank | Best brief | Best thong | Best tights
What we're looking for
Type: Shapewear comes in many forms. One isn't better than another; it just depends on what your desired results are. Because full bodysuits and dresses cover the most surface area, those will focus on smoothing your whole body, not just one specific part, and will most likely be the most constricting. Typically, these pieces are saved for more formal events because, as stylist Jessica Cadmus puts it, they'll "feel constraining, and you'll likely not want to endure this for more than an evening." Individual pieces that target just one area — like your thighs, stomach, or butt — tend to be much more comfortable, and they come in a plethora of options, making it easier to try a few to determine your preferred style. Below, you'll see shapewear in the form of bodysuits, tanks, shorts, briefs, thongs, and more.
Comfort: We have to be honest here: Not all shapewear will be enjoyable to wear, especially if it is a full bodysuit that compresses your entire torso. So if comfort is your No. 1 priority, perhaps think twice before buying a piece of shapewear. However, as mentioned above, shapewear has greatly improved in recent years, and many of the pieces featured on this list are described by the experts consulted as comfortable. You'll want your foundation to be fitted enough to provide some support, "but it should never be so tight that you feel uncomfortable or like you're suffocating underneath your clothes," explains Shammara Lawrence, a freelance fashion writer and founder of the Power of Plus. "The best shapewear is snug and formfitting yet soft and so comfortable you can wear it for hours on end without feeling constricted." With this in mind, we ranked the comfort levels on a scale of 1 to 3 — with 1 being very uncomfortable (but effective), 2 being bearable, and 3 being as comfortable as shapewear can get — based on our own testing and what the experts say, so you know what you're getting yourself into (literally).
Size range: Proper sizing can make all the difference for shapewear; however, lots of brands offer a very limited size range. Our objective was to focus on the brands that offer more of a variety, including different cup sizes for pieces that have a built-in bra. Below, we've noted the number of sizes that each piece comes in.
Best overall shapewear
Bodysuit with brief | Comfort level 3 | XXS–5X, no cup sizing
It was difficult to discern which shapewear could be considered the best overall. Some of the more well-known (and highly recommended) brands scored points for comfort but fell short in having a size range that's inclusive. And it felt strange to pin a product like shorts in the top spot when it's a garment meant for more specific wardrobe scenarios. In the end, we decided to focus on finding a more broadly useful (and size-inclusive) piece, which led us to crowning this Skims bodysuit as the very best of the best.
Several of the stylists we spoke to recommended Kim Kardashian's Skims as a solid, budget-friendly option. This piece comes in a wide size range — from XXS to 5X — and nine different skin-tone shades. Former Strategist writer Chloe Anello also tested this piece herself alongside a few expert-recommended pieces that were in consideration for the "best overall" blue ribbon. Reminiscent of a one-piece swimsuit, "it looks as though you're wearing a skin-colored leotard, not some torturous contraption," she says. "I didn't feel silly in it." Anello adds that the bodysuit contours and sculpts your shape while still being comfortable. (Keep in mind that the brand recommends sizing up for maximum comfort if you'd like to wear it every day.) A friend of Anello's, who prefers to remain anonymous, often wears this bodysuit. Though it minimizes her breasts more than she would like because of its all-around compression, she reports that the piece is reliable whenever she wears tighter pieces of clothing. As for the backside, there's a high-cut leg and sheer contouring to lift and enhance the butt instead of flattening it.
Best splurgeworthy shapewear
Bodysuit with thong | Comfort level 3 | XS–3X, A–F cups
At more than three times the price of our best overall pick, this bodysuit from +Body by Julia Haart — an eponymous shapewear line created by the former creative director of La Perla (and star of My Unorthodox Life) — is definitely a splurge. It takes the second-place ribbon for that reason. Plus, none of the experts interviewed mentioned this brand, likely because it's fairly new. But, according to Anello, it's well worth its price tag. So it gets a special commendation here.
All of the company's shapewear goes up to a size 3X (though it seems like the top of the size range sells out fairly quickly). You can also select your cup size from A to F for a more made-for-you fit — and to prevent your breasts from feeling like they're squished into a blob. Though the bodysuit looks like lace, it features a very thin nylon that lightly compresses and smooths your torso. The print also makes this bodysuit tasteful enough to wear out on its own instead of underneath something else. "The majority of the other shapewear I tried felt and looked relatively unsexy — I would be embarrassed if anyone saw me in just the shapewear, which definitely impacts how you feel about yourself," Anello says. The bodysuit's laser-cut edges lie flat against your body and don't show underneath your clothes, and the bra features removable padding and straps that allow you to further customize your fit. Perhaps most important is that after Anello tried it for herself, she reported that it's actually comfortable thanks to the soft, stretchy material that doesn't squeeze your body to the point of suffocation — and she felt good about herself while wearing it.
If you like the look of the +Body by Julia Haart bodysuit, but don't want to spend that much, consider this lace number from Bali. It's a favorite of celebrity stylist Ali Levine for fulfilling "the Four F's: fit, form, fabric, and fashion." The hook-and-eye closure won't show any lines under your clothes, either.
Best strapless shapewear bodysuit
Bodysuit with brief | Comfort level 2 | 32B–40C
Obviously, if you plan to wear something strapless with shapewear underneath, you will need to ditch the straps on your undergarments too. This bodysuit from TC Fine Intimates comes with straps for those who appreciate versatility, but ultimately, it's meant to be strap free. Levine thinks it "gives you the perfect foundation" because it smooths your stomach, waist, and back and suits most necklines, so you can use it for more than one outfit. "I've used it for award shows like the Emmys and Oscars," she says. You select your size based on your bra size instead of what would best fit your torso, with the bodysuit available in sizes 32B to 40C. Because it's labeled as "extra firm," it will be very tight regardless how big or small of a size you choose. And while Levine thinks it is bearable to wear for a formal event in which you'd like to pull out all the stops, reviewers mention it deeply compresses your body and is definitely not intended for everyday use.
Best plunge shapewear bodysuit
Bodysuit with shorts | Comfort level 3 | XS–XL
Of course, we couldn't write a story about shapewear without mentioning Spanx. As Levine says, "We all think Spanx when we hear shapewear." For a long time, the company commanded the shapewear space, providing some of the only (comfortable) options for women. Of all its products, the experts we talked to think Spanx's bodysuits are its most worthwhile pieces. Dina Scherer, owner of Modnitsa Styling, pointed us specifically to this one because you can wear it with backless dresses, low-cut tops, or evening wear with a deep plunge. It allows you to show a lot of skin but still offers tons of support underneath thanks to its padded cups and thigh-length legs. You can't select your cup size, though, which may be a deal-breaker for those who prefer an exact fit for their undergarments.
Best open-bust shapewear bodysuit
Bodysuit with shorts | Comfort level 2.5 | XS–3X
Consider an open-bust bodysuit if you'd rather wear your own bra underneath shapewear for more support — this one offers the same torso and thigh sculpting as the full Spanx bodysuit above. Stylist Grace Thomas, who owns several pieces of shapewear from the label, counts it among her absolute favorites. Since the scoop neck is cut low, you won't have to worry about it peeking through what you're wearing over it, she says — just make sure you're not wearing a bra that's cut too high, either. "You really feel supported when wearing [the bodysuit]," she says, adding that Spanx's fabrication (a combination of nylon and elastane) is smooth against the body. As it's a full-coverage style that's cut to shape through the middle of the thigh, "You might get a little tired of wearing this piece after a full day, but it won't be something you'll want to remove the instant you put it on," Thomas says. (That's why when we asked her for her comforting rating, she put the piece at a 2.5.) Thomas has even taken to wearing it underneath trousers and T-shirts for a shaping effect for her entire outfit, instead of choosing just to wear a pair of shaping shorts.
Best (less-expensive) open-bust shapewear bodysuit
Bodysuit with brief | Comfort level 3 | XS–3X
This is the brief version of Spanx's OnCore Open-Bust Shaper featured above — and comes with a slightly cheaper price tag (which is why we thought it deserved a separate spot on this best-of list). Stylist Alison Deyette says some of her clients prefer this option because it has a shaping effect on the stomach, hips, and back without an ill-fitting bra or the full coverage of shorts. And if you'd prefer a more breathable material, Strategist contributor and costume designer Alison Freer suggests checking out this Rago open-bust bodysuit made from a lightweight sculpting mesh. Freer says it's "so firm, you could bounce a quarter off of it, but it's still shockingly comfortable — a testament to what proper garment construction can do for the female form."
Best shaping slip
Slip | Comfort level 2 | XS–XL
Commando's underwear has often been praised for its true-to-the-brand-name, gone-commando fit. So it's fitting that the company makes an appearance on this list as well, with Cadmus turning us to its slip called the "Two-Faced." The piece's name comes from its tech-y material, which includes microfiber on one side and cotton on the other, and is designed to offer moderate compression that doesn't squeeze you in. Cadmus's clients appreciate that this feature makes the bodysuit seamless ("basically undetectable to the eye," she says) and helps it stay in place. She also says it's "considered 'breathable' and 'comfortable' as far as shapewear goes," adding that it's "about as comfy as you're going to get."
Best shaping shorts
Shorts | Comfort level 2 | S–8X
Though you could go with the old reliables, like Spanx and Yummie, or the newer, buzzy brands like Knix, our pick for the best shaping shorts is this pair from Rago. When shopping for shaping shorts, Freer says "the best are always high-waisted, as anything that cuts you off in the middle of your midriff won't be able to do much real shaping." (This was a general consensus among our panel.) With that in mind, she told us this long-legged pair of shorts from Rago has "totally flat seams that won't ever show under clothes, a split crotch so you don't have to wriggle out if it to use the bathroom, and special grippy, lace leg holes that don't ride up or bind your thighs." (Meanwhile, if you're in the market for something hyperspecific, Skims has shorts intended for clothing with high slits, which stylist Samantha Brown describes as "ingenious.")
Best (less-expensive) shaping shorts
Shorts | Comfort level 3 | S–3X 
Sapna Palep, CEO of lingerie retailer Journelle, introduced us to the Spanx Power Short. Palep applauds the piece's shaping power, along with its seamlessness (no visible panty lines to worry about since it's made to be worn on its own without underwear) and non-digging waistband. (And speaking of waistbands, she also stands behind the higher-waisted Higher Power Short that's just $2 more.) Palep says that whenever she wears the shorts, it doesn't feel as if she's adding another layer of clothing, because the designed-to-be-lightweight shorts are both bearable and breathable throughout the day. Palep adds that the shorts "smooth out your form without changing who you are."
Best shaping shorts for thigh chafing
Shorts | Comfort level 2 | S through 3XL
Cherry-picked from our guide to preventing thigh chafing, this pair of shorts from start-up undergarment brand Knix counts former Strategist senior writer Karen Iorio Adelson and Kara McGrath, deputy digital director at Allure, as devotees. The silky (and slinky) shorts were specifically made to prevent chafing on your inner thighs. "They're really lightweight and breathable, so you don't get sweaty," Adelson says, adding that the shorts are so smooth that there's no friction to be found. And McGrath likes that they feel as if you're wearing nothing. She adds, "I've recommended them to basically anyone I've spoken to in the past three years, and everyone who's bought them tells me they're a game changer." Strategist writer Dominique Pariso is also partial to Knix, but prefers its High Rise Shaper Shorts. These live up to their name with a super-high cut that starts right under her bra (which helps avoid "any noticeable stomach lines," she says). She likes how hourglass-emphasizing the shorts are, too. Pariso mentions that they are "comfortable enough that I forgot that they were there, until I went to take them off."
Best shapewear tank
Photo: retailer
Tank | Comfort level 3 | XS–3X
While it makes shapewear bottoms, Yummie is perhaps best known for its tanks, which are what Levine usually has clients wear for red-carpet and press events. "I like how soft yet fitted they are," she told us. This shaping tank — which contains two movable inner panels — is one Levine "especially loves for underneath sheath dresses and blouses." Brown is also a fan, telling us it works just as well under clingy sweaters. With details like a reversible neckline and nonslip hem, Levine says the tank could even be worn on its own "with a nice pair of trousers." And even though it may be counterintuitive to how you put on normal tops, when wearing any shaping tank, remember: Step into the garment and shimmy it up.
Best shaping briefs
Brief | Comfort level 3 | 28–46
Brands like Spanx and Nancy Ganz came up as popular brief options, but Nancy Ganz features a limited size range, while Spanx apparently causes you to run warm regardless of how lightweight it is (and no one wants a sweaty butt). These briefs from Rago are made from a mesh with a subtle floral pattern that's breezier than most options, and it goes up to a size 46. They're recommended by Freer because the "firm-hold granny panty has special V-shaped leg openings that allow it to expand around the thigh," giving you the freedom to walk, sit, and dance in total comfort. "The only seam on this panty is cleverly hidden between the cheeks, making it invisible under clothes."
Best shapewear thong
Thong | Comfort level 3 | S–XL
While a shaping thong may seem like an oxymoron, Scherer says this one is worth a try. "The misconception that shapewear can't be sexy and feel great on you while doing its job is dispelled with this piece," she says, promising that it is totally capable of smoothing you out even with its beautiful, minimal coverage design made from lightweight fabric. Since it's a thong, she adds, it'll work just as well with jeans and pants as it will with skirts and dresses. But for those interested in something a little more heavy-duty, we also heard about these different thong-style pieces from Spanx, one of which is conveniently much less expensive.
Best shapewear tights
Tights | Comfort level 3 | XS–XL
Perhaps, like fashion editor Dena Silver, you've "been known to wear control-top shorts with tights because sometimes stockings alone just don't do the trick" under the slinkiest of skirts or dresses. If so, she promises these totally opaque tights from J.Crew are nothing less than "a godsend." Silver says they're not only the "blackest black tight" she's ever tried, but they also have a "waist-cinching band" that eliminates the need to wear a shaping layer with a separate pair of tights.
Some more shapewear we've written about
Our experts
• Karen Iorio Adelson, former Strategist senior writer
• Samantha Brown, stylist
• Jessica Cadmus, stylist
• Alison Deyette, stylist
• Alison Freer, Strategist contributor and stylist
• Shammara Lawrence, a freelance fashion writer and founder of the Power of Plus
• Ali Levine, celebrity stylist
• Kara McGrath, deputy digital director at Allure
• Sapna Palep, CEO of lingerie retailer Journelle
• Dominique Pariso, Strategist writer
• Dina Scherer, owner of Modnitsa Styling
• Dena Silver, fashion editor
• Grace Thomas, stylist