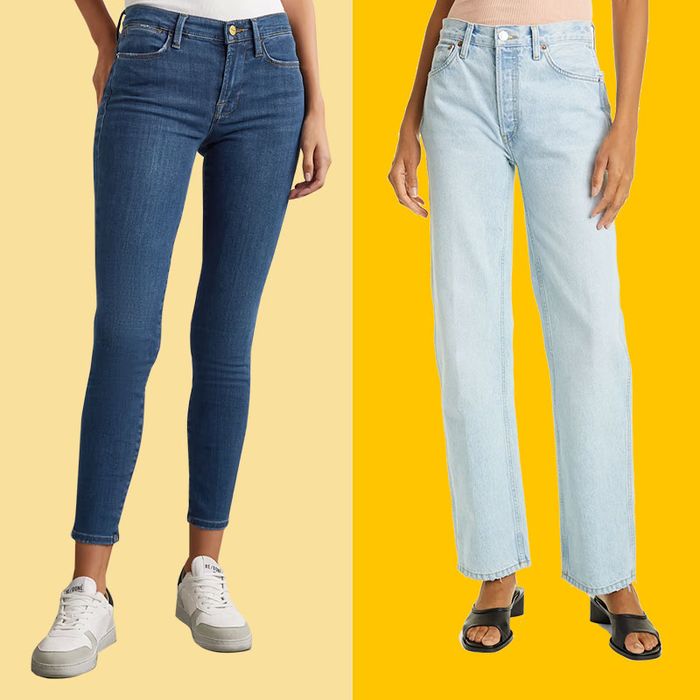 Photo-Illustration: The Strategist; Photos: Retailers
Shopping for jeans can feel like a Herculean effort. Everyone has a wish list for their OTP — "one true pair," to borrow from fandom-speak — and checking everything off can seem almost impossible. But a good place to start is right here, as we turned to super-stylish women of all shapes and sizes for their favorite denim, from their must-have mom jeans to maternity pants. The list that follows is as comprehensive as possible to make the chances of meeting your OTP much greater. To ensure we left no acid-washed stone unturned, we also searched our archives for any memorable recommendations. Click a link below to skip ahead to a particular pick.
Best overall | Best for plus sizes | Best for petites | Best for tall women | Best raw denim | Best rigid denim | Best straight leg | Best slim leg | Best bootcut | Best overall skinny | Best (less expensive) skinny | Best cropped | Best mom | Best distressed | Best maternity
Size range: It can sometimes seem like jeans are arbitrarily assigned numbers, which might mean being forced to choose between a too-big waist gap or a pair that's just slightly too tight. To help, we asked our denim enthusiasts to detail the fit of their favorites and, as much as we could, we focused on brands offering plus, petite, and tall options.
Cut: There are times when a cowboy-esque flare will do, and other times when you want skinny jeans. Some cuts were more popular (straight-leg styles) than others (sorry, wide leg). But we also went a step further to describe the shape of every pair, whether that's more slim-fitting, tapered, or cropped (to name a few).
Rise: A note for low-rise lovers: Our panelists preferred high-waisted jeans overall. But we included the rise's measurement for each, which will oftentimes be based on the size the model is wearing. (Anything over a ten-inch rise is considered to be in the "high" category, as stylist Jessica Cadmus previously explained.) And while we're on the subject of rises: Most jeans on the market now will have some stretch in them to make them feel more comfortable, especially at the waist. We've noted when a recommendation doesn't have stretch.
Price: Ask around and you'll hear about how someone splurged on their Rag & Bone or Paige. Factoring in cost per wear, an investment can make sense, but the truth is you can get a pair of great jeans for not that much. (Think of everyone currently scouring secondhand shops for Levi's 501s.) That's all to say, affordability was a top priority for us when considering what jeans made the cut. The best of the best are denoted as either $ (under $100), $$ ($100 to $200), or $$$ (over $200).
Best overall jeans
Sizes 23–39 (plus sizes here) with 26-, 28-, and 30-inch inseams | Tapered straight leg | 10.85-inch rise | $
The Wedgies win the title of "most recommended Levi's" and, consequently, are the jeans we've (probably) written about the most — seriously, I tried to tally up how many times they've appeared in our archives and lost count. Eagle-eyed Strategist readers will have noticed that these topped our recent list of the best high-waisted jeans, with Bird founder Jennifer Mankins explaining that they have a "natural rise that hits right at your belly button, so it's high, but not too high." Hailey Rizzo, who runs the blog Feeling Good As Hail, praises their butt-lifting power, "whether you're working with one or not." Le Whit co-founder Liza Curtiss swears by them, too — as a "no-purse kinda person," the pockets are deep enough for her to go just about anywhere. With so many accolades, it's the most crowd-pleasing pick (there are even nine washes to choose from). (A close contender: its taller cousin, the Levi's Ribcage, or the "Goldilocks of jeans," as they're known in our circle.)
Best jeans for plus sizes
Sizes 10–30 (equivalent to 6x), with extra-short to extra-tall inseams | Skinny | No rise listed | $
Petite-plus influencers Tinsaye Berhanu and Natalie Craig have both previously called out the Bombshell Skinny Jeans. Unlike every other jean on this list, these don't list their rise — but we made a special exception, as Berhanu describes the high waist as "really comfortable without rolling down when you're moving around." The jeans are rated as a "maximum" on the company's stretch scale, too. Craig points out that Torrid offers short and extra-short lengths for jeans, something many other plus-size brands don't offer. (You also can choose between tall and extra-tall options.) Torrid was also the most-mentioned brand in our guide to plus-size jeans, where those who did the mentioning praise just how well the jeans fit curves. That includes style influencer Nikki Apostolou, who describes how her pair "hug[s] my curves, cling[s] where I need them to, and flatter[s] my more apple-shaped figure."
Best jeans for petites
Sizes 23–37, with extra-short, short, long, and extra-long options | Straight-leg | No rise listed | $
When we asked petites for their favorite jeans, there wasn't a consensus on a brand or a particular pair — more than a few referenced standard-size pants instead of ones that were petite-specific. But two women did refer us to Abercrombie, which has become a popular destination for #petitetok and popular among other stylish women we've talked to. These jeans were mentioned by both photographer Lizbeth Hernandez and content creator Amy Serrano. Hernandez calls them "perfect for my curvy body," while Serrano says the pair "hugs every part of my butt perfectly." In terms of comfort, Serrano points out that these lasted through a round of high kicks with the Radio City Rockettes just fine. But what made Abercrombie really earn this spot is its two types of petite sizes: short for those who are five feet to five-foot-three, and extra-short, which is specifically designed for those under five feet (although this length is only available in sizes 25 to 29). FYI: The jeans are also offered in 17 washes, the most on our list.
Best jeans for tall women
Sizes 23–33 (with plus, petite, and standard) | Skinny | 10.5-inch rise | $$
Strategist writer Chloe Anello (who's five-foot-nine) crowned this Madewell pair the best overall in her guide to jeans for tall women. Former Strategist social-media editor Hannah Starke (who's five-foot-ten) describes these as the "the only jeans that fit my body correctly," with a cut that's more generous through the hips and thighs. This pair comes in a 30-inch inseam, which is enough for most tall folk to cover their ankles, Anello points out. What makes Madewell stand out in this area specifically is its two choices: a "tall" option for anyone five-foot-eight to five-foot-11 and a "taller" offering designed for those six feet and up. The "taller" sizes tend to sell out in the blink of an eye, Anello says — so if you're especially tall, she suggests going for Amalli Talli. The tall-women-founded company makes jeans with 34- and 36-inch inseams.
Best raw denim jeans
Sizes 23–34 | Straight-leg with a trouser-style | 13-inch rise | $$$
There's a certain class of denim enthusiasts who are serious about wearing raw denim exclusively. This denim isn't just rigid — it's left in its "original untouched state," becoming "specific to its owner only, kind of like a fingerprint," explains former Strategist staffer Lauren Levy. One of Levy's favorites is Imogene + Willie, which focuses on making raw denim that's fitted more to a woman's curves compared to other options out there. She describes these as a "really gorgeous high-rise," towering at 13 inches.
Best rigid denim jeans
Sizes 24–38 with tall inseam | Classic straight leg | 10.5-inch rise | $$$
Even if you like more rigidness in your jeans, raw denim can seem a little extreme. The Genuine Jean from the Feel Studio is a compromise — sans stretch, but doing the work of shaping to your body. It took just a few wears for Strategist senior editor Simone Kitchens's pair to do so. Kitchens compares them to vintage jeans in their lack of stretchiness but with enough softness to stop them from being unwearable. Dancer Eva Alt seconds this, saying they're "like the pair you always hope to find at a vintage store, just without the work." And there's a reason for that: The Feel Studio was founded by stylist Stevie Dance, who's a devout Levi's wearer, according to Kitchens, and the fit of these is inspired by old 501s.
Best straight leg
Sizes 23–34, with 30- and 32-inch inseams | Classic straight leg | 11.125-inch rise | $
As alluded to earlier, straight-leg was the most-cited cut. In the end, the classic Levi's 501s took the top spot because of just how often they came up — musicians Aly and AJ Michalka and celebrity stylist Karla Welch specifically name-checked this pair, and several of our other panelists not only own vintage versions of the style but compare their current favorites against them, like Kitchens did just above. This isn't too surprising considering that the legendary 501s are the fit that literally started it all for the brand. "These are just classic: the fit, the semi-high waist, the color," Aly Michalka says. "The more worn they are, the better they look and feel." Her sister AJ agrees: "My booty looks so good in these. Levi's never fails — they just get jeans and always have." Since these are non-stretch, Welch (who has collaborated with the company in the past) offers this piece of advice to get them just right: "Wearing them, and wearing them, and wearing them, and wearing them, until I'm like, 'Ah, these are perfect!'"
Best slim-leg jeans
Sizes 00–15 (equivalent to 22- to 32-inch waists) with up to 38-inch inseam options | Tapered slim straight leg | 11.75-inch rise | $
Don't let the "Cowboy Cut" name fool you — these Wranglers are nowhere near a full flare. Kitchens did discover the pair in a cowboy store in Oklahoma City, but they look like "something fresh out of A.P.C." and do "good things all around for my butt and waist." The jeans are more of a middle ground between skinny and straight-leg. On the fit front, you can choose between 100 percent cotton without stretch (offered in the medium and bleach washes) or just a hint of spandex in the light wash. Kitchens went non-stretch, adding that after a few washes, the pair gets that "thrift-store-faded patina these jeans are known for. Or wash them a little less and prolong their A.P.C.-like stiffness." If you needed any more convincing: Kitchens's ode to her Wranglers was so popular, four of her friends bought them right away.
Or you could go for the also-slim-legged Madewell's Stovepipe Jeans — Hallie Abrams, founder of the Wardrobe Consultant, describes the cut as "if all the jean styles had a baby, the Stovepipe is what would come out."
Best bootcut jeans
Sizes 24–34, with up to 36-inch inseam options | Bootcut | 12-inch rise | 5 washes | $
We couldn't not go with Wrangler for our best bootcut pick — which came highly recommended by model Georgia May Jagger in our guide to the best high-waisted jeans. Even before Jagger was a face for the brand, the self-described "glamorous tomboy" wore Wranglers her whole life. The Westward, which she says features that "classic Wrangler look," has a similar tight (but not uncomfortable) and super-high-rise fit of the ones that her mother and aunts wore in the '70s.
Best overall skinny jeans