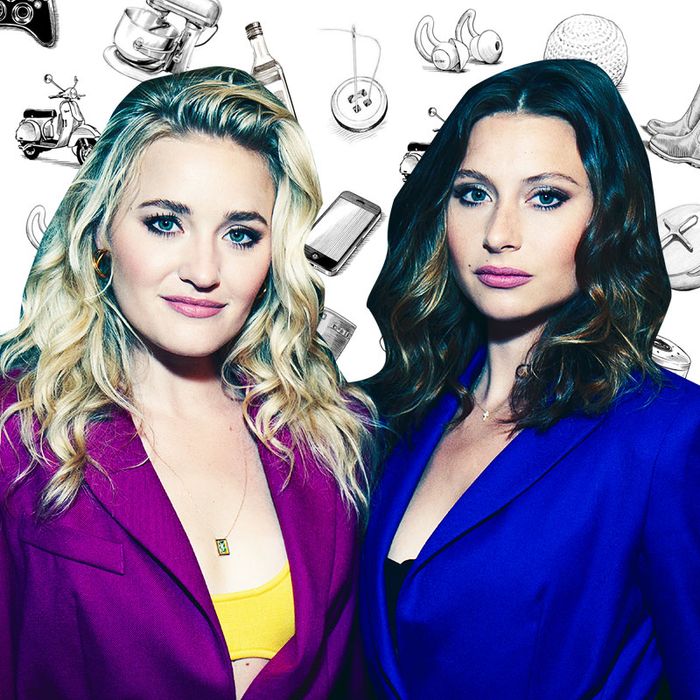 If you're like us, you've probably wondered what famous people add to their carts. Not the JAR brooch and Louis XV chair but the hair spray and the electric toothbrush. We asked musicians Aly And AJ Michalka — whose album A Touch of the Beat Gets You Up on Your Feet Gets You Out and Then Into the Sun released today, and who are notoriously hive-minded — about the headphones, tote bags, and potato chips each says they can't live without.
ALY: I'm not even kidding you, AJ has loved and talked about this hand sanitizer for ten years. I started to use it after AJ talked so passionately about it.
AJ: Has this brand even been around for ten years? I don't know. But yes, I'm obsessed. I love the consistency, and I feel like the spray gives you more coverage. You can get in between your knuckles and all over your fingertips much easier than if you use a gel sanitizer you have to rub in. I'm not a big fan of gel sanitizers because they leave a residue on your hands that dries out the skin. I don't have that problem with EO. I was a hand-sanitizer advocate way before the pandemic, because I can't always get to a bathroom to wash my hands and I'm constantly paranoid about getting sick.
ALY: It has a kind of a lavender scent, so it smells very herbal and natural. It's not sickeningly sweet and it doesn't smell heavily of alcohol.
ALY: This is literally the best Perrier flavor. Lemon or lime are fine, but the lemon-guava is so unbelievably good. The flavor only comes in these tall, skinny cans. AJ started drinking it after me.
AJ: A lot of guava-flavored drinks taste like cough syrup. Perrier did a good job. It's not too sweet. It tastes like it's naturally infused as opposed to just being sweetened. This stuff got us through making our record, we had cans on us throughout the entire process. I like that the flavor only comes in cans because I've chipped my teeth on glass bottles.
AJ: I'm a mascara freak. I really like this because it has a great wand. The product gives a lot of coverage because one side is a primer and the other side is the mascara. I used to be a drugstore-mascara girl because I honestly thought that the cheaper ones were better. This may be a little more expensive, but I think it's high-quality and it has organic and natural ingredients. We've been trying to keep our beauty routines as clean as possible and we're big fans of Jessica Alba and this brand.
ALY: I'm one of those people who needs to have a tiny bit of