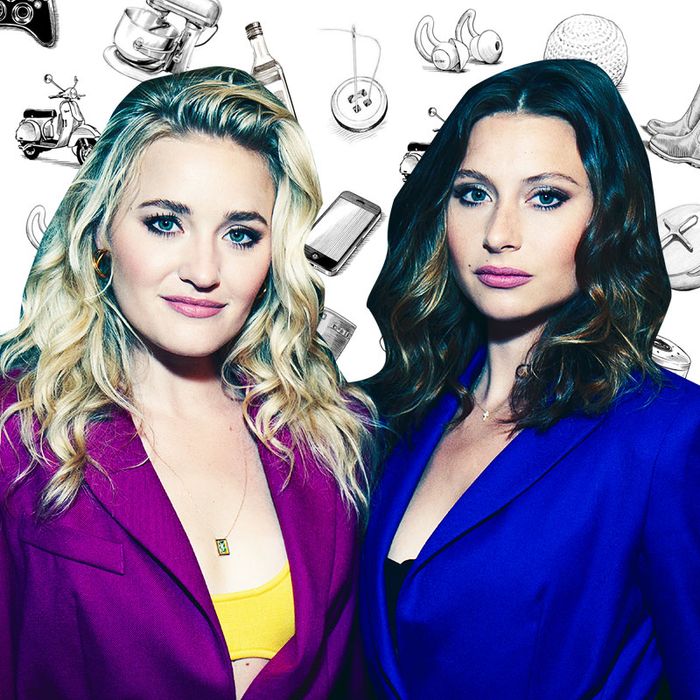 If you're like us, you've probably wondered what famous people add to their carts. Not the JAR brooch and Louis XV chair but the hair spray and the electric toothbrush. We asked musicians Aly And AJ Michalka — whose album A Touch of the Beat Gets You Up on Your Feet Gets You Out and Then Into the Sun released today, and who are notoriously hive-minded — about the headphones, tote bags, and potato chips each says they can't live without.
ALY: I'm not even kidding you, AJ has loved and talked about this hand sanitizer for ten years. I started to use it after AJ talked so passionately about it.
AJ: Has this brand even been around for ten years? I don't know. But yes, I'm obsessed. I love the consistency, and I feel like the spray gives you more coverage. You can get in between your knuckles and all over your fingertips much easier than if you use a gel sanitizer you have to rub in. I'm not a big fan of gel sanitizers because they leave a residue on your hands that dries out the skin. I don't have that problem with EO. I was a hand-sanitizer advocate way before the pandemic, because I can't always get to a bathroom to wash my hands and I'm constantly paranoid about getting sick.
ALY: It has a kind of a lavender scent, so it smells very herbal and natural. It's not sickeningly sweet and it doesn't smell heavily of alcohol.
ALY: This is literally the best Perrier flavor. Lemon or lime are fine, but the lemon-guava is so unbelievably good. The flavor only comes in these tall, skinny cans. AJ started drinking it after me.
AJ: A lot of guava-flavored drinks taste like cough syrup. Perrier did a good job. It's not too sweet. It tastes like it's naturally infused as opposed to just being sweetened. This stuff got us through making our record, we had cans on us throughout the entire process. I like that the flavor only comes in cans because I've chipped my teeth on glass bottles.
AJ: I'm a mascara freak. I really like this because it has a great wand. The product gives a lot of coverage because one side is a primer and the other side is the mascara. I used to be a drugstore-mascara girl because I honestly thought that the cheaper ones were better. This may be a little more expensive, but I think it's high-quality and it has organic and natural ingredients. We've been trying to keep our beauty routines as clean as possible and we're big fans of Jessica Alba and this brand.
ALY: I'm one of those people who needs to have a tiny bit of mascara on in order to leave the house. This gives good length and volume but doesn't feel clumpy, like some of them can. That's definitely because of the wand.
AJ: I have four or five of them. They serve many purposes: I take them to farmers' markets, to go grocery shopping, and use them to bring shoes and makeup and whatever else to photo shoots. They're perfect for toting around extra stuff.
ALY: I have four. It's my favorite tote bag. The weave is tight and the quality is amazing. You could put a ton of veggies, heavy drinks, and whatever else inside and the bag will hold it all. They're also customizable.
AJ: When we released our EP Sanctuary, Aly's husband had custom ones made for us that say Sanctuary on them.
AJ: This T-shirt is fire. It's not really white — it's sort of an off-white, which looks better. It's got a really, really good crewneck. It doesn't come up too high on your clavicle; it rests in a spot that I find really feminine because it's right where I would put a little gold chain. The texture of it is really good, too. It's semi-sheer and feels great on. I own five, so I have one for every day of the week. It's perfect for uniform dressing.
ALY: You touch this shirt, and you're like, "Oh, I could wear this every day." And we kind of do.
ALY: These are just classic: the fit, the semi-high waist, the color. They're another thing that's become like a uniform. The jeans just get better over time. The more worn they are, the better they look and feel. I probably own six or seven pairs.
AJ: My booty looks so good in these. Levi's never fails — they just get jeans and always have.
AJ: We're big Vans girls. These look cute with a summer dress, jeans, whatever you want to wear. They cover a lot of bases and they're really easy.
ALY: Vans have been on our feet since we were children. I own so many pairs of the slip-ons: plain ones, checkered ones, and styles with other patterns. I have a bunch in colorways they don't make anymore. I always get compliments on them.
ALY: Four years ago, we were going on tour for the first time in a long time and needed new luggage. We got the rolling suitcases from Paravel and have used them every time we go on trips or tours ever since. Even with the hard shell, the luggage is really light. I've since bought a couple more pieces — totes and weekender bags. I know I'll use all of them for years and years.
AJ: Mine is silver — I call it the silver bullet. It's really sleek and still looks nice even after getting a bit beaten up. We also use the suitcases to transport stuff to video shoots. We've been styling our own videos and these help us keep everything we bring organized.
ALY: We're not great photographers, but we both love shooting on our little Contax film cameras. Everything that we shoot is on film: all of our music videos, all of the imagery for the albums — even 80 percent of our Instagram images are shot on film. Portra 400 is a staple, an absolute must, for photos. No other film looks as good in terms of quality and texture and vibrancy.
AJ: With this, photos come out beautifully every time. We're still learning how to load the film into the cameras ourselves so we can help out more on shoots.
ALY: They can store quite a bit, which is really important. We archive everything from our masters to live performances to photo shoots on these hard drives. They're really reliable. We've never had a crash happen.
AJ: We also archive our music videos on them. We keep doubles of everything, too, so if something happened, like a house collapsed or went up in flames, we'd have a backup hard drive.
ALY: Whatever I have in my house, AJ has a double of it in hers. And vice versa.
AJ: Our dad would take us to Maui on family vacations. It was always our big trip of the year. As soon as we arrived at the airport, we would get these chips for the hotel room. But only the ones in the purple bag — never the yellow.
ALY: Before we came home, we would go to a grocery store and stock up on them because you couldn't find them where we lived back then. They have a bit of a kettle-chip vibe. They're very oniony but they don't taste like a raw onion. It's hard to describe, but they're amazing.
AJ: Now you can find them at grocery stores and gas stations, but they weren't always as easy to find. They're not a makeout chip, though. Don't go kissing anyone after eating them because your breath will be gnarly.
ALY: This is kind of like Aquaphor. It comes from an Australian company and it's the best for chapped lips. A makeup artist was using it on a set, that's how we found out about it. I was like, "What is this?" And the makeup artist was like, "Oh my gosh, you don't know? It's a staple." Now AJ and I have several tubes — in our makeup bags, purses, cars, everywhere. I also have a big bottle.
AJ: The first time we used it we were like, "Whoa, this is so nice." I also love that it's fragrance-free. And the texture feels good — it's kind of Vaseline-y without being superthick, and also like Egyptian Magic, but less greasy. It keeps your lips super moist for a long time. I also use it on my hands. It's really good for scratches or rashes or torn cuticles.
AJ: These headphones are incredible. We use them when we record, but they're mainly for when we listen to mixes. The sound is amazing — you can hear the range and depth of our vocals.
ALY: There's something about these headphones that is so good for critical listening. I want to hear exactly how the guitar sounds, exactly how the bass sounds, exactly how the drums sound — and with these, I can. They're super dynamic and give you a clear sense of how every instrument is sitting against your vocal. They have the best isolation, too. My husband told us about them. He's an audiophile, so we trust his opinion.
AJ: Even if they are sort of summery, I drink Aperol spritzes year-round. They're easy to make — just mix this with Prosecco or Champagne and tonic water.
ALY: Wine can give me a headache, which is why I'll always prefer a cocktail. Aperol spritzes are my favorite because they are so refreshing.
The Strategist is designed to surface the most useful, expert recommendations for things to buy across the vast e-commerce landscape. Some of our latest conquests include the best acne treatments, rolling luggage, pillows for side sleepers, natural anxiety remedies, and bath towels. We update links when possible, but note that deals can expire and all prices are subject to change.