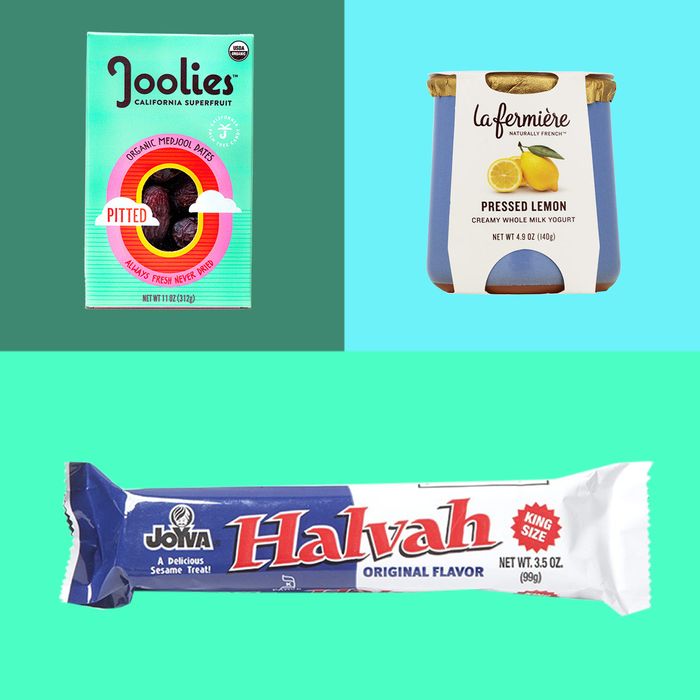 Photo-Illustration: Courtesy of the Vendors
If you follow our monthly Strategist Haul, you're familiar with the idiosyncrasies of our editors' and writers' shopping habits. Generally, we report our shopping highlights — the stylish sleeveless snap cardigans, excellent Susan Choi novels, and especially complex sesame oil we've procured in any given month. But there are plenty of other more mundane things we buy — and love — on the regular too. So whether you've wondered about the work bags we tote around or the underwear we're most loyal to, this is the Stuff We Buy Ourselves. In this edition, the snacks our editors and writers have been relying on to get through social distancing.
Maxine Builder, managing editor
The best innovation to happen in packaged snack foods since the creation of Flamin' Hot Cheetos is the extension of the Flamin' Hot line. Of course, I still love the original (and am known to eat them with metal chopsticks, straight out of the bag, so as not to stain my fingers), but the discovery of Flamin' Hot Funyuns and Flamin' Hot Cheetos Popcorn has really expanded my mind and my taste buds. The best Flamin' Hot snack I've found to date, however, is Smartfood Flamin' Hot White Cheddar Popcorn. It's cheesy and spicy and makes me cry if I eat it too fast, just the way I like it. I went through two-thirds of a full-size bag last Thursday — a day after I bought it — and I was considering breaking my rule of going grocery shopping once a week, just to get some more, until I discovered you could buy it online.
Casey Lewis, senior editor
I bought what felt like plenty of Girl Scouts cookies before all of this began, but my Samoas and Tagalongs are disappearing fast — so I ordered a bunch more through Girl Scouts Cookie Care, which lets you order your GS favorites online (for, I think, the first time ever).
Jessica Silvester, contributing editor
You don't have to stir this stuff. You can just hit it straight out of the jar, which is exactly what I do, all times of day — sometimes as a midmorning snack, but even more often as a pre-bedtime dessert, because this particular brand is so silky it's like eating a nutty melted ice cream. Apparently Soom is a favorite of Danny Bowien and other chefs, but I don't use it for cooking (I don't cook) — just spoon-feeding myself. And the only reason I discovered it in the first place is because my previous go-to, the very delicious Seed + Mill, sadly vanished from Whole Foods, and I went and Googled like mad to find the closest possible replacement. Meanwhile, Soom is getting harder and harder to find — so now I'm seriously considering purchasing this $100 bucket of Seed + Mill.
Alexis Swerdloff, Strategist editor
Former Strategist editor Simone Kitchens turned me on to these rice cakes which taste like vaguely flavorful, crunchy air — but I truly love them, and they are a good vehicle for peanut butter.
A similarly shaped (but much less virtuous) snack that's the big treat of our household at the moment is cinnamon-raisin Thomas English muffins. My 19-month-old son has even figured out where we keep them and rushes over to the corner of the kitchen and begs for them like a dog.
Katy Schneider, senior editor