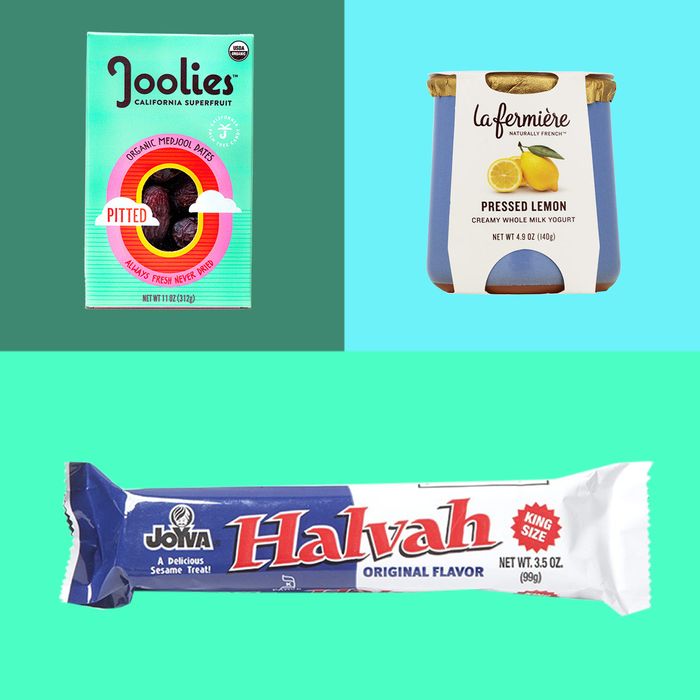 Photo-Illustration: Courtesy of the Vendors
If you follow our monthly Strategist Haul, you're familiar with the idiosyncrasies of our editors' and writers' shopping habits. Generally, we report our shopping highlights — the stylish sleeveless snap cardigans, excellent Susan Choi novels, and especially complex sesame oil we've procured in any given month. But there are plenty of other more mundane things we buy — and love — on the regular too. So whether you've wondered about the work bags we tote around or the underwear we're most loyal to, this is the Stuff We Buy Ourselves. In this edition, the snacks our editors and writers have been relying on to get through social distancing.
Maxine Builder, managing editor
The best innovation to happen in packaged snack foods since the creation of Flamin' Hot Cheetos is the extension of the Flamin' Hot line. Of course, I still love the original (and am known to eat them with metal chopsticks, straight out of the bag, so as not to stain my fingers), but the discovery of Flamin' Hot Funyuns and Flamin' Hot Cheetos Popcorn has really expanded my mind and my taste buds. The best Flamin' Hot snack I've found to date, however, is Smartfood Flamin' Hot White Cheddar Popcorn. It's cheesy and spicy and makes me cry if I eat it too fast, just the way I like it. I went through two-thirds of a full-size bag last Thursday — a day after I bought it — and I was considering breaking my rule of going grocery shopping once a week, just to get some more, until I discovered you could buy it online.
Casey Lewis, senior editor
I bought what felt like plenty of Girl Scouts cookies before all of this began, but my Samoas and Tagalongs are disappearing fast — so I ordered a bunch more through Girl Scouts Cookie Care, which lets you order your GS favorites online (for, I think, the first time ever).
Jessica Silvester, contributing editor
You don't have to stir this stuff. You can just hit it straight out of the jar, which is exactly what I do, all times of day — sometimes as a midmorning snack, but even more often as a pre-bedtime dessert, because this particular brand is so silky it's like eating a nutty melted ice cream. Apparently Soom is a favorite of Danny Bowien and other chefs, but I don't use it for cooking (I don't cook) — just spoon-feeding myself. And the only reason I discovered it in the first place is because my previous go-to, the very delicious Seed + Mill, sadly vanished from Whole Foods, and I went and Googled like mad to find the closest possible replacement. Meanwhile, Soom is getting harder and harder to find — so now I'm seriously considering purchasing this $100 bucket of Seed + Mill.
Alexis Swerdloff, Strategist editor
Former Strategist editor Simone Kitchens turned me on to these rice cakes which taste like vaguely flavorful, crunchy air — but I truly love them, and they are a good vehicle for peanut butter.
A similarly shaped (but much less virtuous) snack that's the big treat of our household at the moment is cinnamon-raisin Thomas English muffins. My 19-month-old son has even figured out where we keep them and rushes over to the corner of the kitchen and begs for them like a dog.
Katy Schneider, senior editor
I am a date fiend. In before-time, I'd buy them in bulk at Dimes Deli (they had the fattest, most delicious dates out there). Now I've just been picking up whatever I can find at my local market in Connecticut. (They've mostly been terrible: hard as rocks and basically flavorless.) But two friends have recommended two different date-delivery services. One is called Rancho Meladuco Date Farm (the friend who recommended these says they came quickly and are "so delicious and caramelly"); the other is called Joolies. I am making all of my bad dates into smoothies (dates, almond milk, vanilla, and cinnamon), and am waiting on my Rancho Meladuco dates to snack on plain.
Dominique Pariso, writer
Violets have been around since the 1930s, and I don't think anything about them, from the packaging to the flavor, has changed. My mom always kept a pack in her purse, and I've started stress-eating them throughout the day. While mints serve a purpose, Violets are just for pleasure. But be warned: These square, purple pastilles are polarizing. They taste just like the flower for which they are named, which fans such as myself would describe as delightfully botanical, and which naysayers would liken to "sucking on a bottle of perfume."
My supply of Season sardines — which I buy from Costco — have been a lifesaver. They're perfect for when it's suddenly 3 p.m., and I realize I haven't eaten anything all day; I just need a squeeze of lemon and a tablespoon of capers to get an instant protein pick-me-up.
Kayla Levy, intern
Nut butters are my comfort foods of choice, but because one of my roommates is allergic to peanuts and tree nuts, I've doubled down on my commitment to tahini during quarantine. It's creamy and nutty but doesn't contain either of those allergens, and it pairs well with savory and sweet foods — from Alison Roman's go-to lemony tahini dressing, to Danielle Oron's salted-tahini-chocolate-chip cookies, and just about everything in Yotam Ottolenghi's Middle Eastern–food empire. I'm also known to eat the paste straight from the jar.
Popcorn is the Platonic ideal of snacks: It can be topped with salt and pepper, or butter and sugar, and pairs just as well with M&M's as it does with wine. Since we don't have a microwave, I've been making popcorn in a pot on the stove, just like writer Laura Lippman.
Chloe Anello, junior writer
My snacks are not very fun thanks to my plethora of dietary restrictions. But if you're in the market for a gluten-free cracker, these are the best. They're crunchy and flavorful. I mostly eat them plain, but I'm sure they'd be great with toppings. And for something a bit more spunky, I recommend the Rosemary & Olive Oil flavor.
Snyder's gluten-free pretzels get all the attention, but this Quinn brand really deserves more credit. They're thinner than Snyder's and much crispier. They also don't have quite as much salt, so I'm not dying for water after I eat a handful. I also like the individual bags because they prevent me from mindlessly eating too many.
I really love chocolate, but since I'm lactose intolerant (among other things), I can't eat most chocolaty snacks. This allows me to have a hit of chocolate, without making myself sick.
Tembe Denton-Hurst, writer
I'm not really a chip person, but Voodoo chips hit different. My partner brought them back after a trip to Atlanta (pre–social distancing), and I was instantly hooked. They're salty and crunchy and the flavor is a tasty mix of barbecue and salt and vinegar. These aren't available at my local grocery store, but luckily I found them online, and you can purchase them by the boxload.