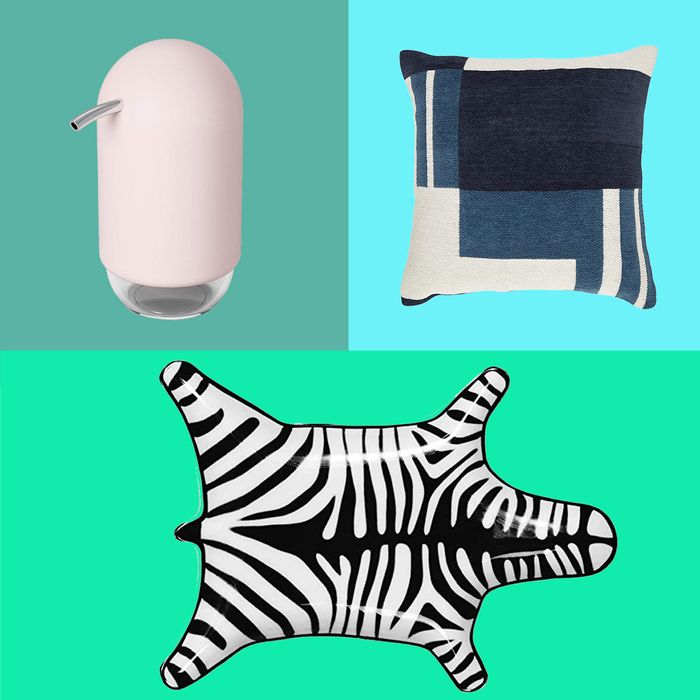 Photo: Courtesy the retailer
Turns out you don't need to schlep to Ikea to find cheap bowls, trash cans, water pitchers, or dish towels. Amazon is actually full of handsome and well-priced home décor — you just have to do a little digging. Which is what we did, so you don't have to. Below, the colorful pillows and metal napkin holders that are under $30 (and in most cases, under $20). If you're looking for some cheap decorating ideas for the bathroom, bedroom, or kitchen as well, we went and found a bunch of those on Amazon, too.
These geometric wall planters (for your beloved succulents) would look nice in an entryway.
As would this organizer for your mail, keys, and an umbrella. The wooden ball hooks are a delightful touch.
Or give your keys a punchy zebra dish to live in instead.
This handsome leather tray is slightly more subdued and comes with two compartments.
A charming, monochromatic West Elm-esque throw pillow for a not-so-West Elm price.
Just as charming is this set of Dalmatian-dot-printed cushion covers. It seems perfect for giving a couch some Big Dog Energy (without the big dog, and requisite shedding).
This natural-wood-and-leather hook would be right at home in a pared-down Shaker-style space.
Great for displaying a delicate bud or two, and nice enough to keep out on its own.
This bold, structural lamp looks like it costs much more than $30.
Wooden accents warm up this otherwise utilitarian desk lamp.
For something more industrial, it's hard to beat the price of this slender, Restoration Hardware–esque metal table lamp with an exposed bulb.
These woven baskets would also provide ample storage space (for, say, toys in a nursery, or blankets), while giving a room a slightly cozier feel.
These graphic coasters are a twofer: When arranged together, they form a trivet.
Speaking of trivets, we can't resist this set of wooden monstera leaves.
This simple but elegant set of candleholders would go very well with some of-the-moment, brightly colored tapered candlesticks.
With its minimal packaging and Le Labo–esque typeface, this highly reviewed candle does not look like something you'd buy on Amazon for $15.
This unframed vintage reprint of vegetables seems ripe for freshening up a bare kitchen wall (whether you frame it or not).
A home for your ladles and spoons, so you don't get tomato sauce all over the kitchen. You can also fit your favorite cookbook.
Here's a bottle opener made from walnut that's magnetized — you won't be embarrassed to stick it to your fridge.
Use this lovely yellow cake stand to display your latest olive-oil cake — or, perhaps, an assortment of marzipan.