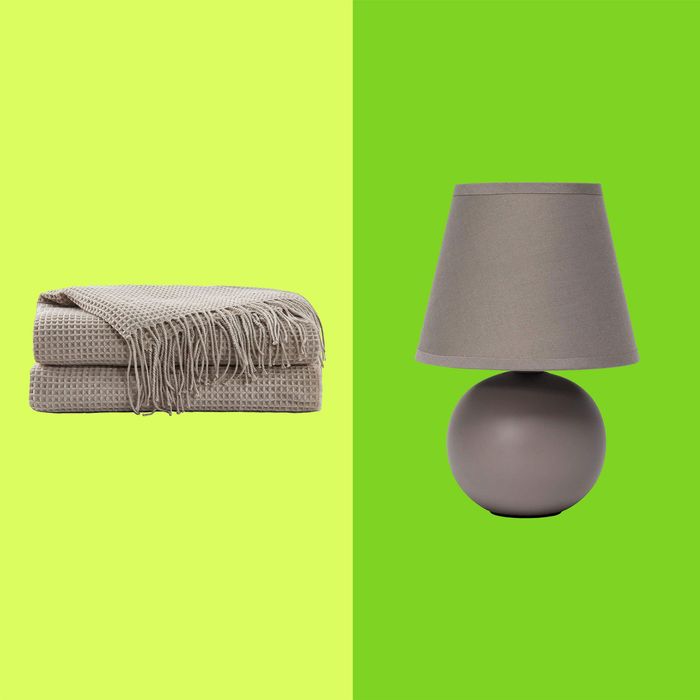 Photo-Illustration: Courtesy the retailer
While schlepping to Ikea for cheap bowls, trash cans, water pitchers, and dish towels can be a convenient way to get all your apartment decorating done at once, it isn't the only option. With a little digging, you can find lots more handsome and well-priced home décor online — you just have to know where to look. Seeing as our job is knowing where to look to find the best stuff, we decided to help any would-be apartment decorators by doing some digging to find affordable décor that'll gussy up any space, from the kitchen to the entryway. From minimalist glass storage vessels to textured throw blankets to sleek-looking lamps, any of the 36 items below — all of which are (roughly) $20 or less — will go a long way toward sprucing up your home. The things on this list are all available at Amazon, but we've found a few of them elsewhere, too, for those who like to shop around. And if you're looking for even more cheap (but expensive-looking) home décor, check out our individual roundups of things for bathroom, bedroom, dining room, kitchen, and nursery.
Get a handle that unruly stack of magazines (or towels) with this rustic basket made out of banana leaves.
A $12 (on-trend) waffle throw blanket that looks straight out of a Nancy Meyers movie.
These woven baskets would provide ample storage space for, say, blankets, or toys in a nursery, while giving a room a slightly cozier feel.
Anyone who appreciates foliage will probably fall for this set of wooden trivets shaped like monstera leaves.
One of these little monochrome lamps would look great on a nightstand. A set of two would look just as sharp atop either end of a long bookshelf.
This set of minimalist prints features enough earth tones to set any millennial heart ablaze.
After using similar ones to hang artworks from friends, our senior writer Liza Corsillo wrote that poster rails like the two in this set are a foolproof way to display prints because they cost a fraction of traditional frames (and look just as good).
Some simple wooden bookends would be a more elegant way to contain that unruly stack of paperbacks.
Anyone who has hosted a dinner party knows that nothing quite sets the mood like candlelight. This simple but elegant set of candleholders would go very well with some brightly colored (of-the-moment) tapered candlesticks.
A (faux) fur rug to zuzh up a forgotten corner. Once it's on the floor, we suspect it'll quickly become everyone's favorite spot in the house.
This amber vase will look nice whether you put artificial flowers in it or the real thing.
For a more modern look, this circular acrylic vase gives off serious '80s vibes.
Here's a retro, schoolhouse-inspired clock for your wall that's, well, timeless.
Photo: retailer
An iridescent jar that would make a far nicer-looking home for cotton balls or your favorite candy.
This serving tray is big enough to hold a nail-polish collection or function as a family catchall on any entryway table.