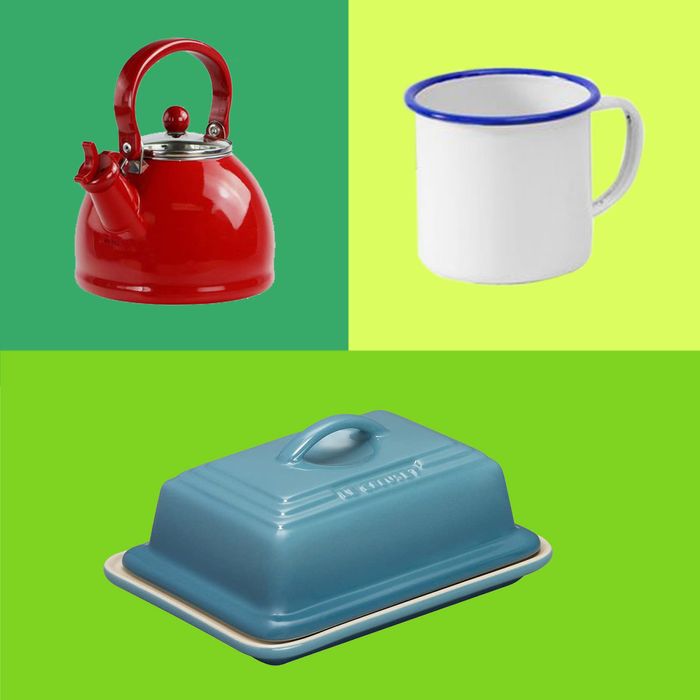 Photo-Illustration: Courtesy of the retailers
Whether you're an amateur chef or a takeout master, chances are you spend a lot of time in your kitchen (especially this year). While we've rounded up the best accents for your bedroom , bathroom, and living room elsewhere, here we've done some digging and rustled up some of the best kitchen décor ideas. Below, you'll find gussied-up basics and restaurant-worthy accessories to spruce up your kitchen, regardless of your cooking prowess. While all of the things on this list are available on Amazon, we've found some of them elsewhere, too, for those who like to shop around.
This versatile lid — a favorite of Rio Viera-Newton's — can cover all of your pots, pans, and bowls. Plus, it looks darn cute. The pink version is slightly cheaper — but also more popular (we've seen it go in and out of stock) — so if you prefer that, we say nab it when you can.
Just as nice to look at: these enamelware (dare we say splatterware?) bowls you can use to store all of your leftovers.
These dishcloths have odor- and bacteria-absorbing charcoal infused in the fibers.
Photo: retailer
Chefs told us these reusable mop towels, which "can be washed over and over," are a staple of any restaurant or bar. They're more sustainable than perforated paper towels (and, with their Stan Smith–esque splash of green, far better-looking, too).
Nothing says "fancy dinner party" quite like linen napkins.
The chic stripes on this tablecloth are equal parts sophisticated and rustic.
Nessie makes every pot of soup a little bit cuter.
Strategist newsletter editor Mia Leimkuhler writes that this apron is "less 'dutiful housewife' and more 'cool ceramics teacher.'"
A teakettle that comes in a rainbow of colors to match practically every palette. Because it sits sweetly on the stove, it also frees up counterspace.
While it may not outwardly make your kitchen look nicer (like, say, a cute kettle you can leave on the stove), this nifty rack of sorts will go a long way toward making your cupboards or drawers look like those of a professional organizer.
Put bread (or onions or potatoes) in this bag to keep counters clear of clutter.
This trash can is a bit on the pricier side, but its minimal design and range of available colors make it worth the splurge.
Keep your most-used spices and oils within reach with this no-installation-required spice rack.
The stainless-steel holder your (maybe still nestled in their IKEA plastic) napkins have been waiting for.
To feel like a French person when you're drinking red wine.
This copper paper-towel holder will add an instant touch of class to any counter.
Not only does this cookbook look great on display — it also contains all the secrets to cooking the most important meal of the day.
You could spend hundreds of dollars on one of Le Creuset's status Dutch ovens, or you could spend less than $100 on this equally smart-looking casserole dish (built for two) that'll be almost just as useful.
Your plastic bag stash may now be a thing of the past, but this guy seems just as handy for holding all your squishable Baggu totes.
It would be enough if these kitchen shears just looked like a toucan. But they're also magnetic.