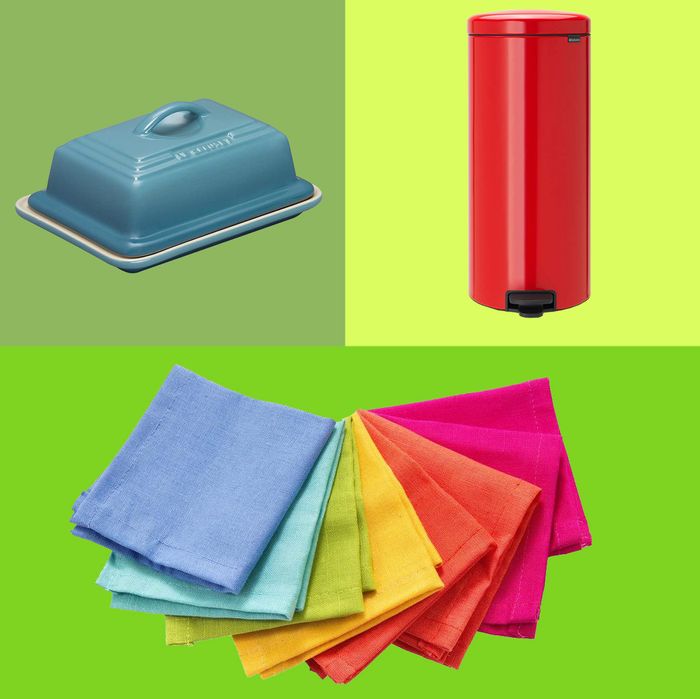 Photo: Courtesy of the retailers
Whether you're an amateur chef or a takeout master, chances are you spend a lot of time in your kitchen. While we've rounded up the best accents for your bedroom and bathroom elsewhere, here we've dug through Amazon to find the best kitchen décor ideas. Below, you'll find gussied-up basics and restaurant-worthy accessories to spruce up your kitchen, regardless of your cooking prowess.
Just as nice to look at: These enamelware bowls you can use to store all of your leftovers.
Think how nice your next Alison Roman recipe will look on this blue-and-white dish.
A brightly colored bowl (that comes with "serving hands") to display your fresh fruit or mix your next weeknight dinner salad.
These dishcloths have odor- and bacteria-absorbing charcoal infused in the fibers.
Nothing says "fancy dinner party" quite like linen napkins.
The chic stripes on this tablecloth are equal parts sophisticated and rustic.
Nessie makes every pot of soup a little bit cuter.
Your salt and pepper deserve Scandinavian-designed homes.
Dump your ratty dish towel and dry your pots and pans on this microfiber dish mat instead.
Strategist newsletter editor Mia Leimkuhler writes that this apron is "less 'dutiful housewife' and more 'cool ceramics teacher.'"
Put bread (or onions or potatoes) in this bag to keep counters clear of clutter.
This trash can is a bit on the pricier side, but its elevated design and the range of available colors makes it worth the splurge.
Keep your most-used spices and oils within easy reach with this no-install spice rack.
The stainless-steel holder your napkins have been waiting for.
To feel like a French girl when you're drinking red wine.
This copper paper towel holder will add an instant touch of class to any counter.
Not only does this cookbook look great on display — it also contains all the secrets to cooking the most important meal of the day.
A Kobenstyle built for two.
Your plastic bag stash may now be a thing of the past, but this guy seems just as handy for holding all your squishable Baggu totes
It would be enough if these kitchen shears just looked like a toucan. But they're also magnetic.
A cloth cocktail napkin rainbow.