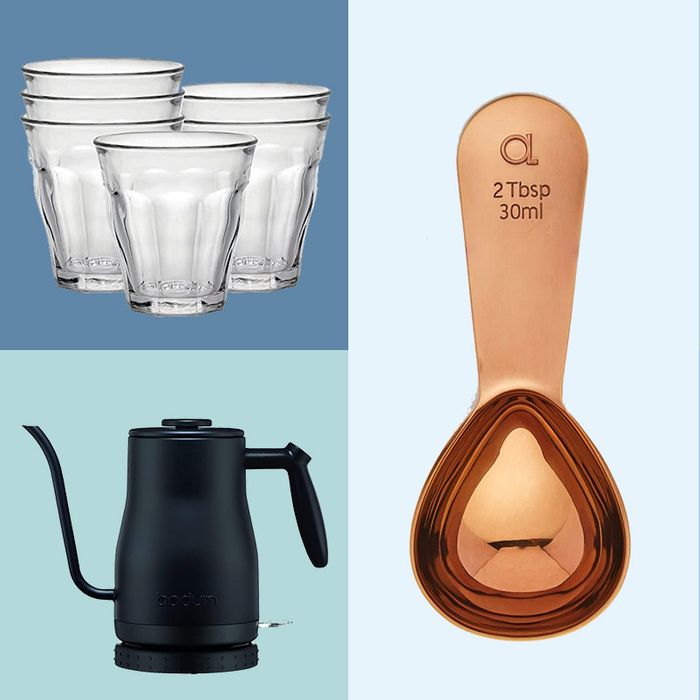 Photo-Illustration: Courtesy of the retailers
Whether you're an amateur chef or a takeout master, chances are you spend a lot of time in your kitchen (especially this year). While we've rounded up the best accents for your bedroom, bathroom, and living room elsewhere, here we've done some digging to find a wealth of stylish and fancy-looking kitchen décor ideas that are surprisingly affordable. Below, you'll find gussied-up basics and restaurant-worthy accessories to spruce up your kitchen, regardless of your cooking prowess. While all of the things on this list are available on Amazon, we've found some of them elsewhere, too, for those who like to shop around.
This nice-looking box of Maldon is easy on the eyes — and the flaky sea salt inside is just as easy on the tastebuds.
Stasher's colorful and dishwasher-safe silicone food-storage bags are a favorite among people looking to reduce waste.
A matte-black electric kettle like this one from Bodum reduces the look of clutter in small kitchens.
Dress up your favorite oil and vinegar with this hand-blown cruet.
A set of Marimekko-esque potholders and oven mitts to wake up a tired kitchen.
A good-looking soap dispenser can make all the difference when it comes to washing dishes.
A shabby-chic pitcher for your dried flowers — or drinkable liquids.
This versatile lid — a favorite of Rio Viera-Newton's — can cover all of your pots, pans, and bowls. Plus, it looks darn cute. The pink version is slightly cheaper — but also more popular (we've seen it go in and out of stock) — so if you prefer that, we say nab it when you can.
These dishcloths have odor- and bacteria-absorbing charcoal infused in the fibers.
Chefs told us these reusable mop towels, which "can be washed over and over," are a staple of any restaurant or bar. They're more sustainable than perforated paper towels (and, with their Stan Smith–esque splash of blue, far better-looking, too).
Nothing says "fancy dinner party" quite like linen napkins.
The chic stripes on this tablecloth are equal parts sophisticated and rustic.
Nessie makes every pot of soup a little bit cuter.
Strategist newsletter editor Mia Leimkuhler writes that this apron is "less 'dutiful housewife' and more 'cool ceramics teacher.'"