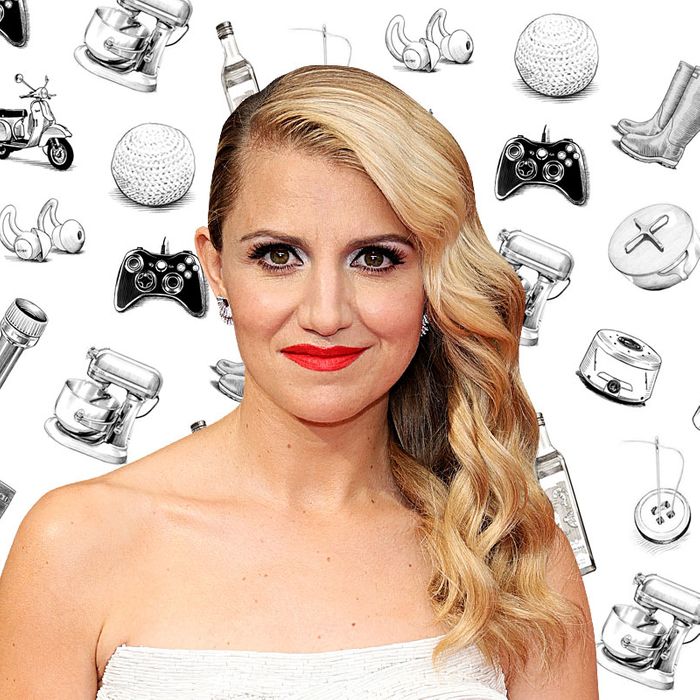 Photo-Illustration: The Strategist. Photo: Rich Fury/Getty Images
If you're like us, you've probably wondered what famous people add to their carts. Not the JAR brooch and Louis XV chair but the hair spray and the electric toothbrush. We spoke with actress Annaleigh Ashford, who stars in the sitcom B Positive on CBS, about the emergency jerky she carries with her, the wigs that brighten her days, and the one decaf coffee that doesn't taste like "garbage water."
A wig brings joy to every occasion. I have maybe 50 of them; it's quite a vast collection. As an actor, wigs are a part of my daily job, so I've always loved them. But years ago, my friend Damian had this really fun birthday party. He had a box of wigs at the door and you couldn't enter without wearing one. It was one of the most fun parties I've ever been to. Everyone should own a high-quality wig, truthfully. Whether you're the type of person who wears one daily, or you just keep a box of silly ones for fun, you never know when you'll need one. I prefer a pastel rainbow wig over everything.
I have a 5-year-old, and as any mother knows, crayons come to the rescue. We bring a box anywhere we go. Seriously, every bag that leaves the house has at least one box of crayons in it. Not only do they save you from moments of boredom, but they also bring lots of joy to my family's life. I love seeing the magic that spills out of my son Jack's brain because I really get to see what he's thinking or feeling. He draws his favorite superheroes together in one giant crossover universe, like Harry Potter and Spiderman go on adventures together, and our family with very long arms and legs — he makes my dreams come true by giving me longer legs than I was born with.
I am a New Yorker, but I've been living in L.A. for the last couple of years. There's an incredible bone-broth store in Manhattan called Brodo. They have a walk-up window where you order the best bone broth I've had because it tastes so pure. The ingredients are top-notch. You used to only be able to buy it in person, but now you can get it shipped to your house. My husband and I drink it daily. I'll have an entire pint because it's just delicious, and it's so much protein. I feel really good every time I eat it.
I love a liquid liner with a very thin brush as an applicator, which is actually sort of hard to find. I think — and many makeup artists have agreed with me — that more often than not, the cheaper, drugstore brands have an easier eyeliner to apply when it comes to liquid. E.l.f. is very easy to apply and wash off, which is great at the end of the night. It's also helpful if I make a mistake, which happens often with liquid liner, because I can correct it quickly. I don't have to spend 20 minutes trying to get black smudges around my eyes off.
When you're having a food emergency, jerky is the perfect treat. It's protein, so it won't make my blood sugar spike. It gives me energy. It tastes good. I feel like I'm being naughty having something super-salty, too. I am very particular about my jerky, honestly. My dad hunted deer and elk, so we had farm-to-table food — well, rather mountain-to-table — and I grew up eating authentically organic meat. And my dad would make his own beef jerky. Not only does the spice ratio need to be spot-on with a really clean flavor profile, but I won't eat it if the meat isn't high-quality because what's the point? Ayoba Droewors is the best beef jerky I've had that isn't my dad's. When I found it, I sent him some, and he loved it, which is the true test of how good a beef jerky is.
I was flying back from New York to L.A., and I randomly saw this drink at the airport. I wanted a flavored, sparkling-water-type drink. I tasted it, and I was like, "This is one of the best drinks I've ever had." The drinks are tasty, light, and refreshing. Some flavors even make me feel like I'm drinking a mocktail. It's hard to pick a favorite, but I really love the one with lime and cardamom and rose. I don't even like rose, but I love this.
Some of my favorite healthy people wear the Oura ring, so I heard about it through word of mouth. I've used many different types of sleep trackers and ways to remind myself to go to sleep, but the Oura ring actually tells me what kind of sleep I've had at night. There are times when I wake up in the morning and I just want to be reassured that yes, I did sleep like shit. It gently reminds me when it's time to get ready for bed, and if I don't go to bed when I'm alerted, the next day is always a little bit harder. It tracks my movement, too, and my body temperature. It's great for tracking my cycle. 
I have struggled with acne here and there throughout my life. I used to be afraid of oil makeup removers and face washes, but now, I firmly believe they are the best. This one has no fragrance, so it doesn't bother me at all. And it breaks down the makeup immediately — one pass over my face, and my makeup is completely gone. I don't have to use a separate makeup remover for my eyes, either. Even when I don't have makeup on, I use it as a plain cleanser because it doesn't strip the oil from my skin and keeps my microbiome balanced. I don't even have to use a moisturizer afterwards sometimes.
Dark Matter is this awesome, awesome, awesome company in Chicago. My husband was born in a suburb outside Chicago, and I worked there for a couple of years. Whenever we arrive in Chicago, we take an Uber immediately to the Dark Matter Roasters headquarters and buy coffee for ourselves and everybody we know. We have never had a bad bag. I actually drink decaf. When decaf is bad, it's undrinkable, almost like garbage water, but their decaf is so delicious and super-flavorful. I've been drinking coffee since college, but ever since I had my son, I realized that caffeine was not the friend that it used to be. I started switching over to decaf, and that's when I learned the hard truth that not all decaf coffee is created equal. But Dark Matter's is really great, and when I want real coffee to feel like I'm on speed, I'll pick their Love Supreme blend.
I feel like high-quality oils are the key to magical food. We used to live a ten-minute walk away from Frankie's 457 in Brooklyn. It is without a doubt one of the best Italian restaurants in New York City. I used to go there all the time years before I knew I had celiac disease. Their olive oil is incredible — I mean, you could eat it with a spoon. They give it to you at the start of the meal in a little dish with bread, and I would probably just be happy with that. They source their olive oil from Italy. It's organic. And it's now in lots of major grocery stores. We buy the liter canisters to keep on our kitchen counter, and it lasts a really long time.
This has been the only eyelash curler I've used since I was 18 years old. My best friend Craig Jessup, also known as Breedlove, is an incredible performer but also a makeup artist. He's a jack of many trades. He worked for Kevyn Aucoin and introduced me to the eyelash curler. It does a lovely, clean, quick job of curling your lashes in a special way that lasts for a long time. It never pinches, either, because the rubber-to-metal ratio is just perfect. It is worth every penny. In almost 20 years, I've only owned four of them.
Foam rollers are a magical wonder. It's so good for releasing your fascia. You can lay on it to straighten out your spine or to meditate. When it comes to foam rollers, I think any old foam roller will do. Mine is from the brand MELT, which I really like. I own both the soft and hard ones. The hard one is good in certain circumstances, but it can be a little too intense, which is why I think it's good to have a soft one, too. Sometimes when you're doing things like IT band, you really want to get in there, but it's so painful that sometimes you just want to ease into it. Or if your back is really crunchy and out of alignment, you need the soft one.
I'm an ambassador for WW, and they got me into it initially. They feature this awesome little one made by Dash that's super-compact but works really well. I have had one in every dressing room, believe it or not. I can cook anything in my air fryer. I've literally cooked filet mignon, vegetables, salmon, French fries, gluten-free chicken nuggets for Jack — basically anything that fits in the basket, I have air-fried it. There's something about it that makes your food so crispy and light and everything we love in fried food but without the oil. I have celiac disease, too, and not many gluten-free things crisp up the way you want it to, but my air fryer does wonders for me. It's changed my whole world.
The Strategist is designed to surface the most useful, expert recommendations for things to buy across the vast e-commerce landscape. Some of our latest conquests include the best acne treatments, rolling luggage, pillows for side sleepers, natural anxiety remedies, and bath towels. We update links when possible, but note that deals can expire and all prices are subject to change.