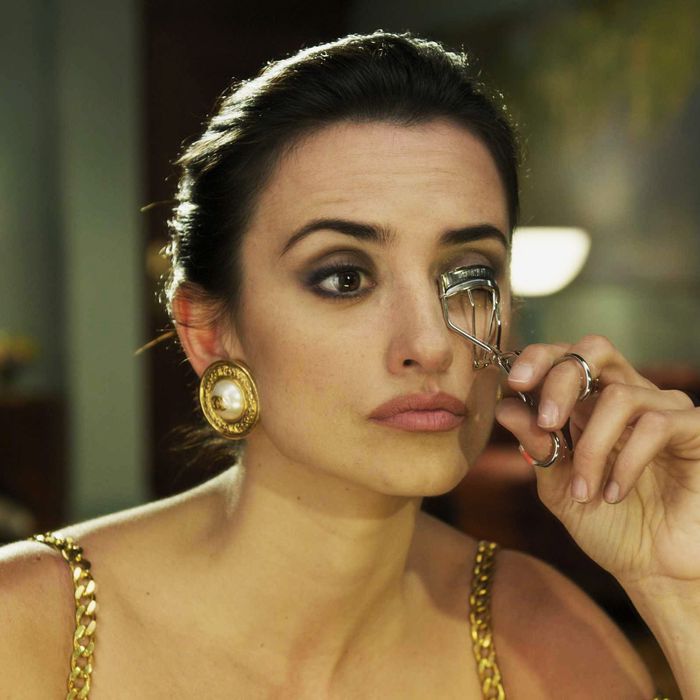 Photo: Courtesy of Universal Pictures International
While a good mascara serves many purposes — opening the eye, making you look less tired, giving the illusion of not just longer lashes but also lusher, denser lashes — as most makeup experts will tell you, those results are dramatically magnified when you take the extra two minutes to curl those lashes beforehand. Of course, there are lots of eyelash curlers on the market. A good place to start, according to makeup artist David Maderich, is with those that "have a round beveled silicone pad that forms the curl." (He advises staying away from square pads, as these will form a crimp — not a clean bend — and look odd in profile.) From there, you can also keep the specifications of your own particular face in mind — say, the fact that you have sensitive eyes, or almond-shaped ones, or especially short lashes. Below, Maderich and six other beauty experts weigh in on their favorite options for all these needs and more.
Best overall eyelash curler


The Surratt Relevee Lash Curler was most recommended among the makeup artists we spoke to, with five out of six of our experts singing its praises. According to Maderich, this curler has both a rounded silicone pad that never gives that dreaded 90-degree square crimp, as well as a wide base that curls every individual lash. But what makes this curler unique is that it "somehow never seems to pinch the skin," due to the double-wrapped curling mechanism, which is why he always recommends it to clients who are afraid of lash curlers. Both he and makeup artist Beau Nelson also love the sophisticated matte black finish. New York City–based hairstylist and makeup artist Jackie Schneider finds it works great on short, stubborn lashes because it's slightly less curved than most other curlers, allowing it to wiggle in close to the lash line and get shorter lashes to curl. "It's user-friendly, gentle, and curls lashes without the bite mark," she concludes. And due to the slight degree of curvature, it is also great for practically all eye shapes, promises beauty director Justin St. Clair.
Best eyelash curler for short lashes


Maderich has been using this iconic curler on clients for two decades. Much like the Surratt Relevee Lash Curler, this one also has a wide base that captures every single lash as well as a rounded pad that forms a perfect uplifting arc to your lashes. "I also like how I can wiggle the curler extremely close to the lash line to get dramatically curled lashes," he explains — a feature that is essential for grabbing those short lashes that barely fan out from the lid. Makeup artist Miriam Nichterlein, whose clients include celebrities like Maya Rudolph, claims that while there have been newcomers added to the market since the Shu Uemura curler first came out, it is still "unbeatable" for its ability to curl and hug the eyelid perfectly.
Best eyelash curler for sensitive eyes


Some of us simply don't do well with objects too close to our eyes — they'll begin to water or turn red. And some people's lashes are actually more sensitive than others, too, with a tendency to be itchy or fragile due to allergies or age. If you are one of those people, you should look for curlers with an easy to control handle. Nelson loves the "innovative design" of this Dior lash curler: its "virtually impossible to squeeze your lashes too hard with this one because of its unique shape," he promises, which makes it a safe bet for people with sensitive eyes or lashes. The curler has two padded handles that are easy to grip, as well as a sensitive squeezing mechanism, so you stay in control of the level of pressure, ensuring that you won't slip or squeeze too hard.
Best eyelash curler for curling individual lashes
For the lash perfectionist, Maderich recommends this individual lash curler, which allows you to curl small sections of your lashes. He prefers to use this on models that have very large eyes which makes it difficult to fit all of their lashes at once, leaving the outer corners uncurled. While he warns that "there is definitely a learning curve with this curler, it's well worth it if you have huge eyes or like to be in control of your curl." With a typical eyelash curler, you would grab the handle, place it close to your open eye, and then get as close to the base of your lashes as possible, before closing the clamps and holding for a few seconds, before releasing. This one works a little differently. Instead, you place the clamp on the section of lashes you want to curl, and use just your forefinger and thumb to carefully squeeze. It is also important to place the pink pad on the bottom of the lashes, not the top. As an added bonus, the Lash Star curler can also be used to curl your bottom lashes. And note that if you do use it for that, make sure you flip the pink pad so it's on top. Schneider also loves to use it for detail work and adds that it's small enough to not take up a lot of room in your makeup bag. Plus, "it's stainless steel, so it's very durable."
Best heated eyelash curler


Heated eyelash curlers are said to be effective because the heat sets the curl and allows it to last longer, much like a hair curler. Both Nichterlein and Schneider are big fans of Japonesque's Heated Mini Eyelash Curler. Schneider says it's a reliable tool when working on her no-makeup makeup clients because "it's much easier to use on people who aren't used to having their makeup done." While she does note that its curling power isn't quite as effective as traditional curlers — since the wand is better at lifting lashes, as opposed to curling them — it's still great for those who prefer very natural-looking makeup, or who are intimidated by conventional curlers. And while it is a heated device, Scheider promises that it is completely comfortable and safe to use close to the eye. Nichterlein agrees and adds that it's also great for those who have fake lashes as "it will lift fake lashes post-application without ruining or removing them." And while this feels like a more high-tech option, the $16 price point is similar to the other curlers on this list.