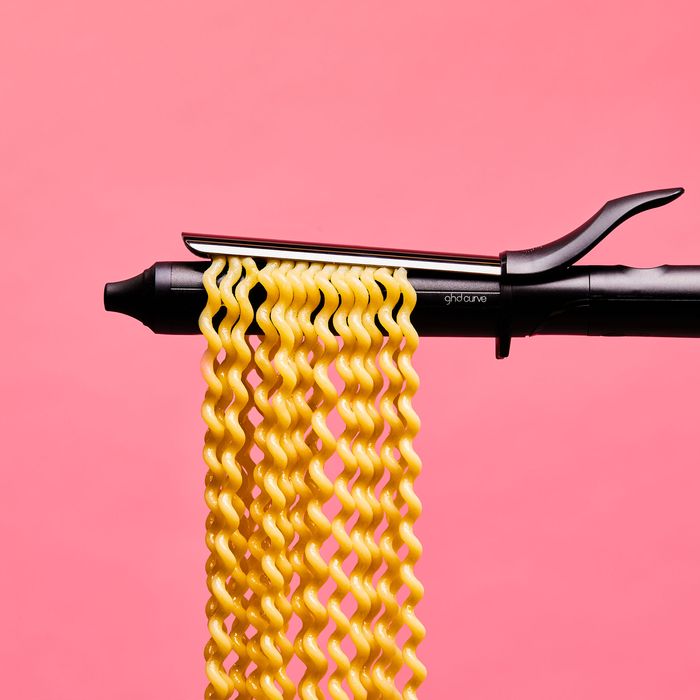 Like a foolproof flat iron or a dependable blow-dryer, the right curling iron can shave a couple of minutes off a rushed early-morning routine. The perfect one probably delivers the waviest of beach waves just as easily as tousled ringlets and tighter corkscrew curls. It would also help if it isn't too heavy in the hands. Finding that curling iron isn't easy — but it begins with knowing your desired look. "Start off with understanding the type of curl you're trying to achieve," explains hairstylist and Act+Acre founder Helen Reavey. You'll also want to consider your hair texture because a "holy grail" curling iron for one person may not work for another. That's why I turned to 14 hairstyling professionals to get their opinions on which curling irons and wands are worth the investment. Below, I've compiled a range of their recommendations — from drugstore-budget options to the trusty heavy hitters professionals use for perfect curls on their famous clients.
Best overall | Best (less-expensive) | Best for beginners | Best for long hair | Best for thick hair | Best for frizz | Best for travel | Best for versatility | Best (less-expensive) for versatility | Best cordless | Best wand | Best wand for textured hair | Best wand for versatility | Best wand for minimizing heat damage | Best waver
What we're looking for
Temperature: You'll want to play close attention to a curling iron's heat settings and make sure the ranges are compatible with your hair type. In general, fine or damaged hair types need curling irons that have lower temperature settings, while very coarse or curly hair types will need an iron that can reach higher temperatures (but if your hair is both curly and damaged or fine, you may still want to go for a lower setting). And no matter the temperature you set your curling iron at, always apply a heat protectant beforehand.
Plate material: According to celebrity hairstylist and Contents Hair Care founder Cheryl Bergamy, "we tend to pick the wrong hair tools for our texture." Monaè Everett, a celebrity hairstylist and the author of Stunning Braids, is a fan of titanium or tourmaline irons since they tend to be hotter, distribute heat evenly, fight frizz more easily, and last longer. Those types of irons are best for people whose hair is curly or coarse or doesn't hold a curl easily. Those with fine or damaged hair or who have hair that does hold a curl easily should get a ceramic curling iron since they can be less damaging.
Barrel size: The final thing to consider is the size of the barrel. A general rule: The larger the diameter of the barrel, the looser (and larger) the ringlets, while smaller barrels will produce tighter and smaller curls. Hair length is also an important factor in selecting your barrel size. Larger barrels are better for longer hair, while those with short styles will want to opt for a smaller one. And if you have naturally curly hair, you will want to try to match the size of the iron to your curl, adds Reavey.
Best overall curling iron
365 degrees | Ceramic | One inch
The clear favorite among the hairstylists we polled for this story was a one-inch curling iron from GHD. Most mentioned how intuitive this iron is at minimizing hair damage — it heats up to exactly 365 degrees. "The material allows heat to distribute evenly, creating the perfect wave without damaging your hair," Reavey says. (While 365 degrees is supposedly the optimal temperature for avoiding heat damage, those with very thick hair textures might want an iron that goes higher, which you can find below). It's her top recommendation for people who curl their hair often, and other experts — including stylists Benjamin Muller and Nunzio Saviano — tend to agree. "The temperature is perfect, the hair never smokes or smells like burn, and the curl is perfect after four to five seconds from root to end — shiny and elastic," says Saviano.
Best (less expensive) curling iron