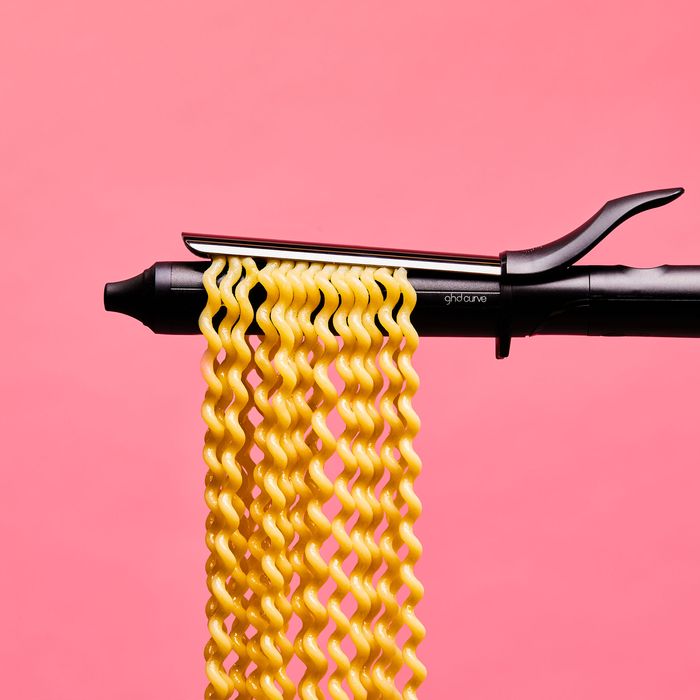 Like a foolproof flat iron or a dependable blow-dryer, the right curling iron can shave a couple of minutes off a rushed early-morning routine. The perfect one probably delivers the waviest of beach waves just as easily as tousled ringlets and tighter corkscrew curls. It would also help if it isn't too heavy in the hands. Finding that curling iron isn't easy — but it begins with knowing your desired look. "Start off with understanding the type of curl you're trying to achieve," explains hairstylist and Act+Acre founder Helen Reavey. You'll also want to consider your hair texture because a "holy grail" curling iron for one person may not work for another. That's why I turned to 17 hairstyling professionals to get their opinions on which curling wands are really worth the investment — from drugstore-budget curling irons to trusty heavy hitters that professionals use for perfect curls on their famous clients. Then I started testing their recommendations for myself, including a TikTok-viral Dyson dupe and the best curling iron for beginners.
You'll want to play close attention to a curling iron's heat settings and make sure the ranges are compatible with your hair type. In general, fine or damaged hair types need curling irons that have lower temperature settings, while very coarse or curly hair types will need an iron that can reach higher temperatures (but if your hair is both curly and damaged or fine, you may still want to go for a lower setting). And no matter the temperature you set your curling iron at, always apply a heat protectant beforehand.
According to celebrity hairstylist and Contents Hair Care founder Cheryl Bergamy, "we tend to pick the wrong hair tools for our texture." Monaè Everett, a celebrity hairstylist and the author of Stunning Braids, is a fan of titanium or tourmaline irons since they tend to be hotter, distribute heat evenly, fight frizz more easily, and last longer. Those types of irons are best for people whose hair is curly or coarse or doesn't hold a curl easily. Those with fine or damaged hair or who have hair that does hold a curl easily should get a ceramic curling iron since they can be less damaging.
The final thing to consider is the size of the barrel. A general rule: The larger the diameter of the barrel, the looser (and larger) the ringlets, while smaller barrels will produce tighter and smaller curls. Hair length is also an important factor in selecting your barrel size. Larger barrels are better for longer hair, while those with short styles will want to opt for a smaller one. And if you have naturally curly hair, you will want to try to match the size of the iron to your curl, adds Reavey.
Best overall curling iron
Temperature: 365 degrees | Plate material: Ceramic | Barrel size: One inch
The clear favorite among the hairstylists we polled for this story was a one-inch curling iron from GHD. Most mentioned how intuitive this iron is at minimizing hair damage — it heats up to exactly 365 degrees. "The material allows heat to distribute evenly, creating the perfect wave without damaging your hair," Reavey says. (While 365 degrees is supposedly the optimal temperature for avoiding heat damage, those with very thick hair textures might want an iron that goes higher, which you can find below). It's her top recommendation for people who curl their hair often, and other experts — including stylists Benjamin Muller and Nunzio Saviano — tend to agree. "The temperature is perfect, the hair never smokes or smells like burn, and the curl is perfect after four to five seconds from root to end — shiny and elastic," says Saviano.
Best (less expensive) curling iron
Temperature: 280–430 degrees | Plate material: 24-karat-gold plated | Barrel size:.375 inch, .75 inch, 1.25 inches, 1.5 inches, and two inches
Hairstylist Kendall Dorsey recommends the Hot Tools 24K Gold Curling Iron as an especially great pick for textured hair because it gets hot quickly (it takes only a few seconds to reach 430 degrees, he says) and maintains its temperature for the duration of styling. But it also has lower heat settings for other hair types and comes in a variety of barrel sizes (three-eighths of an inch, three-quarters of an inch, an inch and a quarter, an inch and a half, and two inches), so you'll be able to find an option that matches your particular curl type and hair texture.
Best curling iron for beginners


Temperature: 290–410 degrees | Plate material: Ceramic | Barrel size: 1.25 inches
When I first started curling my hair, I realized I lacked the coordination to clamp and curl at the same time. After a particularly harrowing incident in which I could smell (and see) my hair sizzling as I fought with the clamp on my mom's curling iron, I thought about trying out a curling wand, but then a Beachwaver arrived from the brand in a gifted mailer at my door. It couldn't be simpler to use: You clamp the ends of your hair, press a button on the handle that rotates the barrel for you, hold for a few seconds, and release the clamp. Then: Voilà, you've got a perfect curl every time. I've been using it for about four months, and as a truly hopeless novice, it was a complete game changer. I highly recommend it for any other struggling beginners out there.
Best curling iron for long hair
Temperature: 250–430 degrees | Plate Material: Ceramic | Barrel size: 1.25 inches
Hairstylist Cassadi Currier loves hot tools with ionic technology because they help make hair super-shiny. She previously recommended a flat iron to us that uses negative ions to seal the hair's cuticle, and this curling iron boasts the same technology, "which breaks down the water molecules into small particles so moisture can penetrate the hair, leaving you with silkier, shinier, more conditioned hair," she says. All of Bio Ionic's hot tools use this technology, but Currier likes this model specifically for its size. She loves the brand's extra-long-barrel curling iron for hair extensions or those with naturally long hair because having the extra two inches "really helps for a quicker curl." Mirjam Bayoumi, who runs her namesake salon, also likes this curling iron for its longer barrel, which makes the iron much easier to use on longer hair and work through lots of strands. One of Bayoumi's pro tips is to wrap sections around the barrel and hold the curl for six seconds, all in one direction, for loose curls.
Best curling iron for thick hair
Temperature: Up to 450 degrees | Plate material: Titanium | Barrel size: 1.25 inches
If you have longer, thicker hair, chances are you need a curling iron with a slightly bigger barrel like this 1.25-inch BaBylissPro Nano Titanium. This one comes recommended by Dorsey, who likes that it goes all the way to 450 degrees and appreciates the ceramic barrel, which helps evenly distribute heat without damaging hair. "It also helps your hair glide through easily, so there isn't breakage when you're pulling your hair through to start a curl," he adds.
Best curling iron for frizz
Temperature: 140–450 degrees | Plate material: Ceramic | Barrel size: 1.25 inch
The devilish appearance of this FHI ceramic iron may give away the fact that it can be scorching: Temperatures on this iron range from 140 to 450 degrees, which celebrity hairstylist Tym Wallace — whose clients include Taraji P. Henson and Mary J. Blige — deems perfect for his curling needs. "Thus far, it's the hottest curling iron I have used." He likes that, similar to the Bio Ionic curler above, the FHI's tourmaline-ceramic plates boast negative ions that seal in moisture, repel humidity, reduce frizz, and help eliminate static. "It makes the hair shiny and holds good curl memory for all hair lengths and styles," he says. Everett also loves this curling iron, specifically the 1.25-inch version, since she can use it on all hair textures. "Many of my clients love voluminous curls and waves, and this iron gives a beautiful frizz-free curl," she explains. One of her tips for getting long-lasting curls with this iron is to start the curl at the mid-shaft of the hair and then twist the iron. "This allows the mid-shaft and roots to receive more of the heat from the curling iron," she says. Afterward, she pins the curls until they've cooled.
Best curling iron for color-treated hair
Temperature: Up to 410°F | Plate material: Stainless steel and ceramic | Barrel size: 1 inch
If you dye your hair, you want to be careful about additional heat damage. This iron was recommended to our friends over at the Cut by Devin Graciano, hairstylist and head of product development at Goldie Locks, because there's a setting just for color-treated hair, "which helps to preserve hair-color retention," she explains. "In addition to this, it has a stainless-steel barrel and ceramic heating to have a better distribution of heat."
Best curling iron for versatility
Temperature: 260–410 degrees | Plate material: Ceramic | Barrel size: One inch, 1.25 inches, and 1.5 inches
If you aren't sure what size curls you want to make or just like switching up your look, this T3 model will give you options. This set comes with three barrels — one inch, 1.25 inches, and 1.5 inches — and it has five adjustable heat settings that all create "defined and voluminous curls," says Kadeisha Placide, the manager and lead stylist at Classic Beauty Studio. She says it won't damage your hair and will even reduce frizz and create shine. She notes that the T3 is safe enough to use on a variety of textures, including natural hair, though she recommends only using it on pre-stretched or pre-smoothed hair, meaning hair that was blow-dried or flat-ironed beforehand. Hairstylist Monica Davis, who runs the blog MyStraightener, loves this T3 set for "the power of its guts and convertibility." She appreciates how the iron comes with a control to avoid temperature drops. (If you prefer curling wands to clamp irons, T3 makes a similar interchangeable set — more on that below.)
Best cordless curling iron
Temperature: Up to 450 degrees | Plate material: Titanium | Barrel size: 1.25 inches
It's rare to see a cordless curling iron, but this one is the best of a limited few, according to Davis. She jokes that Lunata's engineers "managed to cut the cord" to design a curling iron that lasts up to 45 minutes. Initially, Davis thought the brand had compromised on temperature to do this, but the iron heats up to 450 degrees just as fast as its corded cousins. Plus you can take off the clip attachment and use this iron on its own as a wand. "It's like Apple AirPods in the curling-iron niche," she says.
Best curling-iron wand
Temperature: Up to 410 degrees | Plate material: Ceramic | Barrel size: One to 1.5 inches
If you don't want to fuss with a traditional clamp-style curler, a few Strategist staffers are partial to this pink curling wand, which senior writer Lauren Ro says is the closest she has come to mimicking the natural waves of a digital perm. It has a tapered tip — the bottom of the barrel is 1.5 inches, and it narrows to an inch at the top — that creates a range of curls depending on how you wrap it. "Instead of fussing with getting your strands into the clip, as with a traditional curling iron," all you have to do is "wrap your hair around the barrel of the wand, hold for a few seconds, then release it," Ro explains.
Best curling-iron wand for textured hair


Temperature: 240–430 degrees| Plate material: Ceramic | Barrel size: .75 inch
This wand is Everett's go-to for mini-curls and coils that blend with natural textured hair. It's one of the smallest on the market, she says, but don't let the size fool you — it has a longer rod than most irons, "so I can curl clients with longer hair." The wand shape lets her flat-wrap, twist, and wrap hair around the iron to create all styles of curls — which comes in handy with her celebrity clientele's wide range of hair textures. Everett says she can easily control the iron's temperature too. She's a fan of curling irons made with titanium, like this one, since they can evenly circulate heat.
Best curling-iron wand for versatility


Temperature: 260–410 degrees | Plate material: Ceramic | Barrel size: One inch, 1.25 to 1.75 inches, and 1.5 inch
If you're serious about beach waves, T3 is the same brand that Blake Lively's hairstylist, Rod Ortega, uses to create her signature wavy hair. The T3 whirl trio — a medley of interchangeable barrels that is similar to the T3 Twirl Trio above — helps tackle everything from tighter spirals to flowing Veronica Lake waves. The barrels come in three sizes: One inch, 1.5 inches, and a tapered barrel that starts at 1.75 inches at the base of the barrel and narrows to 1.25 inches at the top. Bergamy is a fan, too, saying it's "so easy and smooth to use," especially for soft waves or loose curls. And it's a favorite of Bayoumi, who calls it a true all-in-one tool.
Best (less expensive) curling iron for versatility
Temperature: 190–380 degrees | Plate material: Ceramic | Barrel size: One inch
Launched in August 2020, this three-in-one tool offers three clamp styles for almost half the price of the T3 above. It has a classic curling-iron spring-loaded clip and a manual marcel clip, both of which can be removed to turn the tool into a curling wand. In her first week of using it, Jessica O'Keeffe, a stylist at Hawthorne Studio, says it quickly became a favorite. In addition to its versatility, it comes with a sleeve, which O'Keeffe calls a "game changer," because it can sit in it's protective sleeve while it's heating up, so you don't accidentally melt anything on your vanity.
Best curling-iron wand for minimizing heat damage
Temperature: Up to 302 degrees | Plate material: N/A | Barrel size: 1.2 and 1.6 inches
The Airwrap styler is one of the few curling irons you can use (safely) while your hair is wet. Here's how it works: Rather than curling hair with heat, the Airwrap uses high-speed airflow — you wrap the hair around the barrel, and jets of air create the curls. This month, Dyson released the newest model of the Airwrap, which uses the same airflow technology but with a slew of updated attachments. The biggest difference is the curling barrels: With the original model you had to swap the barrels out mid-style. Now you simply twist a knob to change the airflow from clockwise to counterclockwise. The pre-styling dryer for wet hair now also includes a flyaway attachment and the brushes for straightening and volumizing were also redesigned to achieve a smoother finish. According to editorial hairstylist Joey George, it lives up to the hype, and the best thing about it is that you're able to create a full head of curls without any heat damage at all. After being gifted the AirWrap for Christmas and experimenting with it for a few months I also have this tip which I picked up on TikTok: after "catching" the hair on the barrel with the hot air and holding it for a few seconds, hit the cool air shot button for an equal amount of time to help set the curl before releasing. In addition to the regular Airwrap Complete, Dyson also released two kits designed specifically for long hair (which includes longer curling barrels) and one for curly/coily hair (which includes a wide-tooth comb attachment).
Best (less expensive) curling-iron wand for minimizing heat damage
Temperature: N/A | Plate material: N/A | Barrel size: 1.25 inches
Launched this past fall, the FlexStyle is Shark's answer to the Airwrap. Clocking in at $270, the FlexStyle is less than half the price of the Airwrap and utilizes the same high-speed airflow technology and temperature regulation to minimize heat damage. The FlexStyle for straight and wavy hair comes with five attachments: a round brush, a paddle brush, a concentrator nozzle, and two curling barrels. If you have curly hair, there's a bundle that swaps out one of the brushes for a diffuser. I appreciated that the FlexStyle has a rotating handle that swivels down to turn it from a styler into a more traditional hair dryer. I also was impressed that the base of the wand works as a dryer without any attachments. When it comes to smoothing and drying, the FlexStyle gives the Dyson a run for its money. The main difference is in curling. The FlexStyle has two barrels: one that curls hair to the right and one that curls hair to the left. This is how the original version of the Airwrap worked until Dyson improved its tech. The latest Airwrap has barrels that can blow air in both directions, which I find significantly easier and faster for styling. I also found the Airwrap barrels did a better job of grabbing on to my hair while I was styling. So while I will personally still be reaching for my Airwrap, if you don't want to drop $600 on the original, the FlexStyle offers a similar (if not exact) multi-styler for a fraction of the price.
Best waver
Temperature: 120–390 degrees | Plate material: Ceramic | Barrel size: .7 inch
Reavey approves of this waver and explains the difference between it and a curling iron: "A waver keeps the hair in more of a flat wave, while a curling iron creates more volume and roundness to the curl," she says. Currier says it makes your hair look as if you just took it down from braids, and it can give anyone with naturally wavy hair a nice, polished look. Currier herself has wavy hair and has tried several wavers, but she says this Amika one is her favorite because, unlike other wavers that can be heavy and bulky, it's "a little bit lighter in your hands, and it doesn't feel as awkward when you're clamping it."
Best waver for versatility
Temperature: Up to 450°F | Plate material: Ceramic | Barrel size: .75 inch, 1 inch, 1.25 inch
The Cut's senior shopping editor, Bianca Nieves, uses this interchangeable Dry Bar curling iron to shape her natural waves and curls. Nieves loves that the iron has three different attachments that she can choose between depending on how she wants to style her hair, including a waver for beachy waves, a 1-inch barrel for defined waves, and 1.25-inch barrel for curls.
Some more curling irons we've written about
• Mirjam Bayoumi, founder of Mirjam Bayoumi Salon
• Cheryl Bergamy, celebrity hairstylist and Contents Hair Care founder
• Cassadi Currier, hairstylist
• Monica Davis, hairstylist and founder of MyStraightener blog
• Kendall Dorsey, celebrity hairstylist
• Monaè Everett, celebrity hairstylist and author of Stunning Braids
• Joey George, editorial hairstylist
•Devin Graciano, hairstylist and head of product development at Goldie Locks
• Jessica Lee, stylist at Hawthorne Studio
• Benjamin Muller, stylist
• Bianca Nieves, the Cut's senior shopping editor
• Rod Ortega, celebrity hairstylist
• Kadeisha Placide, manager and lead stylist at Classic Beauty Studio
• Helen Reavey, hairstylist and Act+Acre founder
• Lauren Ro, Strategist writer
• Nunzio Saviano, stylist
• Tym Wallace, celebrity hairstylist
Additional reporting by Ambar Pardilla, Jenna Milliner-Waddell, Tembe Denton-Hurst, and Lori Keong
The Strategist is designed to surface the most useful, expert recommendations for things to buy across the vast e-commerce landscape. Some of our latest conquests include the best acne treatments, rolling luggage, pillows for side sleepers, natural anxiety remedies, and bath towels. We update links when possible, but note that deals can expire and all prices are subject to change.
Every editorial product is independently selected. If you buy something through our links, New York may earn an affiliate commission.