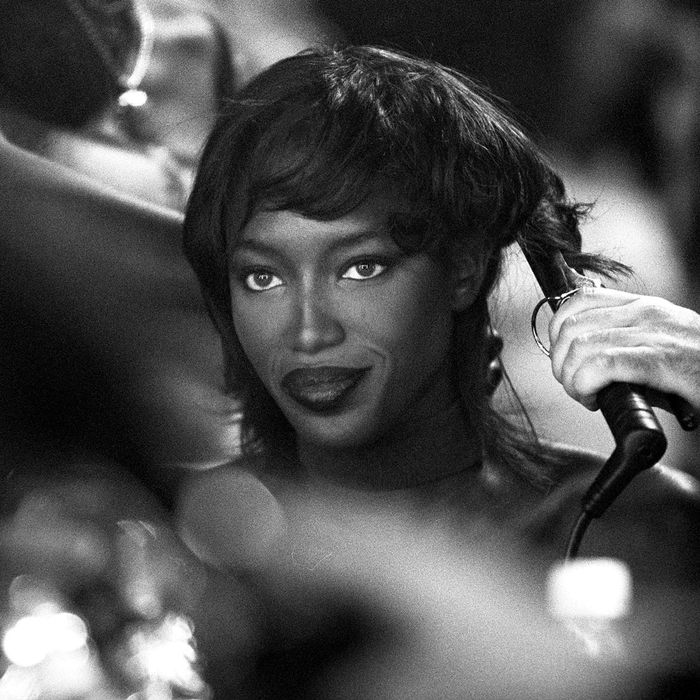 Photo: Sinead Lynch/AFP via Getty Images
Like a foolproof flat iron or a dependable blow-dryer, the right curling iron can shave a couple of minutes off a rushed early-morning routine. The perfect one probably delivers the waviest of beach waves just as easily as tousled ringlets and tighter corkscrew curls. It would also help if it isn't heavy on the hands and doesn't leave your hair looking like a bird's nest.
Of course, finding that curling iron isn't easy — but it begins with knowing your hair texture. "Start off with understanding the type of curl you're trying to achieve," explains hairstylist and Act+Acre founder Helen Reavey. "If you have naturally curly hair, then you will want to match the size of the iron to your curl. If you're looking to add body or a wave to your hair, then you will want to start with a much larger curling iron." That point was echoed by celebrity hairstylist and Contents Hair Care founder Cheryl Bergamy, who says that oftentimes "we tend to pick the wrong hair tools for our texture." Bergamy recommends a titanium curling iron for those with straight hair since it "holds more heat, and the curls will stay more in place." She advises those with curly or coily hair to get a ceramic curling iron since it can be less damaging and helps to lock in moisture. Monaè Everett, also a celebrity hairstylist and the author of Stunning Braids, is a fan of titanium or tourmaline irons since they tend to be hotter, distribute heat evenly, fight frizz more easily, and last longer. She personally prefers one with a temperature adjustment to use on different clients — and just in case, she likes a curling iron that comes with a warranty.
This is all to say that a "holy grail" curling iron for one person may not work for another, which is why we turned to a dozen hairstyling professionals to get their opinion on which curling wands are really worth the investment. Below, we've included a range of their recommendations — from drugstore-budget curling irons to trusty heavy hitters that professionals use for perfect curls on their famous clients. 
Best overall curling iron
The clear favorite among the hairstylists we polled for this story was a one-inch curler from GHD, with most mentioning how intuitive this iron is at minimizing hair damage — it maxes out at 365 degrees. "They have done extensive studies into the correlation of heat against elasticity of hair, which concluded in the GHD irons not going above 365 degrees," Reavey says. "The material allows heat to distribute evenly, creating the perfect wave without damaging your hair." It's her top recommendation for serial curlers, and others — like stylists Benjamin Muller and Nunzio Saviano — tend to agree. "The temperature is perfect, the hair never smokes or smells like burn, and the curl is perfect after four to five seconds from root to end — shiny and elastic," says Saviano.
Best curling iron with high heat limits
The devilish appearance of this FHI ceramic iron may give away the fact that it can be scorching: Temperatures on this iron range from 140 to 450 degrees Fahrenheit, which celebrity hairstylist Tym Wallace — whose clients include Taraji P. Henson and Mary J. Blige — deems perfect for his curling needs. "Thus far, it's the hottest curling iron I have used." He likes that it also has three layers of ceramic plates infused with tourmaline-produced negative ions that seal in moisture, repel humidity, reduce frizz, and help eliminate static. "It makes the hair shiny and holds good curl memory for all hair lengths and styles. Also it travels light in my kit." Everett loves the 1¼-inch version of this curling iron since she can use it on all hair textures. "Many of my clients love voluminous curls and waves, and this iron gives a beautiful frizz-free curl," she explains. One of her tips for getting long-lasting curls with this iron is to start the curl at the mid-shaft of the hair and then twist the iron to lengthen the hair. "This allows the mid-shaft and roots to receive more of the heat from the curling iron," she says. Afterward, she pins the curls until they've cooled before going in and adding the final finishing touches.
Best curling iron for minimizing heat damage
Celebrity hairstylist Kendall Dorsey uses this iron regularly on his clients, who include Solange, Yara Shahidi, and Justine Skye. In addition to its tourmaline plates (which seal in hair's moisture and minimize frizz), it uses what the brand calls "an exclusive Infrared Smart Technology," which apparently infuses the hair with "micro-moisture particles to prevent the damaging effects of high-heat tools." We can't speak to the micro-moisture particles, but Dorsey feels it's the best iron on the market when it comes to preserving hair health.
Best ionic-technology curling iron
Hairstylist Cassadi Currier loves hot tools with ionic technology because it makes hair super-shiny. She had previously recommended a flat iron to us that uses negative ion technology to seal the hair's cuticle, and this curling iron "works by using nano-ionic technology, which breaks the water molecules down into small particles so moisture can penetrate the hair, leaving you with silkier, shinier, more conditioned hair," she says. All of Bio Ionic's hot tools use this technology, but Currier likes this model specifically for its size. "I love their extra-long-barrel curling iron because I do a lot of hair extensions and have hair extensions myself, so having an extra two inches really helps for a quicker curl." And if you're someone who typically uses a wand, this curling iron may be a good transition tool. Currier says lots of her clients use wands because it takes a little coordination to open the clamp and curl at the same time with a traditional iron, but those she has converted to this curling iron say that even though this one has a clamp, it glides through hair very easily. Mirjam Bayoumi, who runs her own namesake salon, also likes this curling iron for its longer barrel. It makes the iron much easier to use on longer hair and helps make it less painless to glide through lots of strands, according to Bayoumi. One of her pro tips is to wrap sections around the barrel and hold the curl for six seconds, all in one direction, for loose curls.
Best rotating curling irons
If you're an occasional curler who doesn't want to splurge on an expensive curling wand, Reavey suggests this Marcel Iron from Hot Tools because it's particularly easy to use. "The handle, which rotates, allows you to wrap hair around the iron with ease." Its 24-karat-gold-plated barrel also means it heats up superfast, and it has ten heat settings (and goes all the way to 430 degrees). Bergamy agrees that this curling iron is simple enough for a novice, especially with its convenient longer cord. And she seconds Reavey in saying this "gives you a professional tool at an affordable price point."