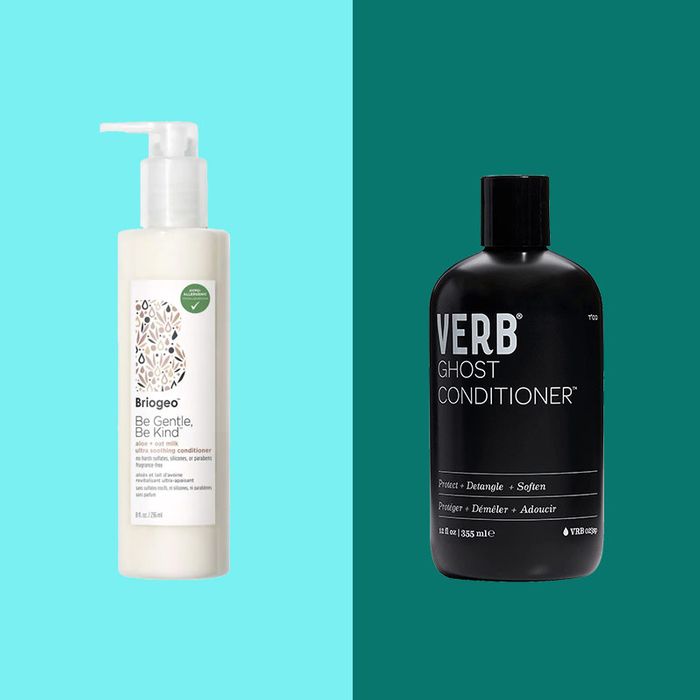 Photo-Illustration: retailers
Recently I dove into the best shampoos for every hair type. And since a great shampoo is only as good as the conditioner you pair it with, I'm sorting through the best-of-the-best conditioners to help with everything from taming frizz to repairing heat damage. "It's very similar to skin care," says Brooke Jordan, co-owner and master stylist at the Bird House salon in Gowanus. "You don't want to wash without also moisturizing, unless you're insanely oily. You want to give equal attention to moisture as you do to washing." Advice on the application of conditioner will vary depending on your hair type — some stylists will tell those with thin hair to stick to a dime-size amount applied just on the ends, while Jordan prefers to "really goop it on," adding that, "I think people don't use enough conditioner." And while you'll probably want to take advice on the amount of conditioner you should use from those who know your head best, our panel of hairstylists and salon owners have recommendations for which brands to look out for. Read on for their favorite conditioners for hair of all kinds, including some worthy of really gooping on.
Best overall | Best for normal hair | Best lightweight | Best for dry hair | Best for damaged hair | Best for frizzy hair | Best for color-treated hair | Best for thin or fine hair | Best for thick hair | Best for wavy and curly hair | Best for kinky, curly hair | Best for sensitive scalps 
What we're looking for
Sulfate-free vs. non–sulfate free: Like shampoo, some conditioners are formulated with sulfates and others are not. While many hair types can tolerate sulfates, those with sensitive skin or who have hair that is damaged or color treated should try to steer clear and opt for a sulfate-free option instead.
Scent: Like body wash or shampoo, conditioner is often scented. Since there's nothing worse than having a cloud of fragrance you hate follow you around all day, I've noted the scents of each down below.
Size: I'm also keeping an eye on the total ounces of conditioner you're getting per dollar.
Best overall conditioner
Sulfate-free | Floral | 12 ounces 
Stephanie Louis, owner of Stylebox Salon in Prospect Heights, calls this conditioner a staple at her salon. "It's so good," she says. "The best for weekly conditioning, detangling, and hair softening." The detangling properties of the conditioner can be attributed to the inclusion of moringa oil, an essential oil derived from trees known for its ability to moisturize and loosen up knots. The ingredient list also includes green tea extract, which is meant to protect against free radical damage and environmental stress; jojoba oil, which will help with split ends; and sunflower seed extract, which, according to Verb's site, is a natural source of UV protection that will help prevent color fading.
We've heard good things about Verb's shampoos and conditioners before — Sephora reviewers raved about both this conditioner, which one said was "neither too light and watery nor too thick and oily," and the brand's hydrating conditioner, which many said "moisturizes the hair without weighing it down." And since the conditioner can be used on all hair types — according to Verb's site, this includes "curly, fine, kinky, straight, thick, and wavy" — is gentle enough to use daily, and is one of the more affordable options on the list, we're calling Verb's Ghost Conditioner best overall.
Best conditioner for normal hair
Non–sulfate free | Fruity floral | 8.4 ounces 
For those looking for something that will soften hair without weighing it down, Jordan suggests Sachajuan's Normal Hair Conditioner. "It's going to give your standard level of moisture, which might not be enough for dry hair or super-damaged hair," but for normal hair types, "it'll be just moisturizing enough and not overly moisturizing," she says. The product's moisturizing properties in part come from sea algae, which is used in all of the brand's products. "It's supposed to be incredibly moisturizing without being heavy at all, and we find that to be true." According to Sachajuan, it also includes Rhodophycea and Chondrus crispus extracts, which are harvested from algae in the ocean and can be used for strengthening hair and protecting it from damage.