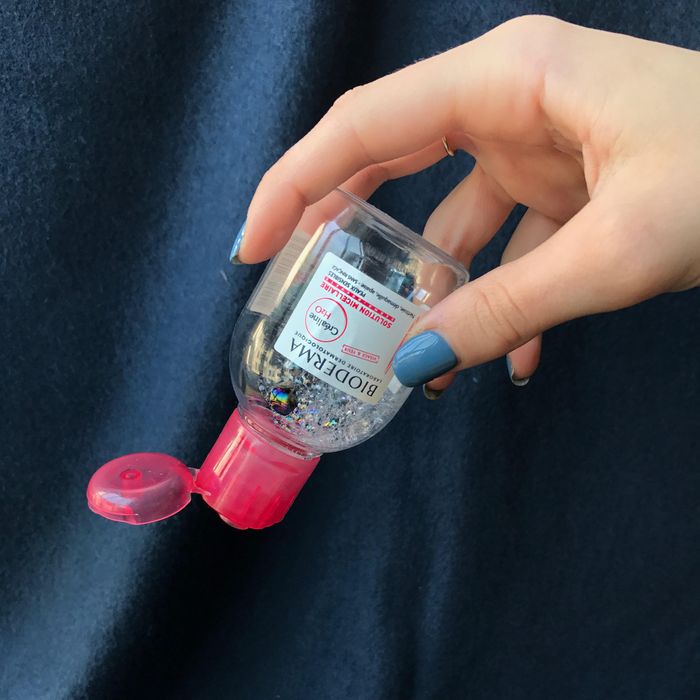 Time for some more Bioderma micellar water.
Photo: Rio Viera-Newton
When I'm not working on my articles for the Strategist, I'm near constantly binge-watching beauty videos on YouTube. I don't know why I like them so much, but there's something undeniably therapeutic about watching strangers buffing and blending while they tell you about their day.
One YouTube theme I'm particularly attracted to is the segment in which bloggers share their "empties" — products they've used so often and love so much that the containers are bottomed out. And while almost all beauty videos send me into a state of sheer euphoria, there's something especially satisfying about seeing tangible evidence that someone loves a product so much that they've used every last drop of it. After months of diving into the world of "empties," I decided to start hoarding my own completely finished products so that I could bring a little bit of YouTube culture to the Strategist. Here are a few products of mine that, over the last few months, I've managed to use every last bit of.
It's a good thing that I bought three of these last time I was in Japan because running out sends me into a spiral. This serum — which, unlike other tea-tree serums, isn't terribly concentrated and harsh — reduces redness and inflammation in ways no other has been able to accomplish for my skin. I blow through these like it's my job (which, I guess, it is?).
Photo: Michel BONNIER/Home
I just finished my Bioderma micellar water and am sprinting to get another one. I don't know what it is about this product, but not only does it take all of my makeup off, it actually does a great job of soothing my skin, especially after a night out. I used to double-cleanse (take off makeup with an oil cleanser, then cleanse with a foam cleanser after), but I found that that practice was making my skin super dry and dehydrated. This fixes that: Since I've incorporated this Bioderma micellar into my routine (pre-cleanser), my skin has felt even more supple and rejuvenated.
Now, as a person who suffers from serious eczema, I'm hesitant to try any scented products on my body in the shower. But there was so much hype around Glossier's Body Hero campaign, I felt the need to try it out. I actually ended up really loving this product — the scent is almost fruity and playful, and I love how the oil emulsifies into a soapier texture as you wash, hydrating and cleaning. I don't use this on my legs (my most severe eczema area), but I wash the upper half of my body with it daily. And I will be repurchasing!
I bought the mini-version of this cream at the Sephora checkout line (my weakness) before a vacation and I'm addicted. Again, I wouldn't say this is a product that actively fights against eczema, but it smells incredible and is slightly shimmery — giving your body this really nice, subtle glow. In the winter, that little bit of shine to my body makes me feel so much more confident when I'm going out.