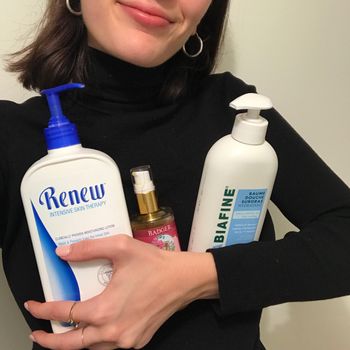 It's no secret that winter months can be a particularly challenging time for your skin. But it's particularly awful for eczema sufferers, whose symptoms are triggered and aggravated by the combination of icy winds and intense indoor heating. As someone who's struggled with eczema since age 3, I've spent most of my life not only trying to understand and tame my eczema but also to discover ways to actively prevent flare-ups. Growing up in Los Angeles, my eczema was a source of occasional discomfort — but nothing compared to how bad things got when I moved to the East Coast for college. My first major seasonal shift was excruciating — my eczema was so intense and angry that clothes were actually painful to wear. The products I had considered Holy Grails when I was growing up in Los Angeles no longer worked, fueling a frantic search for relief. When I say I tried everything, I tried everything — from bathing in literal oatmeal to getting acrylic nails so that I couldn't properly scratch myself. After tons of research and trial and error, I finally began to discover things that were making a difference on my skin.
There were two non-product methods I learned that helped significantly. First, lowering the water temperature in the shower as much as you can tolerate seriously helps with the moisture level of your skin. Second, lathering your skin in lotion while your body is still wet helps trap in more moisture. And when things are really, really bad, I use a prescription ointment from my doctor called Cordran Flurandrenolide, a topical steroid used to treat itching and inflammation. It comes in a lotion form and a cream form — while the lotion is more spreadable and apparently works better for everyday use, I've found it to be less effective than the cream, which I use as a spot treatment as needed. I know this sounds a bit dramatic, but if used in conjunction with the above tips, the five products I share below have seriously changed my life. I'm not saying that these will be Holy Grails for everyone, but if you, too, suffer from eczema — or just itchy, dry winter skin — these are 100 percent worth giving a go.
As I often discuss in my skin-care articles, exfoliating is extremely important when you're trying to salvage or repair your skin. However, facial exfoliating is a completely different game than exfoliating irritated body skin. Instead of using a chemical exfoliant — which people do use, even on the body — I find that a physical exfoliant, like this dry brush, is much more productive. With a physical, you have complete control of how gently you exfoliate, which is important when doing it over eczema-prone or super-dry patches. I use this brush in light, sweeping, circular motions on dry skin once every few weeks before getting into the shower. Note: Use enough pressure to brush off dead skin, but be careful to not press down too hard — that will irritate the eczema.
I was at my local pharmacy complaining about my eczema flare-ups when the girl at the register said that she had the same problem, and that this product had helped her. I'm so glad I decided to give it a try. This treatment is meant to be used in the shower as a way of both gently cleaning and moisturizing your skin. It helps add an extra layer of moisture to my body, so my skin isn't totally parched when I step out of the shower and dry off. The milky texture of this product also feels really calming on the skin, perfect for when my skin is feeling extra irritable.
I am absolutely obsessed with this lotion — I don't know what I would do without it. A family friend whose daughter also suffers from intense eczema preached this to my mom. Though I was totally reluctant at first because I had never heard of this brand before (and as you know, I've heard of a lot of brands), I am beyond grateful that I finally decided to give it a try. I'd tried every lotion you could think of before I found this: Egyptian Magic, Coconut Oil, Eucerin, Nivea, Kiehl's — none of them hold a candle to this random Melaleuca cream. It doesn't feel particularly thick or creamy, but there's something about it that provides my skin with long-lasting moisture and extreme soothing effects on my dry, angry skin. Almost every time I get out of the shower, I lather myself in this lotion. I would straight-up bathe in this lotion if I could. This is one of the only products that quickly made a huge difference in my skin and consistently provides lasting comfort and relief.
The Melaleuca lotion I listed above is amazing, but is practically scentless. And though scentless treatments are supposedly the best for healing the skin, sometimes I like putting something delicious-smelling in my lotion. Sorry! The nice thing about this oil is that it's not just a scent, but an active treatment that uses rose, chamomile, and lavender to calm your skin. It smells really great and also gives my skin this great shine and smoothness. This oil has never triggered any kind of eczema flare-up, but just in case, I tend to avoid using it on areas where my eczema gets really bad. For me, that's my legs, so when I'm applying this oil, I squeeze two pumps of this into my Melaleuca lotion when I'm moisturizing the upper half of my body.
If it's the dead of winter and my skin is really testing me, I'll also use this Aveeno Eczema Itch Relief Balm. I have one of these by my bed, but I also keep a tub in a drawer at my office, and apply it on my legs and arms throughout the day if my skin is starting to feel itchy or uncomfortable. This is like medicine for me — it quickly rids my skin of any tingling or painful sensations from eczema flare-ups.
Shaving with eczema flare-ups can be a really tricky game. Honestly, I try to keep my shaving to a minimum because I know my skin gets so intensely sensitive and irritated after I do it. But if I have an event where I can't have furry legs, this is the only product that makes hair removal remotely possible.
The Strategist is designed to surface the most useful, expert recommendations for things to buy across the vast e-commerce landscape. Some of our latest conquests include the best women's jeans, rolling luggage, bed sheets, coffee makers, and bath towels. We update links when possible, but note that deals can expire and all prices are subject to change.

Every editorial product is independently selected. If you buy something through our links, New York may earn an affiliate commission.